The wishes and resolutions for the New Year are in full swing again. What do you want to do differently this year? We at 101 Blockchains have devised some interesting plans to achieve our objectives in 2023. We strive to do better and make our learners the best blockchain professionals possible. Let me start by wishing you and your loved ones a Happy New Year 2023. You have been the core inspiration behind 101 Blockchains Achievements 2022 and our aspirations for the year to come. The trust of our learners in the blockchain courses and certifications on our platform has been driving our growth. 
As digital transformation becomes an important necessity for a business in the present times, the demand for blockchain technology has increased, and new trends such as NFTs, DeFi,  Metaverse, and Web3 have been grabbing headlines. In this article, I want to highlight some of our notable achievements in 2022. 101 Blockchains has had a promising year with new membership plans, certifications, and training courses. Most importantly, we have received our learners' love as they trust us to reach their career development goals. 
Important Highlights of 101 Blockchains Achievements in 2022
The arrival of the end of 2022 marks a new beginning for everyone. I, Aviv Lichtigstein, CEO of 101 Blockchains, extend my heartfelt wishes again to all of you. At the same time, I also thank all of you for the support and appreciation you have showered on us. Let me share some of the notable highlights of our achievements in 2022. 
New User Interface Dashboard
The first highlight of our achievements in 2022 is the development of a new user interface dashboard. We have introduced a new interface for the training library on 101 Blockchains which helps learners monitor their courses effectively. The new and improved user interface dashboard is an innovative modification among the 101 Blockchains achievements in 2022, tailored for our learners. The new user interface dashboard can help learners access the training courses alongside monitoring their progress. With a new user interface dashboard, the learning experience on 101 Blockchains has become more engaging for users. 
Want to know the best tips to navigate through the career path in blockchain easily? Check the detailed guide Now on Top 10 Tips To Start A Career In Blockchain
New Career and Skill Paths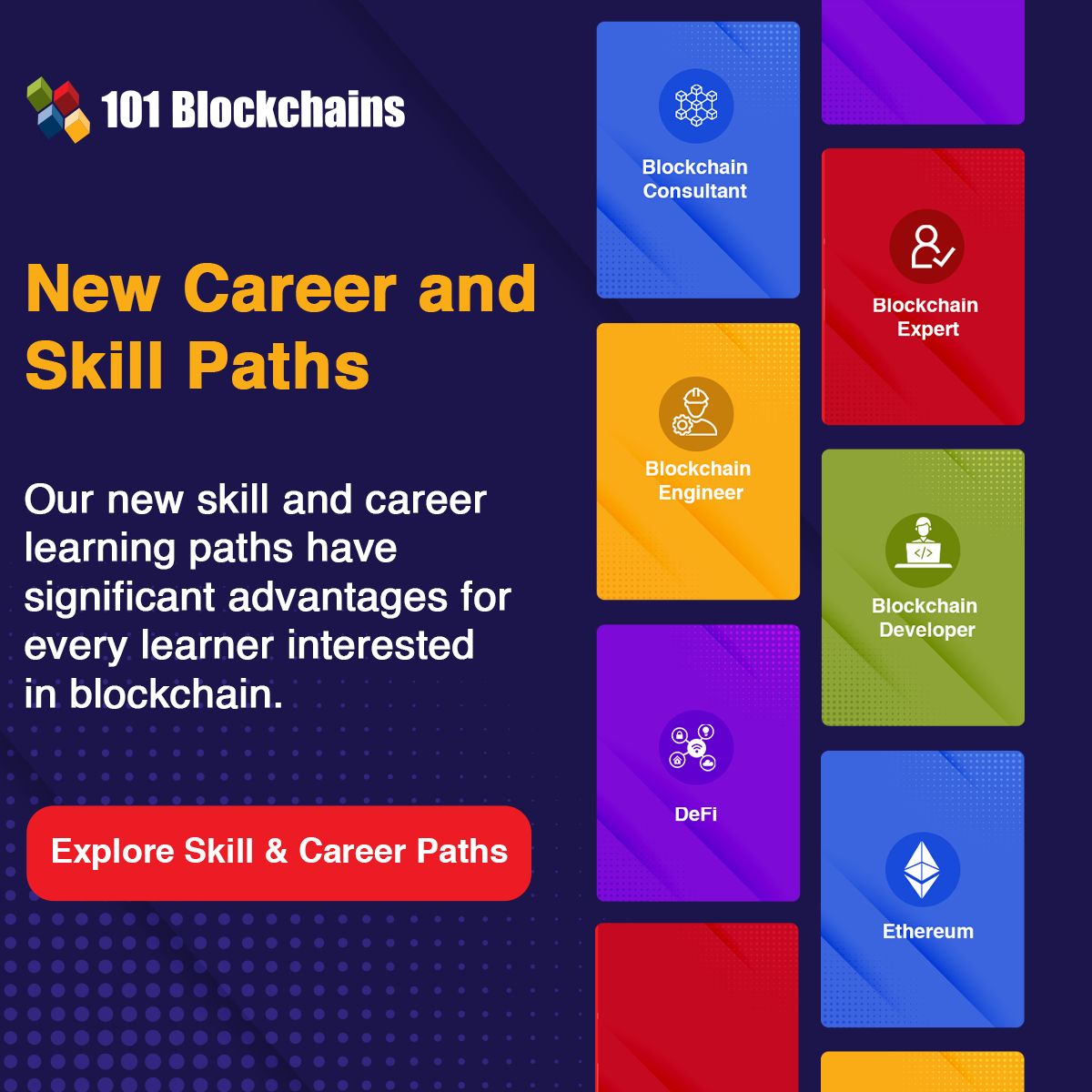 The next important aspect in the list of our achievements in 2022 is the introduction of new career and skill paths. Our skill and career learning paths have significant advantages for every learner interested in blockchain. In this 101 Blockchains CEO Message for New Year, you can find career paths and skill paths as prominent highlights which can fuel your growth. 
The new career paths on 101 Blockchains can help you prepare for the following roles,
In addition, we also introduced some new skill-learning paths for the following topics,
The skill and career paths on 101 Blockchains offer additional instruments that enhance your professional portfolio with an organized approach. We aim to help our learners choose their desired career path and focus on the essential courses and certifications that will advance their careers.
Not sure how to build your career in enterprise blockchains? Enroll Now in How to Build Your Career in Enterprise Blockchains Course
Council Membership
The new 101 Blockchains Council qualifies as another milestone in 101 Blockchains achievements 2022 for its unique value benefits. The members-only community is an ideal platform for networking with fellow blockchain professionals. It has also evolved as a stage for exchanging ideas among experts, professionals, and practitioners on blockchain-related topics. 
According to the CEO of 101 Blockchains, "The new 101 Blockchains Council is an honest effort by the 101 Blockchains team for bringing every blockchain professional on a single platform. We want to encourage ideas, build new professional opportunities and pave the future for blockchain professionals, entrepreneurs and executives."
Attractive Set of New Certifications
The certifications on 101 Blockchains have earned worldwide recognition and credibility thanks to their ability to support different career objectives. We introduced new certification programs targeted at new trends that would hugely impact the future of blockchain. The three new certifications are,
Build your identity as a certified blockchain expert with 101 Blockchains' Blockchain Certifications designed to provide enhanced career prospects.
Uncovering New Topics in Courses and Masterclasses
The common highlight in every year's 101 Blockchains CEO Message reflects how we strive harder to introduce more courses. At the same time, we also work on expanding our masterclass collection to offer you insights on broader topics in the blockchain domain. We introduced the following new courses in our training library in 2022.
The year 2022 also marked the launch of our new Health 3.0 – Blockchain in Healthcare Masterclass. It is an effective training resource that helps learners familiarize themselves with the innovative influence of blockchain technology on healthcare. The Health 3.0 Masterclass serves an important role in driving awareness about the potential uses of blockchain for transforming the healthcare sector. 
Start your blockchain journey Now with the Enterprise Blockchains Fundamentals – Free Course!
New Ways for Accessibility to Blockchain Training
The vision for creating a one-stop destination for blockchain training has fuelled our journey till now. We want to make our resources more accessible through new membership plans and team plans. The new Yearly+ membership plan guarantees unlimited access to the 101 Blockchains training library, research sessions, and webinars, including all of our certification programs. On top of it, it qualifies as one of the notable 101 Blockchains achievements 2022 has registered for us. The advantages of the Yearly+ membership plan include a dedicated counselor and a study plan customized to your learning objectives. 
We have also developed a Team Plan for teams that need blockchain training for specific use cases or general blockchain transformation initiatives. We removed some barriers to blockchain research and education for teams and found a new target audience for our resources.

Broadening the Scope of Discussions on Blockchain
The list of different webinars on 101 Blockchains has expanded again in 2022. Some of the latest on-demand webinars added to our library include,
Apart from the addition of new webinars, the collection of learning materials on 101 Blockchains expanded further in 2022. The new entries among free learning resources such as presentations, eBooks, and flashcards can help beginners understand how blockchain works. 
Recognition and Love from Our Users
Another prominent milestone we would like to point out in the 101 Blockchains CEO Message for 2023 is the love of our users. We have registered over 60,000 users on 101 Blockchains in 2022, earning their trust in G2 reviews. 101 Blockchains has performed well in every G2 report this year. 
We have earned a total of 20 badges in the most recent Winter 2023 Reports by G2. The G2 Winter 2023 Reports anointed us with two 'Leader' badges alongside other rewards. Here are some of the notable G2 awards we received in 2022.
Your love for us in 2022 has also reflected on our Trustpilot score, with more than 770 reviews. In addition, we have also garnered a significant social media following with our LinkedIn page and group. As of now, we have over 43,000 followers on our official LinkedIn page and more than 5000+ members in our LinkedIn Group.
To know more, take a moment to explore our library of blockchain training courses and certifications.
What's Ahead in 2023?
The year 2022 was an exciting year for us at 101 Blockchains with new ways of thinking about blockchain research, education, and certification. We dedicate the highlights of 101 Blockchains achievements 2022 to all of our users, team members, and instructors. The trust of our users has driven us this far, and the consistent improvement in the quality of training resources helps us achieve our goals. As the future draws near in 2023, with discussions around web3 gaining momentum, we prepare for new challenges. At the same time, we also seek your love and support, as always, for strengthening our roots and helping us grow.