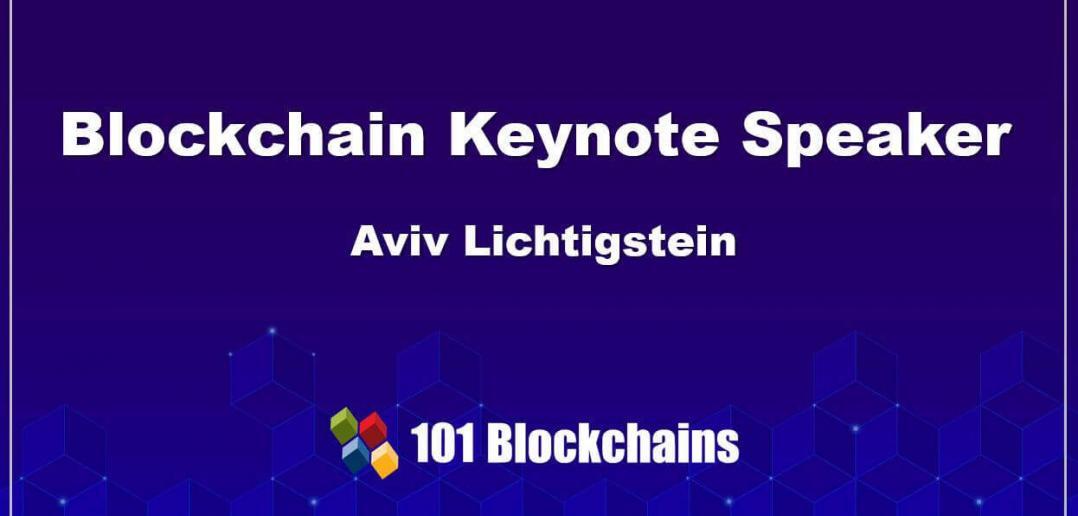 Blockchain Keynote Speaker on Core Blockchain Technology & Business
Aviv Lichtigstein is a thought leader and entrepreneur with extensive experience in building enterprise products utilizing Big Data & Artificial Intelligence. He is also the founder and CEO of 101Blockchains.com – one of the world's leading blockchain resource portals. Aviv is a senior level executive with more than 12 years of experience in various fields playing technical, operational and business oriented roles. He has an immense level of expertise in launching, running and growing projects and programs for numerous business models. These industries and technologies include renowned startups to Fortune 500 companies, and Aviv has driven them to the path of success with his wit and brilliance. Other than these, Aviv has a proven track record of creating, building and managing teams to develop products and businesses. Moreover, he is a passionate traveler and avid Ironman triathlete.
Industries are shifting at an exponential rate and Blockchain Technology is a significant element at play. The Blockchain is not only revolutionizing the financial sectors but also other big sectors like Government Services, Supply Chains, Healthcare, Retail, Internet of Things and many more. For example, The UAE is trying to integrate the technology in every sector of Dubai. The goal is to make it the first city to run solely on Blockchain by 2020.
Blockchain is a unique technology that removes the need for any intermediaries and creates a decentralized structure empowering all the users. Data is the new currency now, and Blockchain could effectively be a way to harvest it. Enterprise Blockchains, on the other hand, is expected to reach an industry worth of $3.1 Trillion within 2030. Molding the new shape of the internet is also on the hands of the distributed ledger technology. As a Blockchain keynote speaker, Aviv's expertise revolves around these core conceptions curating insightful sessions.
A Visionary on Blockchain Business & Technology
The core problem is with the centralized legacy networks within the typical business world. Every kind of business is dependent on this faulty architecture. As a result, common people are paying the price. Not only Blockchain Technology revolutionizes these network systems, but it also opens up the possibility of countless new marketplaces, saving trillions of dollars in the long run.
It means Blockchain technology can both be a blessing and a curse for the typical business models as it will reshape them over time. However, the possibilities are enormous. That's why countless industries and startups are investing in this technology for greater opportunities. Blockchain Technology speaker Aviv focuses on specific features of Blockchain Technology and how the transformation would occur. He would also be shedding light on the core problems and how industries can truly deal with the new change. While other top blockchain speakers tend to over-complicate things, Aviv prefers to break things down in simpler terms that are palatable for the mass people.
Blockchain keynote speaker, Aviv also shares which industries will radically change over the time such as –
Government Services
Supply Chains
Healthcare
Insurance
Retail and many more.
Newer Outcomes
It's evident that when a new technology comes into play, most people don't really know how to deal with it from the start. However, industries learn to integrate it more successfully after seeing what others are doing and then changing it for the betterment of their market outcomes. It's exactly how things are going right now with Blockchain Technology. Marketplaces are trying to know more about Blockchain transformation but taking wrong turns are ending up in failure.
However, Aviv being one of the top blockchain speakers presents the matter in simple terms and talk about the Blockchain adoption challenges a business might face. He also analyzes the necessary means for any successful organizational blockchain transformation that would help sustain the situation.
Implications of the Enterprise Blockchains
This is one of the long term effects of the Blockchain Technology. It's quite ironic how the enterprises that are most threatened by it are the ones investing in it. Many enterprises are visioning this technology to utterly change their ways of handling business. They aren't entirely wrong. Blockchain possesses the fundamental features to add more value to all their sectors, giving them more room for development.
Nowadays different organizations have to deal with a tremendous load of data management issues and transactions for a steady level of growth. This scenario creates enterprise-grade challenges that deal with complexity, transparency and security issues. For example, the counterfeit market is solely responsible for taking up more than $7.5B in revenue each year in the U.S.A only. With the technology advancing, Blockchain is now capable of handling higher volumes of complex data and transactions. Better strategical enterprise model will help them overcome these challenges.
With Enterprise Blockchains in the mix, they can now finally get their fair share in the future marketplace. With this in mind, keynote speaker on Blockchain, Aviv elaborates the best type of Blockchain Technologies most suited for certain organizations. He also explores other solutions such as vendors offering Blockchain as a Service, and Enterprise Blockchain platforms. Moreover, possible use cases and challenges of the whole concept is shared in the Blockchain keynote speaker session.
Distributed Ledger Technology – The True Game Changer
Aviv builds his Blockchain keynote speaker program by covering other factors as well. Blockchain has its fair share of shortcomings. That's why many aren't too keen to embrace technology by this time. To deal with the matter, Aviv also portrays the umbrella term "Distributed Ledger Technology" and its influences.
Blockchain Technology is just a small part of the Distributed Ledger Technology. People are often confusing these two terms and using it interchangeably. But that's not the whole case here. Other than Blockchain, there are many more Distributed Ledger Technologies fully equipped to take on the burden of the global market. In his Blockchain keynote speaker program, Aviv wants to make sure to remove the confusion from these two terms and shed more light on DLT. In the Blockchain Technology speaker sessions, he studies the different types and explores their individual features. Other than explaining what DLT means, he also covers the leading platforms for a particular technology in the blockchain keynote speaker session. Some of them include:
Web 3.0 and the Future of the Internet
The internet won't remain unscathed from the Blockchain Technology either. So far, people are familiar with Web 1.0 and Web 2.0. These two are based on the typical client-server architecture and is overly flawed. This kind of model makes users' personal information prone to abuse. But with the new internet "Web 3.0" everything will shift to decentralization making it more user-centric. People will get more secure and transparent way to connect to their favorite platforms.
This will reshape the future of the internet and will be completely different from what the people are used to. However, Blockchain Technology will mold the internet through Web 3.0 making it faster and better. Aviv, being one of the top Blockchain speakers addresses this issue and note down the differences from previous generations of the internet. To clarify more, the keynote speaker on blockchain sketches out the layers of the architecture, implicating what might the final result look like.
Blockchain Technology still has a long way to go. These are just the early stages of that revolution. Aviv always updates all of his researches and studies for the Blockchain Technology speaker program with latest developments.
Other than this, the Blockchain keynote speaker program also contains the probable future of the internet and how to build a sustainable ecosystem.
YES! I Want to have Aviv as a Keynote Speaker
Let's connect and find out how we can help you drive new value to your organization
You can also email us direclty-> contact at 101blockchains.com