101 Blockchains always tries to make blockchain-related resources accessible to everyone. That's why we craft visually stunning blockchain infographics. We know that visualizing the concepts helps you better understand the technology.
Our Awesome Blockchain Infographics
In this guide, we'll cover our top 30 blockchain infographics. You'll definitely love each one of them! These are –
Blockchain transformation playbook
Blockchain technology explained
Fundamentals of blockchain implementation strategy
How to become a blockchain engineer
How does blockchain work
Blockchain business strategy implementation
Blockchain wheel of opportunities
How to implement blockchain
Different types of consensus algorithm
Hybrid blockchain
Federated blockchain simply explained
Hyperledger ecosystem and vision
Quorum blockchain simply explained
Enterprise Ethereum use cases
Corda ecosystem and long term vision
Corda blockchain: global Corda network and Corda enterprise
Introduction to blockchain + AI
What is blockchain interoperability
Blockchain for healthcare
Trade finance: Fundamentals and issues
Digital identity: A simple explanation
Essentials of supply chain
Blockchain for supply chain
Free blockchain training course
Blockchain technology risk assessment
EOSIO dApps landscape
Top 7 blockchain challenges to go mainstream in 2019
Application and limitations of stablecoin
STO vs. ICO
Top 30 venture capital firms investing in blockchain
Bookmark this page for more lucrative blockchain infographics in the future. We always update the guide to bring you the best collection from our blockchain infographics.
Anyhow, let's take a look at our impressive blockchain infographic collection.
1. Blockchain Transformation Playbook
Blockchain Transformation Playbook covers everything you need for blockchain digital transformation. Most of you don't know how you can start your blockchain journey. To be frank, the process can be quite confusing because of the nature of technology.
However, to help you out, our blockchain infographic shows you a step by step process. Basically, you can see that there are five steps for a successful blockchain transformation. First of all, you will start with small projects that have fewer risk factors and proven use cases.
Secondly, you'll build your task force with top-notch skilled team members. Next, you need to train your team. You can use online training or certification platforms for that. After that, you need to develop strategies and finally develop communication with your stakeholders and employees.
To learn more about blockchain transformation, you can check out our full playbook guide.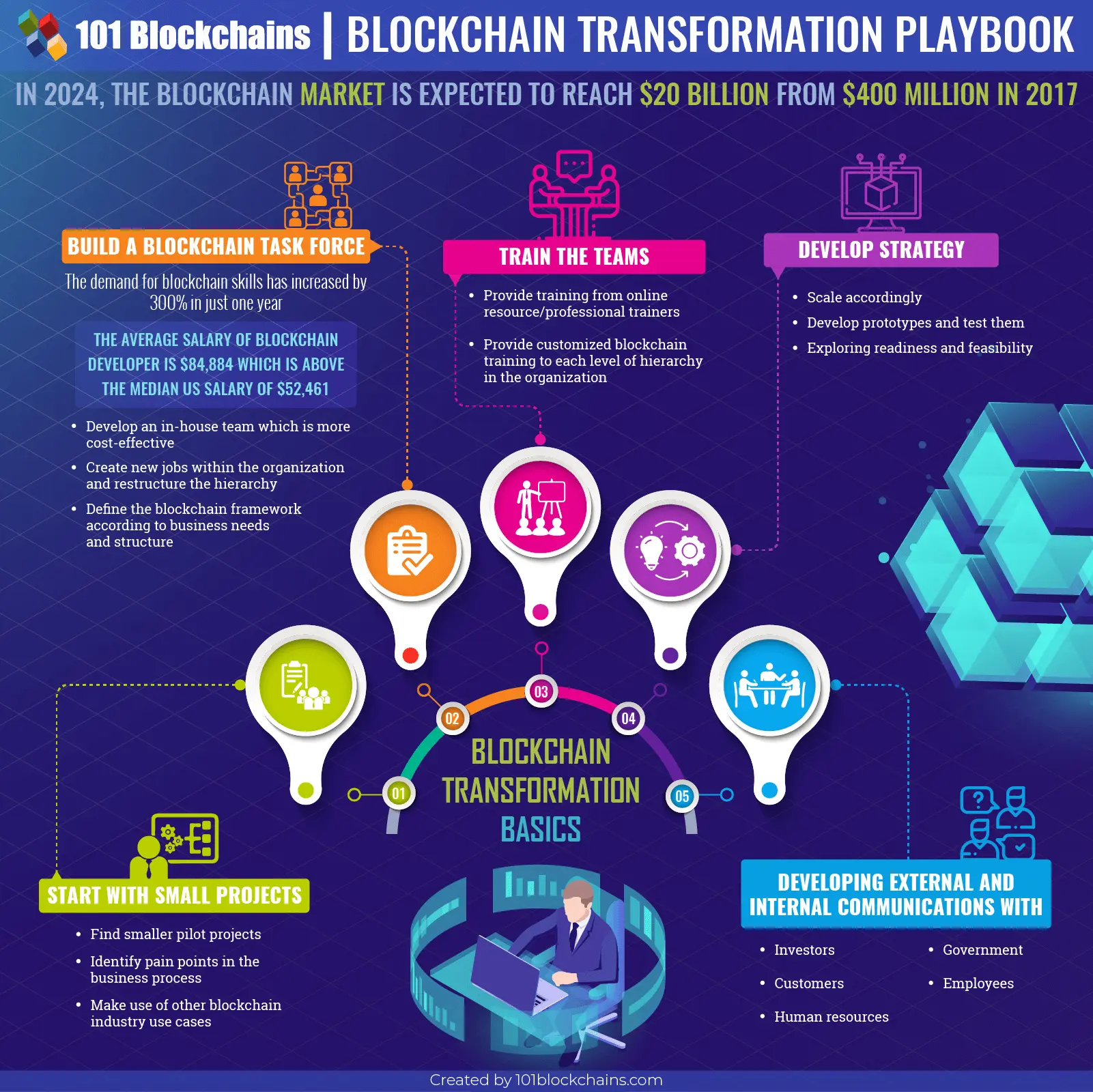 2. Blockchain Technology Explained
This is one of the most significant blockchain infographics on our list, especially if you are a newbie in the blockchain world. We cover the fundamental blockchain technology, how it works,the different technology layers and popular blockchain platforms in the market. . You'll also get an excellent understanding of  "smart contracts" and how they work. 
Importantly, the graphic shows foundational protocols blockchain provides for the emergence of a decentralized internet in the future – Web 3.0.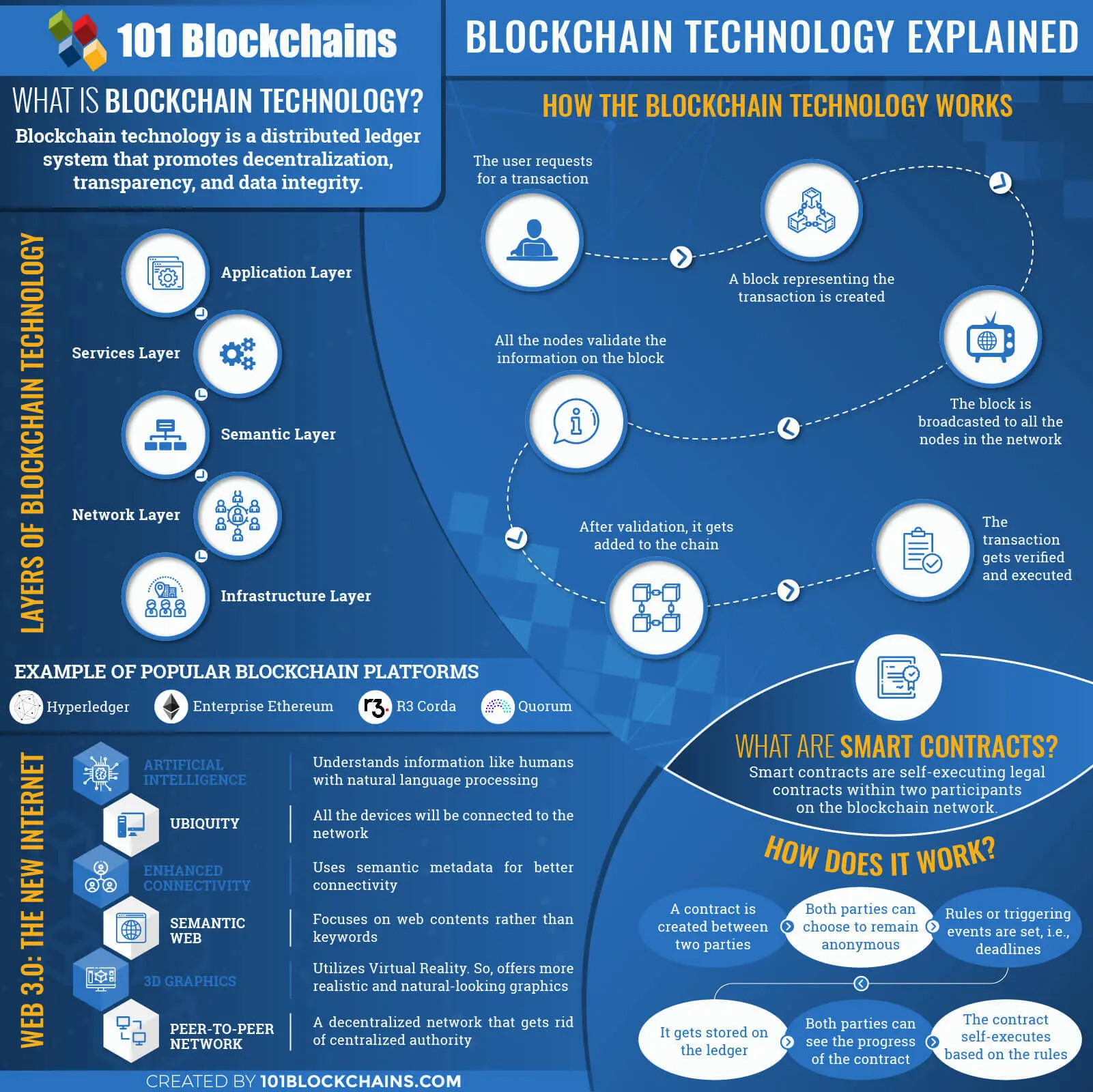 3. Fundamentals of Blockchain Implementation Strategy
The blockchain infographics cover all of the fundamentals of your blockchain implementation strategy. First of all, you can learn about the principles your enterprise solution needs to offer at any time. Core principles such as open innovations, permissioned access, transparent government, privacy, use of common standards.
Also, we covered three significant steps that can lead to successful blockchain implementation. You can learn more about the steps from the guide.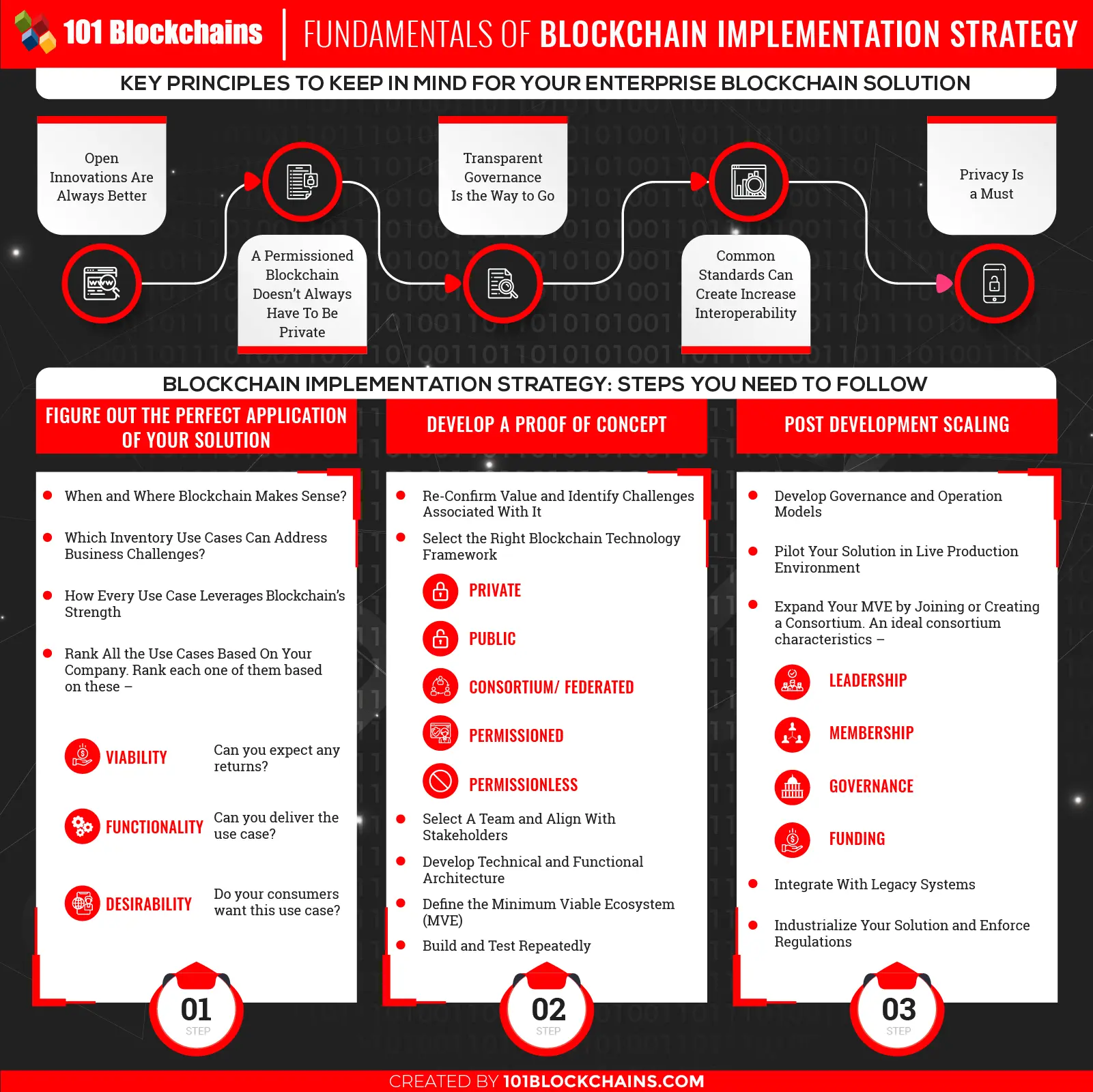 4. How to Become a Blockchain Engineer
Blockchain Engineer is a lucrative job right now in the market. With blockchain rising slowly, many companies are currently looking for skilled employees that excel in the blockchain. So, how can you pursue this career?
This infographic shows what specific skills you need for becoming a blockchain engineer, .so, with this help, you can quickly sharpen up or develop the necessary skills to land a job.
To learn more about the blockchain technology infographic, check out our full guide now.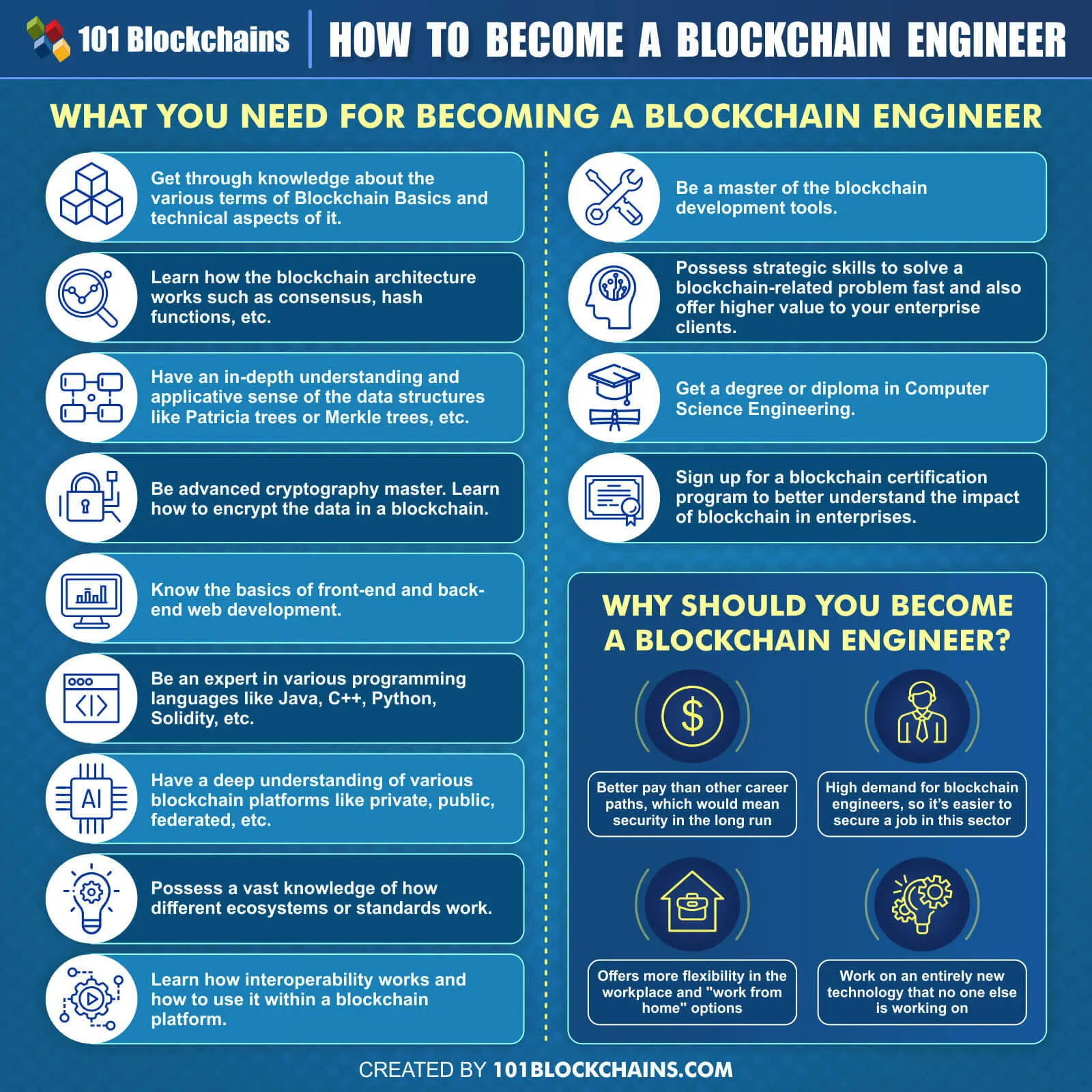 5. How Does Blockchain Work
Blockchain technology is rather sophisticated and it can be difficult to understand how the system works. Basically, in this blockchain infographics, we cover many questions you may have about how blockchain works.
Also, every blockchain can work differently based on its architectural design, algorithms, feature arrays, token economy and other factors. If you want to more fully understand how the technology works, nothing beats our guide on this.
To, learn more about this blockchain technology infographic check out our thorough guide.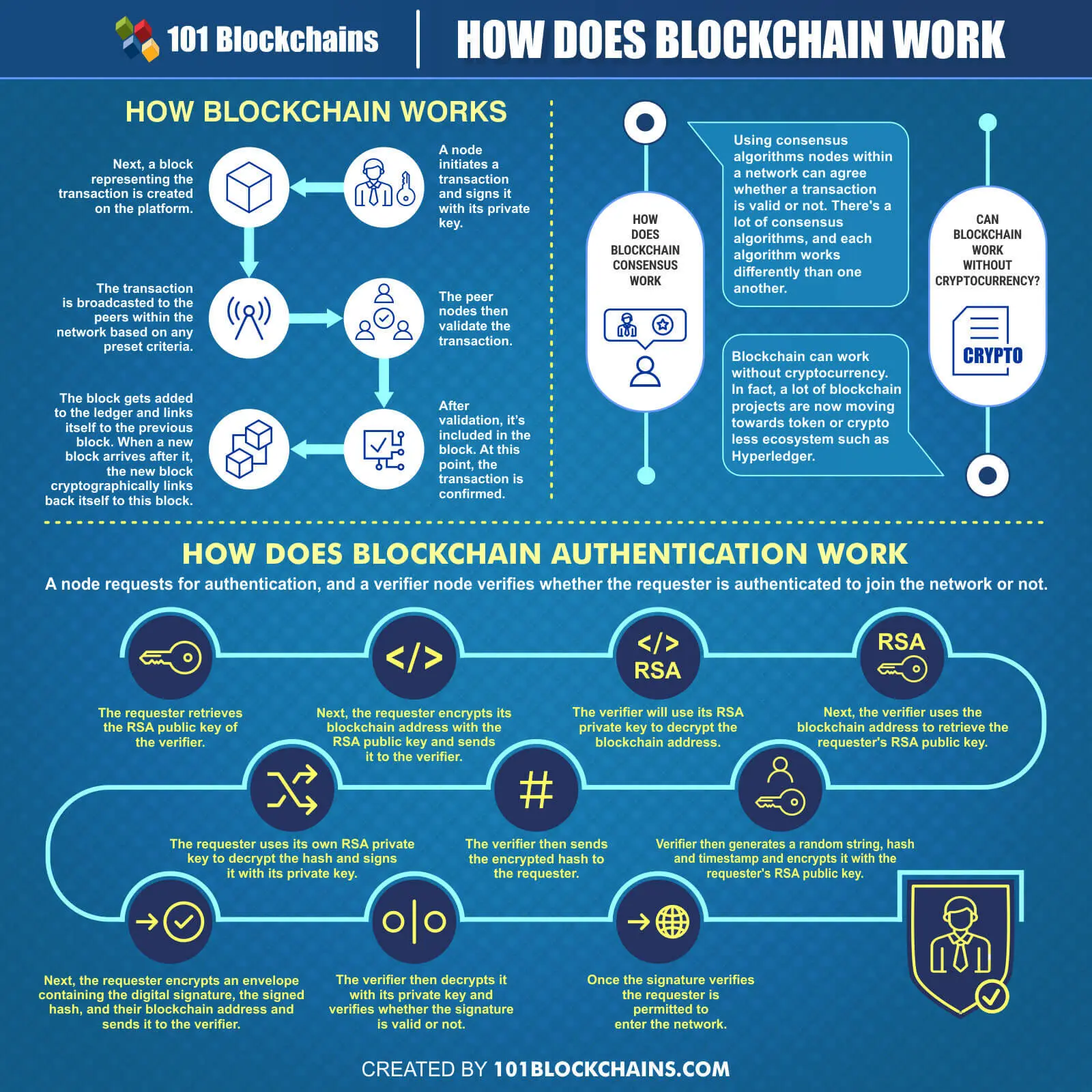 6. Blockchain Business Strategy Implementation
So, you've learned about the implementation steps, but what about when it comes to business strategies? Incorporating blockchain into your business is relatively tricky. More so, if you don't have a solid strategy in place, it might be unsuccessful. So, how do you come up with the business model?
Well, don't worry. Our stunning blockchain infographics has your back. In this one, you get the complete package – from finding out use cases to rolling out the end product. We've covered everything an enterprise professional is looking for. So, check out our guide to learn more about it.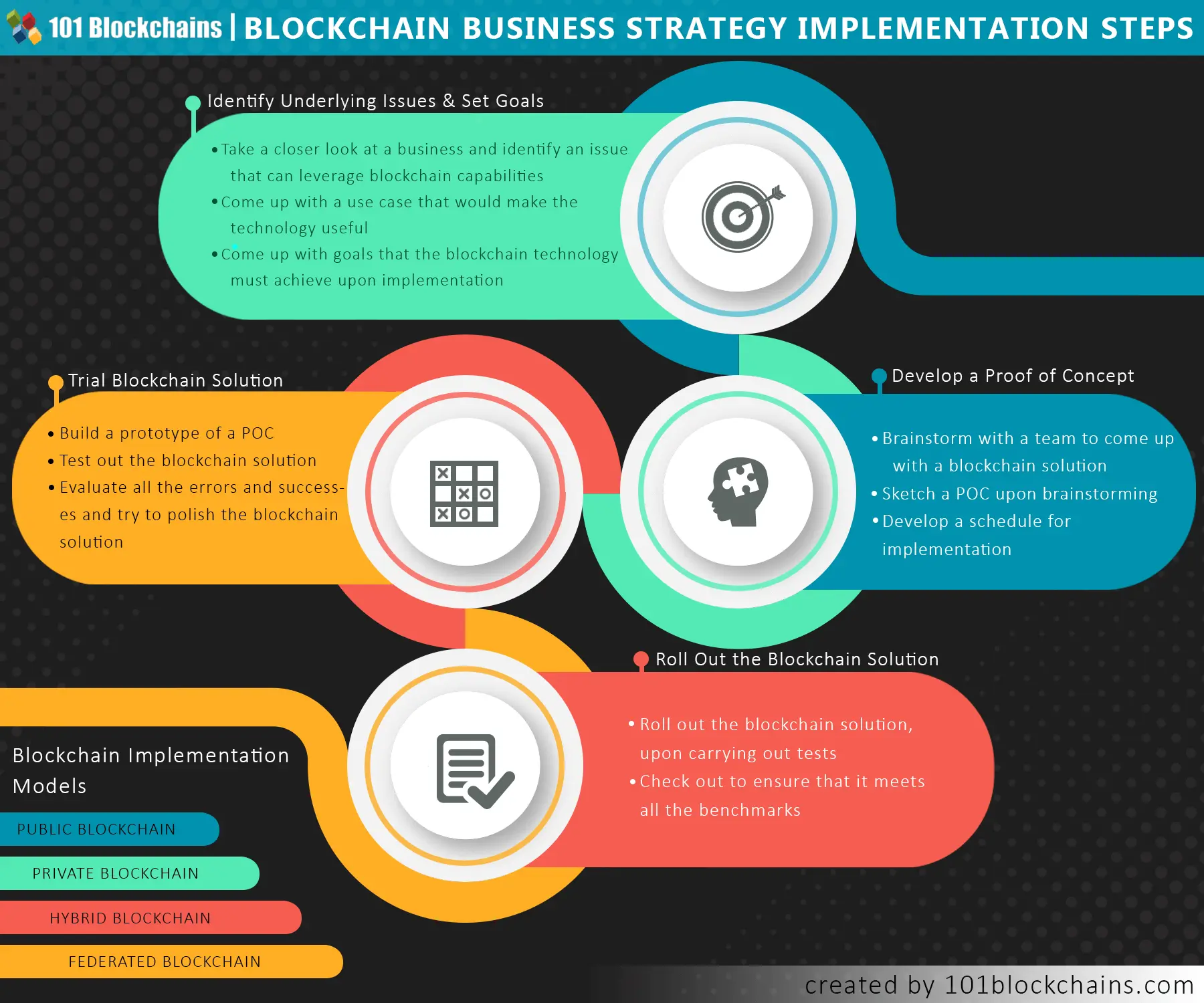 7. Blockchain Wheel of Opportunities
Every time a new innovation hits the market, different job sectors slowly start to arise to meet the demand. This applies to blockchain. The technology gives rise to whole new opportunities for you. If you have a sharp eye for this technology, then getting a job in this sector might be the best career move you make.
Companies pay a hefty amount of money for blockchain-related expertise. You don't only have to be "techy" to land a job in this niche as you have the chance to choose from a wide variety of opportunities.
We cover lucrative blockchain-based jobs in the market in this blockchain infographic, .including the demand for each of the jobs.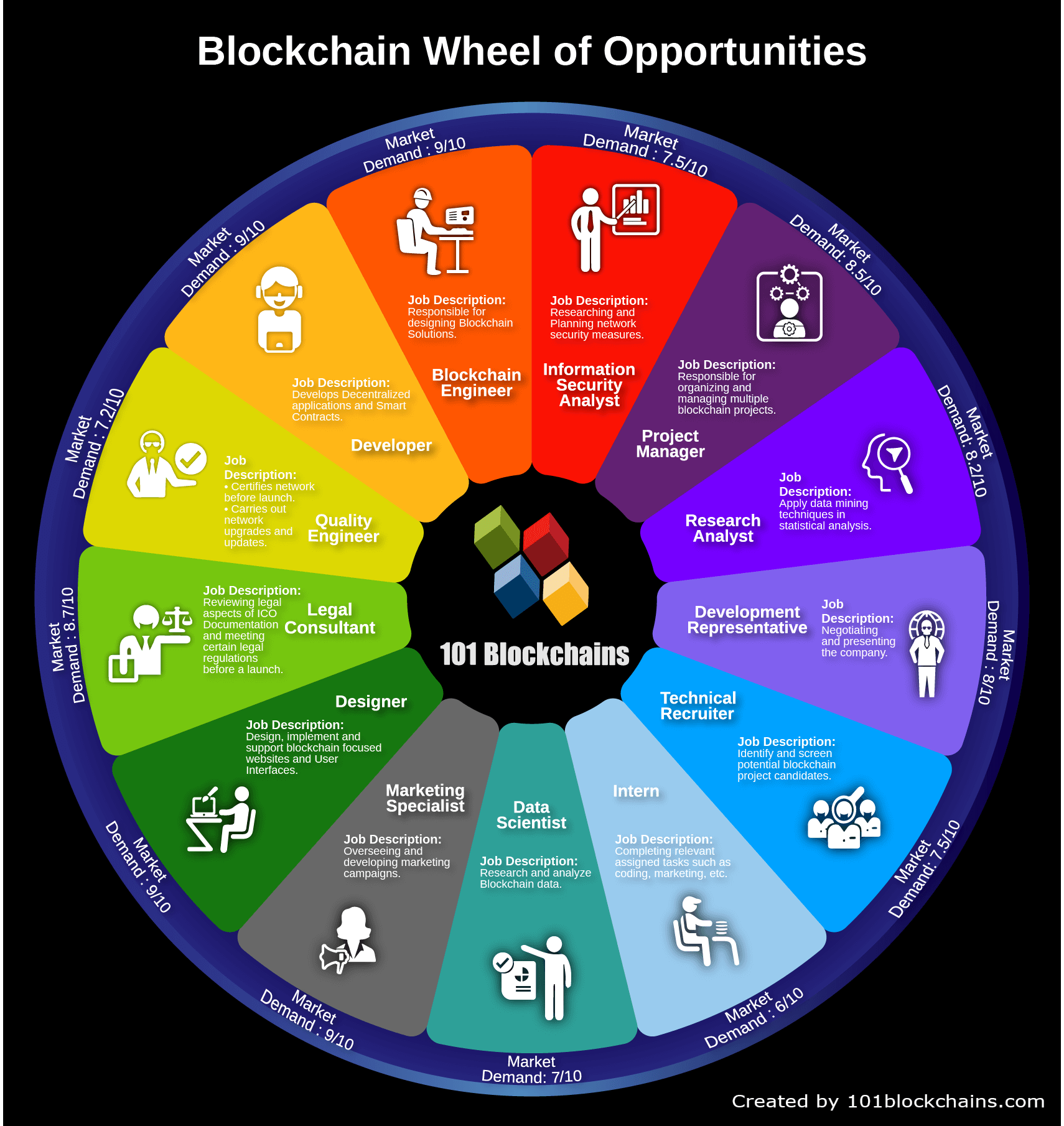 8. How to Implement Blockchain
This is another one of our stunning and vibrant blockchain infographics. You'll learn tons of important factors, like what are the initial steps of blockchain implementation. Additionally, you'll have to look into the different use cases and figure out which one your company is best suited for.
We have also covered hurdles that you may encounter when implementing blockchain. In reality, you have to make sure to overcome these issues to make your project a huge success.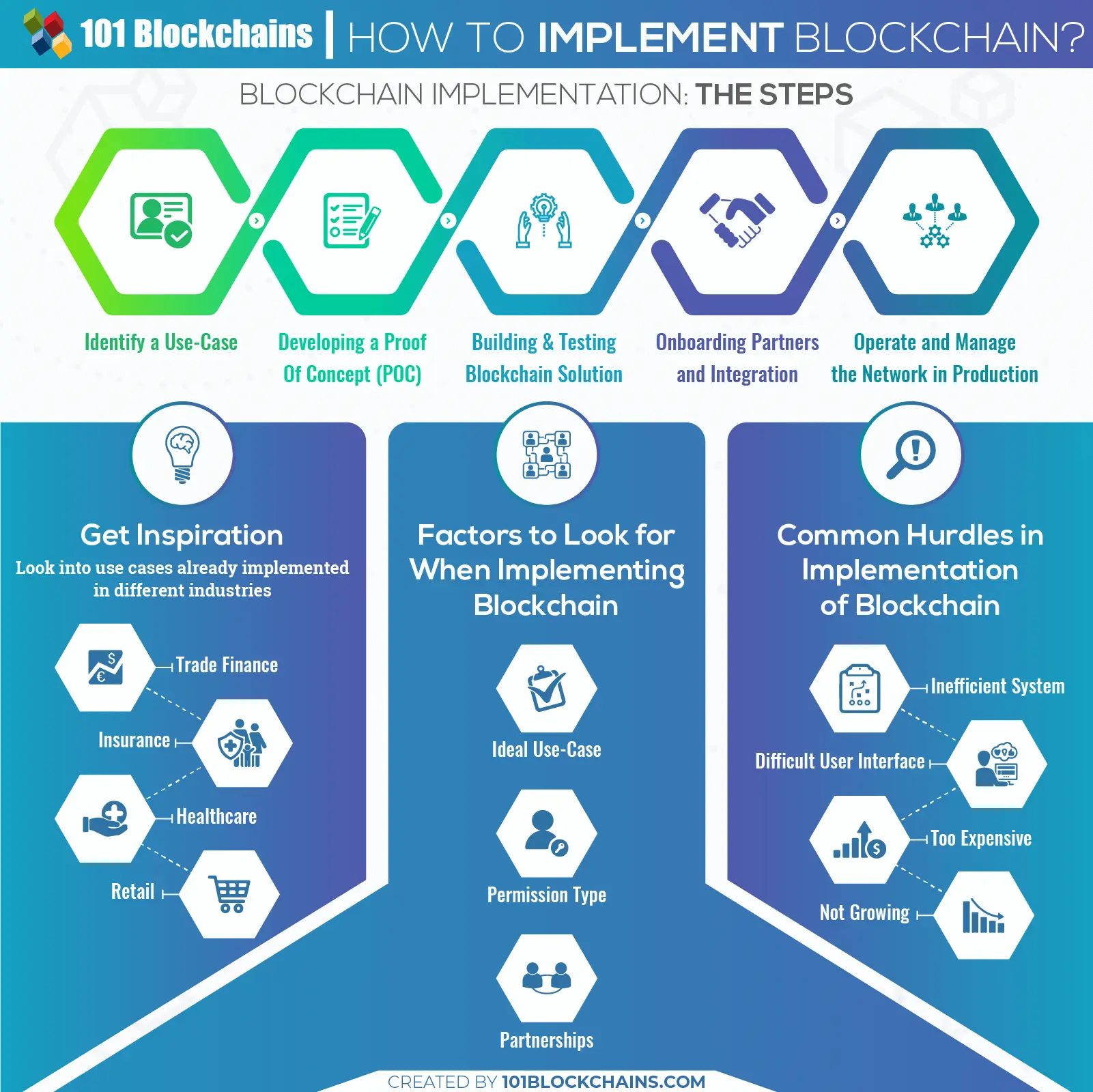 9. Different Types of Consensus Algorithm
Consensus algorithms are the core of every blockchain technology. How? Well, these algorithms help the users on the blockchain come to a decision about the transactions on the platform. Without this, blockchain would just be a decentralized database and nothing else.
In reality, blockchain technologies can use multiple ways to reach consensus. Our stunning blockchain infographics cover all of the popular ones so far. Additionally, you can see how the different consensus algorithms may work in your solution as well. Give our guide a read, because it'll let you know more about each of the algorithms.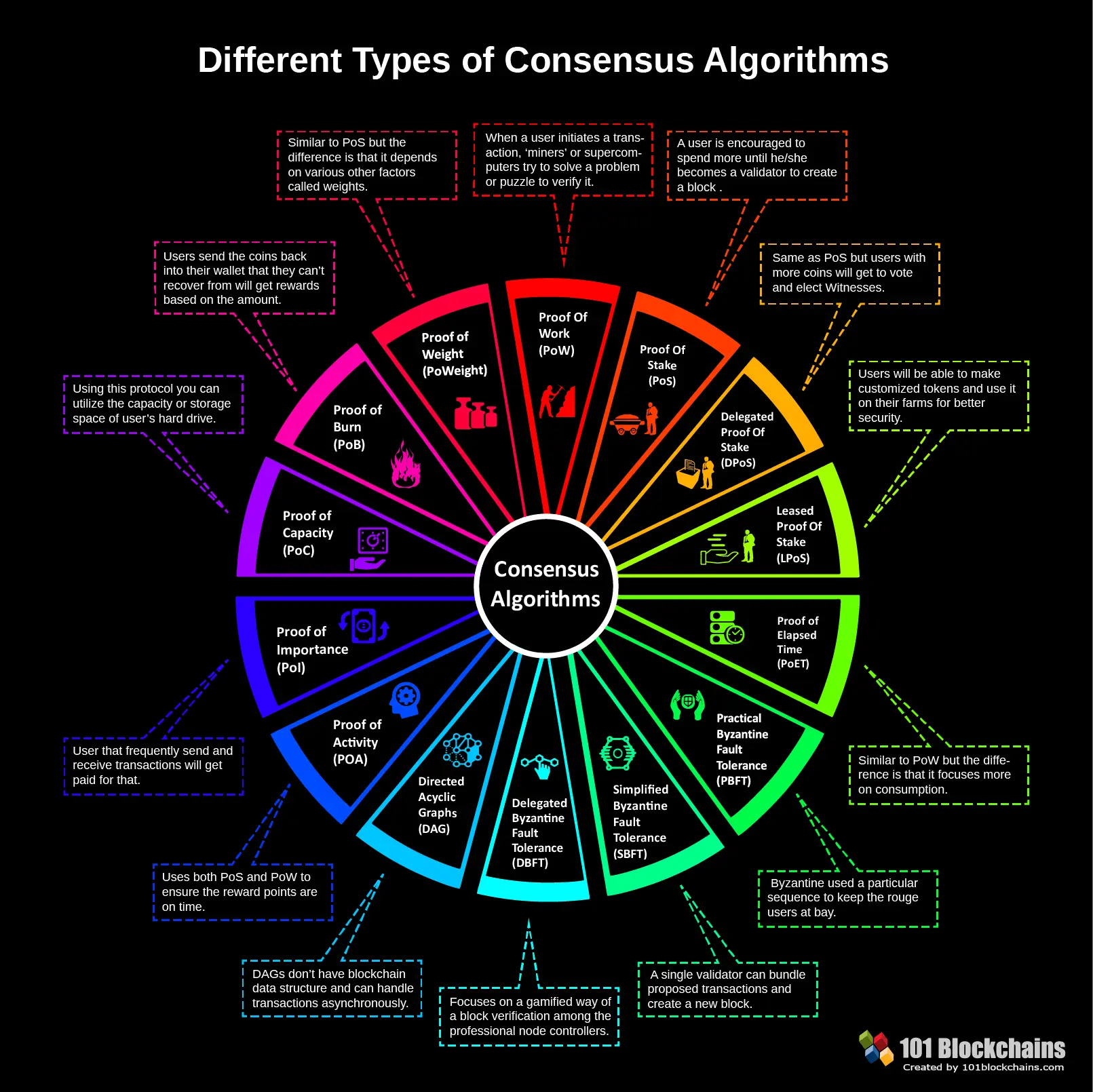 10. Hybrid Blockchain
The hybrid blockchain infographics cover the basics of this type of blockchain. You could see it as a blockchain that tries to include the best features from both private and public blockchain.
In our blockchain technology infographic, you can see how the structure of this type of technology will be.
More so, the infographics also cover the benefits of this as well. The platforms let you have the control and freedom at the very same time. What? It seems a bit redundant? Well, check out our thorough guide to learn more about it.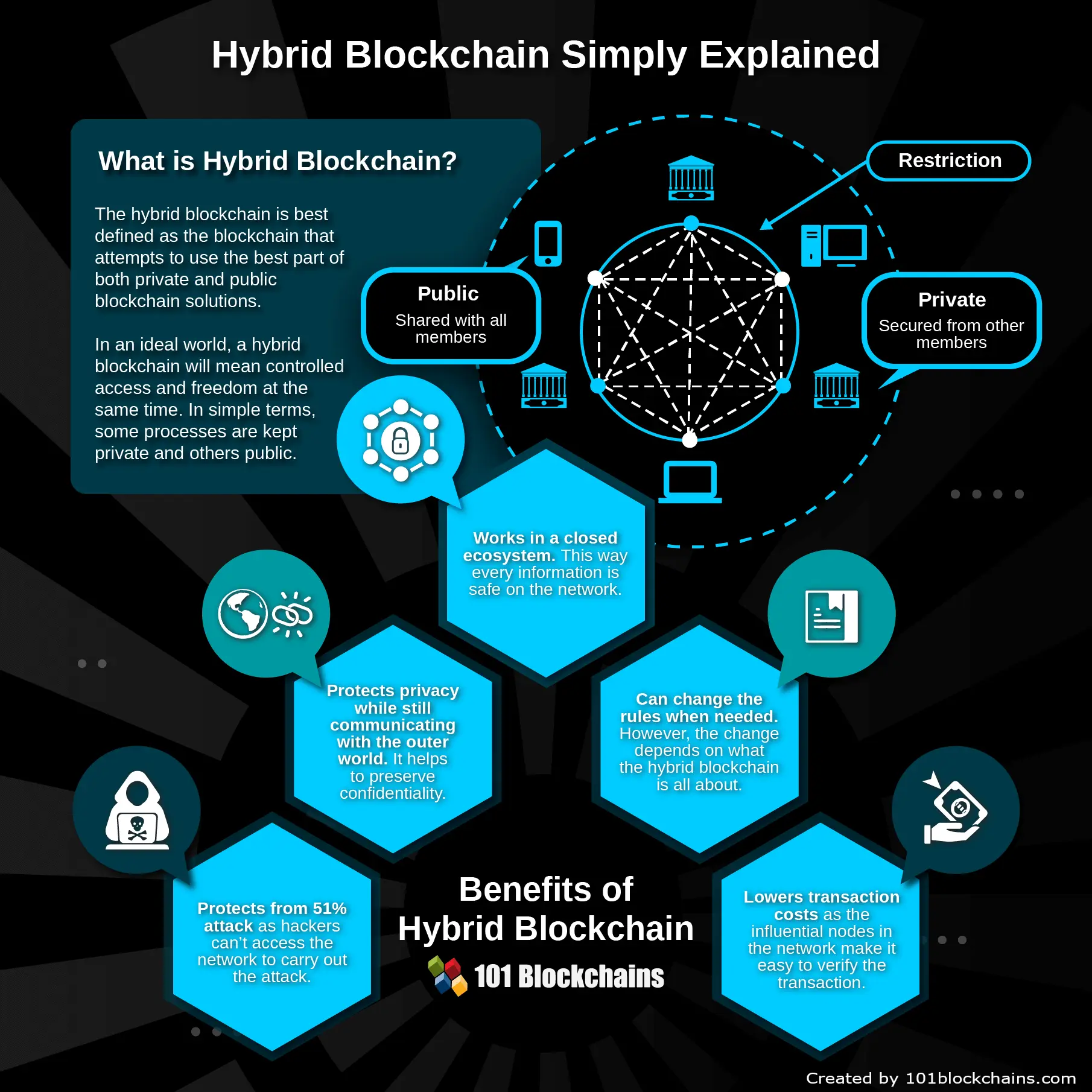 11. Federated Blockchain Simply Explained
Federated blockchain is a type of blockchain technology. You may also know it as a blockchain consortium. In reality, it operates under multiple authority instead of a single, highly trusted node. Moreover, the authority nodes are pre-selected from all the organizations connected in the network. The selected group maintains the network and validates a block, and only the group has access to the restricted inner area.
So, in this type, you can work with multiple companies and still get a decentralized nature along with privacy. In reality, these are awfully popular now among the enterprises, so it's best to check out our full guide on them.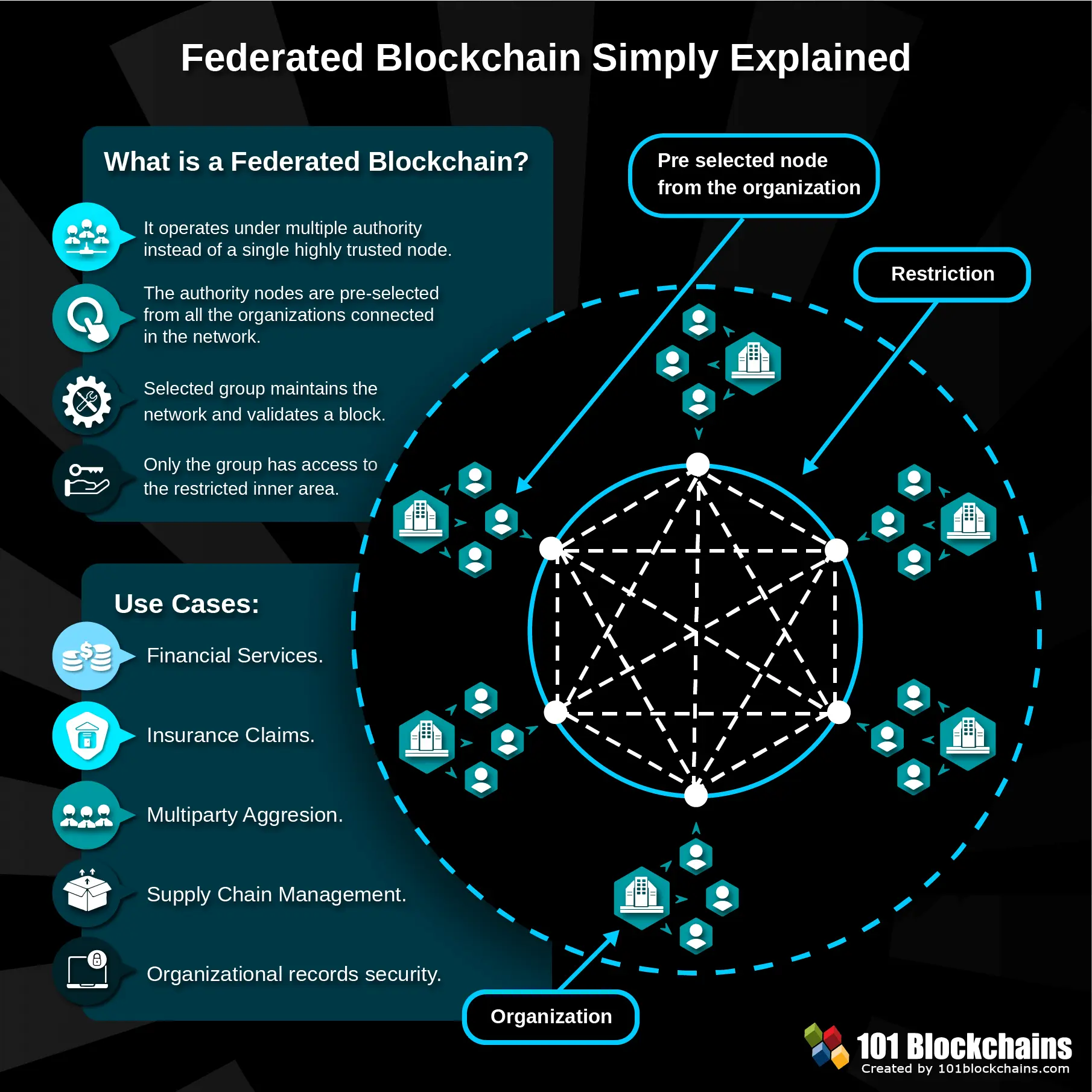 12. Hyperledger Ecosystem and Vision
Linux Foundation is behind the open-source umbrella project Hyperledger. It comes with a lot of toolset, libraries, and frameworks for the developers. More so, it's best suited for any enterprise-grade blockchain solutions.
We have to say it's definitely one of the best crafts from our blockchain infographics list. The blockchain technology infographic lets you know which blockchain as a service vendors offer the solution along with which companies are currently using it,
More so, you get to check out their vision for the future as well. Our Hyperledger guide offers many more details on each of the parts. So, you must read that guide as well.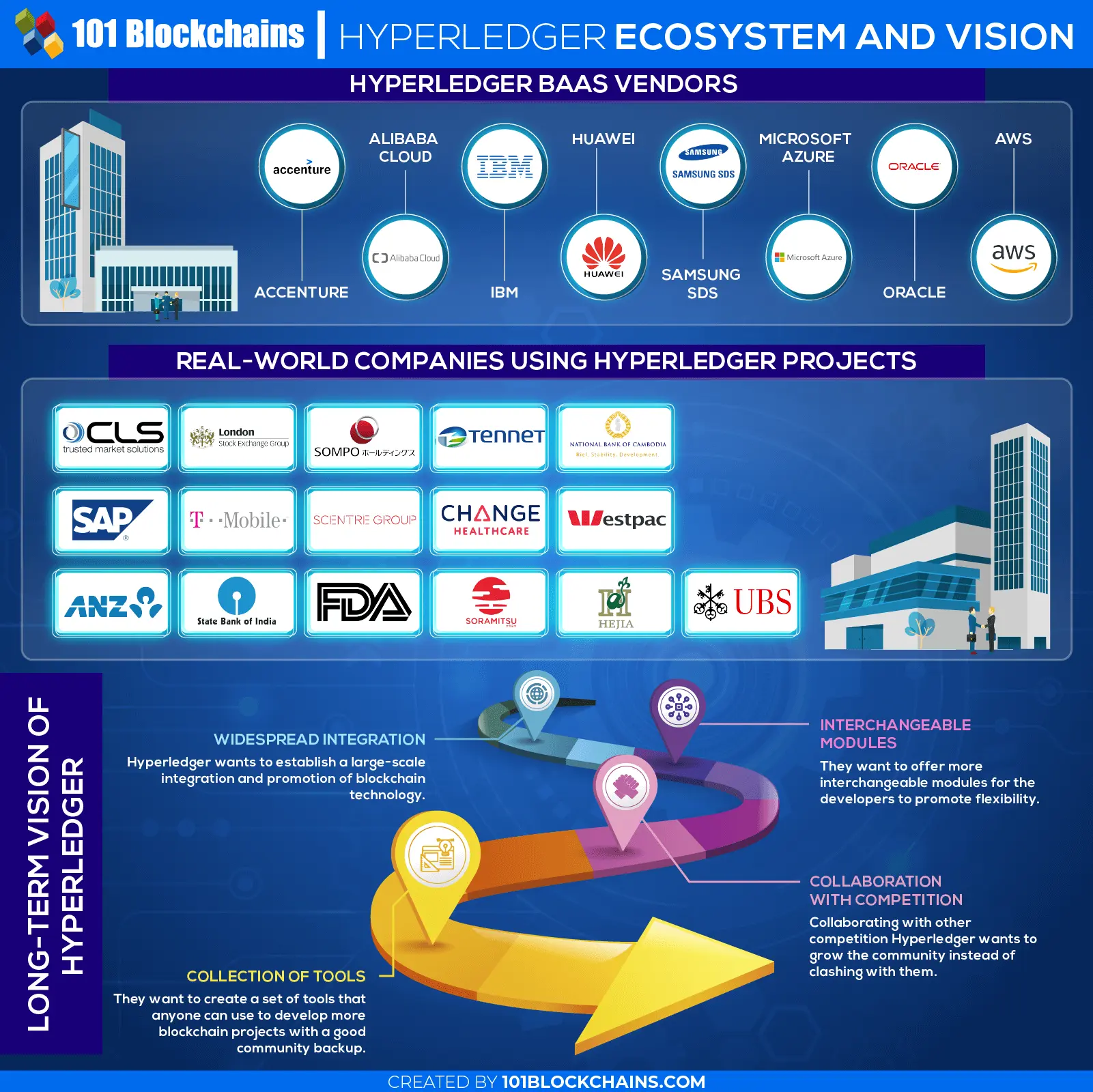 13. Quorum Blockchain Simply Explained
The Quorum blockchain simply explained covers the basics of the platform Quorum. This an enterprise-grade platform that deals with permissioned access. J.P. Morgan is behind this platform. Basically, you may think, why do you need this platform anyway? Well, our stunning blockchain infographics can answer that question efficiently.
More so, you can also take a sneak peek at what the architecture of this platform is or what kind of consensus it uses in just one solid blockchain technology infographics.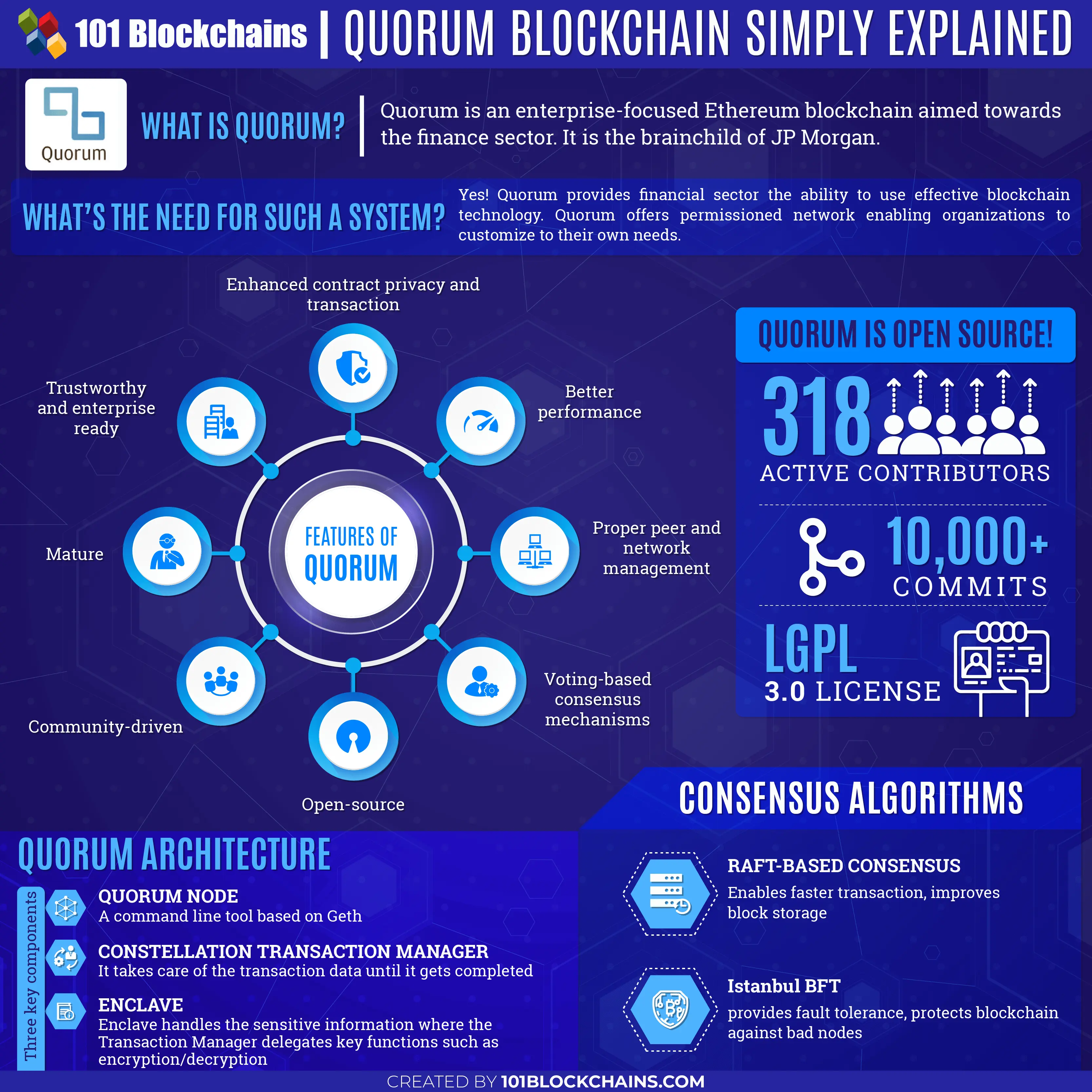 14. Enterprise Ethereum Use Cases
Enterprise Ethereum is the private version of the public platform Ethereum. It offers a separate private chain for giving you privacy over your transactions. In reality, Ethereum first came to be a public platform; however, a public platform isn't much suited for the enterprise environment.
As a result, Enterprise Ethereum Alliance formed and came up with the Enterprises Ethereum platform. In our blockchain infographics, you'll notice that this one covers all the use cases of this platform. Basically, the blockchain infographics will help you figure out which if your company can use enterprise Ethereum or not.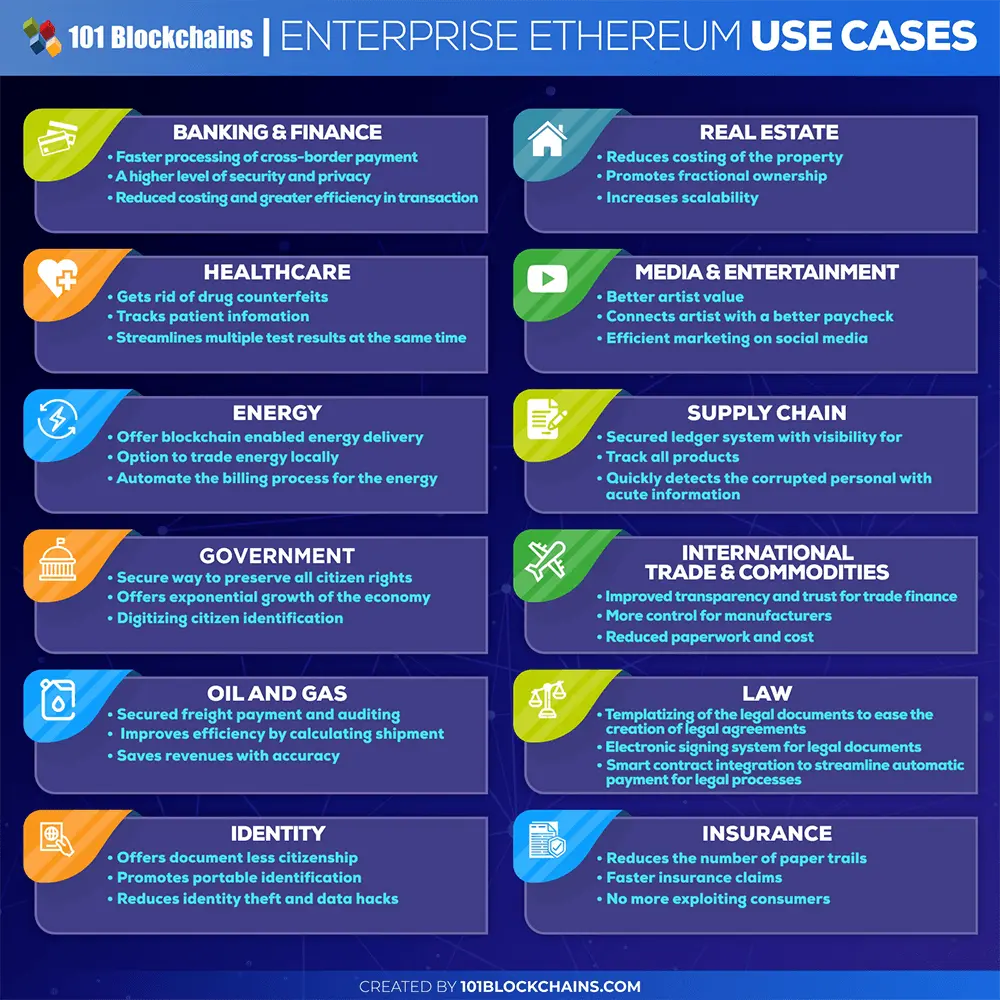 15. Corda Blockchain: Global Corda Network and Corda Enterprise
R3 is the enterprise-grade software company backing up the platform Corda. The platform is said to rule the financial sectors. The blockchain infographics in this guide offer a full insight into the architecture of the platform. It also covers a global Corda network that comes with an enormous amount of nodes to help you sustain the fast output of the platform.
The best part about this blockchain technology infographic is the benefits. As you can see, we have covered what you can expect from this platform, which will help you make a knowledgeable decision.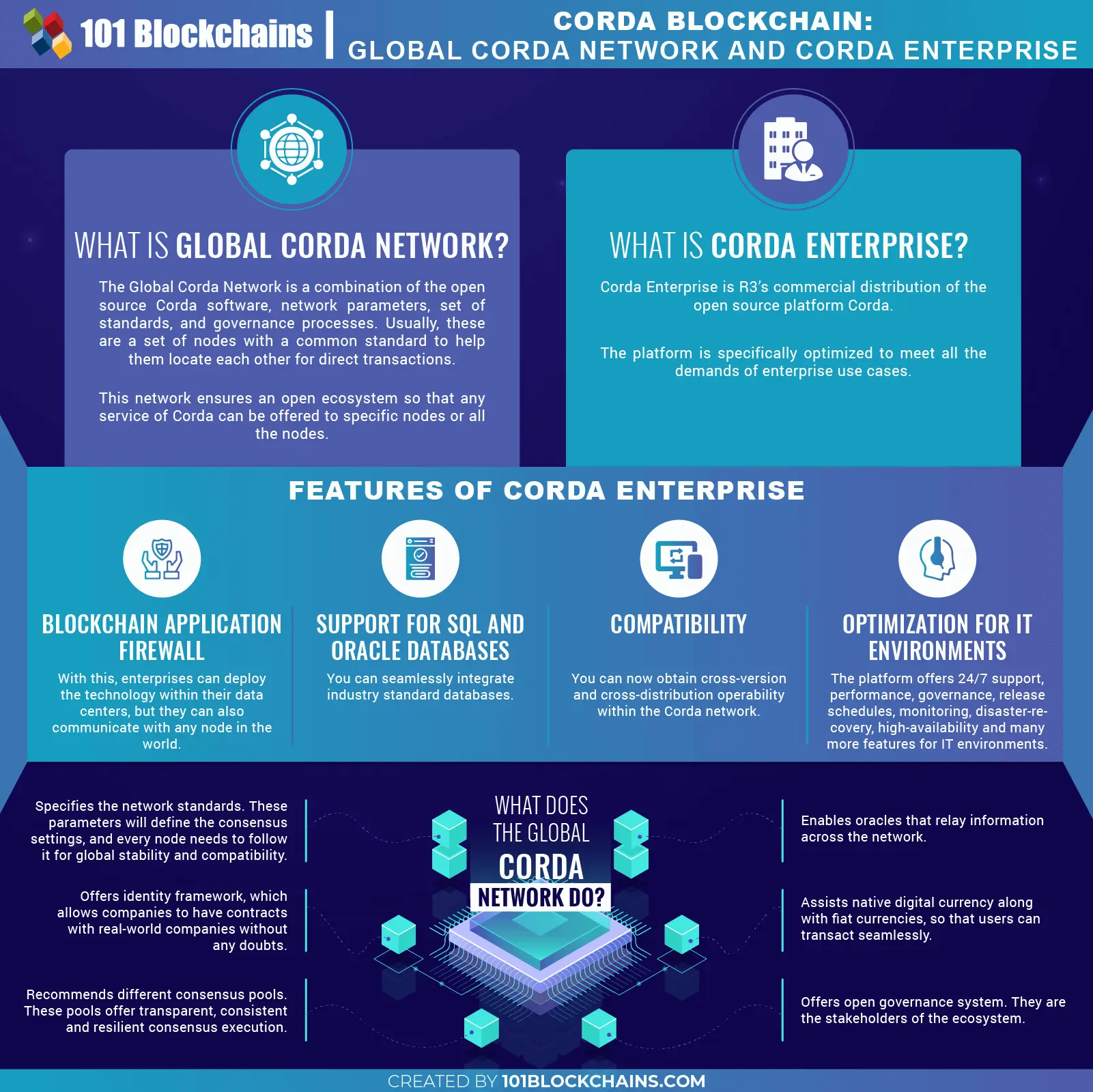 16. Corda Ecosystem and Long Term Vision
Corda is one of the enterprise blockchain platforms in the market. Previously, experts believed that Corda was only made for financial sectors. However, you can now use Corda for many different use cases aside from financial sectors.
We have to say it's definitely one of the best crafts from our blockchain infographics list. The blockchain technology infographic lets you know which blockchain as a service vendors offer the solution along with which companies are currently using it,
More so, you get to check out their vision for the future as well. Our Corda guide offers many more details on each of the parts. So, you must read that guide as well.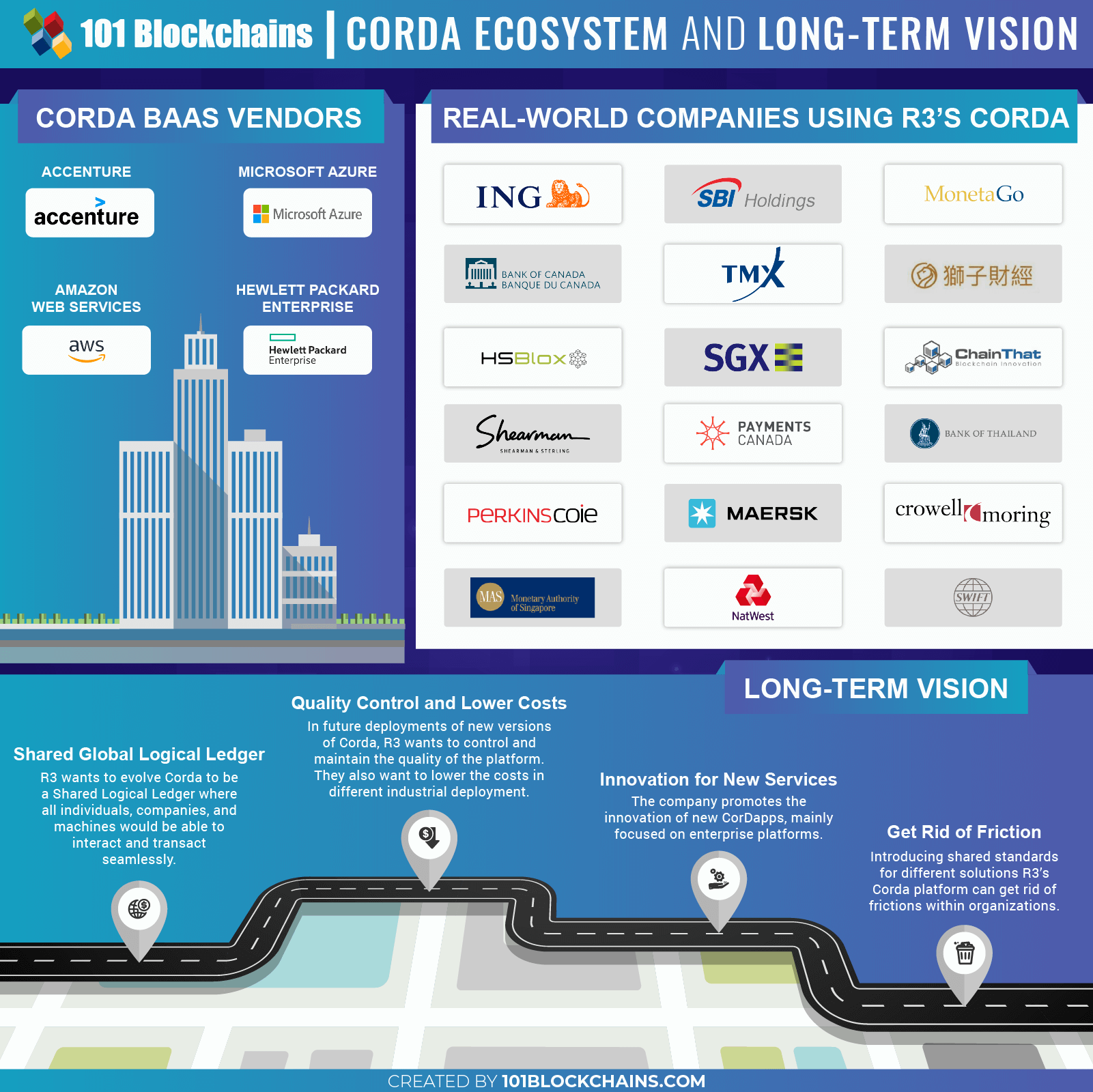 17. Introduction to Blockchain + AI
AI technologies are all centralized. All the companies hold the information and protect their algorithms rather than making them open-source. That's why centralized AIs can't be fully trusted. However, blockchain can easily solve the issue and ensure a better formation of AI technology.
If you are working on AI technology, then make sure to check out our blockchain infographics because it covers how blockchain can help the AI sector.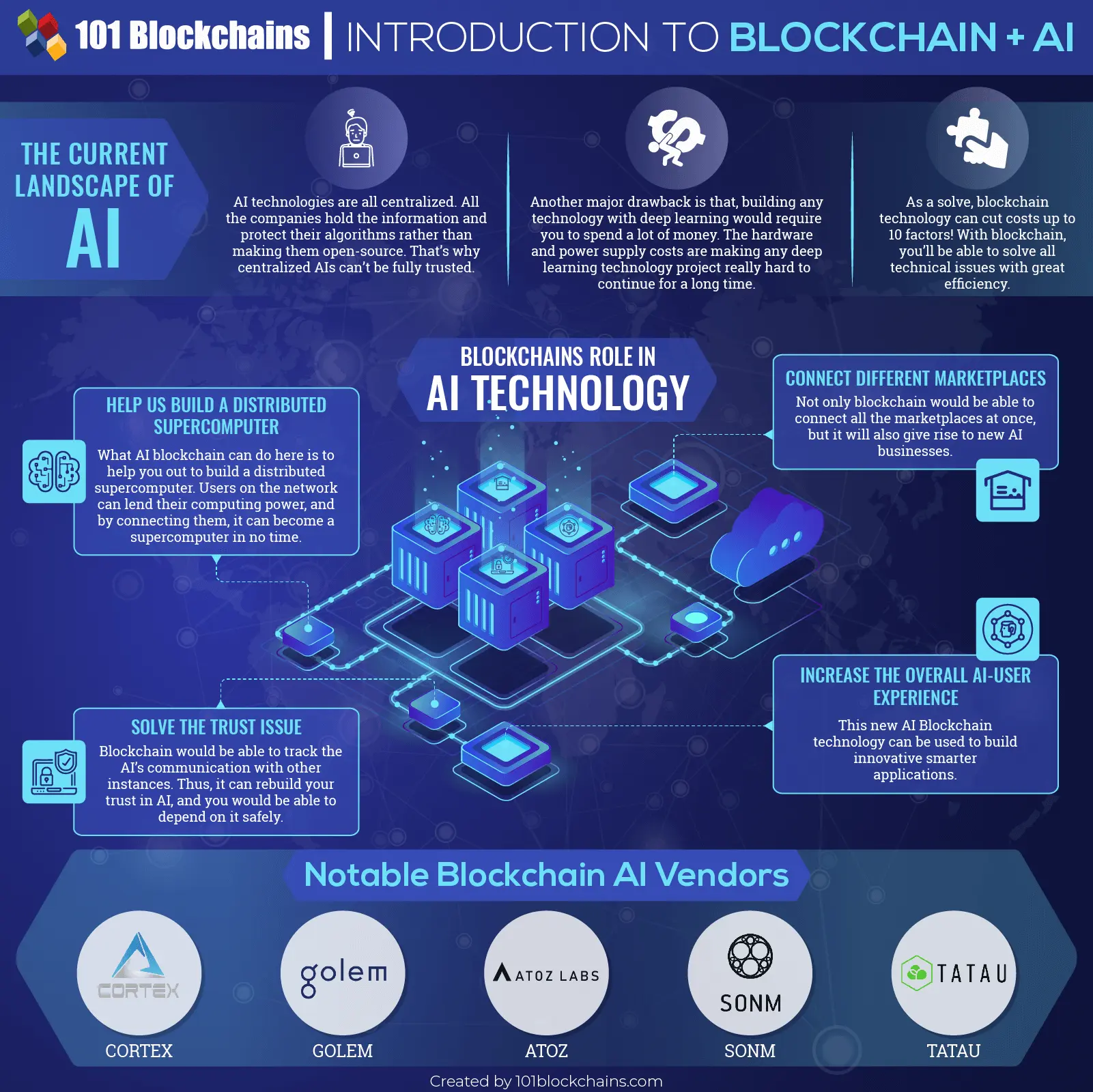 18. What Is Blockchain Interoperability
Many of you have questions regarding the interoperability of two blockchain platforms. Basically, blockchain interoperability means that your blockchain platforms can communicate with each other, and users can connect multiple platforms to create a complete ecosystem.
This fabulous blockchain infographic covers everything relating to this topic, starting from what are the primary issues and what are the benefits as well.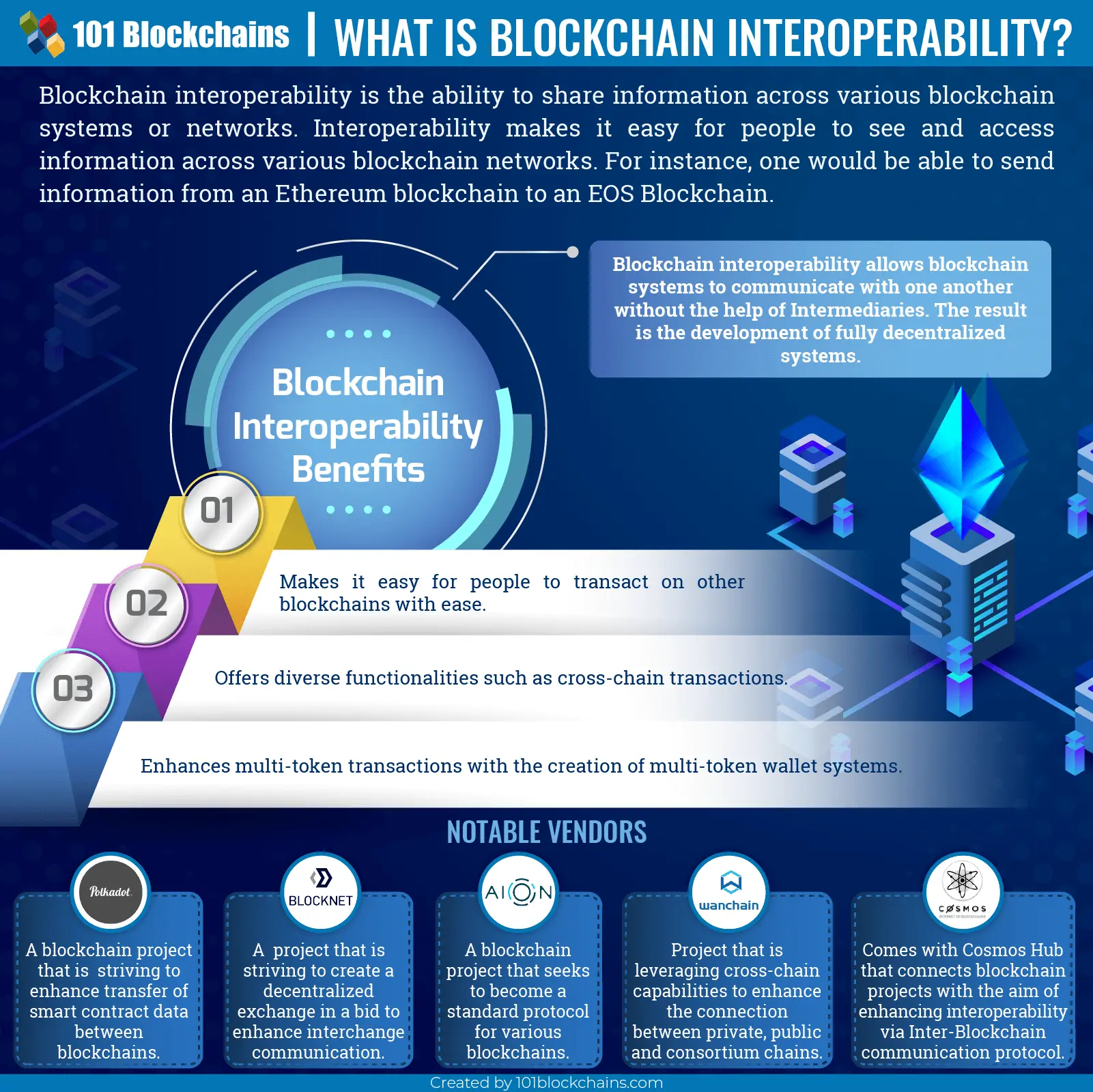 19. Blockchain for Healthcare
The blockchain infographics, in this case, are geared for specific use cases of the technology. As you can see in the infographics, blockchain can benefit the healthcare industries in many ways. Moreover, the best part about this infographic is that it explains what challenges healthcare faces every single day and how blockchain can overcome each challenge with ease.
It also covers different ways it can make healthcare more efficient and better if you choose the technology.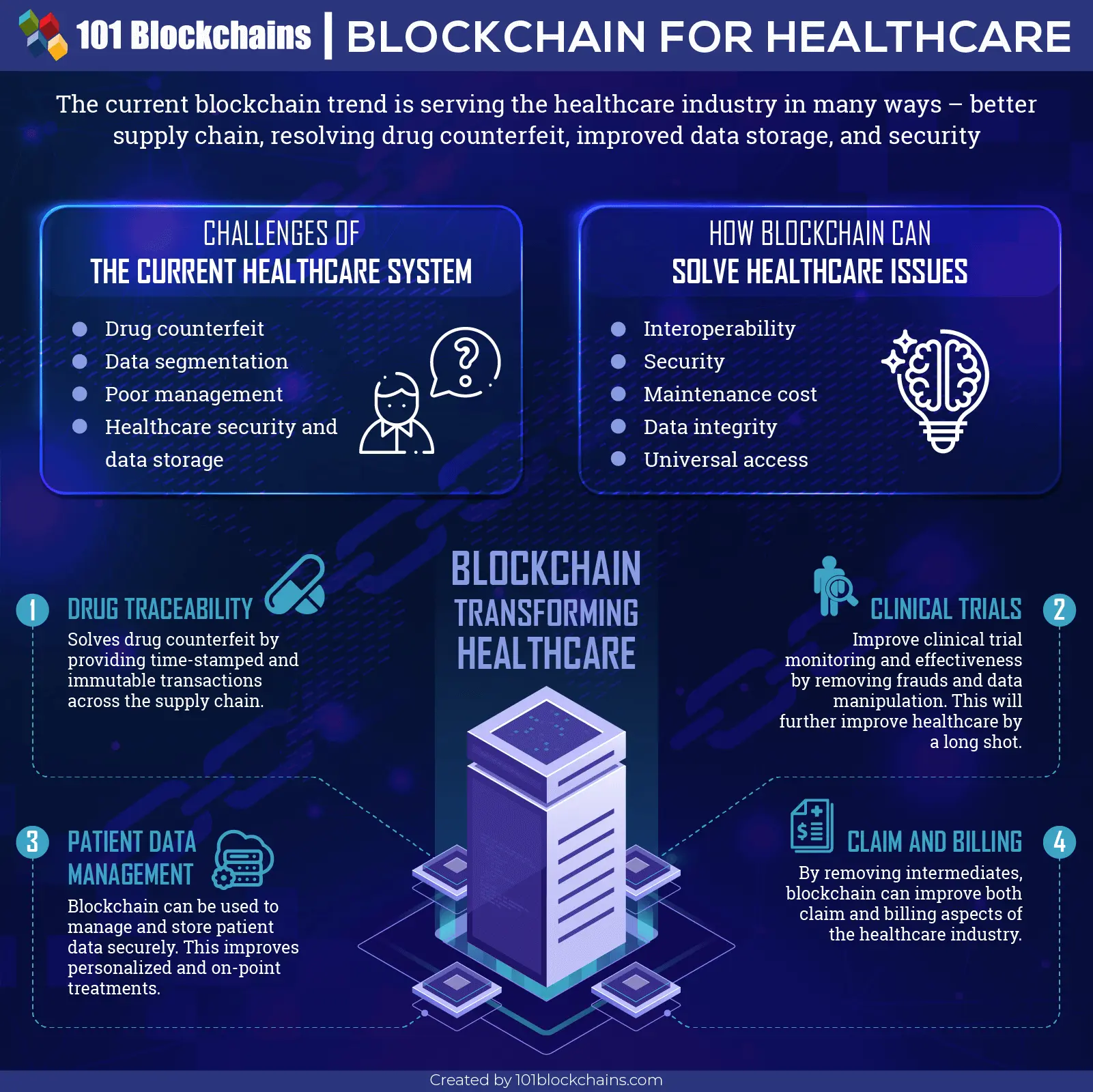 20. Trade Finance: Fundamentals and Issues
Our trade finance blockchain infographics cover up the issues of this sector. Before you can assess how the blockchain may help this industry, you need to know where it requires help. More so, the blockchain technology infographics in this guide offer a much more in-depth analysis of the situation.
If you are unaware of the issue of your trade finance industry, our infographic can help with that.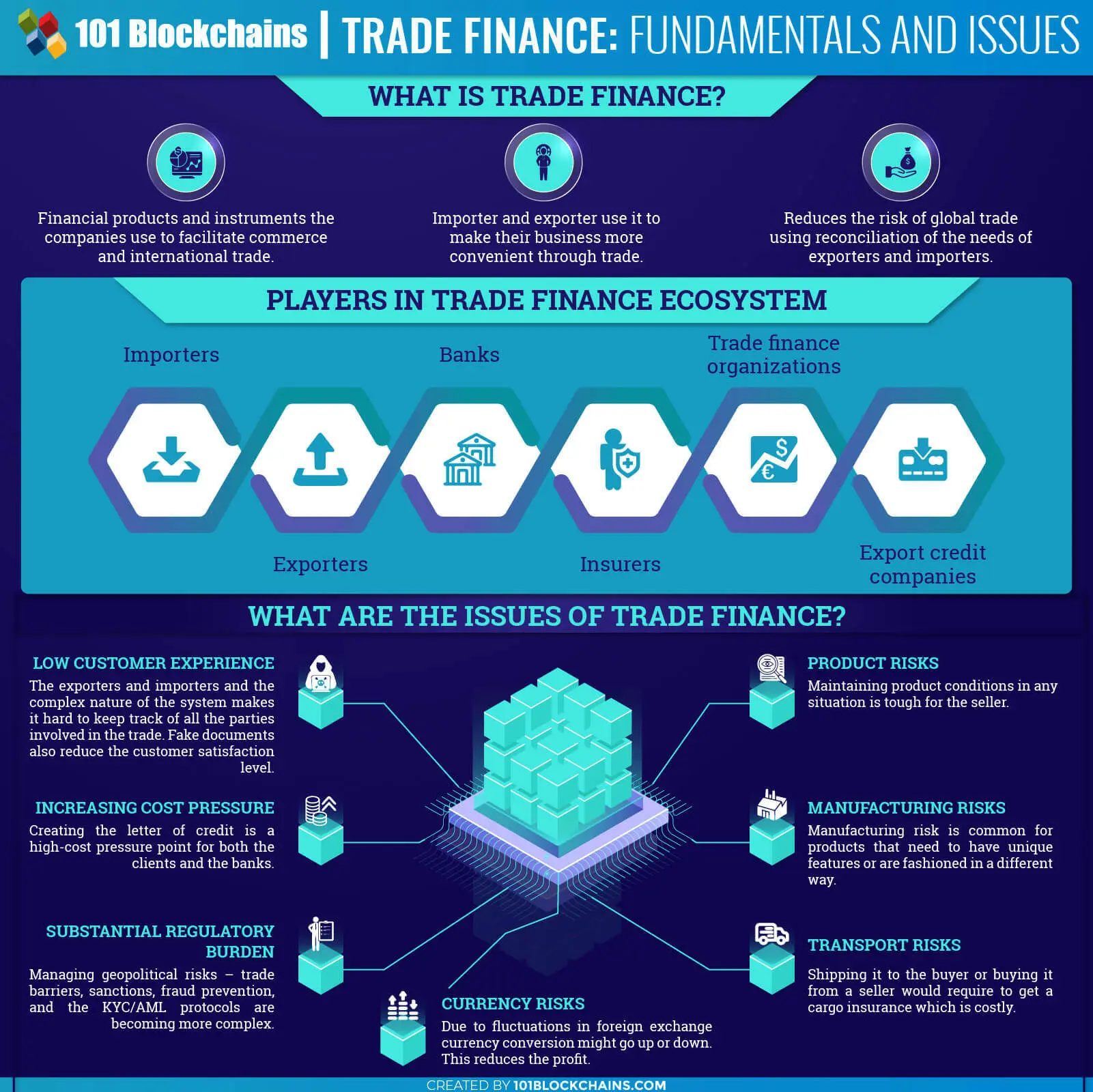 21. Digital Identity: A Simple Explanation
Online platforms are slowly taking over the world, and now it demands digital identities to help us streamline our day to day activities online more efficiently. However, as cybersecurity is still lagging behind in many ways, it's evident that we need something more secure.
Therefore, blockchain comes into play. In reality, we tried to cover our blockchain infographics based on how blockchain may help this sector. So, check out our full guide on it to learn more about it.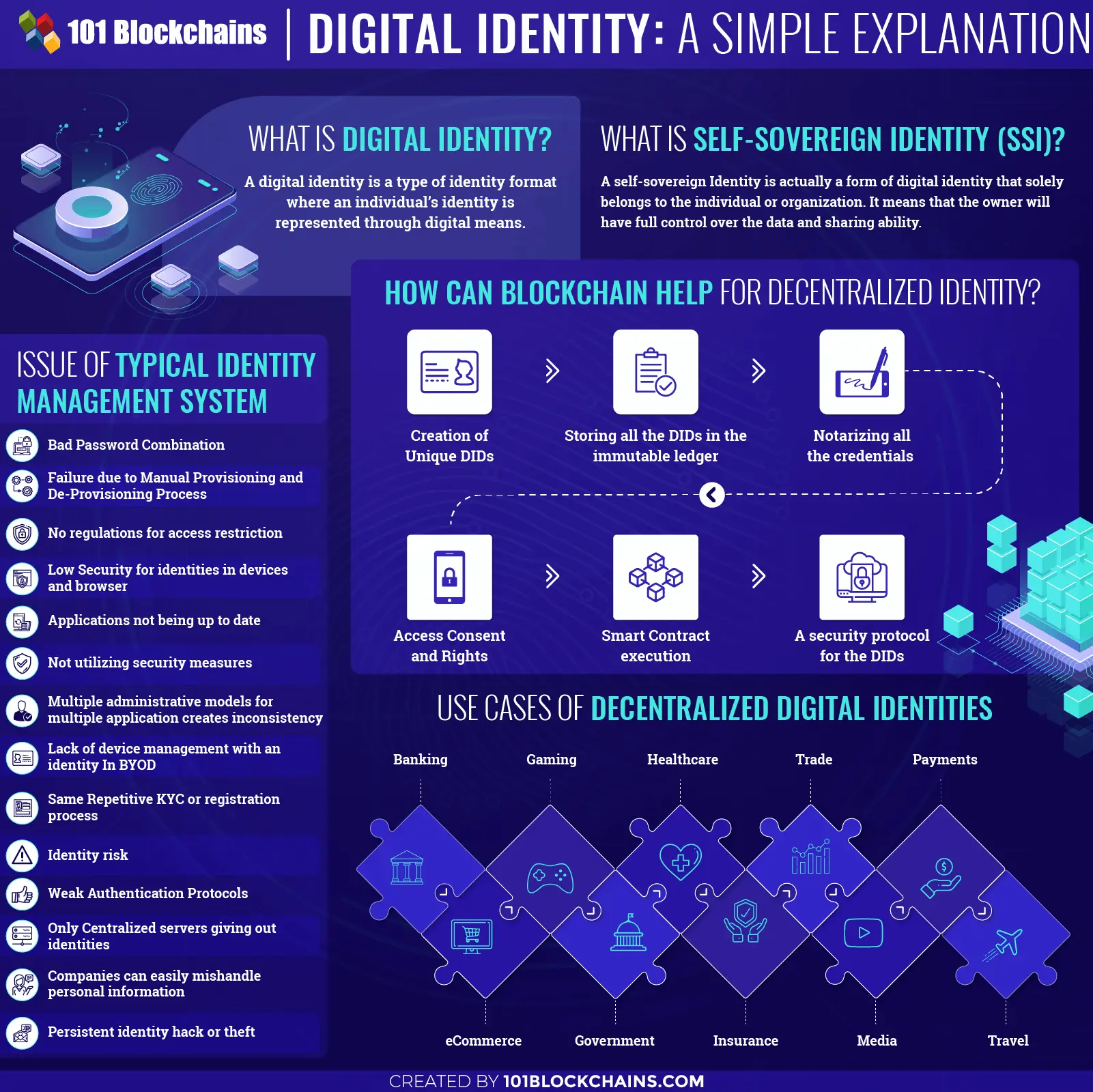 22. Essentials of Supply Chain
Our blockchain infographic on the supply chain covers the essentials of supply chain management. It's part of our long-form guide on blockchain for the supply chain. There are an additional three more blockchain infographics in the article, giving you a short description of how blockchain can help this industry.
Anyhow, in this blockchain technology infographic, you get to see what supply chain management is and how it works in reality. More so, you can also get insight into what are the typical issues this sector faces that require the blockchain to save the day.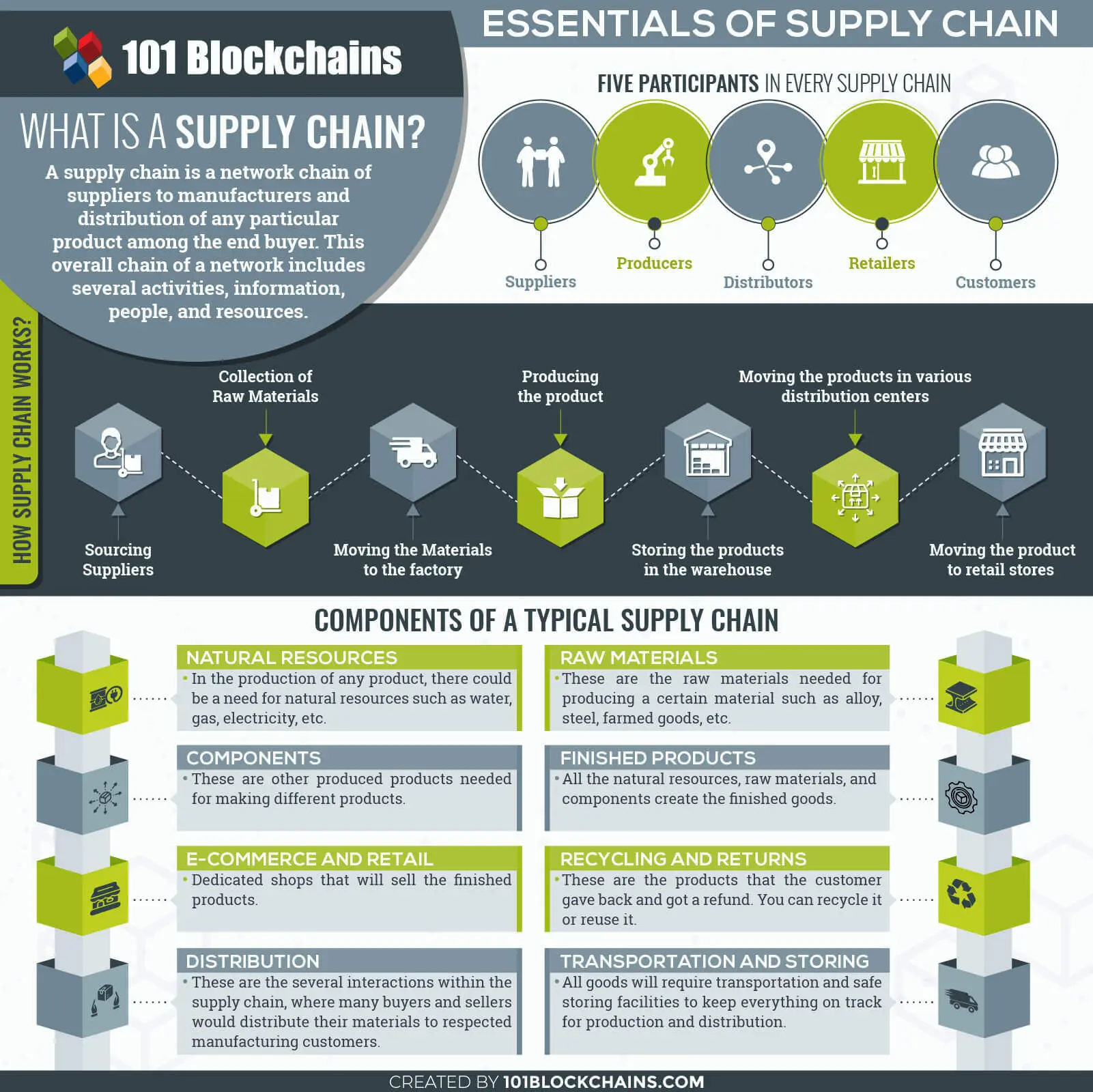 23. Blockchain for Supply Chain
It's another stunning infographic from our blockchain for supply chain collection. In the previous one, you noticed how the supply chain has issues. But in this one, we covered how blockchain can work within the supply chain in a step by step method. What makes this blockchain infographic stand out is the visual representation of different stages of the supply chain with blockchain in the mix.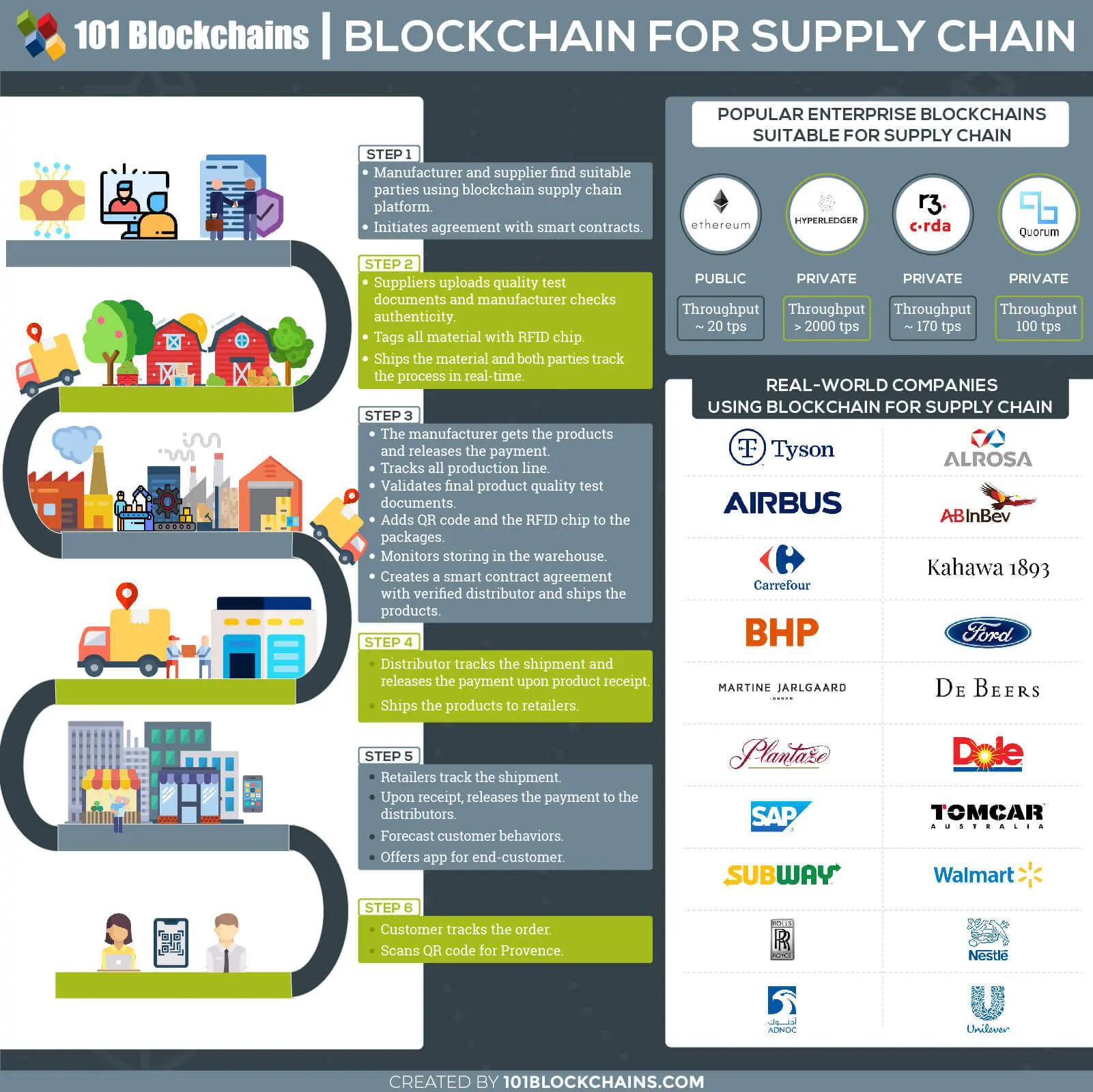 24. Free Blockchain Training Course
Free blockchain training course infographics cover all the basic information of blockchain technology in one single infographic. It also gives you a step by step process of learning about different terms of the technology.
Furthermore, the best part about this blockchain technology infographic is that you can just give it a read and get a basic idea about the technology itself. Obviously, for a more thorough understating, you should check out our guide.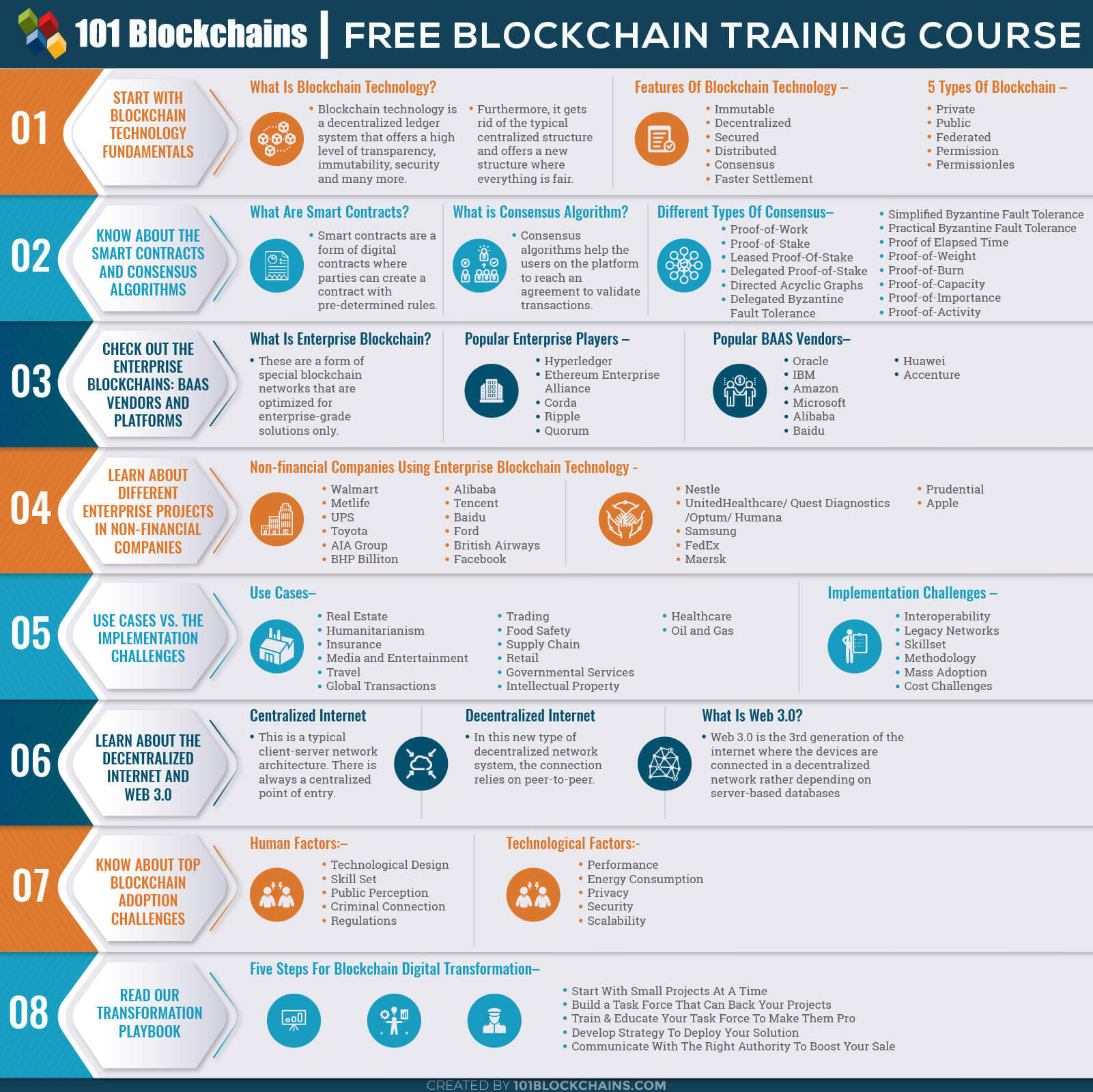 25. Blockchain Technology Risk Assessment
The blockchain infographics, in this case, cover up all the risk factors of this technology. If you want to get a full knowledge of what the different types of risk factors you may face, you should check out this one.
The guide is more thorough, giving you in-depth information about every single issue and even lets you know how you can overcome it. So, make sure to check out that as well.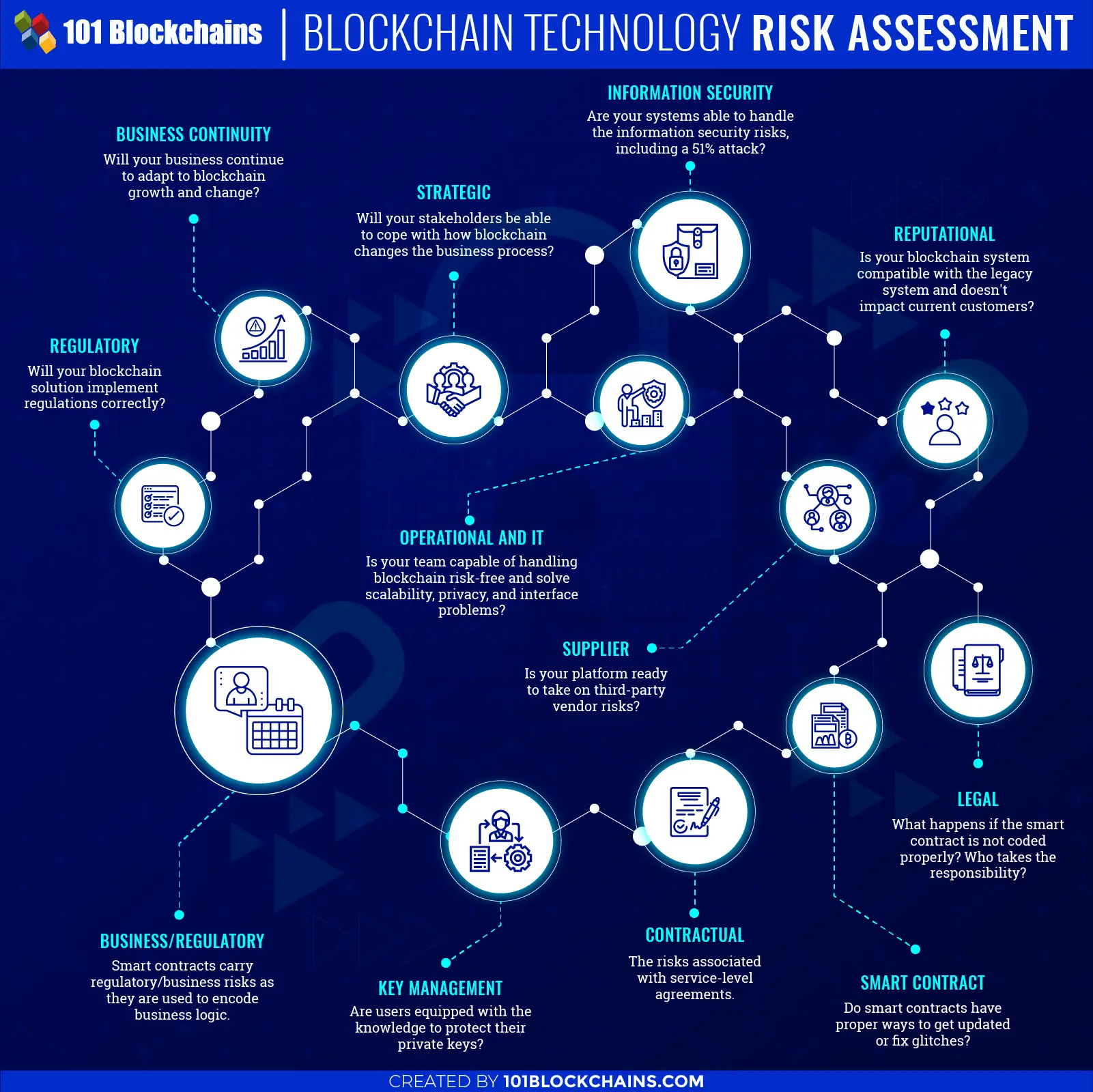 26. EOSIO DApp Landscape
If you are an EOS fan, then this visually enriched infographic is definitely for you. In this one, we have listed 44 dApps based on EOS. All of the apps are divided into 13 categories to help you find your favorite one from the list.
These categories include – gaming, the marketplace, transportations, exchanges, eCommerce, healthcare, media, security, and many more.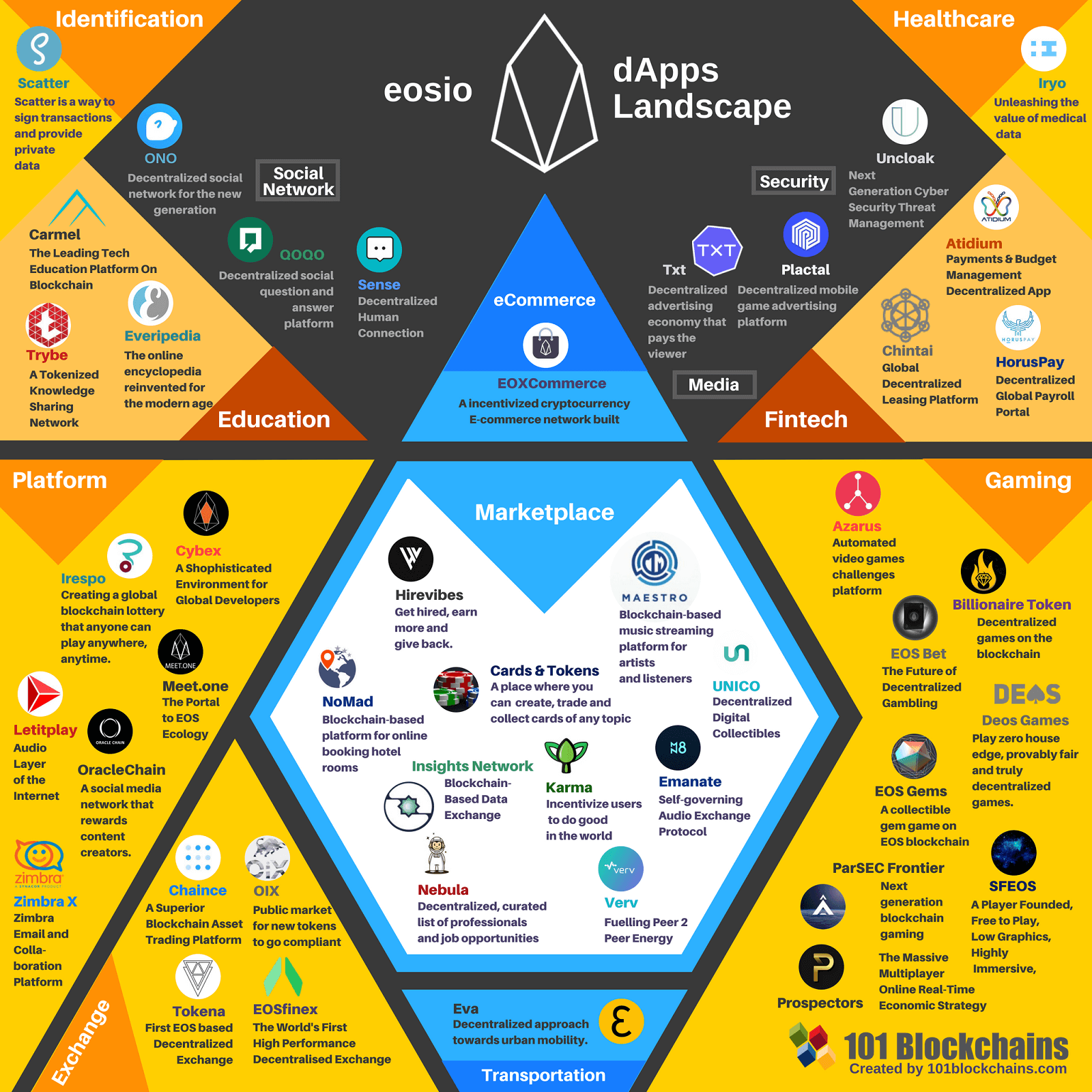 27. Top 7 Blockchain Challenges To Go Mainstream In 2019
Well, blockchain does come with its fair share of challenges. However, in 2019, there are top 7 blockchain challenges that will go mainstream. It basically means that these challenges will affect blockchain the most in 2019.
If you just started to implement your blockchain solution, then it's best to take a look at these top 7 challenges to know what may face in the long run.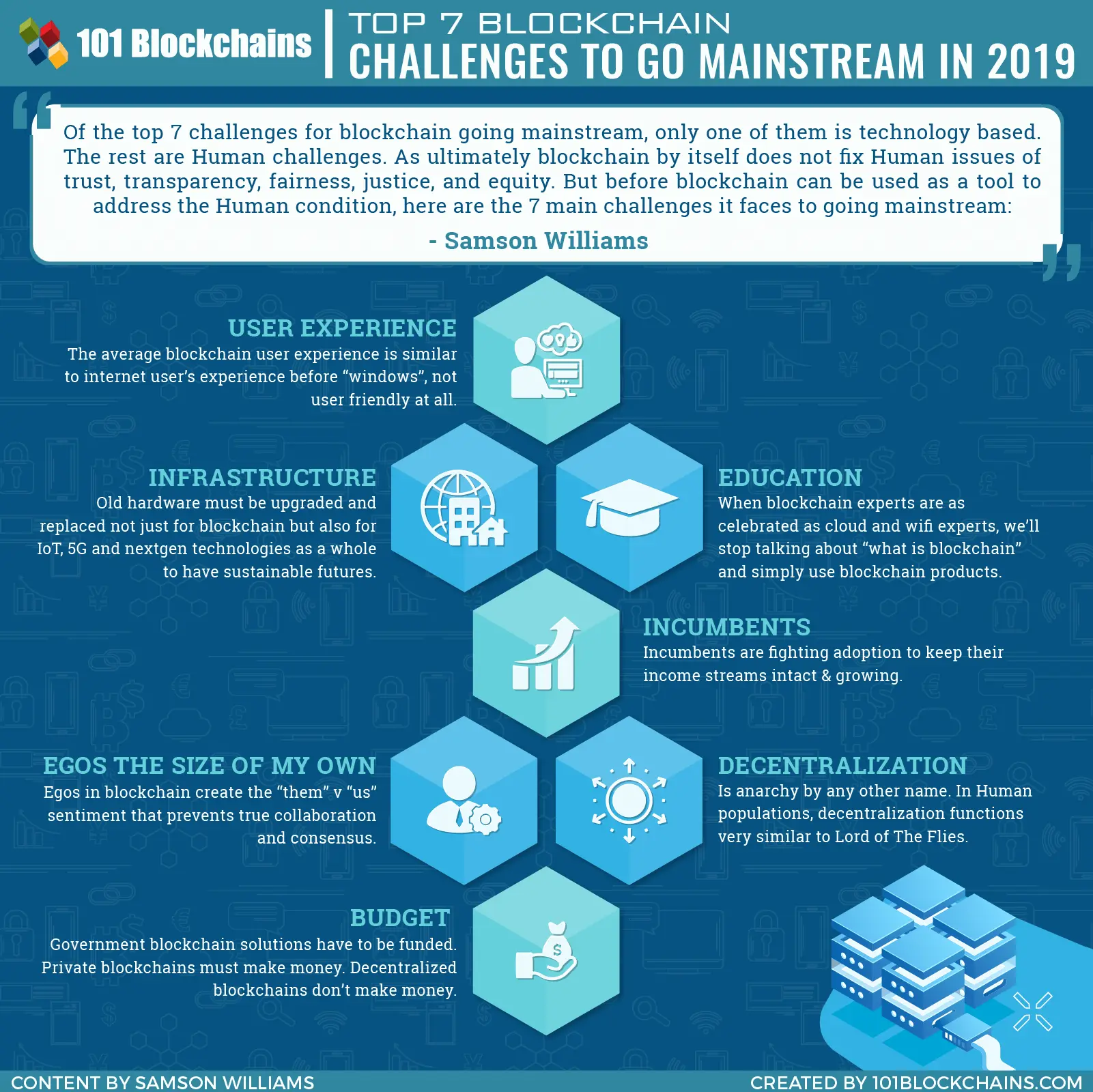 28. Application and Limitations of Stablecoin
Stablecoins are basically backed by real assets and tend to offer more stability in the long run. However, many of you may be confused about the application of this type of coin. That's why we've covered the different applications of stablecoin in the blockchain infographics.
Also, there are certain limitations to it as well. You can check out those in the blockchain technology infographics as well.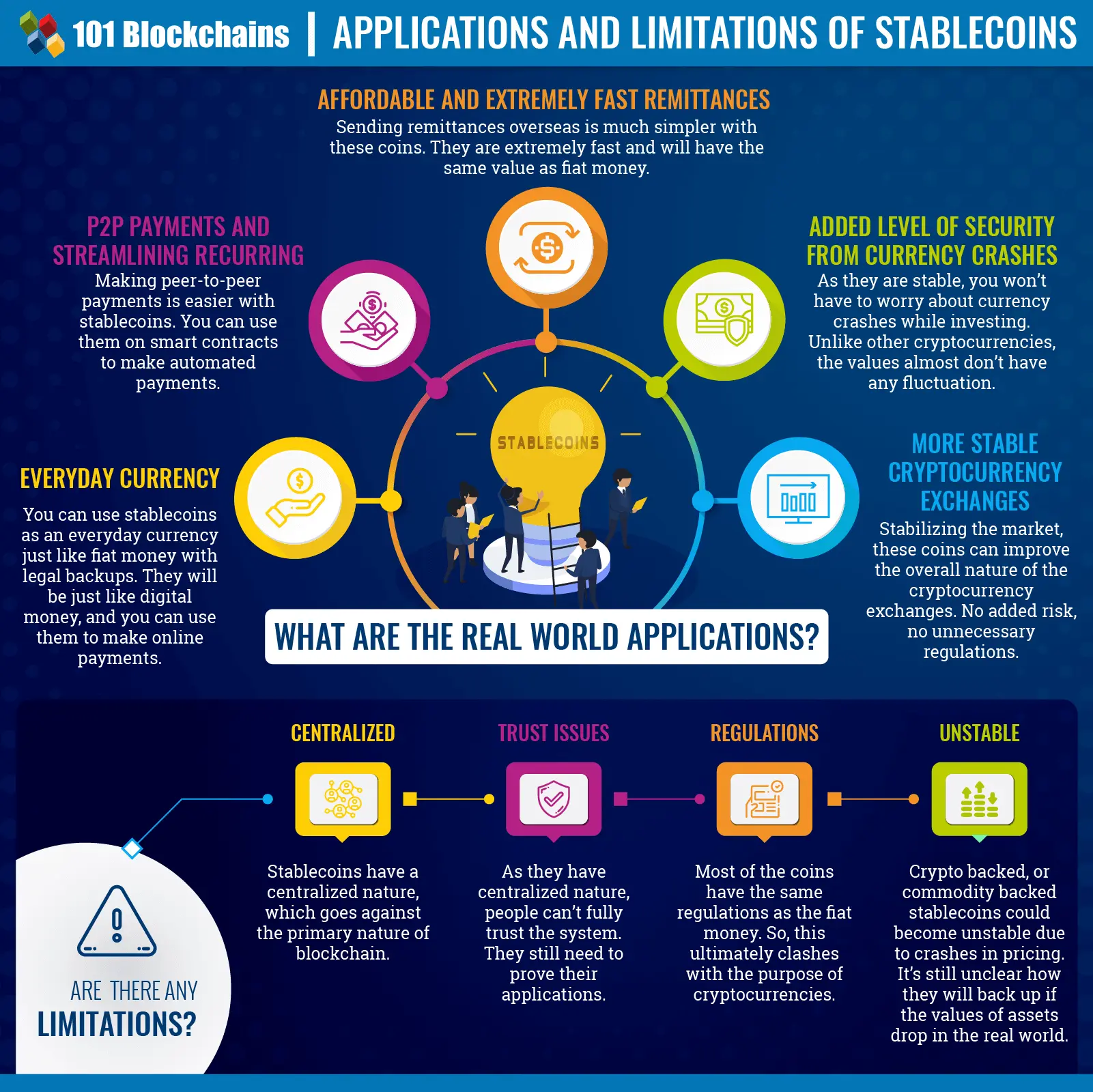 29. STO Vs. ICO
Many of you don't know the difference between ICO and STO. So, to resolve all your confusion, we've crafted the blockchain infographic highlighting the solid difference between these two. It will also help you understand why STO is better than ICO and how you can use that in your system.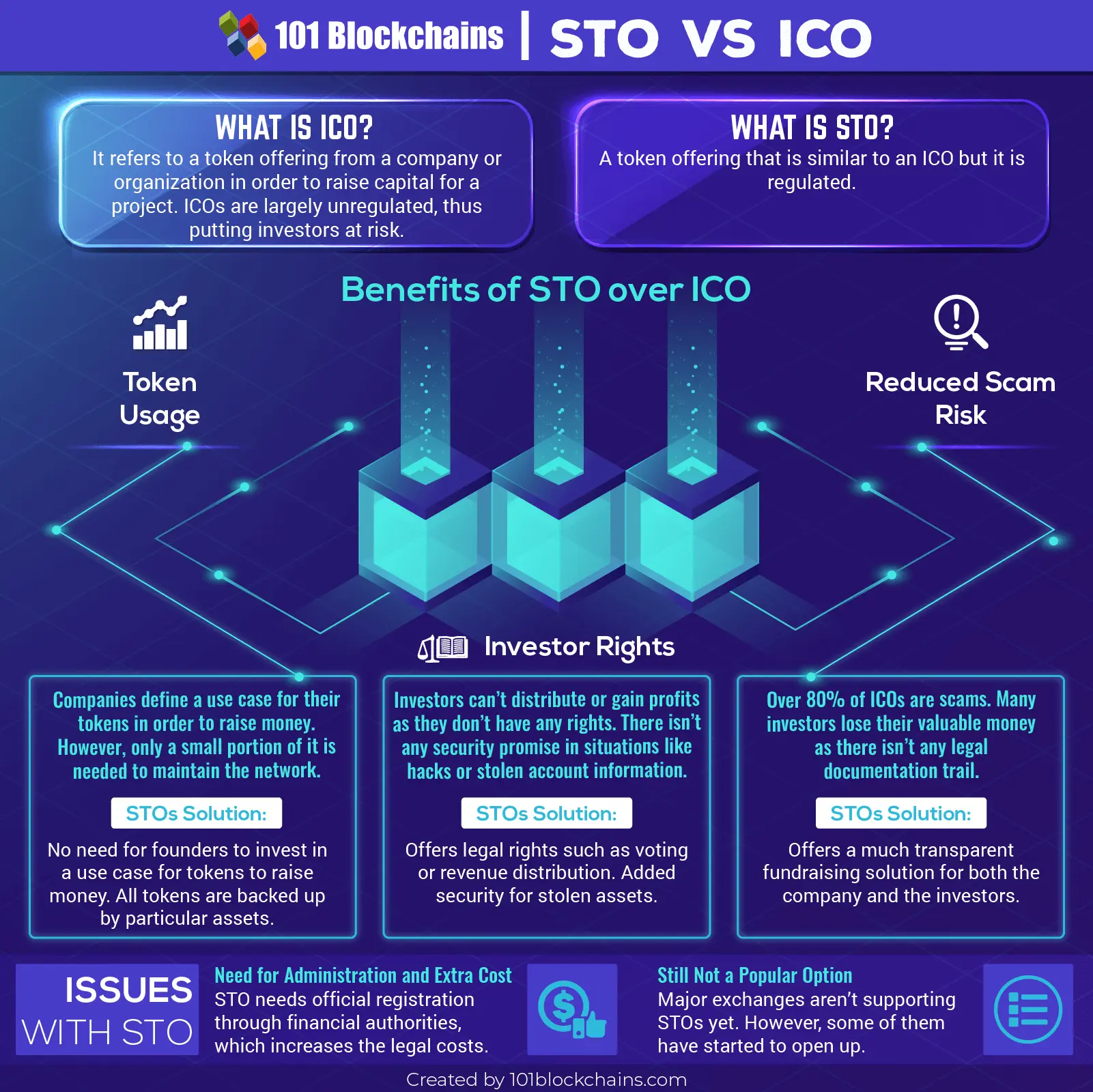 30. Top 30 Venture Capital Firms Investing In Blockchain
Want to know who is investing in blockchain? Well, we have the answer to that. Our awesome blockchain technology infographic outlines the top 30 venture capital firm's investing in this niche.
More so, you can also figure out which part of the world these venture capital firms reside in and how blockchain is impacting the whole world, not just a selective area.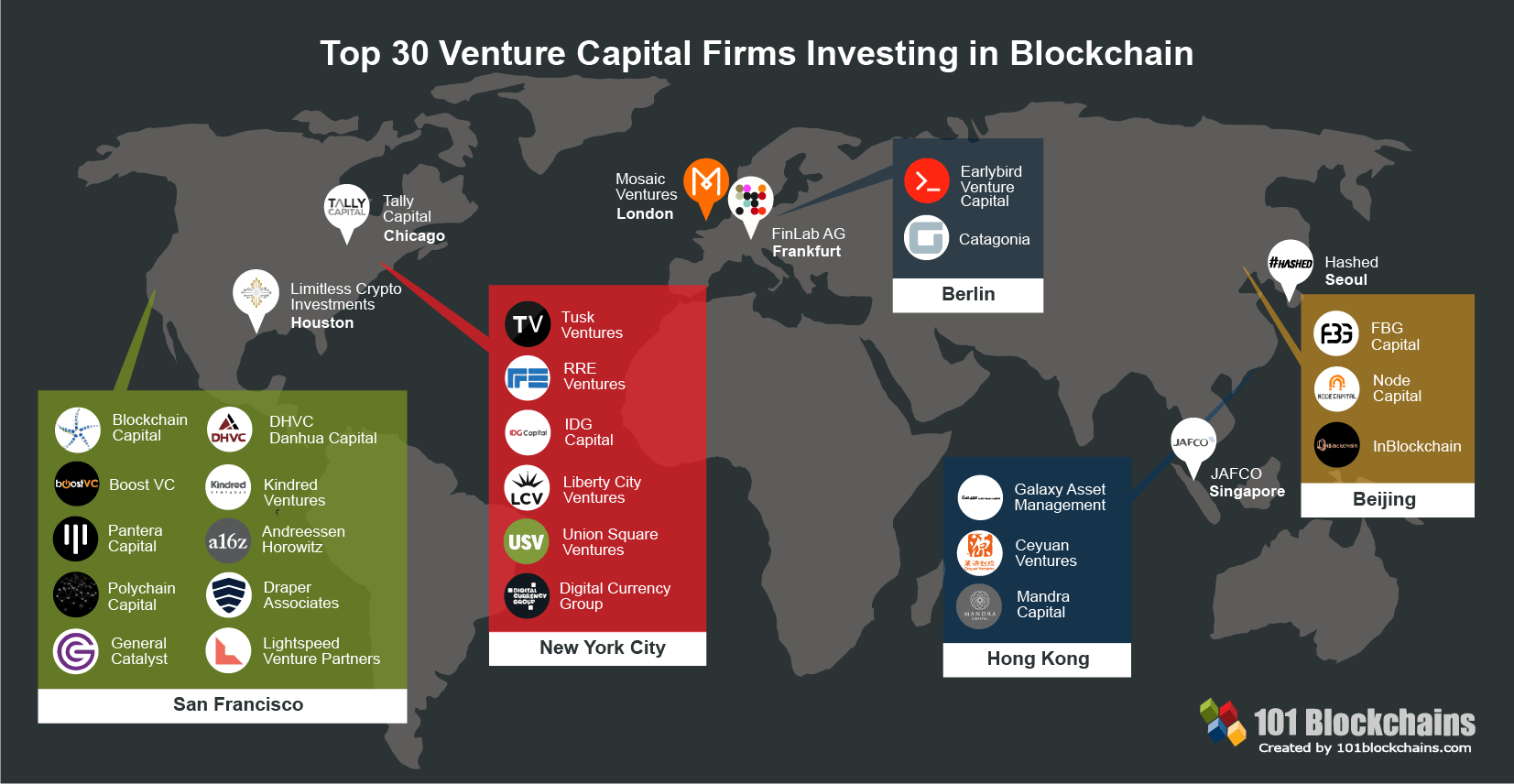 Our List of Blockchain Infographics – Your Suggestions?
We've reached the end of our top 30 most visually stunning blockchain infographics. Comment below and let us know which one is your favorite. Want us to cover more of these blockchain infographics? What are you waiting for? Share your thoughts because we're listening!