Since the inception of cryptocurrencies, blockchain has been gaining attention in the world of technology. The revolutionary technology has been successful in achieving considerable hype for all the right reasons. So, it is reasonable for an expert developer or a programmer, or even a beginner to look for opportunities to start a career in blockchain. The financial applications of blockchain technology for cryptocurrencies and encrypted digital wallets are just the tip of the iceberg.
The increasing popularity of blockchain as a choice of technology for various practical use cases has resulted in a rising trend of demand for blockchain jobs. Therefore, many beginners are doubtful about the best practices to start a blockchain career. The following discussion outlines the top tips to start a career in blockchain to support beginners navigate their career path in blockchain easily.
Enroll Now: Free Blockchain Fundamental Course
Is Blockchain a Good Career?
Before reflecting on tips for starting a career in blockchain, it is important to clear doubts such as 'is blockchain a good career'. The year 2017 witnessed phenomenal growth in the adoption of blockchain technology. One of the top job portals of the world, Indeed.com, showcased a drastic growth in the number of blockchain jobs in a gap of one year.
Most important of all, blockchain has also become one of the top tech skills in demand in the IT labor market. The recent induction of blockchain as one of the top tech skills in demand in the LinkedIn Annual Skills Survey presents a promising reason to start a career in blockchain.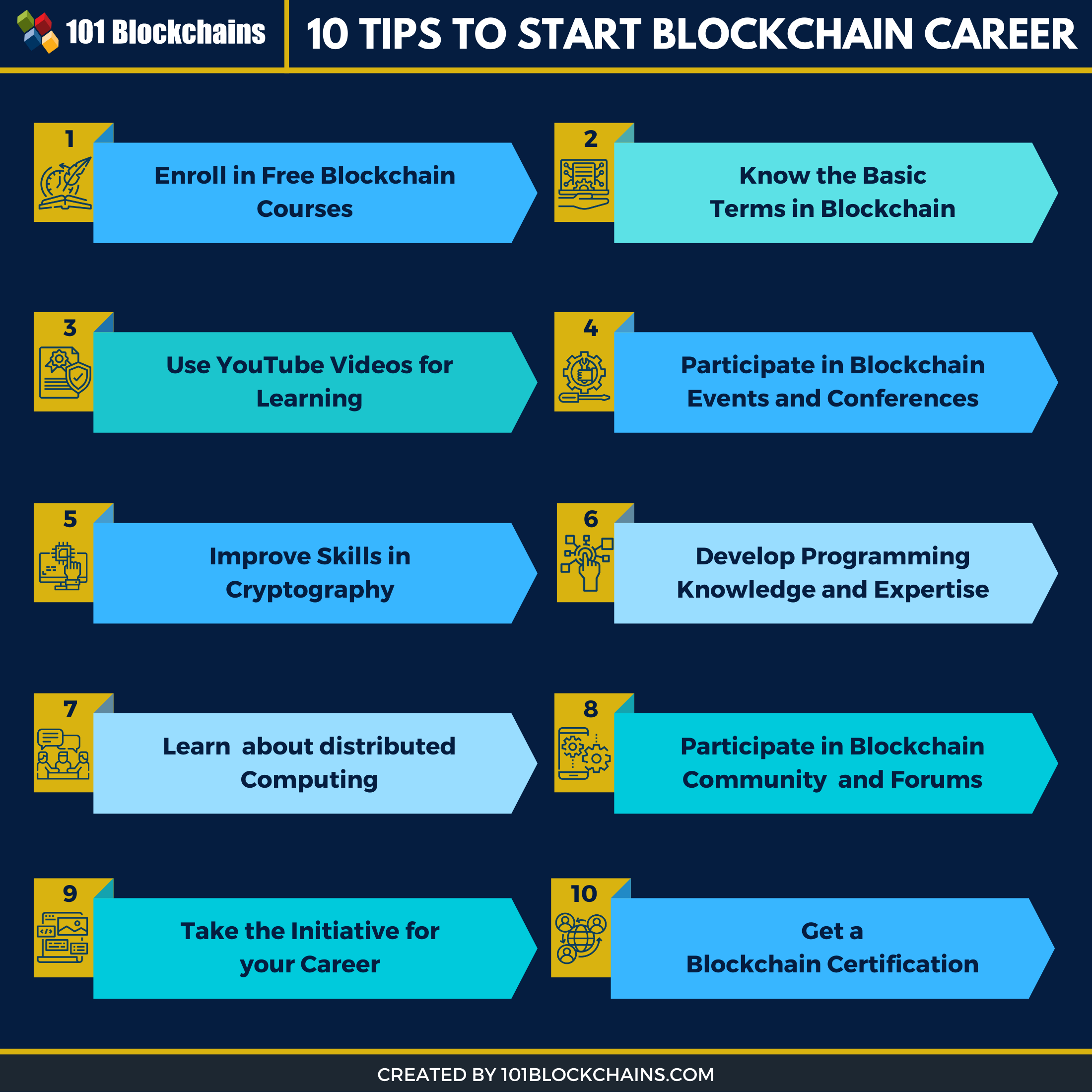 However, the novel nature of blockchain technology, along with the continuous improvements in the blockchain landscape, presents formidable challenges. So, every beginner should follow recommended best practices to find the best answer to 'how do I start a career in blockchain.' Here is an outline of the ten best tips for starting your career in a blockchain-based job role.
Also Read the insights of Linkeidn Report which says that Blockchain is a TOP skill in 2020.
1. Enroll in Free Blockchain Courses
The first concern for any beginner in the blockchain field should be access to a sufficient amount of learning resources. If you have decided to start a career in blockchain, then you must have painted quite a complicated picture out of it. As a matter of fact, it is important for beginners to approach blockchain education and training from a simple perspective.
Beginners must find free blockchain courses that can give them an introduction to the world of blockchain. Without any idea of the fundamentals of the industry you would build your career in, there is hardly any chance for success. However, you can avail comprehensive and highly effective free blockchain courses for studying the basic concepts of blockchain. The free courses do not put any financial pressure on beginners and are great platforms to know about blockchain and its uses.
2. Know All Basic Terms in Blockchain
The next important mention among tips to start a career in blockchain refers to the development of fluency in basic terminology. The unique nature of blockchain depends largely on its structure and functionalities. The terms such as decentralized apps, consensus mechanisms, smart contracts, and others are more than mere buzzwords you find with blockchain.
They are highly crucial components in the blockchain ecosystem and are mandatory for blockchain professionals in almost any role. The knowledge of fundamental terms not only improves the basic knowledge of blockchain but also builds the foundation for understanding its practical uses.
Here're the basic Blockchain Definitions which forms an ultimate Blockchain Glossary for beginners.
3. Use YouTube Videos for Learning
Beginners aspiring to start a career in blockchain should also support their learning journey with YouTube videos. YouTube is not only a source of entertainment but also a massive repository of blockchain-related videos. Beginners can explore tutorial videos and webinar recordings related to blockchain on YouTube. In addition, YouTube videos can also include practical demonstrations of various blockchain use cases.
Therefore, you must choose some of the top-rated Blockchain YouTube channels on blockchain technology and subscribe them immediately. The interactive content in blockchain-related YouTube videos helps every beginner learn blockchain from an interesting perspective. Most important of all, YouTube videos are great sources to stay updated with new trends in the world of blockchain.
4. Participate in Blockchain Events and Conferences
Blockchain is an emerging technology and draws its strengths from the contributions of millions of professionals worldwide. If you want to start a career in blockchain, it is important to find your way around the industry dynamics. The prospects for your career development with blockchain technology depend on your industry expertise.
The best platform to develop your industry knowledge of blockchain is available for beginners in blockchain events and conferences. Industry experts from all corners of the world, senior industry leaders in blockchain across various industries, and many blockchain enthusiasts gather at blockchain events and conferences.
These places provide much-needed exposure to the world of blockchain beyond the books and tutorials. Beginners can develop not only their knowledge of the real potential of blockchain technology but also develop professional contacts at blockchain events and conferences.
Also Check: Why Blockchain is Important
5. Improve Skills in Cryptography
You must focus on the technical skills required to start a career in blockchain. One of the notable skills required for blockchain professionals is cryptography. Blockchain adoption depends considerably on the assurance of security of data, and cryptography expertise can add formidable advantage to the career of a blockchain professional.
Enterprises dealing with massive amounts of sensitive information and numerous financial transactions on a day-to-day basis cannot afford risks or vulnerabilities in their blockchain infrastructure. So, hiring managers look for cryptography as one of the basic skill requirements for different blockchain-based roles.
6. Develop Programming Knowledge and Expertise
Another basic skill requirement for beginning a career in blockchain is programming. Programming expertise is mandatory for blockchain professionals, and you need fluency in at least one of the high-level programming languages. Beginners should take adequate time to find online training courses and sign up for them immediately.
Candidates with a degree in computer science or information technology have a competitive advantage for beginning a career in blockchain. For example, a developer in the blockchain would need expertise in JavaScript for creating smart contracts according to application specifications and requirements. Therefore, programming skills are a basic requirement to strengthen the foundation of your blockchain career.
Also Read: How To Become A Blockchain Engineer
7. Learn about Distributed Computing
If you are aspiring to build a career in blockchain, then you must develop expertise in distributed computing. Blockchain is a distributed system, and aspiring candidates must familiarize themselves with distributed computing to leverage its functionalities efficiency. Cryptocurrencies brought the concept of distributed network with a trust factor and, with blockchain being the underlying technology, spelled new opportunities for uses of blockchain.
Comprehensive knowledge of distributed computing can help in developing the confidence of using blockchain on any platform in any environment. Furthermore, distributed computing expertise also plays a crucial role in strengthening the fundamentals of the working of blockchain.
8. Community Involvement
Be an active member of blockchain communities, and you can gain many promising outcomes. This may sound like a slogan, and even if it is, it has the potential to drive benefits for aspiring blockchain professionals. Blockchain communities and discussion forums are the perfect sources to hone your blockchain knowledge and expertise.
The discussions on blockchain technology can provide your new insights and guidance to start a career in blockchain. In addition, the blockchain communities are also ideal platforms for building your own professional network and explore career opportunities.
9. Take the Initiative for your Career
The most important step for any candidate aspiring to build the blockchain career is initiative. You have to take a head-on dive into the world of blockchain and start searching for jobs suiting your skillset. Nobody is going to come over and ask you to join a blockchain-based job because you have the skills.
Candidates have to put effort into building up their professional portfolio with highlights of their qualification for blockchain jobs. Professional networking platforms such as LinkedIn can be trustworthy sources to start developing your reach to notable job opportunities in the market.
10. Achieve Blockchain Certification
The final, yet the most crucial recommendation for candidates aspiring to build a career in blockchain, refer to blockchain certification. Blockchain certification is a trusted and credible method to start a career in blockchain. They provide tangible proof of an individual's blockchain expertise and capabilities to address responsibilities in specific roles.
The training and education required for blockchain certification alongside comprehensive exam objectives ensure the validation of skills of qualified candidates. In addition, many certification exams focus primarily on performance-based evaluation of candidates. Therefore, certified candidates also showcase the ability to solve real use case scenarios in blockchain applications.
A Blockchain Certification validates your skills and helps you take your Blockchain career one level up. Get Your Blockchain Expert Certification and take a leap!
How to Build a Carrer in Blockchain?
The video is created by our expert and it will give a clear idea on how you can develop your blockchain career with the assurance of trusted and practical training resources.
Ready to Start a Career in Blockchain?
As you can see, simple tips can help you start a career in blockchain easily. However, candidates should follow a specific preparation plan for developing their careers in blockchain technology. On the other hand, expert professionals can also utilize the pointers mentioned here to develop a career in blockchain. The most important requirement for all candidates aspiring to start their career in blockchain is accountability and direction.
You must choose a specific career path in blockchain and work towards developing the necessary skills and knowledge for it. In addition, candidates must also select reliable and trustworthy training platforms for the perfect start to their career in blockchain. Find your career path, and start learning fundamentals of blockchain with the Free Blockchain Course!