SHAPING THE FUTURE OF ENTERPRISE BLOCKCHAINS
101 Blockchains is the world's leading online independent research-based network for Enterprise Blockchain Practitioners
TRUSTED
Understand the core concepts of blockchain technology and its ecosystem.
STRATEGIC
Learn how to approach blockchain implementation.
PRACTICAL
Focus on your transformation with up-to-date actionable tools.
SOME OF OUR STUDENTS COME FROM:
---
101 BLOCKCHAINS THINK TANK WEBINAR SERIES
Top enterprise blockchain experts from our community share their strategic and practical knowledge.
---
BECOME A WORLD-CLASS ENTERPRISE BLOCKCHAIN PROFESSIONAL
---
GET YOUR CERTIFICATION TODAY
The Certified Enterprise Blockchain Course will help you lead your organization and team more effectively as you gain practical knowledge and productive tools to deliver better business strategies. This course is designed to give business leaders, senior managers and industry professionals a solid understanding and insights into blockhain technology, its impact and applications.
"Over 88% of senior executives believe that blockchain technology will eventually achieve mainstream adoption." Deloitte, 2020
Get Certified as an Enterprise Blockchain Professional
Learn from the world's best industry experts and boost your career.  Our online Enterprise Blockchain Professional certification program is designed to give you a competitive edge.
---
EXPLORE 101 BLOCKCHAINS RESEARCH
Read the latest research on blockchain technology and explore our top rated guides, infographics and e-books.
---
---
WHY LEARN BLOCKCHAIN WITH US?
STRATEGIC APPROACH
You will gain a clear understanding of strategic approaches that big enterprises take to make their project successful.
UNDERSTANDING USE CASES
We review compelling use cases that provide practical value.  Each use case is different and approached individually for a better understanding. 
TOP-NOTCH CONTENT
Our blockchain technology training content is of the highest quality, created with excellent research and care.
---
SEE WHAT OUR STUDENTS SAY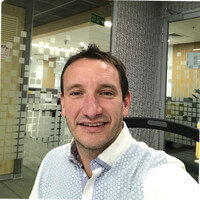 "101 Blockchains helped me get up to speed on blockchain and distributed ledger technologies. Practical information from people with hands on experience coupled with state of the art infographics. I am recommending!"

Patrick Wolf, Deputy CTO, ASG Technologies

"Thanks to the comprehensive online training provided by 101 Blockchains we are now fully armed and well equipped to translate into existing and new client engagements what we have learned about the impact of blockchain technology on enterprise business processes"

Luis González, IT Strategy Manager, Deloitte
Trusted by 20,000+ professionals!
Read real stories on Trustpilot and G2Crowd.
---
GET IN TOUCH
Let's connect and find out how we can help you add new value to your organization.