Aspiring to become a blockchain architect? Learn from our thorough guide as we discuss the important skills and certifications you will need to become one.
Blockchain architect can be one of the lucrative career choices so far. Blockchain has been for quite some time now, and now many of you are seeing new kinds of career opportunities as well.
As many enterprises are looking into the technology, they are also hiring qualified personnel to help them develop innovative solutions as well. As a result, there's a high demand for blockchain experts all around the globe.
However, it seems that many of you are confused with the blockchain architect as a career. Most importantly, many of you don't know just what skills you may need to pursue this career. Also, some of you are confusing blockchain developers or engineers with blockchain architect jobs.
So, to help you pursue this career and help you know the difference between blockchain developer and architect, I'll be covering everything in this guide.
So, grab a coffee and read on!
Enroll Now: Certified Enterprise Blockchain Architect (CEBA) course
Who Is a Blockchain Architect?
First of all, before we begin this how to become a blockchain architect guide, let's see who is actually a blockchain architect.
In reality, a blockchain architect is responsible for working with the R&D teams and helps to infuse blockchain in building and designing solutions that leverage cross-asset frameworks and concepts.
More so, you will also work on the new innovations and create performance standards for judging any new solutions. Other than that, blockchain architect skills include highly experienced in blockchain architecture frameworks and creating storage solutions.
Anyhow, the main factor is that the position is actually on top of blockchain developer jobs and engineer jobs. As a result, the architect will be in charge of leading any blockchain-based projects and outlining the overall roadmap for the team to follow.
The best thing about this career is that you won't only code or develop the system but also consider business perspectives.
Let along take note of other risks associated with it as well. Typically, a blockchain architect certification would be the way to go. As there are many great platforms that offer this type of certification and helps them reach their full potential.
Anyhow, you need to have other social skills to deal with potential clients as well. So, in the end, as you can see, you'll be in charge of almost everything that the solution stands for.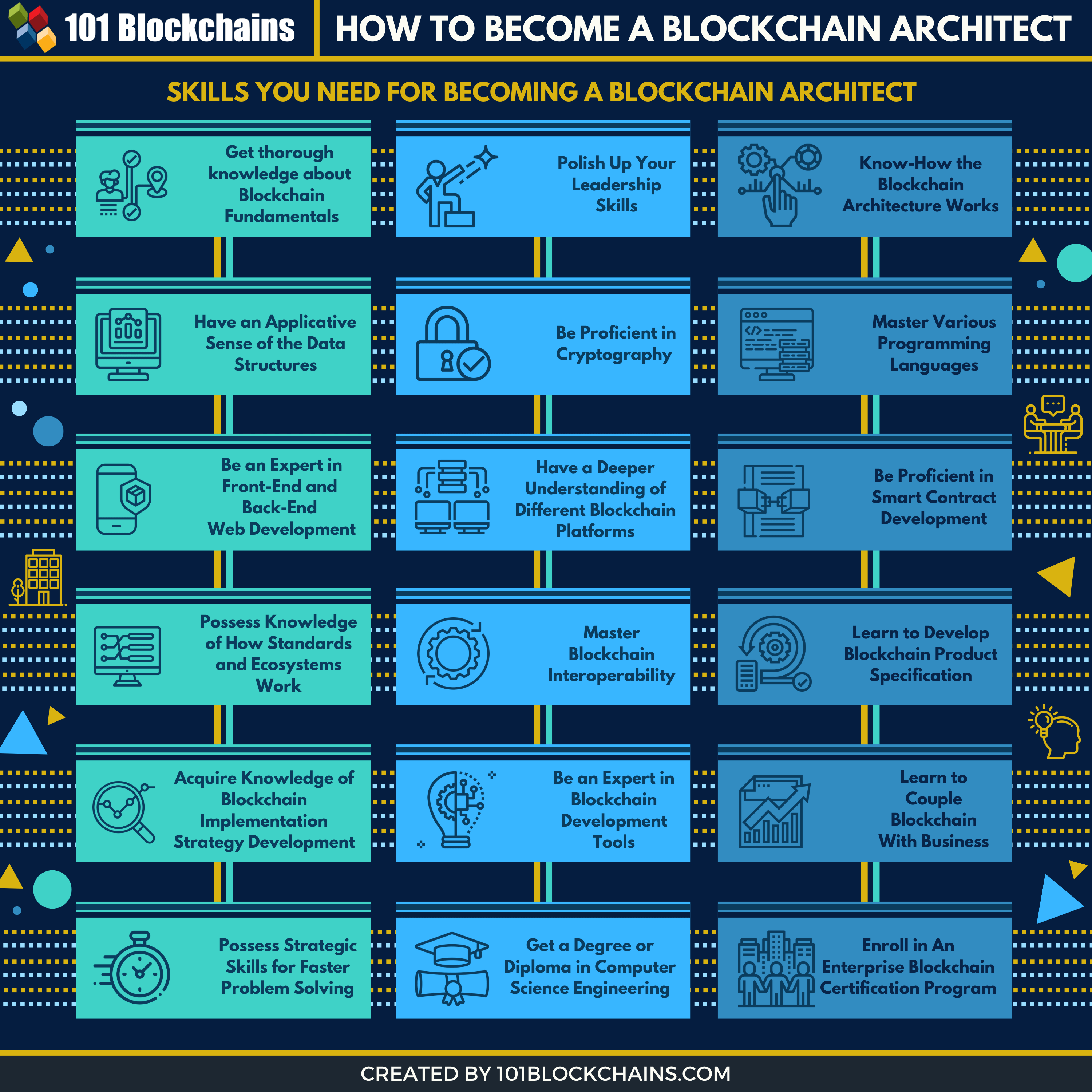 The Difference with Blockchain Developer and Engineer
This is where things do get a bit more complicated. Both a blockchain developer and engineer have some common roles, but they have their differences as well. In reality, these common roles coincide with the roles of blockchain architect jobs as well.
That's why many people seem to confuse them and can interchange them. Anyhow, blockchain architect jobs need a person who knows how the system works and how can he/she can visualize a system minimizing all risks.
Obviously, having higher coding skills is necessary, or else he/she might not know whether the company can pull it off or not. More so, he/she will also look over the technical quality and mostly take the top tier decisions in a project.
On the other hand, developers can make decisions as well, but mostly they are based on their work. Typically, in a project, multiple blockchain developers are working on different parts of a solution. So, he/she can take implementation decisions on their parts only.
Blockchain engineers can also envision the structure of the infrastructure. But they won't have the authority or deal with the business perspective of the solution as well.
Basically, it will all come down to authority and leadership. This is the point where blockchain architect jobs differ from the rest.
Anyhow, let's check out the next part in this how to become a blockchain architect guide.
What You Need for Becoming a Blockchain Architect
There are certain skills that you would need in order to become a blockchain architect. I've gathered all of the skills required for the position right below. Check them out and know what you would have to master.
Get thorough knowledge about Blockchain Fundamentals
Before jumping into any hard-core technical aspect, you have to first start with blockchain fundamentals. Getting a blockchain solution architect certification would highly help you out in this case. Basically, you will learn about every term in the blockchain world, starting from blockchain definition to smart contracts.
Other factors like certain features of blockchain should be in your reading list as well. If you don't start with these fundamentals going into other aspects would become difficult for you. I would suggest checking out our Enterprise Blockchain Certification course as we offer a dissection of this technology in a simple way.
Enroll Now: Certified Enterprise Blockchain Professional (CEBP) course
Polish Up Your Leadership Skills
This is the next big thing you have to do. In reality, blockchain architect skills would require you to focus on leadership and management skills as well. Why though? Well, one of your main responsibilities would be to lead a team of professionals to develop a blockchain solution that would benefit the business sector.
So, you would need to sharpen your leadership skills to give your team the proper guide to make any solution a huge success. Without proper coordination between all your team members, it would be difficult to get anything done in the first place.
Also, a clever leader knows about the strengths and weaknesses of his/her team members. It helps to assign them certain tasks they can excel in.
Know-How the Blockchain Architecture Works
As the name suggests, you definitely saw it coming. A blockchain architect should always be up-to-date with all the latest blockchain architectural patterns. More so, you should understand concepts like hash functions and consensus as well.
I would suggest you go through all the whitepapers of enterprise blockchain platforms. It will give you a clear insight into how they have structured their platforms. More so, you'll get other innovative ideas to make your solution different from them as well.
However, I have to warn you, expect to put a lot of time, and build up this skill. As it'll be one of your top skills in the line of your career.
Have an Extensive Knowledge and Applicative Sense of the Data Structures
Next comes the advanced understanding of data structures. In reality, blockchain comes with a very unique form of data structure. More so, not many people out there can fully comprehend the complex nature of it.
That's why you need to have extensive knowledge of how the data structures make up the blockchain. So, you should study Merkle Trees or Patricia Trees for that. Another aspect you need to check out is the applicability of it with your solution. In many cases, specific data structures can help you reach your goals faster.
Thus, you have to keep that in mind while you are designing the roadmap for your team in the beginning.
Let's move on to the next skill in this, how to become a blockchain architect guide.
Be Proficient in Cryptography
Another one of the best blockchain architect skills is to learn cryptography. Hashing in cryptography is a huge part of blockchain technology. Without using cryptography, the whole basis of security would fall apart. So, you would need to use it in order to offer additional security and immutability to the system.
But be very careful while you are dealing with cryptography. In reality, even a small mistake can result in huge risk factors. So, make sure to learn all there is to cryptography efficiently.
Without fully understanding it, you can never hope to perfect your solutions.
Be an Expert in Front-End and Back-End Web Development
You may not find it in a typical blockchain architect course out there. This is something that you can learn from an institute or a training program. In many cases, you can also explore it yourself as well. But being a front-end and back-end web development is very important.
You might not have to code it yourself in the long run, but without knowing how to do it, you can't properly map out your designs.
Anyhow, in this one, you'll have to learn to develop UIs, APIs, and so on. Also, giving the direction of how the UI should look will benefit your project.
Master Various Programming Languages
This is the good part. As a blockchain solution architect, you have to master various programming languages. More so, you need to have higher-level expertise in them as well. Basically, it's one of the primary requirements for the architect positions in enterprises.
More so, your role might make you code certain difficult parts of the project that no one else is capable of. So, start with learning C++, Python, and Java. Also, once you are done with them, start learning Solidity. After that, you need to learn how to develop a blockchain app to fully grasp the concept.
This skill will surely come in handy while you're sitting for an interview as well.
Have a Deeper Understanding of Different Blockchain Platforms
Blockchain solution architect certification programs can help you with this one. One of your skills is to understand how all of the platforms work. So, understanding the difference between private, federated/consortium, and public platforms is a must.
It will help you pick the best one before working on any project.
Be Proficient in Smart Contract Development
The smart contract is absolutely necessary for blockchain architects. Any blockchain solution architect has to know how to develop smart contracts. More so, as it's one of the high demanded features of enterprise companies, you can't skip it.
Basically, start with learning how business logic works and then build your way to smart contracts.
 Possess Knowledge of How Standards and Ecosystems Work
For landing a career as a blockchain architect, you would have to learn how different standards work. More so, you should also study all the different blockchain ecosystems along with distributed ledger technology as well.
In this case, the blockchain architect course will help you out greatly. Ecosystems like Corda, Quorum, Ethereum, and Hyperledger are a must for you.
Master Blockchain Interoperability
Blockchain interoperability is a huge factor for any kind of project. Although many high-end still couldn't ensure proper interoperability. But as it'll become one of the high demanded features in the future, you have to study how it works.
If you can master this skill and implement blockchain in your enterprise solutions, then it's evident that you can land a job in this niche. Anyhow, the basic idea is to focus on common standards rather than using new ones.
Learn to Develop Blockchain Product Specification
It will be one of your major responsibilities as a blockchain architect. That's why you need to learn to develop blockchain product specifications. Basically, you would have to understand how blockchain products are packaged or marketed.
More so, you would also have to take in the client's demands along with your company's consumer demands as well. If you can't clearly define the specification, consumers wouldn't understand what you are offering.
Anyhow, giving a proper guideline of the product also helps other team members work on the solution efficiently.
Acquire Knowledge of Blockchain Implementation Strategy Development
Well, I guess there's no better way to be an expert in this rather having experience in other projects. If you are just a starter in this field, then it would be best to study successful blockchain implementation developments in the past.
How would that help? Well, it would help you understand how they strategized their products to make them successful. Also, joining a community or consortium blockchain may also help out in this manner as well. Consortia have a collaborative environment, and you can always be up-to-date with how they are launching each of their blockchain products.
Be an Expert in Blockchain Development Tools
Blockchain development tools will help you accelerate your project. Basically, these blockchain tools are here to save time and resources. More so, without deploying your draft solution, you can always test it out using the tools.
Anyhow, developers love blockchain development tools. So, as an architect, you have to know about them as well. Specifically, you have to decide which tool is best suited for a specific project. So, once you know about the basics of blockchain, start using these tools to master them.
Enroll Now: Enterprise Blockchains Templates course
Learn to Couple Blockchain With Business
It's yet another one of your responsibilities as an architect in the blockchain niche. In your blockchain architect training, start to learn how you can couple the tech with existing business models. Obviously, you would have to make some changes to the typical business model. But it should not be at the cost of revenues.
In reality, this an extremely crucial skill as the failure or success of a project will highly depend on it. Additionally, as enterprises don't know how to use this tech for their advantage, they would depend on your decisions. Therefore, you will have to come up with blockchain business models.
Possess Strategic Skills for Faster Problem Solving
Strategic skills are extremely necessary for you to become an architect. While you are working in an enterprise environment on a completely new project, you will face many issues. So, you would have to take responsibility and solve it as fast as possible.
However, you need to make sure that your company won't face any losses as well. Thus, you have to possess higher strategic skills in order to keep everything going. Anyhow, make sure to polish up this skill to land a job as a blockchain architect.
Let's check out the next one in this how to become a blockchain architect guide.
Get a Degree or Diploma in Computer Science Engineering
I guess this is the most basic thing you can do for your blockchain architect training. What can be the best way to showcase your merits in front of enterprises other than getting a degree? A degree in Computer Science Engineering would help you show your employer that you are perfectly qualified to get hired.
More so, while you are taking the diploma or degree, you'll get to learn all about software development. It will further help you better understand all the programming outcomes for your blockchain projects.
Also, if you face any kind of issue while developing the blockchain solution, you can easily identify the error effortlessly as well.
Enroll in An Enterprise Blockchain Certification Program
Want to know a little secret? An enterprise blockchain certification program is actually the best way to get a head start on your journey to becoming a blockchain architect. There are many courses online at the moment, but I'll highly recommend you to check out our programs.
Basically, our blockchain architect course will help you better understand the fundamentals of blockchain technology.
Also, as our blockchain architect course covers all of the potential high-end blockchain platforms like Ethereum, Hyperledger, and Corda, you can easily know how these platforms work. Additionally, getting a business point of view in every case would help you out as well.
With the help from blockchain architect training, you can jump ahead in the race of getting the top place. However, we only offer our courses to decision-makers, senior leaderships, engineers, developers, architects, business analysts, innovation managers, advisors, and many more.
Looking for blockchain certification courses that can land you a good job? Check out our wide collection of blockchain courses right now!
Is Blockchain Architect the Right Way to Go?
Well, it's quite natural to be skeptical about it. We mean, blockchain is a fairly new technology. No one can be totally sure how it will end up disrupting or will even disrupt in the first place. But judging from all the hype and almost an obsession level fascination of the enterprises with the technology makes me think otherwise.
So, here we are giving some clear benefits that might intrigue you more than you think.
The technology is new, and to be frank, almost all the positions in blockchain gets a lot of salary from the very start. There are many highest paying blockchain jobs in the market. And blockchain architect jobs aren't any different from that.
But the best part about this job role is that you'll be the head of a blockchain solution, so you can expect a lot more than other positions currently in the market. Also, enterprises are willing to pay more if you have previous experience as well.
Also, getting extra blockchain architect training to help you get used to their company policies is also on the table. Based on your position, you are likely to get more vacation times with incentives.
High Demand for Blockchain Architect
There's a high demand for blockchain architect at the moment. But why, though? Well, there are only a handful of people capable of pulling off a blockchain solution design. On the other hand, skilled personnel who can pull off the responsibilities of architects are even rarer.
You would need to be an exceptionally out of the box thinker to drive a company's revenue based on the solution designs. That's why, if you are properly skilled, you would definitely be hired then and there.
Enterprises are willing to make you comfortable just as you would like. Even though you would be working under them, a person of your skills would be treated highly within the workplace. Thus, getting a friendly environment with a team of your own and other facilities seems like a dream job, doesn't it?
In many cases, you could even choose to "work from home" under certain conditions, of course! Being the bridge between the company's niche and blockchain is your first priority, and that's why enterprises are willing to give you any kind of flexibility you need.
Work on The Technological Revolution
Blockchain is a technological revolution of this age. It can really re-shape all of our business models and make them run even more efficiently. Just imagine that you get to work on completely new technology. I mean, how many people do get this chance, right?
With your blockchain architect skills, you can explore new opportunities and even discover new innovations in this field as well. There are still so many opportunities left to explore. So, you are getting the full package altogether.
Obviously, blockchain architect skills will land you a lucrative position in the team. You'll definitely end up leading the project altogether. Although blockchain developers and engineers also have higher positions still, they would work under your wings.
In reality, reaching this kind of position in one's career can take up a lot of days. But if you aim for the top position, you can surely get it if you want. The best part is that there is also a blockchain architect course that can help you reach your goals quickly.
Ending Note
It seems blockchain is slowly taking over the world bit by bit. It may seem a bit disruptive, but that's how any new innovation feels like at the beginning. Remember the industrialization times? Even though it took away some potential career options, it introduced new ones as well.
The same goes for blockchain technology. Thus, people have new opportunities in this field as well as blockchain architects.
However, if you want to pursue this career in full swing, then it's best to get a blockchain solution architect certification. Not only will it offer blockchain architect training, but it also give leverage over other competitors in the marketplace. We recommend starting with our Certified Enterprise Blockchain Architect (CEBA) course.
It's your time to shine. So, take the chance and start your journey now!