Aspiring to get a lucrative career as a blockchain engineer? Here, we will dissect what kind of skills you will need for that and how can you master them.
Who doesn't want a better career? Well, with blockchain slowly taking over the market, there's a lot of demand for the proper workforce that can fuel the system. Blockchain is basically a new kind of technology that makes it a bit harder to find the appropriate individual who is skilled enough to pull it off. As a result, the need for blockchain engineers is rising at a rapid rate.
If you want to secure a career in this field, then you're in luck, as we'll point out how to become a blockchain engineer. Basically, we'll be covering what skills or educational qualifications you need to land a job as a blockchain engineer.
So, let's start this guide on how to become a blockchain engineer!
Enroll Now: Certified Enterprise Blockchain Professional (CEBP) Course
What Is Blockchain Engineer?
Let's start off with the basics. Blockchain engineers meaning basically is like implementing and creating digital blockchain for enterprise solutions. Typically, blockchain engineers may work for technology consulting firms or data service firms. In reality, it's a full-time job.
But you need to keep in mind that an engineer would not only build the solutions but also analyze what the company needs. More so, these blockchain engineer jobs require implementing and developing items like assets, accelerators, or assisting in the enterprises' infrastructure setup process.
So, you'll have to use existing platforms like Hyperledger and Ethereum for that.
You may also have to analyze the codes and then provide training for any junior personnel. However, blockchain engineer jobs will make you responsible for application release dates or monitoring the whole project to make sure they are finished within time.
You might have to ensure back-end functionalities and create any documents for the infrastructure as well. But the responsibilities would mainly vary depending on where you are working. Anyhow, the next time anyone asks you "what is blockchain engineer," I'm pretty sure you have the answer for it now. We are sure that now you know what is blockchain engineer meaning.
Anyhow, let's move on to the next part of how to become a blockchain engineer guide.
Read More: How to Become Certified Enterprise Blockchain Architect (CEBA)?
What You Need For Becoming a Blockchain Engineer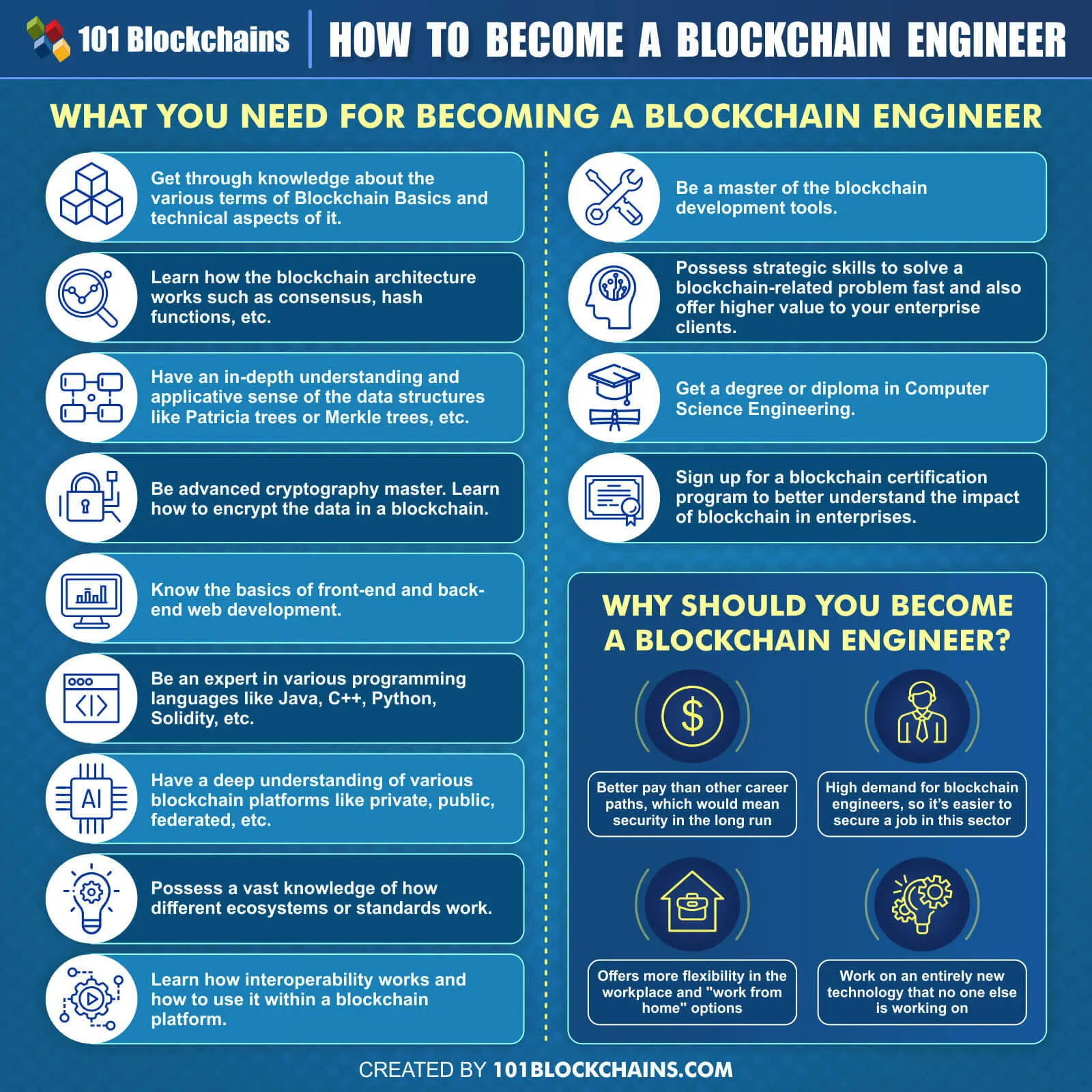 Get through knowledge about Blockchain Basics
Before you begin your journey as a blockchain engineer, you have to start learning about the blockchain basics. So, start by learning different blockchain terms and lexicons. Basically, blockchain definition, working process, decentralization, consensus protocols, smart contracts, etc. are a few of the things to start with.
If you don't learn about these basic terms, then you'll find it hard to grasp the concept further along the way. Also, try to read about the technical aspects of the technology as well. For that, you can join our blockchain engineer course and read up whitepapers of popular platforms.
Let's move onto the next point in how to become a blockchain engineer guide.
Learn How the Blockchain Architecture Works
A blockchain engineer must have an excellent grasp over how the architecture of blockchain works. In reality, concepts like a consensus, hash functions should be something you can understand anytime. Well, the best way to get yourself familiarize with them is to go through whitepapers of enterprise blockchain platforms.
However, it can be a troublesome task for you. Hence you can go for blockchain engineer training to better harness the knowledge.
Have an In-Depth Understanding and Applicative Sense of the Data Structures
Secondly, you must have an in-depth understanding and applicative sense of the data structures. Blockchain engineers have to make a lot of tweaks and play around with existing data structures to get what they need.
That's why you have to understand how Merkle trees, Patricia Trees, etc. work. Typically, blockchain uses a lot of data structures along with cryptography to ensure a secure platform. Without knowledge of data structures, you can never fully grasp how the system works. More so, always check out the blockchain engineer job description before you go for that interview.
Aspiring to become a Blockchain professional? Check out the best tips to start a Blockchain career by the experts.
Be Advanced Cryptography Master
Cryptography is necessary to maintain the security and immutability of the system. In reality, you have to be quite efficient in cryptography to encrypt data without any loopholes. Even the slightest amount of error can cause the overall project to fail.
So, make sure you learn how the various cryptographic method works. You should even practice vigorously to perfect your craft. Without understanding it, it's impossible to become a blockchain engineer.
Let's move onto the next point in how to become a blockchain engineer guide.
Know the Basics of Front-End and Back-End Web Development
Blockchain engineers may need skills in front-end and back-end web development. Even though it's mostly for blockchain developers, still many companies demand this skill when hiring. So, knowing the basics of it, won't hurt in the long run.
Basically, using this, you'll be developing UIs, request handling, API handling, etc.
Let's check out the next part of how to become a blockchain engineer guide.
Be an Expert in Various Programming Languages
To develop blockchain solutions, you'd need to be well versed in various programming languages. In reality, you will have to use these languages to code the core framework of technology. Anyhow, you need to learn at least these four programming languages – C++, Java, Python, and Solidity.
Proficiency in other languages is always appreciated. These will definitely help you become a blockchain engineer.
Start Now with the Free Blockchain Fundamental Course!
Have a Deep Understanding of Different Blockchain Platforms
Another one of the blockchain engineer skills you must have is a deep underrating of different blockchain platforms. By this, we mean, how different types of blockchain technology works such as public, private, federated, permissioned, and permissionless. But why?
Well, before you begin working on your solution, you need to know which platform is suited for that.
Without a proper platform, you can't develop an effective solution for the enterprises. Clearly, a public platform in a private oriented solution wouldn't be the best choice.
Let's move onto the next point in how to become a blockchain engineer guide.
Possess Knowledge of How Different Ecosystems or Standards Work
For becoming a blockchain engineer, you must possess the knowledge of how different standards or ecosystems work. It's one of the blockchain engineer skills the enterprises are looking for when hiring personnel.
There are lots of ecosystems such as Hyperledger, Ethereum, Corda, Quorum, and many more. In reality, you have to study how these work and what standards they use in it. Moreover, they also seem to have open-source codes for you to experiment with.
The more you study about these, the more you'll be able to create a better blockchain solution. Additionally, you could take blockchain engineer training for these, as well.
If you are a beginner, then you should start your career with this Blockchain for Beginners guide.
Learn How Interoperability Works
Interoperability is a lucrative feature that every enterprise company wants in its solution. And it's definitely going to be the next big feature of the future. As technology seems to be growing still, many solutions lack interoperability still.
The basic idea is to have common standards among solutions so that they can easily communicate with each other. So, learn how the interoperability works and implement them in solutions. This will surely help you harness the blockchain engineer skills.
Be a Master of the Blockchain Development Tools
Being a blockchain engineer, you have to develop a lot of blockchain solutions. More so, you have to be time-efficient and effective at that. That's why using blockchain development tools would be the best call here.
All professionals use development tools to fats track their solutions. And so, you have to be a master of these development tools and learn how to use them effectively.
Possess Strategic Skills to Solve A Blockchain-Related Problem Fast
It's one of the blockchain engineer skills that you need to polish up before you go for the job. More so, always check out the blockchain engineer job description before you go for that interview. Furthermore, strategic skills are necessary for solving any issues that your company may face. In most of the cases, enterprises don't have proper ideation of how they can use blockchain in their respective fields.
Here. Blockchain engineers can harness their creativeness, critical thinking skills to figure out the perfect solution for the enterprise. Anyhow, a blockchain engineer training course can definitely help you out in this matter.
Let's move onto the next point in how to become a blockchain engineer guide.
Get a Degree or Diploma in Computer Science Engineering
It's probably the best qualification for the blockchain engineer jobs. You must get a degree or diploma in Computer Science Engineering. Moreover, it will surely increase your chances of getting hired in an enterprise as well.
Also, a degree in the field would help you understand the technical terms of the technology much better. However, you can also opt for experience in software development as it will help to deal with associated challenges of the blockchain solution.
Sign Up For a Blockchain Certification Program
You can sign up for a blockchain certification program to learn more about how the blockchain is affecting enterprises around the globe. These blockchain engineer courses will help you possess the knowledge of different platforms such as Hyperledger, Ethereum, and Corda.
More so, it will also help you learn the basics of blockchain technology. Basically, these programs are mainly for senior leadership, decision-makers, blockchain engineers, developers, innovation managers, advisors, business analysts, etc.
It's recommended to check out our certified enterprise blockchain professional course as it offers all the values you will need to secure a job as a blockchain engineer.
Certification provides validation to your skills and takes your Blockchain career to the next level. So, Get Your Blockchain expert certification and take your Blockchain career ahead.
Why Should You Become A Blockchain Engineer?
Now, you know how to become a blockchain engineer, but why should you consider it in the first place? Let's explore some of the benefits this career path can offer you right now.
Better Pay and Security In The Long Run
Well, I'm not going to lie, but a blockchain engineer gets a hefty amount of salary form the very start. In reality, the field is relatively younger, and the right talent is still limited. That's why enterprises are willing to pay more salary to hire the right blockchain engineer.
The best part is that they are even willing to offer blockchain engineer training for you to help you adjust to their environment. Even if they don't, you can take up a blockchain engineer course to understand the enterprise ecosystem better.
Another great part is that many companies offer incentives and reward policies. These are basically token-based companies. So, you'll have a fully secured career in the long run.
High Demand for Blockchain Engineers
Securing a job in this space is easier than traditional ones. There's already a limited amount of people skilled for pulling off any blockchain solution development. As a result, the demand is huge, and the supply is quite low.
If you have the proper skills to offer for enterprises, they are willing to scope you right then and there.
Offers More Flexibility in the Workplace
Another great benefit of this career is that these enterprises are willing to offer you the best environment for working. So, you'll get a friendly, innovative workplace with co-operative colleagues. More so, if you are more of a "work from home" kind of person, then you may get an option for that as well.
As a matter of fact, more companies now offer this option, and that boosts productivity!
Work On an Entirely New Technology
Last of all, in this career path, you get to enjoy working on an entirely new technology that no one else is working on at the moment. Only a handful of personnel is in the workforce right now, and you get to be one of them.
As a matter of fact, blockchain is going to be the fuel of the future. So, in a way, you'll be directly responsible for at least a part of that revolutionary change. Just think of the possibilities! Isn't that what everyone dreams of?
Enroll Now: How to Build Your Career in Enterprise Blockchains Course
Conclusion
We've reached the ending point of our how to become a blockchain engineer guide. Hopefully, this guide helped you with all the knowledge you need for it. Basically, blockchain is here to stay, and getting a job into this space can be the best thing for your career right now.
You can try our Certified Enterprise Blockchain Professional (CEBP) Course to gain more insight into the realm of blockchain enterprise, as well. A training course can definitely help you mold yourself into a better blockchain engineer.