Blockchain has caught the attention of the different industrial verticals out there. Not only it is changing how a business function, but it also enabling innovation to evolve at a rapid pace. That's why you will find a lot of companies adopting blockchain. These same companies are also tinkering with blockchain making it more feasible for more mainstream implementation.
With innovation at the forefront, we are also witnessing the rise in the use of blockchain business models. In today's article, we will be exploring the blockchain business models. Decentralization has indeed changed how we perceive the problems around us and uniquely solve them. Not only that, but it also opens up a lot of opportunities for businesses out there. So, how do they approach it? The solution is to find the right blockchain business models and implement it correctly.
To get a better idea, let's discuss the blockchain business model need.

The need for blockchain business model
Blockchain itself is a new business model. With blockchain, organizations can turn their business into decentralization platform which can alter how their business works. It changes the entities, the flow of transactions, profits and also ensuring that growth is maintained during the change.
From the advent of the bitcoin in 2009, there have been many instances where blockchain failed or at least the blockchain applications failed miserably. It was partially because of how the implementation happened, but it was also because of the flawed business model used by companies.
Blockchain-based business models such as The BitConnect business model was nothing but a Ponzi scheme. There are also other models that take advantage of gullible people out there. We will be ignoring all these kind of scams and will focus solely on legit blockchain business models.
From a technical perspective, we need a blockchain-based business model that improves how businesses work and benefits the end users.
The blockchain based business model should also start focusing on the entrepreneurs rather than just investors. This will make projects focus on utility rather than value in the market. SuchApp is one of those projects that focus on utility by providing a blockchain-powered messaging platform. This means the blockchain business ideas should work at both the macro and micro level, benefitting the internal company employees as well as the end users.
Understanding the Traditional Business Model
To get a better grasp of blockchain business models, we first need to learn more about the traditional business model. All the businesses out there that are not using blockchain use traditional business model.
So, how does traditional business model work?
They essentially provide service or goods and earn profit from there. The consumers buy the product or the service at a prescribed rate. The rates are set accordingly and consist of all the wages or other expenses that the business have or might have during the process of providing the service or product. Each business has a different way of handling the business. However, they use a basic centralized model.

The model consists of four main entities. It includes the owners or the shareholders, the organization, the customers and the employees.
Top Blockchain Business Models Infographic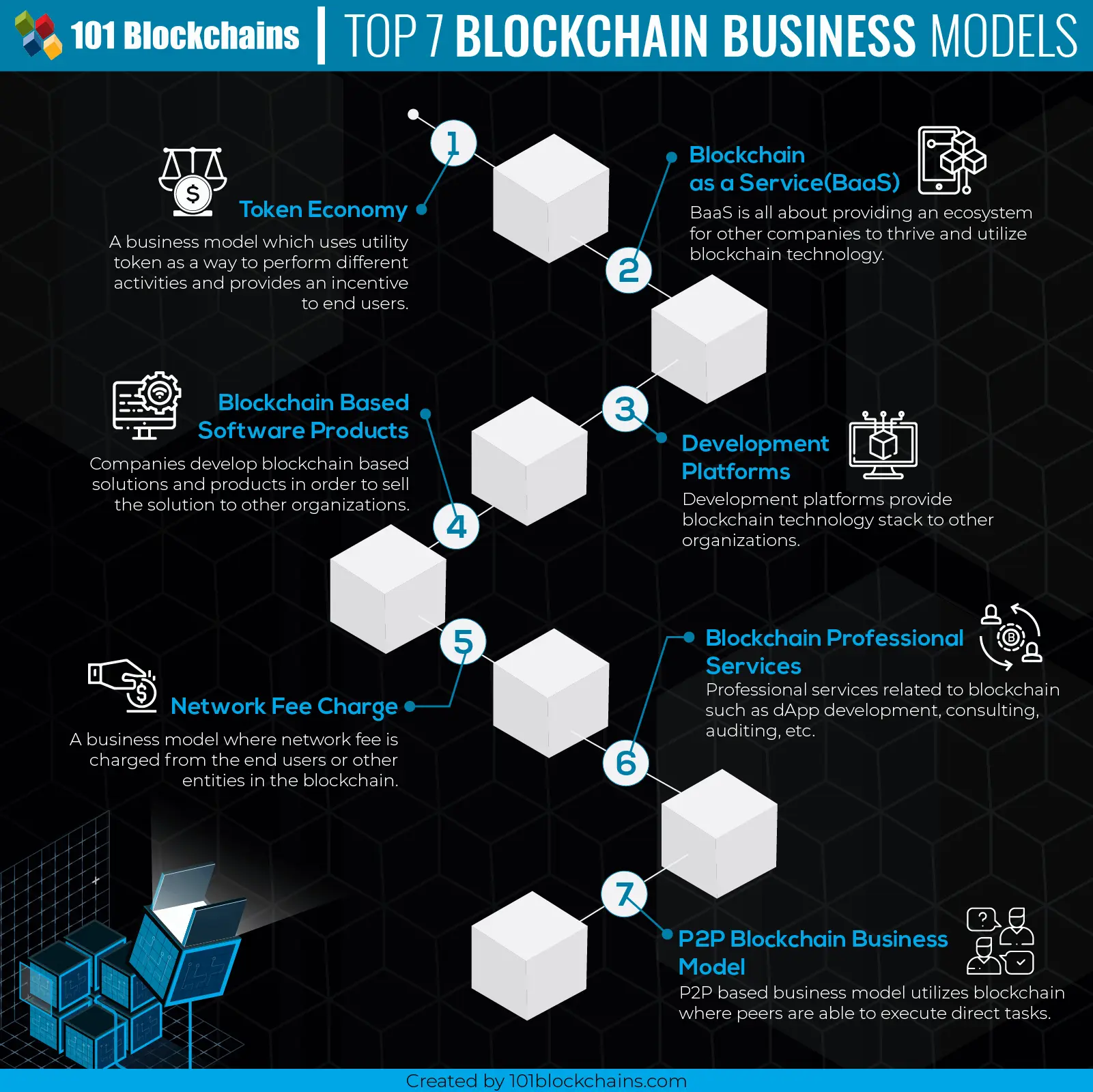 The Blockchain Business Model
A lot of things gets changed with the blockchain business model. First of all, it is decentralization which means that there is no need for a centralized authority. However, that's not always the case when it comes to blockchain business models.
dApps, for example, provides work directly thanks to peer-to-peer transactions. It removes the need for a central authority and any mediators. The ability to create a trusted network is revolutionary to say the last.
So, what entities are not present in the dApps implementation? Firstly, there is no employees or shareholders. Secondly, it is not owned by anyone which makes the business model a lucrative prospect for the users. However, if we go in deep, we may say that users are itself employees or owners, but the fact that their roles and impact is changed drastically in this blockchain model.
But, how the above blockchain based business model make a profit? One way is to use tokens to make a profit. Anyone who helps the blockchain reaches consensus is rewarded with the token which holds value. The value, however, depends on the market condition. Bitcoin, for example, offers miners the chance to make a profit by contribution to the network.
Everything looks great, but what about the organization or business that started the business earn money? They do so by holding some amount of tokens for themselves.
Initially, the value of the token is set to a predetermined value and is sold to interested investors through ICO. However, the value of the token after being released to the market depends on many factors including market condition, business valuation and how the business is doing in the current market scenario.
The crowdfunding process gives the early adopters a chance to invest in the business, giving them a better chance to make profits. During the initial ICO process, the price of the crypto assets or the token is low. This way, the developers or the organization gets the necessary funding to make their project a reality.
Types of Blockchain Business models
Now that we have established a basic understanding of traditional, blockchain models and how the business makes money from them, let's discuss the top blockchain business models out there.
1. Token Economy – Utility Token Business Model
Utility token business model is prevalent in the industry. We have also discussed in earlier in the post where we try to understand a blockchain business model through the eyes of the utility token business model. Currently, there are tons of startups, business or eCommerce sites that use utility based blockchain model. Few decentralized business examples include the BANKEX tokens, EDU token, and so on. Ripple is also a utility token as it powers the network and facilitates the network activities in one way or another.
Businesses hold some of the utility tokens and release the rest for the network functionality. They make a profit when the value of the utility token changes. The idea of working with tokens can be summarized with the word, "Tokenomics."
The token utility should have three valuable variables. For example, it should have a proper role, features, and purpose. We recommend you to read a detailed post by William Mougayar on how tokenomics work.
2. Blockchain as a service business model(BaaS)
Blockchain as a service is one of the most popular blockchain business models out there. It is all about providing an ecosystem for other business for managing their blockchain system. In this ecosystem, the companies can experiment, test and do research. Right now, Microsoft(Azure), Amazon(AWS), IBM(BlueMix), etc. offer blockchain as a service(BaaS) and are the perfect example of the decentralized business example.
The end users(in this case business, startups or organization) don't have to worry about how blockchain works and don't need to set it up before working on it. BaaS also eradicates the need for hardware, which in turn, enables startups, companies or organizations to focus on their development cycle.
Most of the current blockchain solutions including Bitcoin and Ethereum can be served as service. One such example includes EBaas, Ethereum Blockchain as a Service(EBaaS). The service is managed and provided by Microsoft in collaboration with ConsenSys.
3. Development Platforms
The overall idea of blockchain is still in its native stage. A lot of development and research goes into blockchain as startups are trying to solve problems uniquely. This leads us to our next decentralized business model known as development platforms. Companies, nowadays, are now focusing on developing apps that can result in a blockchain infrastructure. Those apps that can be served using blockchain and cloud to the end user providing rapid development.
Hyperledger is one of those examples which provides tools, frameworks, and guidelines for blockchain development. The key here is rapid development, and they are trying to do just that. Other examples include Tendermint and EthCore.
BlockApps, an enterprise blockchain application development provides a platform to launch enterprise blockchain apps.
4. Blockchain Based Software Products
The concept of blockchain was introduced in 2009. However, now, the need of blockchain is more than ever. This means that the big old players have to adopt blockchain sooner.
The easiest way for cooperates to do so is to buy a blockchain solution and integrate it into their system. This gives rise to the blockchain companies that create a solution and then sell them to bigger companies. Proving blockchain technology to other organizations can be extremely profitable as they are not only going to get a reasonable payment upfront. Moreover, they will also need to provide support after implementation.
The MediaChain blockchain was sold to Spotify is a perfect example of this kind of blockchain business model. It is done to solve the music royalty issues within the music industry. It will bring transparency in the system and reward music creators more for using an already established platform.
Another potential reason for acquiring a blockchain based software solution is the lack of talent in the market. Companies don't want to go through the process of acquiring the talent. That's why it is much easier for them to buy a blockchain solution that fits their requirement.
5. Network fee charge
Another very blockchain business model is to have a network fee associated with the blockchain itself. These type of blockchain business model applies to both blockchain solution such as Ethereum or dApps that charge a small amount for the user for different activities on the network. For example, Ethereum network charges developers Ethereum for making their dApp live. The same is valid for NEO which has a fee for dApp publication.
Ethereum users have to pay network fees in the form of GAS.
6. Blockchain Professional Services
The last blockchain business model that we are going to discuss is the Blockchain professional services. These services are provided by leading expert development companies to startups or other businesses to get them ready with blockchain. For example, a business would want someone to build their custom blockchain project. In that case, they can hire companies such as Deloitte, IBM or others to complete the project for them.
The key here is to not invest in the hardware, software or team building, but to directly take the services of companies that have perfected the art of blockchain development. You can also find smaller players in this market. Overall, it is a great blockchain business model for talented blockchain professionals who want to use their skills to do business.
There are other forms of blockchain professional services as well. For example, many blockchain powered companies offer blockchain related services such as consulting, developing legal papers or auditing the business.
7. P2P Blockchain Business Model
The P2P business model offers a peer-to-peer powered business. Blockchain technology has always been peer to peer. P2P blockchain enables end users to interact with each other directly. This makes it part of almost all the other blockchain models we have discussed earlier. The P2P business model can be monetized in many ways including tokens, BaaS or transaction fees.
IPFS, an interplanetary filesystem takes advantage of the blockchain business model. Filecoin also utilizes P2P blockchain business model by providing a platform for data storage and sharing. To make it viable, anyone who stores the files for other users will get Filecoin for their contribution. Also, there is a mining software that will let users share their unused storage space.
List of Blockchain Business Models
| | |
| --- | --- |
| Blockchain  Business Model | Short Description |
| Token Economy | A business model which uses utility token as a way to perform different activities and provide an incentive to end users. |
| Blockchain as a Service(BaaS) | BaaS is all about providing an ecosystem for other companies to thrive and utilize blockchain technology. |
| Development Platforms | Development platforms provides blockchain technology stack to other organizations. |
| Blockchain Based Software Products | Companies develop blockchain based solutions and products in order to  sell the solution to other organizations. |
| Network Fee Charge | A business model where network fee is charged from the end users or other entities in the blockchain. |
| Blockchain Professional Services | Professional services related to blockchain such as dApp development, consulting, auditing, etc. |
| P2P Blockchain Business Model | P2P based business model utilizes blockchain where peers are able to execute direct tasks. |
In short, a blockchain company generally make money using one of the following methods. Let's discuss them below one by one.
Network fee: The company or organization makes money by imposing a network fee.
Token economy: Utility tokens are used for performing different activities on the network. It is a crypto asset which the users need to buy. One such example is LiveEdu. Their utility token EDU is used to perform many actions on their platform including project creation, administrative tasks, and so on.
Blockchain-based software products: Blockchain companies can also make money by providing their solution to other companies. One such example can be the integration of Spotify with MediaChain which we have already discussed.
The business model can also be a combination of different ideas and it completely depends on what the business wants to do. There is no hard and fast rule on how a business model should function. The companies or organizations are free to experiment the way they want.
So, what do you think about the top blockchain business models? Comment below and let us know. We are listening.