Blockchain technology is giving rise to a new job sector, but the process is quite new, and the path to follow is tougher. To help all the novices out there, we will discuss the process to get a blockchain job.
As the technology is quite new and there aren't many true paths to follow that can guarantee you to land a job . Even now, people aren't growing up hearing about the technology that can help them foster ambitions to further work on this tech or choose it as a valid career.
But still, the demand for skilled people is at an all-time high . Due to the multitude of applicability  of blockchain, companies from various industries are looking to hire skilled personnel who can navigate this tech . However, not everyone is cut out to be a blockchain professional. You need to acquire a certain level of skills to make you stand out of the  crowd and earn yourself an opportunity.
The good news is, whether you are a techie or not, blockchain can open up doors for you in enterprise companies. So, if you want to go for jobs in blockchain, then use our guide to learn about the skills and opportunities you need for the market.
Enroll Now: How to Build Your Career in Enterprise Blockchains Course
Path to Get A Job in Blockchain
Getting a job in the blockchain is not an easy task. If you have to work and practice a lot of skills to become a professional. However, with proper guidelines, you can learn to get a job in blockchain sector. Here is a list of the skills you will need to master in order to take the first steps towards your career.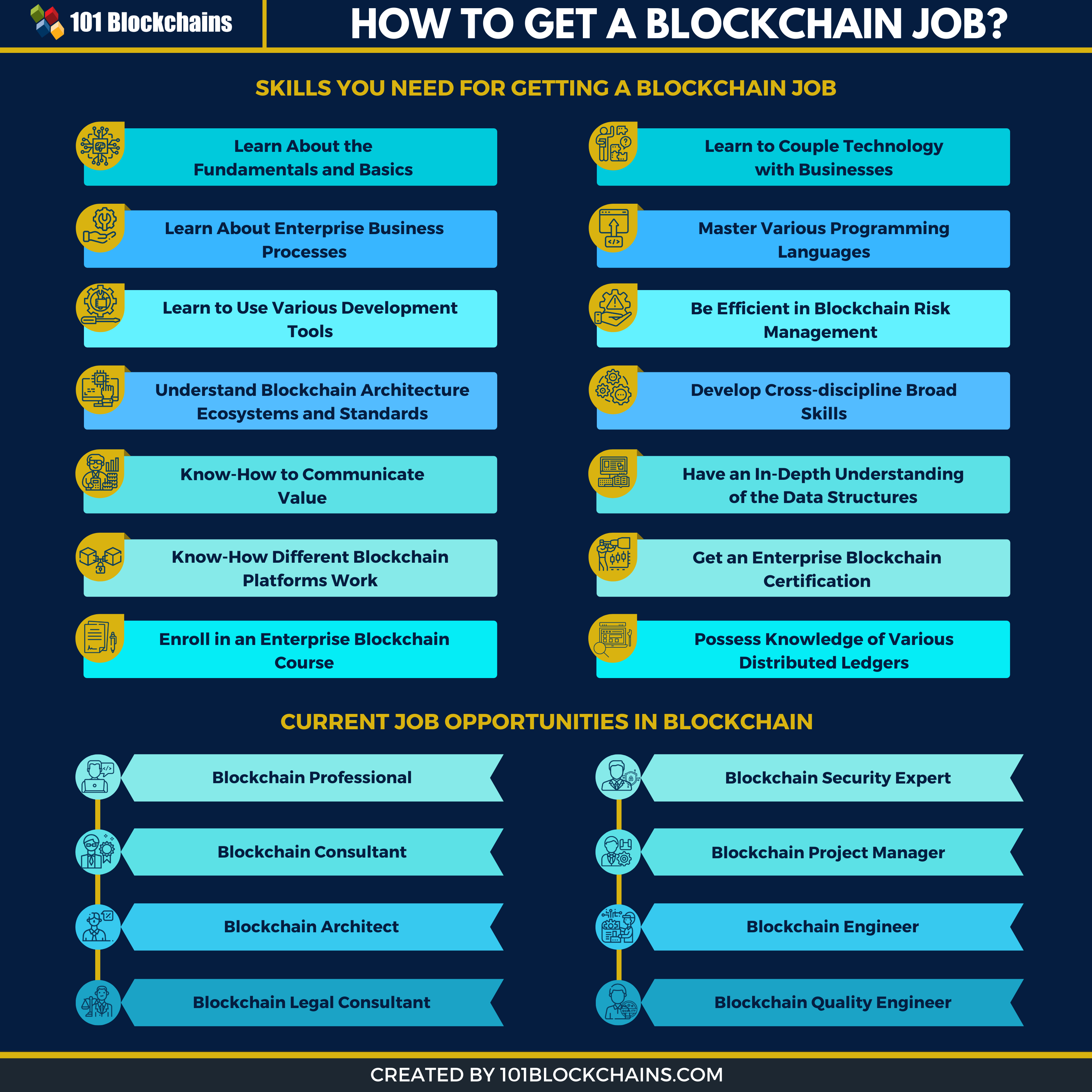 Learn About the Fundamentals and Basics
For entry-level blockchain jobs learning about the fundamentals of blockchain technology is a must. For novices, this is a crucial step, and you need to learn the ins and outs of the technology. More so, if you are interested in learning about the blockchain, then you should start your journey with the fundamentals.
In reality, you can start learning about how the technology can work along with its history and the different outcomes that come with it. You can also opt for possible use cases and so on.
More so, you can also check out the blockchain glossary to learn the proper definitions of certain attributes.
Develop Cross-discipline Broad Skills
Without cross-discipline skills, it's quite hard to comprehend what your clients may want in the long run. This type of skill can also help you outshine other employees and become a favorite to your employer. We think it's also quite effective to help you get a blockchain job and ace the interview.
So, make sure you start sharpening your cross-discipline broad skills. Therefore, skills like agility, adaptability, critical thinking, DevOps, predictions, analyzing, managing, and leading are integral parts.
If you can master these skills, you can surely hope to impress the interviewer and land the job of your dreams.
 Know-How Different Blockchain Platforms Work
This skill is important for both expert and entry-level blockchain jobs. In reality, to become a blockchain expert, you have to understand how different blockchain platforms work. Without understanding the mechanism behind every platform, you can't possibly use them in your blockchain solution.
Even if you don't directly work on the solution, still if you are a part of a team that deals with blockchain, you have to know how they work. Also, in marketing or law enforcement, you can't offer your value to others if you don't know what you are dealing with from the start.
Learn to Couple Technology with Businesses
If you want to opt for a high salaried job such as blockchain engineer jobs or develop jobs, you have to learn how you can couple business models with technology. In reality, enterprise companies are only interested in blockchain as long as it can offer them a better version of the business model that increases revenue.
So, if you can't couple these two elements, how can you increase the revenue of the company? In reality, it's somewhat a tricky process and requires a bit of experience. It's best to get started as an intern for that and get all the experience you need from that.
Possess Knowledge of Various Distributed Ledgers
Well, in this world, blockchain is not the only distributed ledger at the moment. Yes, blockchain is decentralized, but it is one of the types of distributed ledger. So, when you are learning about blockchain, you should also start learning about other types of DLTs.  In many cases, companies are more interested in distributed ledgers rather than only sticking with blockchain.
So, if your company or client demands a different approach, you can deliver it if you possess the knowledge of DLTs. In reality, this skill is more suited for technical positions such as developer, quality engineers, and so on.
Want to know more about distributed ledgers? Check out the ultimate guide to understand what is DLT right now!
Learn About Enterprise Business Processes
As you will work in an enterprise environment, it's only common sense that you need to stay relevant to how they work. So, when you are applying for jobs in the blockchain field, opt to learn the way enterprises conduct businesses.
In reality, these skills are extremely important as it can define your output in a similar situation. If you don't know how they work, how else can you work in a team or under a supervisor? So, start your journey by learning how procurement, logistics, distribution, or even treasury operations work. For a better outcome, you can read through case studies of big companies.
Master Various Programming Languages
This skill is more relevant for a technical position such as blockchain engineer jobs. In order to get a job in blockchain, you have to master programming languages. However, only mastering one or two won't be enough here. In reality, blockchain is a complex technology, to begin with. So, it comprises lots of different algorithms that come from various programming languages.
Thus, start learning Python, Solidity, C++, Java, JavaScript, etc. These programming languages are most relevant to the blockchain at the moment. Also, make sure you practice hard enough to perfect your knowledgebase. Take your time, as this may take a while.
Study Front-End and Back-End Web Development
Obviously, this skill is more suited for developer jobs in blockchain. In this case, you have to start learning how front-end and back-end web development work. If you want to opt for a bigger position, you have to study these as this is the primary requirement for most companies. So, understanding how APIs, UIs, data handling, request handling work is a huge plus point for you.
But make sure to understand each of these with efficiency. In reality, these are critical information, so a slight mistake can end up costing your company and you. If you want, you can join a community to get pointers from other professionals.
Enroll in an Enterprise Blockchain Course
Enterprise blockchain courses can help you out in your learning process. As the technology is quite complex, it's quite tough to comprehend it at the first glance on your own. So, when an expert teacher or instructor helps you understand and break down all the lessons in a digestible way, you can learn faster than normal.
Also, adding this completion of course to your CV can help you showcase your knowledge on the topic to your first blockchain jobs.
There are already a lot of online courses available to help you out. But make sure you get your training from a reliable source to avoid any misinformation.
Enterprise blockchain courses can help you out in your learning process. Check out why you need to take an enterprise blockchain course to secure a wonderful career now!
Understand Blockchain Architecture Ecosystems and Standards
Well, we think this is another important skill you need to master. If you want to become a blockchain architect, you have to understand how different architectural models of blockchain works. In reality, if you want to work with different blockchains, you have to understand how they work. So, when you are developing your very own solution, you can also make changes or create a new architectural model that works better or similar to blockchain.
I will recommend you check out the case studies of various ecosystems and standards to gain more knowledge on the topic. Also, you can try out the course to learn more about them.
Have an In-Depth Understanding of the Data Structures
Having an in-depth understanding of how blockchain data structures work will take you a long way. In reality, blockchain does not support every single type of data structure. So, you need to understand which are supported and which ones aren't. So, once you know how they work, you can start using them for your own blockchain project.
I would suggest starting with Patricia Trees, Merkle Trees, and Merkle-Patricia trees at the very start. Also, try to master cryptography as it's a crucial element to blockchain too.
Anyhow, let's check out the next skill in this how to get a blockchain job guide.
Know-How to Communicate Value
It will all be in vain if you can't relay your knowledge to your clients or team members properly. So, even if you can code or excel at the technical aspect, you can't shine in the non-technical aspect at all. You need to know how you can relay your information to your respected colleagues and team members. Also, this skill will particularly help you in standing out in an interview session.
More so, if you are interested in non-technical positions, then you can use the communicative skill to better your chances of getting hired. Therefore, to get a blockchain job, you have to master this skill.
Learn to Use Various Development Tools
In reality, when you will work in an enterprise company, you will have a strict deadline that you have to maintain. But the issue is, the deadline can be overwhelming at times and may not be feasible using typical manual means. So, you have to start using development tools in order to save time and resources.
Typically, you should prepare for development tools related questions for you first blockchain jobs. At present, knowing how to use these is a must. So, make sure you know how to use these and how they work. More so, it's also a great way to enrich your resume.
Get an Enterprise Blockchain Certification
At present, there aren't any official degree or certification that institutions like colleges offer. So, to work in this field, you need to opt for getting a certification from a reputed source. In reality, all these certifications are online, and they hold great value to hiring companies.
If you get certified from these authoritative sources, then you can showcase your blockchain skills. It's also proof that you know what you are doing, and you are capable of working on a blockchain solution.
Anyhow, these are all the skills you have to master for getting a job in blockchain. Let's check out what career options you will get from this field in this how to get a blockchain job guide.
Thinking if you should go for an enterprise certification? Check out the top reasons to go for enterprise blockchain certifications now!
Job Opportunities in Blockchain
This list mainly consists of the top current job opportunities that you can go for. However, there are many other options for you out there. Anyway, let's start!
Blockchain Professional
The demand for blockchain professionals is all time high at the moment. Basically, they are experienced developers in the field of blockchain. In reality, there aren't many professionals out there who comes with the experience needed to work in a blockchain solution. Therefore, the demand is making the salary quite high.
For example, the blockchain job salary for this position ranges from $150k – $175k typically. But it can go up to $200k as well. The more experienced you are, the better. Practically, you will have to know programming. Other than that, you will need skills in Python, XCOD, MVC, SDL, C, SOAP, C++, AJAX, Solidity, and so on.
A survey from Hired can give a good perspective on the salary range based on geography. Check out the table below:
| Location | Blockchain Salary |
| --- | --- |
| Chicago | $114,700 |
| Seattle | $156,391 |
| Toronto | C$120,647 |
| SF Bay Area | $170,007 |
| Los Angeles | $162,739 |
| Austin | $146,705 |
| London | £79,689 |
| Boston | $151,662 |
| New York | $165,487 |
| Denver | $138,000 |
| San Diego | $157,500 |
| France | €60,882 |
| Dallas | $132,333 |
| Washington D.C. | $150,000 |
Enroll Now: Certified Enterprise Blockchain Professional
Blockchain Consultant
Blockchain consultant is another lucrative position for you to try out. In reality, this position comes with a lot of demand and a high salary. But what will be your responsibilities here? Well, you will have to comes up with strategies for your company to work on blockchain solutions.
This is extremely crucial that you analyze the market properly and come up with a road map that will surely be successful. More so, this type of job mainly falls under blockchain specialist jobs. We would say you have to be proficient in blockchain to understand the mechanisms and develop the perfect plan.
Also, the salary range for consultants is between $69k-$179k.
Blockchain Architect
Another great blockchain job position with a good salary range. In reality, blockchain architects will mainly work on the infrastructure of the technology. So, you will have to know about all the technical aspects of blockchain. Also, just knowing about them won't help you land a job here. You have to become an expert in infrastructure designs.
Typically, this type of position's salary range starts from $31k and can go up to $140k. However, it will all depend on the company and how much they are willing to pay up for this type of work.
Enroll Now: Certified Enterprise Blockchain Architect Course
Blockchain Project Manager
If you want to get a blockchain job as a project manager, you have to work a lot on your soft skills. In reality, you have to master great communicative skills along with analytical and critical thinking abilities. More so, the best part is that you can become a leader here. So, you will have to work with a team and provide assistance to them in order to get the project done.
The salary range for this type of position is $38k-$111k.
Blockchain Engineer
This is another great option available for you to check out. In reality, this another lucrative job opportunity right after blockchain professionals. The issue is your responsibilities may vary from company to company in this position. In some cases, you will have to take on the role of the developer; in other cases, you may have to work on the architecture of the project. So, make sure you understand how Corda, Hyperledger, or Ethereum works.
The salary for this blockchain job is between $104k-$186k every year!
Blockchain Marketing Specialist
This is more of the non-technical positions in the field of blockchain. However, this job can secure you a wonderful payday as well. Also, the responsibilities of this job will surely attract you the most if you don't like technical elements.
But you have to understand how the technology work, even if you don't have to take part in the development stage. Therefore, once you know what your company is rolling out, you can start attracting consumers based on that.
Anyway, this type of blockchain specialist jobs can earn you $34k-$72k every year!
Blockchain Quality Engineer
If you want to get a blockchain job, then you can go for quality engineers as well. In reality, quality engineers have to work under a blockchain engineer and even take on the roles of an engineer. Here, you will have to check out if the developer or engineers are going on the right track or did, they make any mistakes in their work.
This is a very critical job that can pay from $51k- to $94k every year.
Blockchain Legal Consultant
Blockchain legal consultants have a very important role in the blockchain ecosystem. In reality, most of the blockchain projects don't go with the typical laws or regulations of every country. So, it's up to the lawyer to make sure that the company does not include any element or do any project that goes against the regulations.
The salary range for this type of position is $23k-$176k.
Blockchain Data Scientist
Another high paying position is the data scientist. We know this may sound a bit odd as blockchain is self-sustaining. But from time to time, it does need maintenance. More so, as many other technologies are starting to include this ledge system, they need a skilled person who can analyze the data and figure out any inconsistencies.
So, you can get this blockchain job if you have high analytical skills and love to deal with data. You can expect a salary starting at $65k. But it can go up to $154k as well.
Blockchain Security Expert
Another great option for you to check out is the blockchain security expert position. If you want to get a blockchain job and love to work in the security aspect, this is the best fit for you. Here, you will have to maintain security throughout your project. More so, you need to ensure that your code can offer 100% security and get rid of any kind of loopholes that cybercriminals can use.  So, you need to have a vast knowledgebase of blockchain security aspects.
Here, you can get a salary starting from $49k, and that can go up to $178k!
Enroll Now: Certified Blockchain Security Expert Course
Why Should You Go for A Job in Blockchain?
If you are thinking if blockchain is a good career, the points below will clear all your doubts. Let's check out the top reasons to choose blockchain as a career and get a blockchain job.
Lucrative Salary Range
Almost all the blockchain job can help you get a good salary every year. In reality, if you do get a blockchain job, you can earn up to $200k per year! That's a massive amount of money that can offer security to you in the future. Although for inexperienced the starting sum is lower but as you build up experience you can expect more and more.
 Greater Hire Rate
Another reason to get a job in blockchain is the hire rate. In reality, many traditional fields have become saturated with a limited amount of companies hiring every year. But blockchain is a new technology, so the demand is still high, and it will stay like this for a long amount of time. So, if you can showcase your skills, then you can get a job in big companies with a lucrative status.
 Less Competition
Even though the market is huge, it's still growing. Even now, many people don't even know what blockchain technology is or how it works. So, the ratio of skilled people, in this case, is quite low. Therefore, you will face less competition in getting a job. We think this is a good reason to get a blockchain job, as it will you less effort to do it.
Global Revolution
If you love technology, then why not get a job in blockchain? This is the start of a new era, and why won't you enjoy it to the fullest? Just think about it! You get to work on a global revolution that will change the world in so many ways. More so, with your skills, you'll probably be responsible for a lot of change yourself.
Exclusive Job Positions
As you already know by now, the job positions are all exclusive and brand new. So, when you get a blockchain job, you can expect the highest amount of benefits too. In many cases, the companies are willing to accommodate you as you please. So, you may not even have to work the usual 9-5 shift.
Enterprise Environment
We think this is the best experience for you if you get a blockchain job. In almost all cases, you get to work in an enterprise environment. In reality, now many enterprise companies are seeking talents who can help them realize the importance of blockchain and help them utilize the features. So, it's a great experience to get a career in this sector.
Ending Note
We've reached the ending point of our "how to get a job in blockchain" guide. Now that you know the skills you need to secure a blockchain job, you can start your training process. Blockchain technology is a great field to get started on your career. The technology is blooming and in the early phase of adoption. So, this is the perfect time for you to opt for a job in this field.
If you are just a novice and want to start your training as a professional, you can check our certified enterprise blockchain professional course. We wish you all the best in your future endeavors.