Many of you are interested in blockchain technology but don't really have any idea or very little idea about the topic. It's practical to be curious when everyone around you is talking about it. Furthermore, enterprises are also joining the blockchain team at a rapid rate. In this case, if you don't educate yourself or get a proper blockchain training you might fall behind.
To help you out we are offering out Blockchain training free course from where you'll learn everything you ever need to know. So, check out our full blockchain training course now!
Let's begin!

The Ultimate Free Blockchain Training Course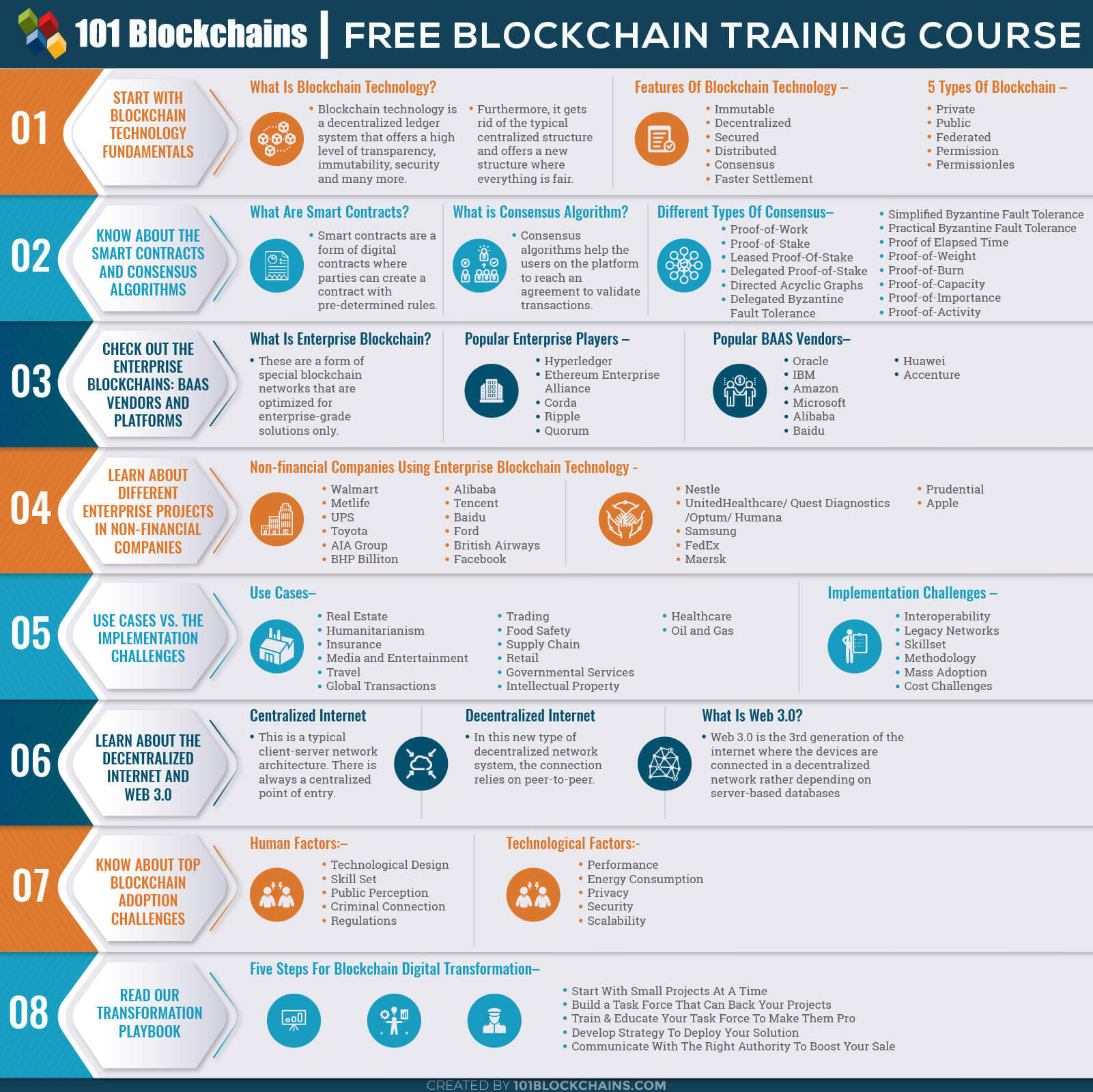 I've divided the whole blockchain training free course into seven easy steps. You'd need to check out all the steps one by one in order to get the full understanding of Blockchain Technology. These steps are –
Step-1: Start With Blockchain Technology Fundamentals
Step-2: Know About the Smart Contracts and Consensus Algorithms
Step-3: Check Out the Enterprise Blockchains: BAAS Vendors and Platforms
Step-4: Learn About Different Enterprise Projects in Non-financial Companies
Step-5: Use Cases Vs. the Implementation Challenges
Step-6: Learn About the Decentralized Internet and Web 3.0
Step-7: Know About Top Blockchain Adoption Challenges
Step-8: Read Our Transformation Playbook
So, let's start!
Step-1: Start With Blockchain Technology Fundamentals
Before you jump into the enterprise blockchains, you always need to know about the basic structure of the blockchain technology itself. But if you don't have any idea how the network works, it would be difficult for you to go on any further. So, don't skip the steps and start from the blockchain fundamentals.
Blockchain technology is a decentralized ledger system that offers a high level of transparency, immutability, security and many more. Furthermore, it gets rid of the typical centralized structure and offers a new structure where everything is fair.
Check Out The Ultimate Guide For Blockchain Technology In Our Blockchain Technology Free Training Course!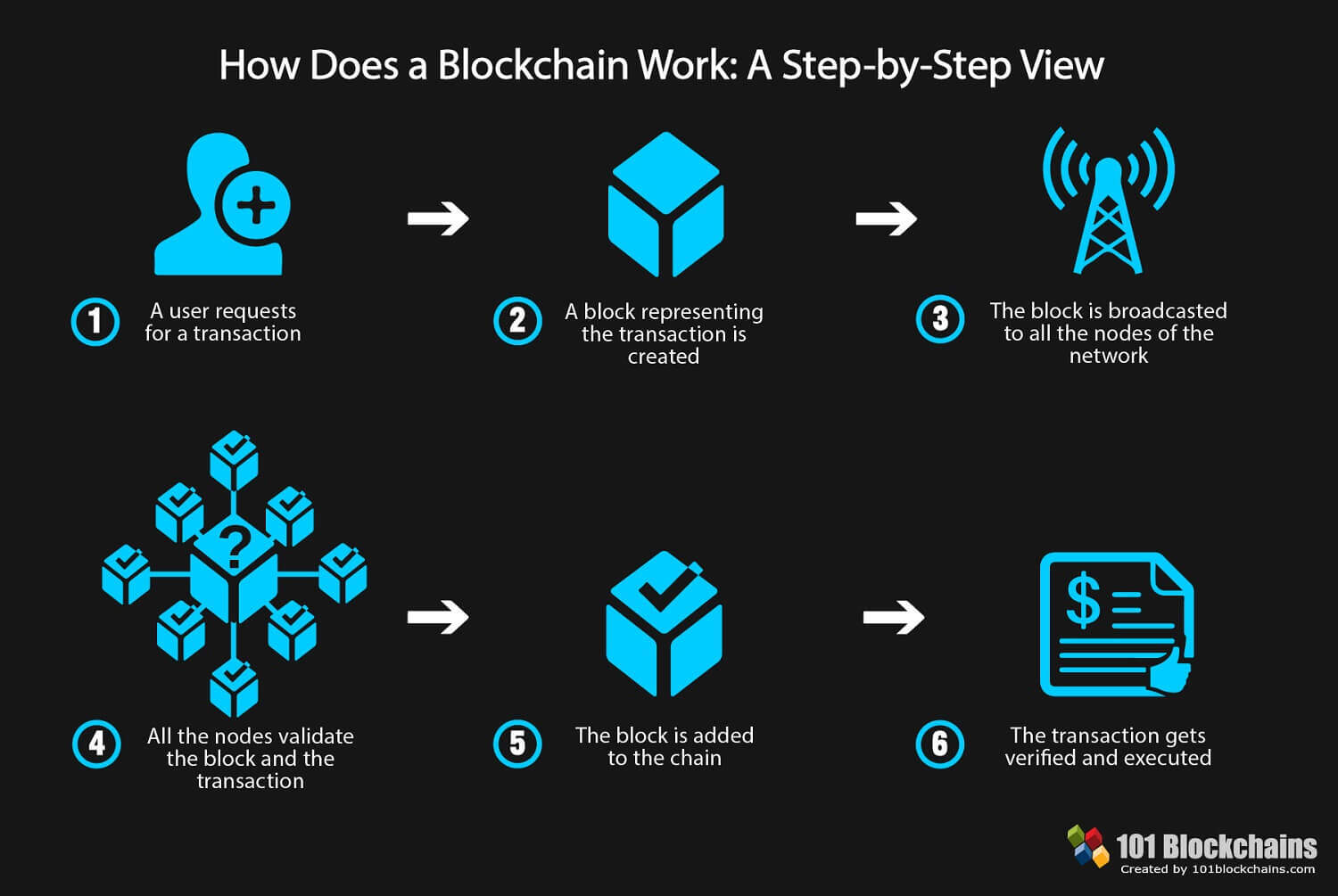 But how did blockchain came to be? To complete blockchain free online course check out the history of blockchain technology. (Hint: Bitcoin wasn't the first blockchain technology!)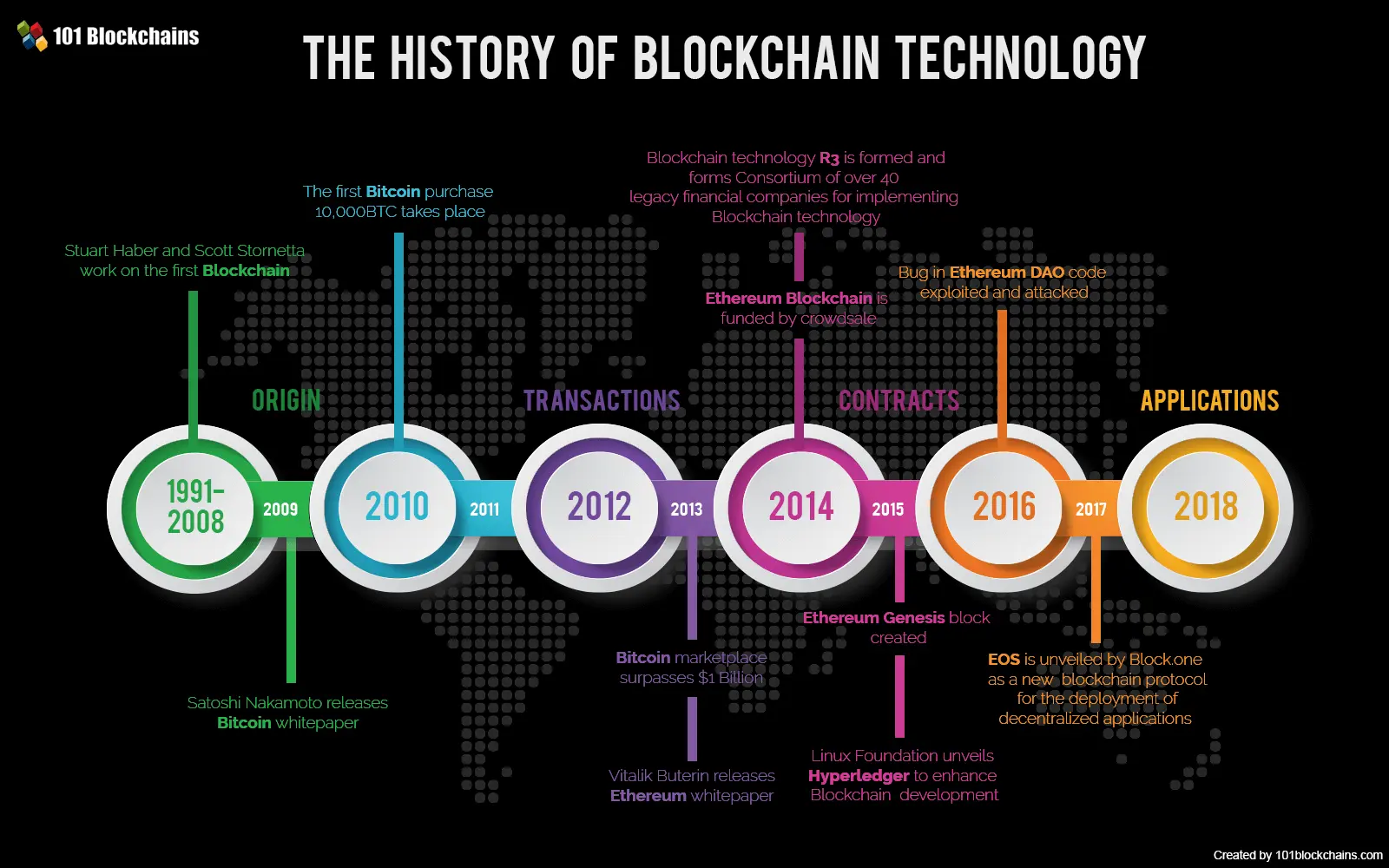 Usually, every blockchain platform offers at least six features. These are –
Cannot be Corrupted
Decentralized Technology
Enhanced Security
Distributed Ledgers
Consensus
Faster Settlement
Read More About These 6 Key Blockchain Features For Blockchain Free Course!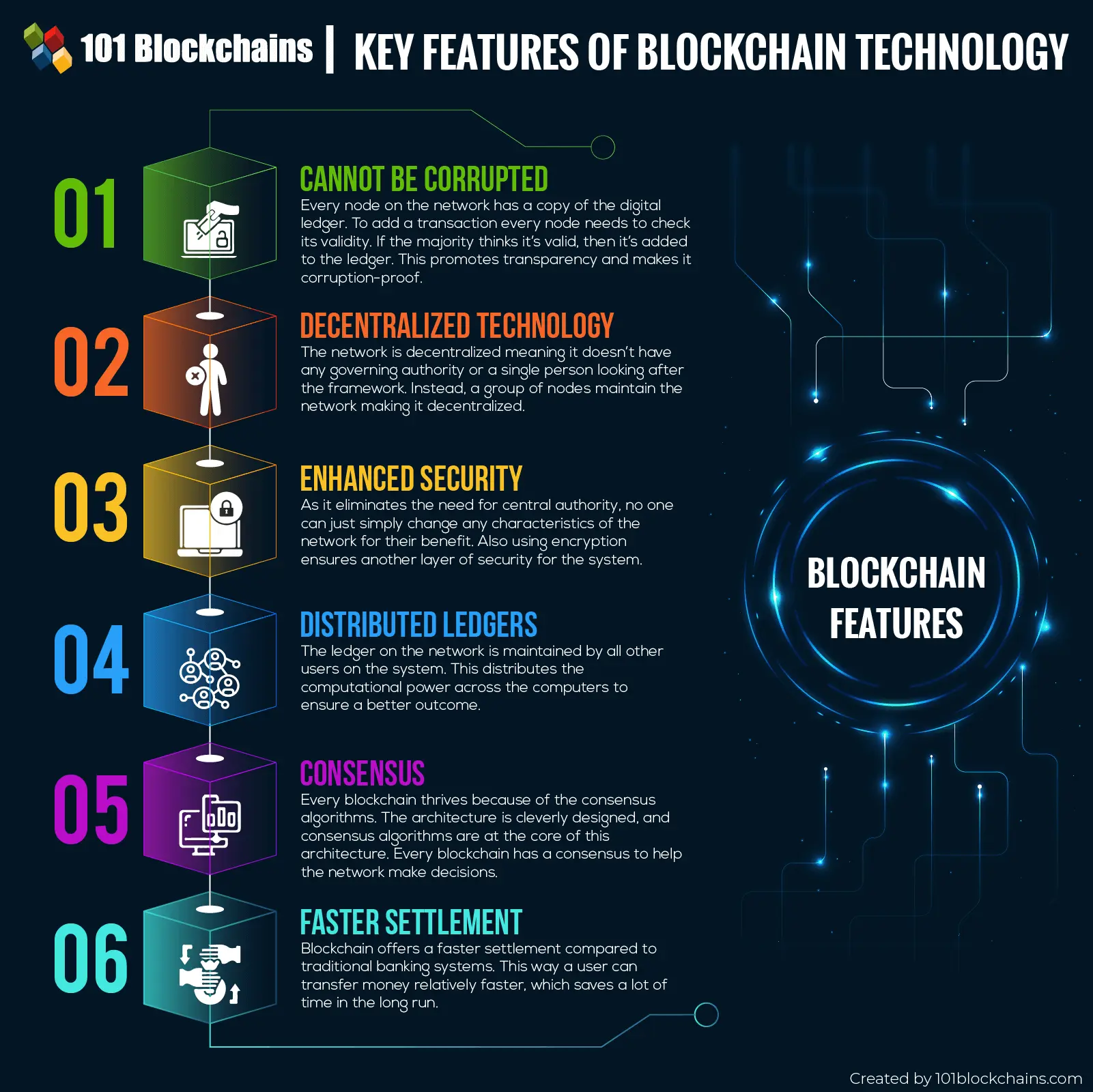 Next, to learn blockchain for free, you'd have to know about the different types of blockchain networks. Yes, there are multiple types out there, and each has its own set of features. However, if you don't know the differences between the platforms, you won't fully understand which platform to go for.
Usually, there are three general types of blockchain that you can use in digital transformation such as Public, Private and Federated networks. Further, two permission types – Permissioned and Permissionless.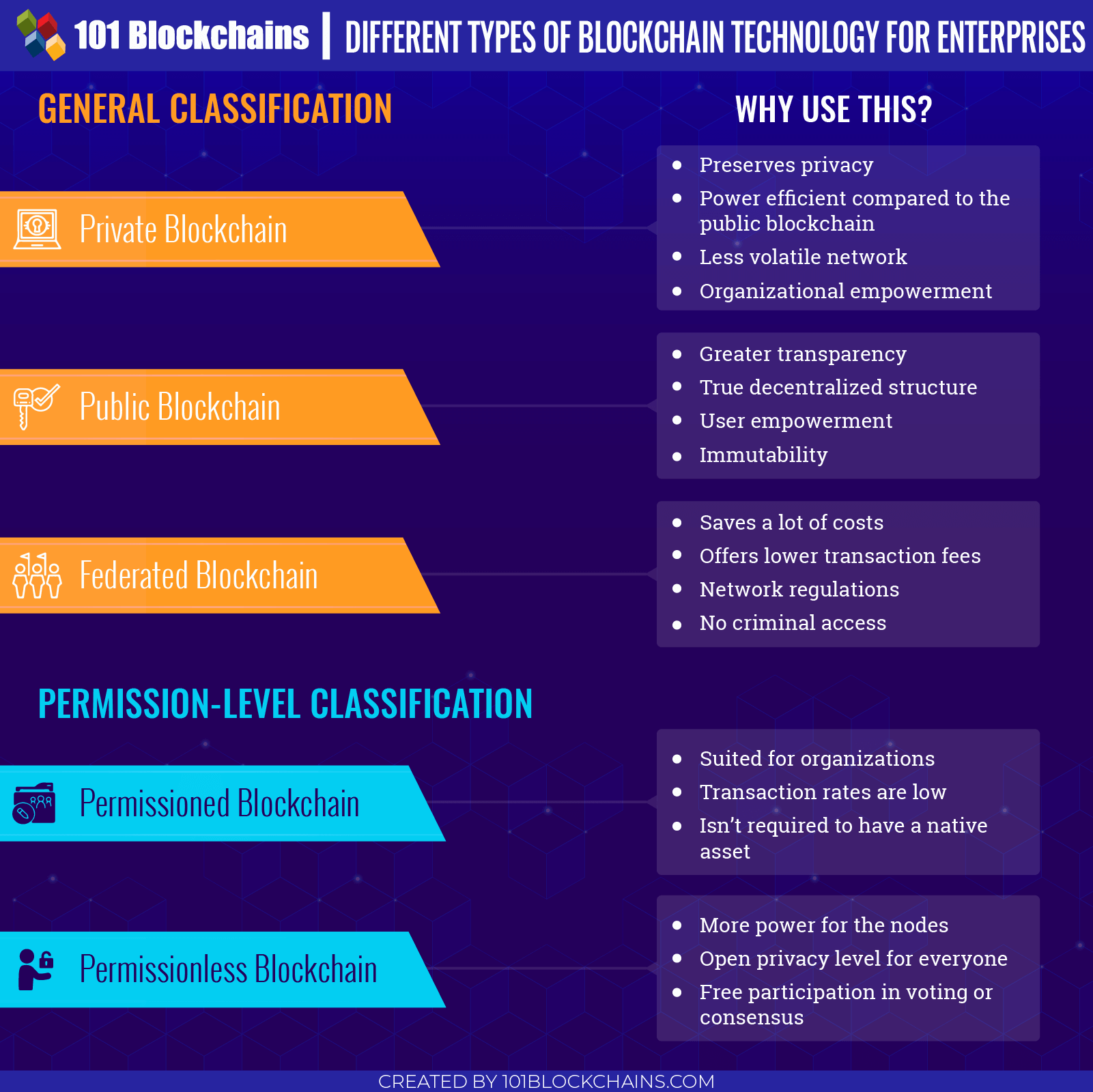 Learn More About Them From Our Guide!
Let's move onto the next step in our blockchain training free course.
Step-2: Know About the Smart Contracts and Consensus Algorithms
Blockchain technology comes with a lot of twists, and you must have heard about the smart contracts and consensus algorithms. Moreover, both of these are equally a vital component of a blockchain ecosystem.
Smart contracts are a form of digital contracts where parties can create a contract with pre-determined rules, and after execution of those rules, every party gets their fair share of the payment. Think of it as an automated process. If you meet with the specified rules of your smart contract, the payment process will initiate automatically.
Many organizations can use this feature to facilitate their agreements with other companies. Ethereum was the first to develop a smart contract mechanism in the blockchain infrastructure.
Check Out More About Smart Contracts For The Blockchain Free Course!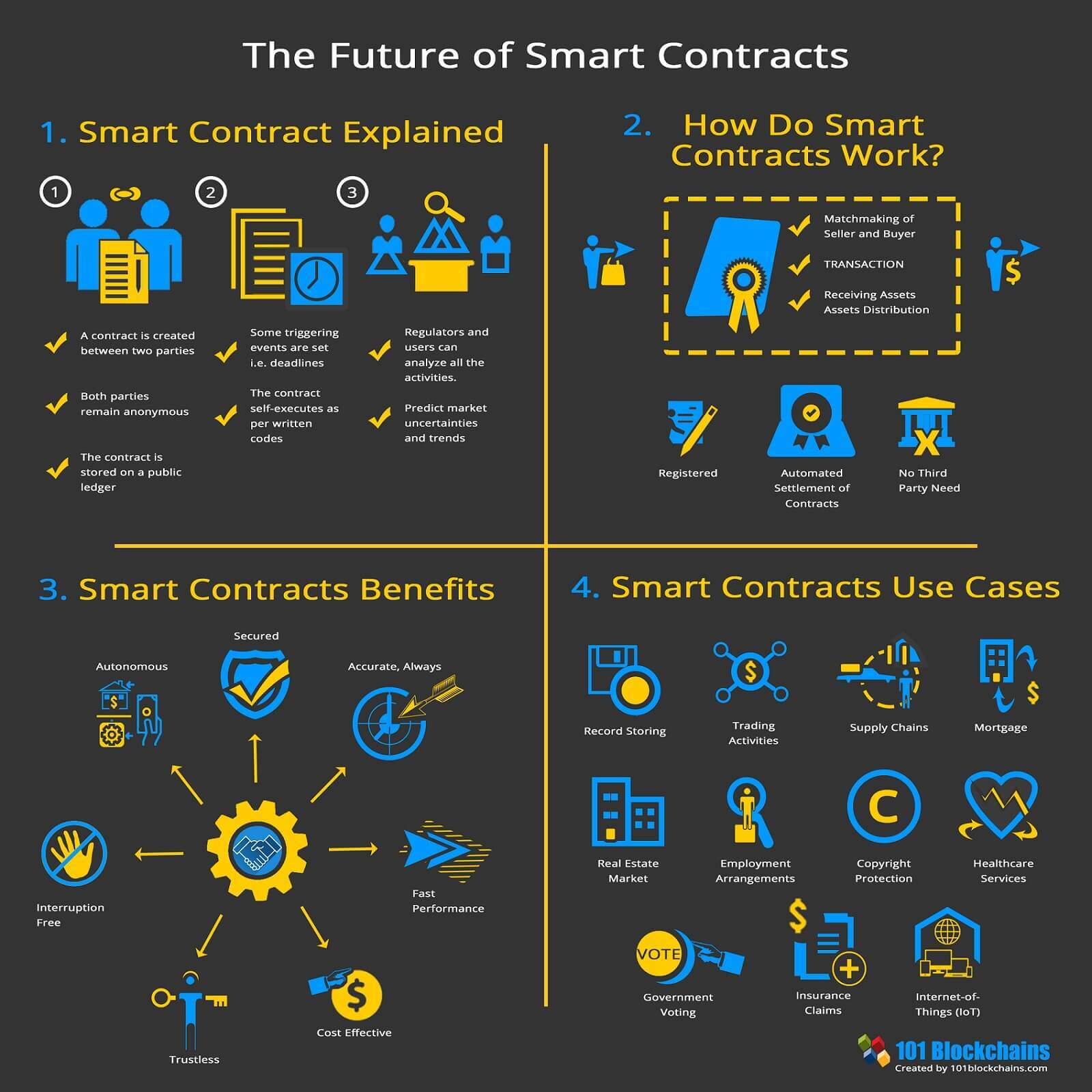 Next, in our blockchain training free guide we'll talk about the consensus algorithms. Consensus algorithms are the root of blockchain technology. Without it, the transparency or error-free system would never happen. Mainly these algorithms help the users on the platform to reach an agreement to validate transactions.
There are many popular consensus algorithms. To complete the blockchain free online course, you should definitely know about these various algorithms. These are –
Proof-of-Work
Proof-of-Stake
Leased Proof-Of-Stake
Delegated Proof-of-Stake
Directed Acyclic Graphs
Delegated Byzantine Fault Tolerance
Simplified Byzantine Fault Tolerance
Practical Byzantine Fault Tolerance
Proof of Elapsed Time
Proof-of-Weight
Proof-of-Burn
Proof-of-Capacity
Proof-of-Importance
Proof-of-Activity
Read The Complete Guide On Consensus Algorithms To Complete Your Blockchain Technology Free Training!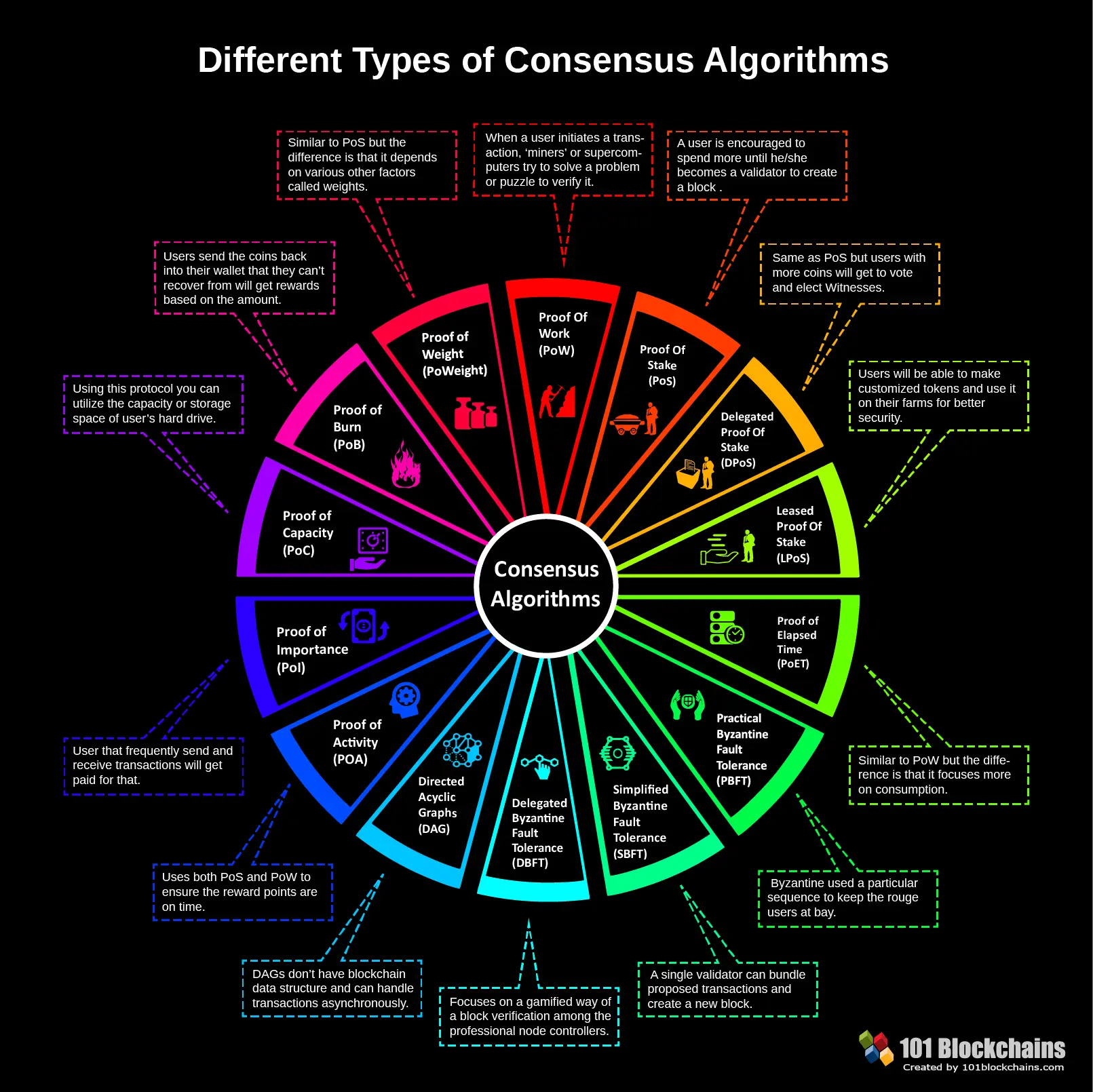 Let's move onto the next step of our blockchain training free guide.
Step-3: Check Out the Enterprise Blockchains: BAAS Vendors and Platforms
Now in our blockchain training free course, we'll talk about the enterprise blockchain. So, what are enterprise blockchains?
These are a form of special blockchain networks are that optimized for enterprise-grade solutions only. Enterprise blockchain technologies are specially designed to take the massive burden of a big organization where they need to meet with heavy demands every day.
Check Out Our Enterprise Blockchain Guide To Learn Everything About This Technology!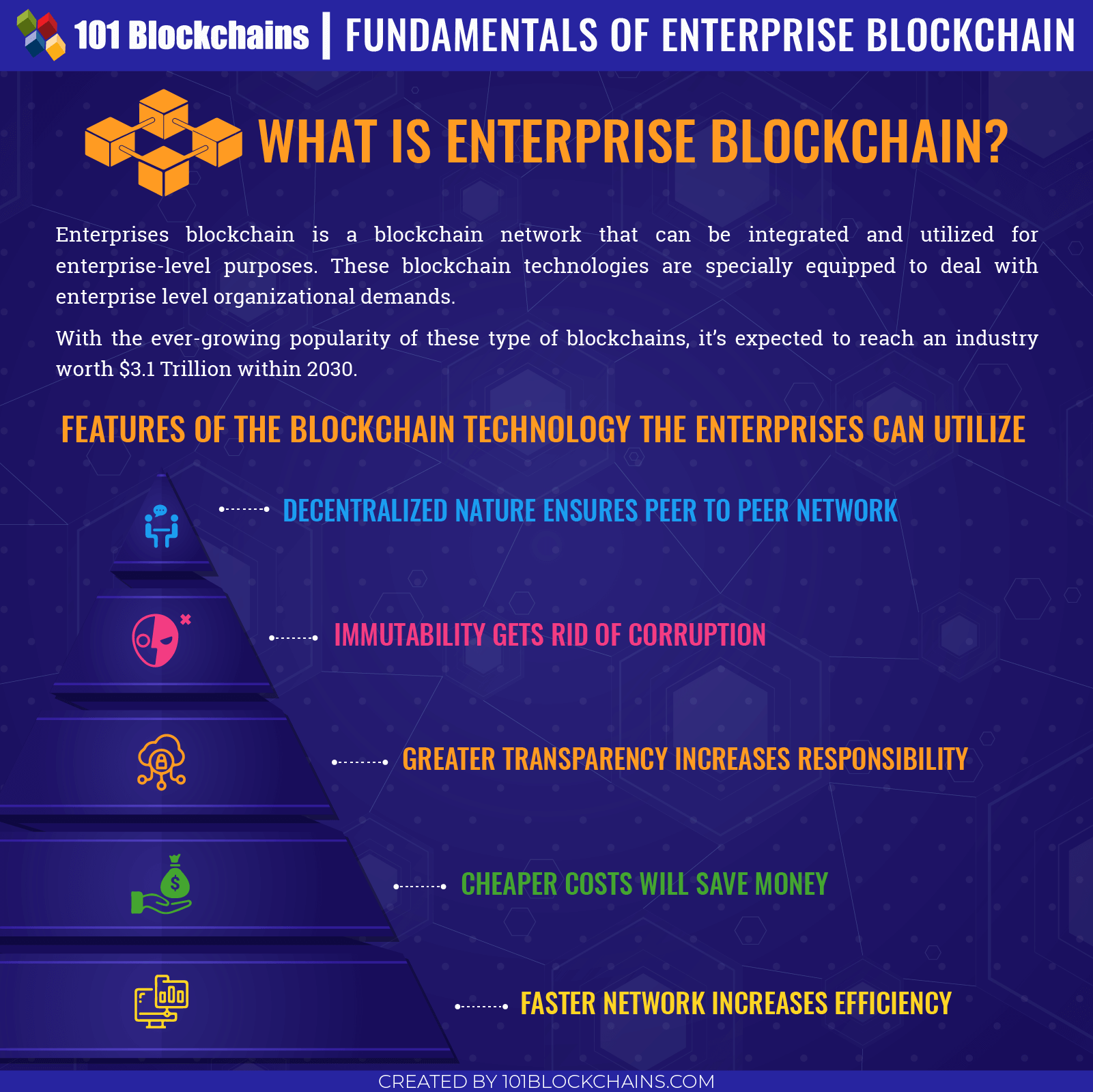 Next, for competing for your blockchain training free course, you need to know about the popular enterprise blockchain platforms. Furthermore, these platforms offer the blockchain solutions and develop the projects from scratch. Mainly there are five main players –
Hyperledger is one of the renowned enterprise blockchain platforms on the market. They have a lot of blockchain projects under their wings. Furthermore, many companies are suing Hyperledger's solution to implement their enterprise-grade blockchain technology.
It's essential for you to know every about Hyperledger to complete blockchain technology free training. You Can Check Out The Overall Ecosystem Of Hyperledger From Here!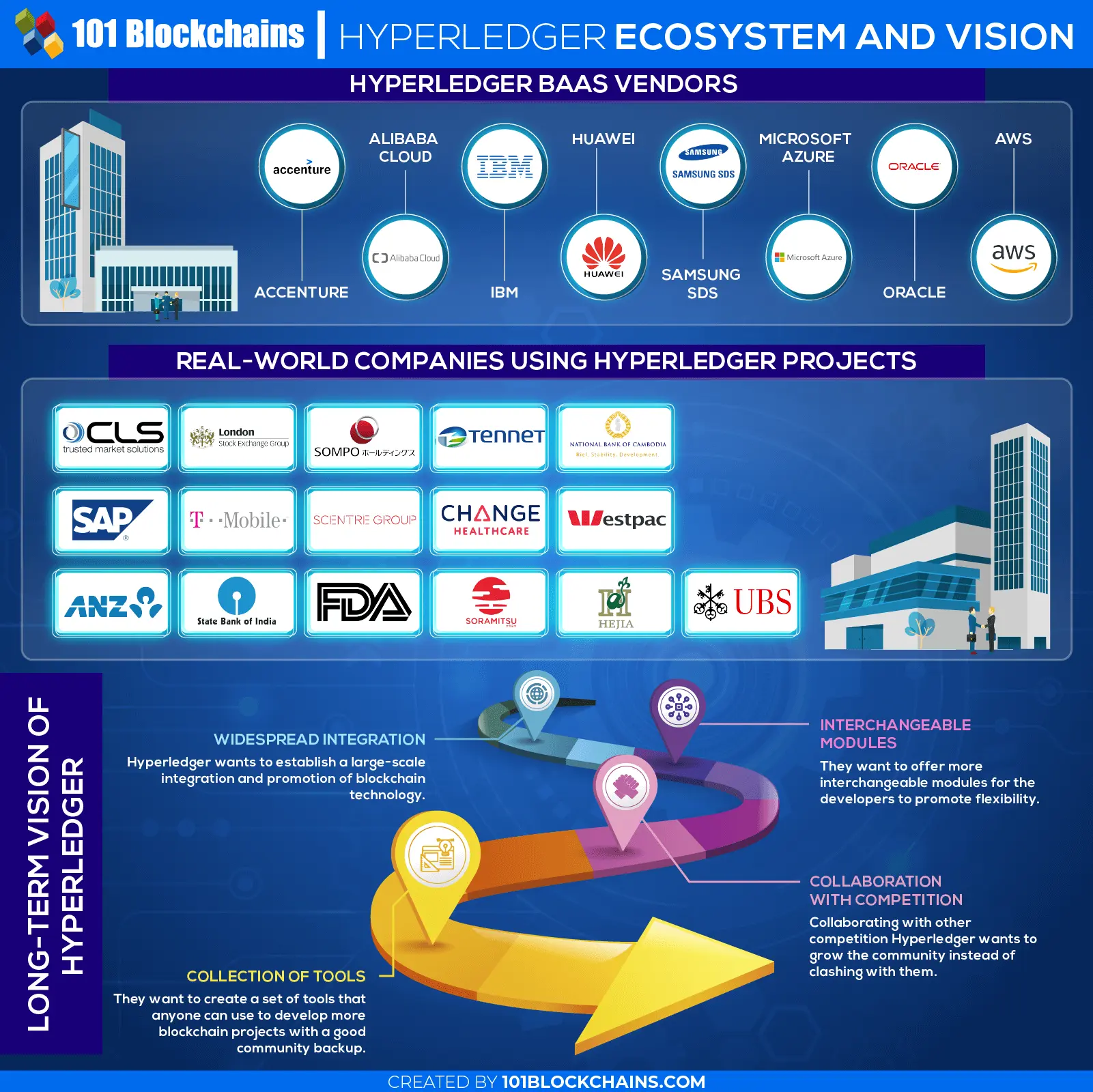 Ethereum Enterprise Alliance
EEA or Ethereum Enterprise Alliance is another popular blockchain network system. Moreover, they offer a greater deal of functionality and usability. At present they have more than 250+ members working together.
R3's Corda blockchain is a must for any blockchain free online course. Furthermore, blockchain technology is just the perfect match for financial sectors.
Ripple is another wonderful enterprise blockchain platform with two strong features – security protocols and safety issues. Furthermore, their RippleNet network can offer almost free transactions.
Quorum is a bit similar to Ethereum; the only difference is that Ethereum is public and Quorum is private. Furthermore, it's more suited for enterprise integrations.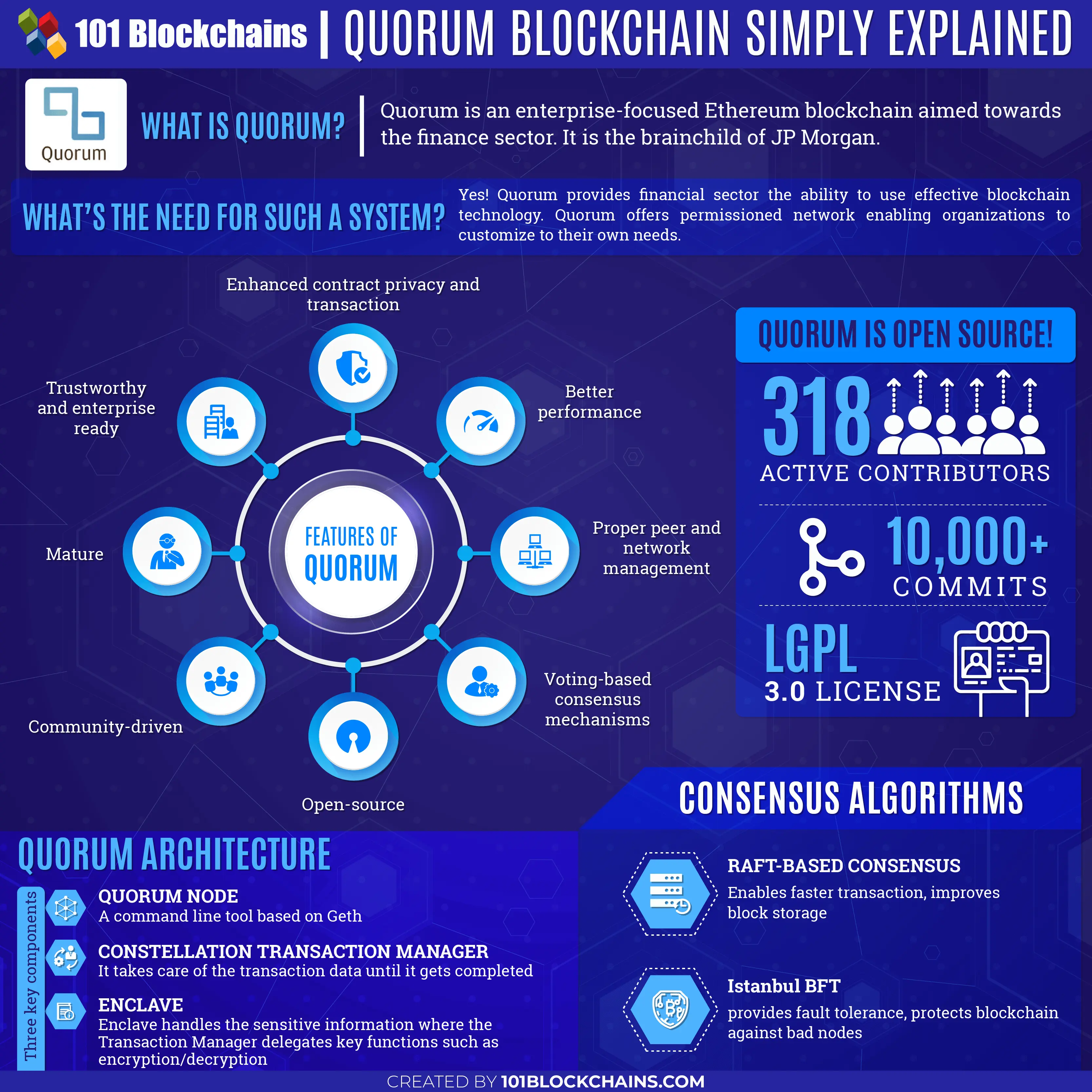 Want To More About Them In The Blockchain Training Free Course? Check Out Here!
Enterprise BAAS Providers
There are a few popular BAAS providers on the market now. Moreover, these companies offer blockchain as a service, and they mainly cover popular enterprise platforms.
Furthermore, getting your blockchain solution from then could be a great deal as these tend to offer cost-effective solutions. Also, they offer toolsets and can deploy solutions within minutes! Check out the BAAS providers in our blockchain free course –
Oracle
IBM
Amazon
Microsoft
Alibaba
Baidu
Huawei
Accenture
Want To Learn More About Their BAAS Providers? Check Out Our Guide Now!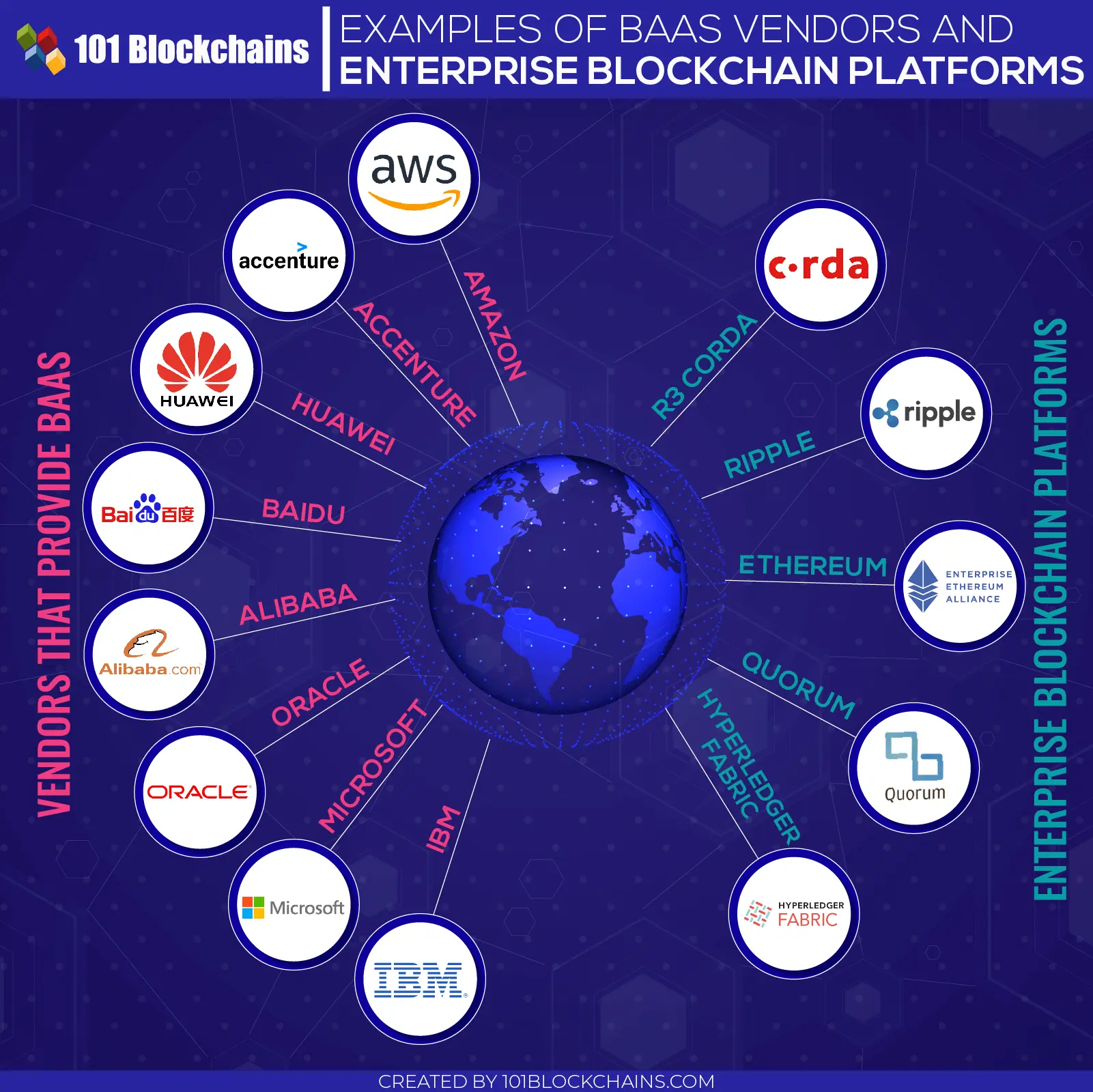 Step-4: Learn About Different Enterprise Projects in Non-financial Companies
Now we'll talk about the various industries that are implementing blockchain technology in our blockchain training free course. Furthermore, these are mainly non-financial institutes. Check out these 20 examples of enterprises –
Walmart: They are tracking products collaborating with IBM.
Metlife: They want to automate the insurance solution in terms of healthcare using enterprise blockchain solutions.
UPS: The company is using blockchain to power logistics systems.
Toyota: Offers their autonomous driving software using the blockchain.
AIA Group: They are providing Bancassurance facilities using blockchain solutions.
BHP Billiton: Uses blockchain for their supply chain management.
Alibaba: Using blockchain adoption to track down luxury goods.
Tencent: They are utilizing blockchain for legal billing and taxation.
Baidu: The company is using blockchain for intellectual rights management.
Ford: Uses blockchain to support mobility technologies.
British Airways: Blockchain technology in the monitoring system.
Facebook: They are utilizing blockchain for data management and protection.
Walt Disney: The company is using blockchain to track inventories.
Maersk: Uses blockchain for shipping platform.
Prudential: Blockchain technology for trade platform.
Apple: They are utilizing blockchain to timestamp data.
Nestle: The company is using blockchain to manage their supply chains.
UnitedHealthcare/ Quest Diagnostics /Optum/ Humana: Blockchain technology for improving doctors directories among hospitals.
Samsung: Uses blockchain for supply chain management.
FedEx: They are utilizing blockchain for dispute settling.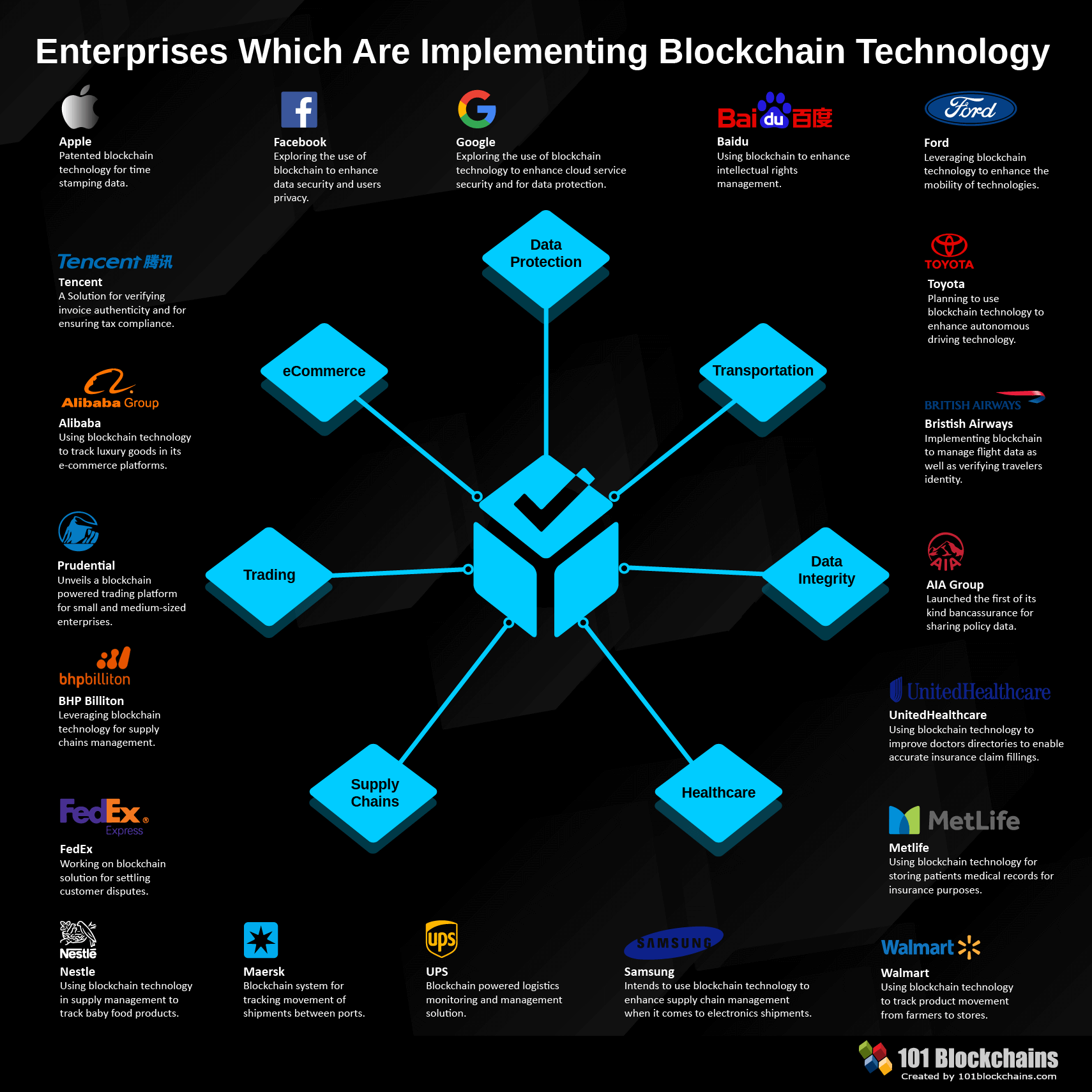 Learn More About These Companies From Our 20 Enterprises Which Are Implementing Blockchain Technology Guide!
Step-5: Use Cases Vs. the Implementation Challenges
Our blockchain training free guide won't be complete if we skip the use cases now, would it? However, estimating the value the blockchain will bring us is fairly difficult. Furthermore, you might think that blockchain won't be that much use as it will be a burden, but is that really the truth?
Over the years, many enterprises already implemented enterprise blockchain projects. Furthermore, you'll be surprised to know that there are a lot of use cases for blockchain technology just for enterprises.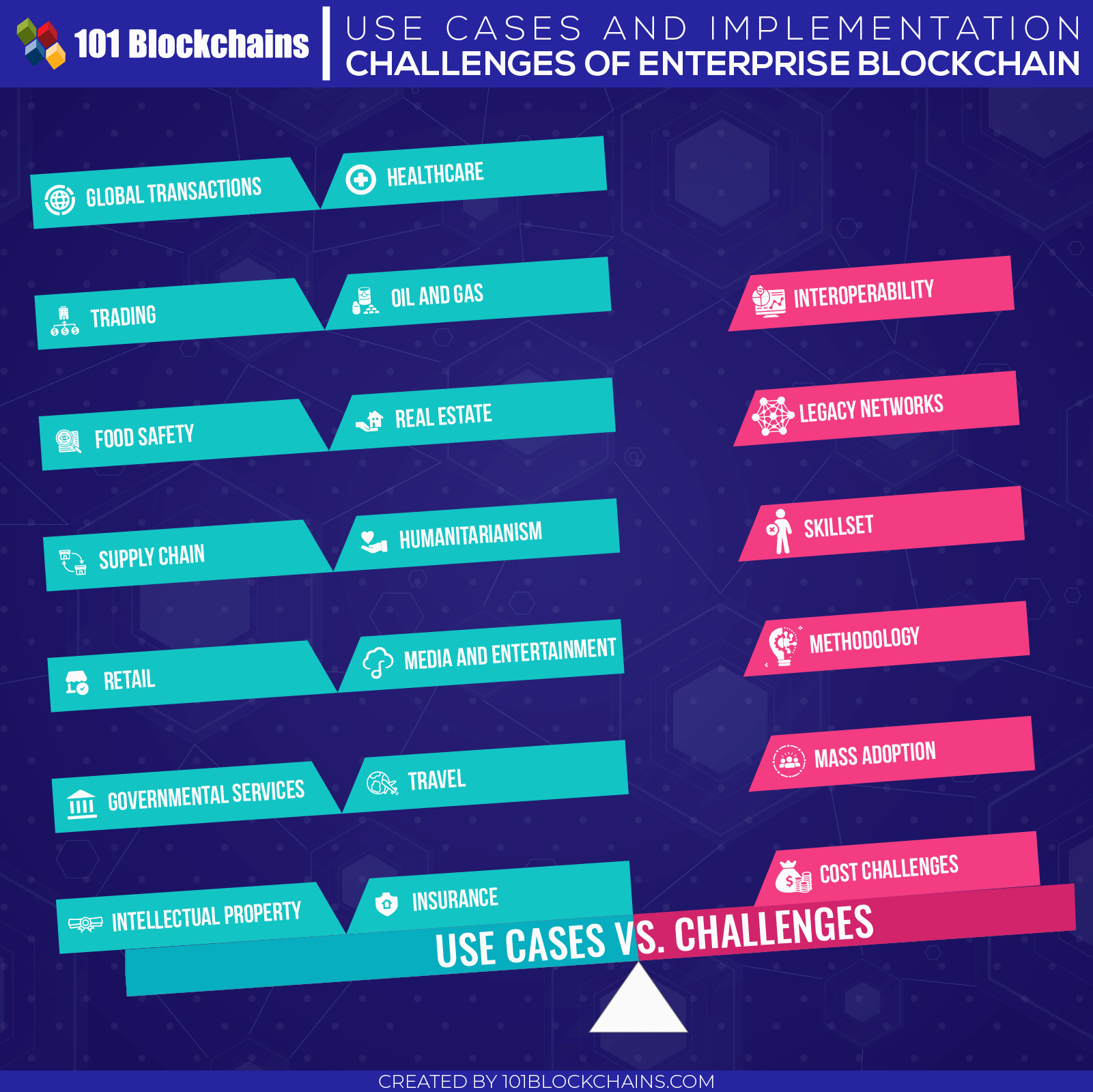 So, imagine what it can do in terms of global implantations! There are lots of popular use cases let's see what they are –
Global Transactions
Faster processing of cross-border payment
Reduced costing
Greater efficiency in transaction
Trading
Improved transparency and trust for trade finance
More control for manufacturers
Reduced paperwork and cost
Food Safety
Accountability for food safety
Reduce food wastage
Gets rid of food fraudulence
Supply Chain
Secured ledger system with visibility for the supply chain
Tracks all products
Quickly detects the corrupted personal with acute information
Retail
Helps to fight counterfeit products
Keeps track of all luxury goods
Deals with theft issues
Governmental Services
Secure way to preserve all citizen rights
Offers exponential growth of the economy
Digitizing citizen identification
Learn More About The Governmental Services From Here!
Intellectual Property
Ensures trademarking and patenting intellectual properties
Offers payment for patented work
Reduced intellectual property abuse
Healthcare
Gets rid of drug counterfeits
Tracks patient information
Streamlines multiple test results at the same time
Learn More About The Healthcare Sector From Here!
Oil and Gas
Secured freight payment and auditing.
Improves efficiency by calculating shipment routes
Saves 5% revenue with accuracy
Real Estate
Reduces costing of the property
Promotes fractional ownership
Increases scalability
Humanitarianism
Ensures that the donation goes to the right place
Offers transparency for the donating citizens
Promote fairness and trust
Insurance
Reduces the number of paper trails
Faster insurance claims
No more exploiting consumers
Media and Entertainment
Better artist value
Connects artist with a better paycheck
Efficient marketing on social media
Travel
Streamline passenger processing
Promotes cross border identification
Schedules all flights with greater accuracy
Learn Blockchain For Free And Know More About These Popular Enterprise Use Cases.
Implementation Challenges
Let's look at the implementation challenges in our blockchain training free course. Furthermore, this will help you to understand whether the challenges are far too heavy on the use cases. Let's take a look!
Interoperability: The current enterprise blockchain technologies lack the ever needed interoperability between all networks.
Legacy Networks: In reality, transforming all legacy networks with blockchain may require a lot of time and money.
Skillset: There isn't an adequate workforce with the skillset to develop new enterprise-grade technology.
Methodology: Lack of proper methodology makes newer innovations full of flaws.
Mass Adoption: In reality, mass adoption isn't yet possible as the network deals with slower output.
Cost Challenges: Maintaining the framework and developing it would require plenty of money.
Want To Know More About The Challenges? Check Them Out Now To Learn Blockchain For Free!
Let's move onto our next step in the blockchain training free guide.
Step-6: Learn About the Decentralized Internet and Web 3.0
The blockchain is not only changing the ways of your businesses, but it is also affecting the structure of the internet. Furthermore, today's internal structure came a long way before you getting access to all the facilities of modern technology. All the social media or Google search options weren't available in the old days.
Moreover, the structure of the web is now centralized, but with the new addition of decentralization, the changes are evident.
But before you dive into the realm of Web 3.0 check out more about the centralized and decentralized internet from here.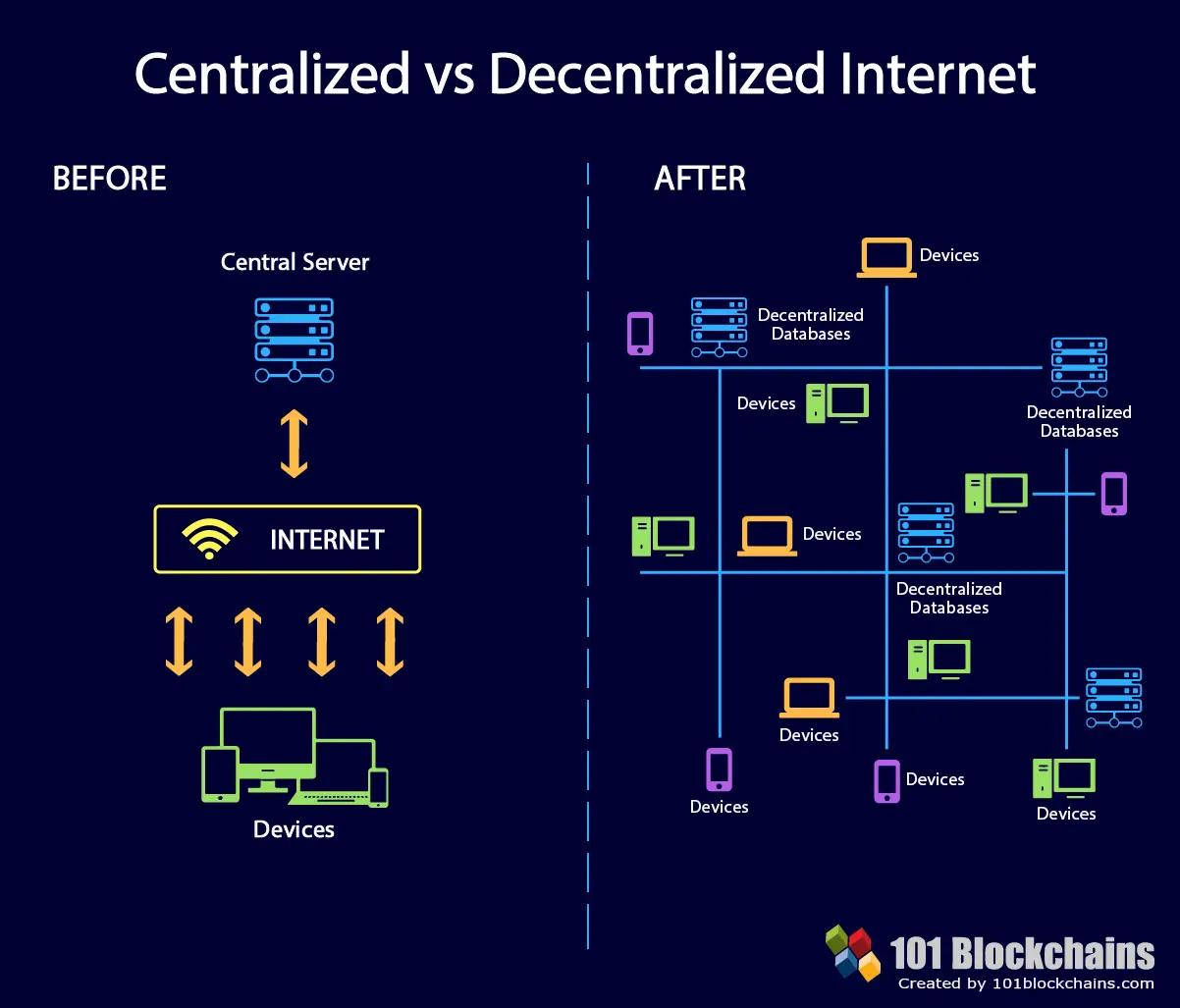 Web 3.0: Adds More Value for You
Web 3.0 is the new generation of the internet. It's a decentralized structure. Here not only you'll be able to read and write, but now you can do even more. Furthermore, using the semantic searching capability will give you more accurate search results. Moreover, these are just a few of the potential features that Web 3.0 would bring for you.
To Know More About This Check Out The Web 3.0 Guide Now!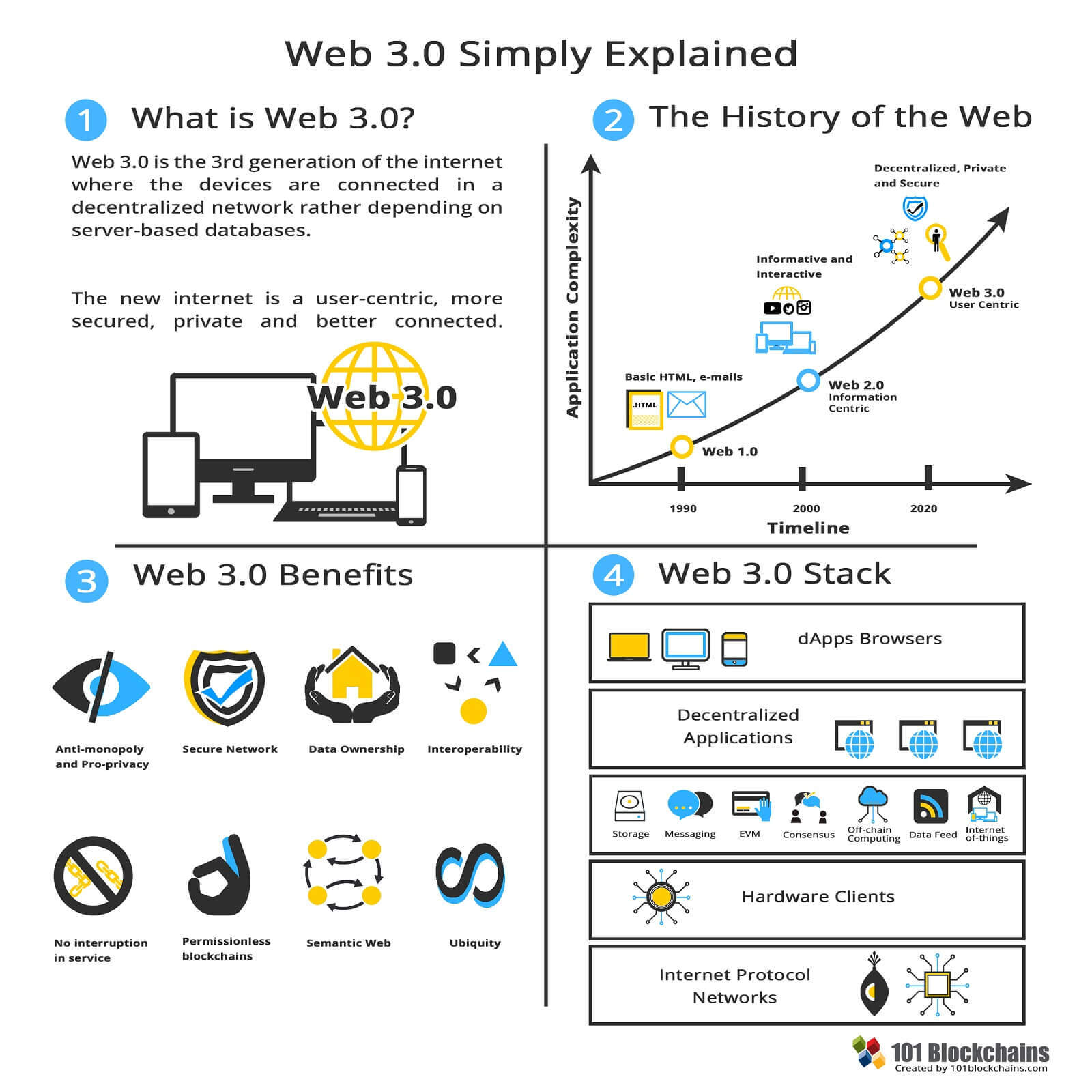 Step-7: Know About Top Blockchain Adoption Challenges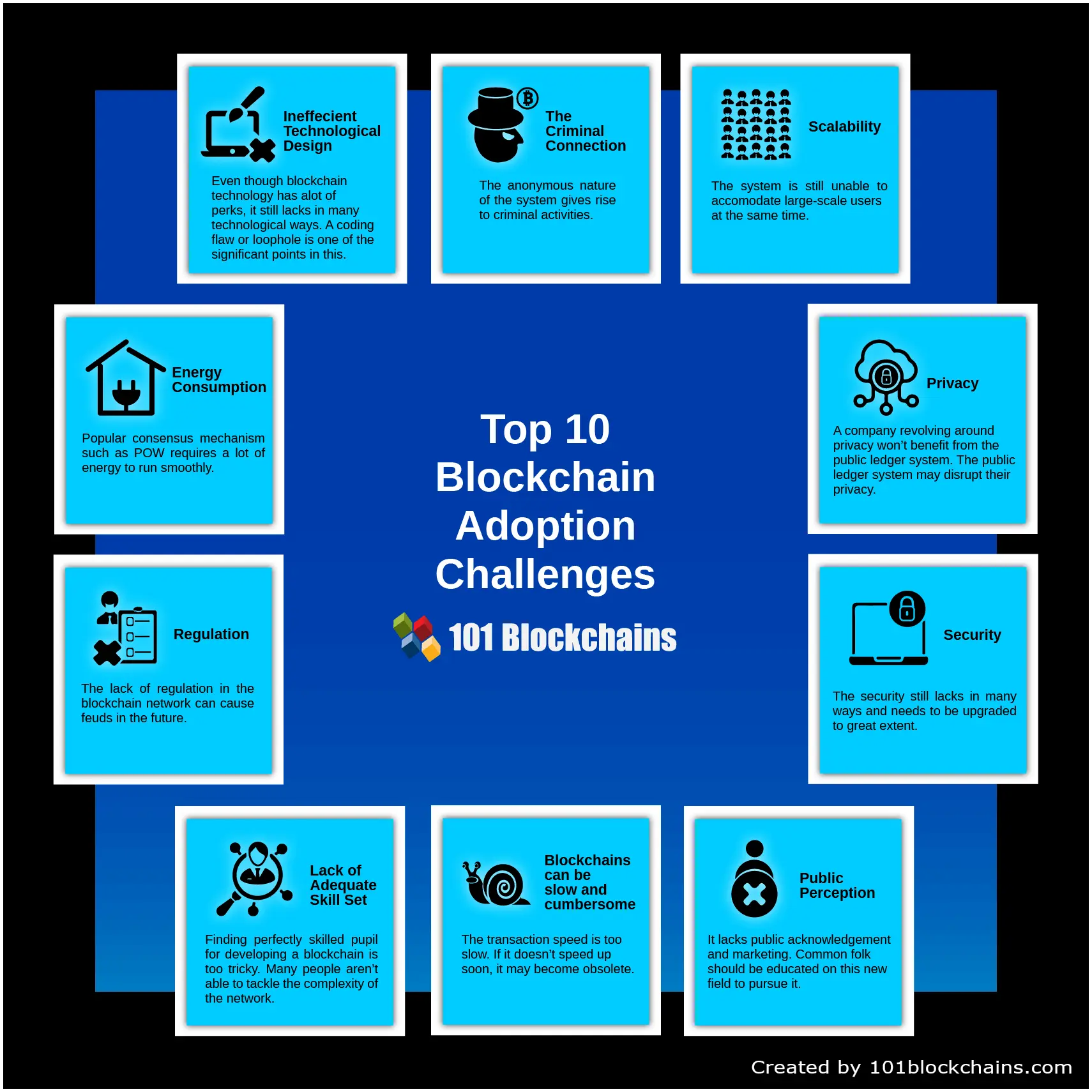 Now you know about almost every aspect of the blockchain technology. But before you jump in and start working on your enterprise blockchain solution, you need to know to have a clear idea about what challenges you are dealing deal.
Furthermore, previously we gave you a few of the challenges you can face in terms of enterprise blockchains. But now you need to know about the top blockchain adoption challenged for general blockchain technology. Let's see what these challenges are –
Human Factors:
Technological Design
Skill Set
Public Perception
Criminal Connection
Regulations
Technological Factors:
Performance
Energy Consumption
Privacy
Security
Scalability
You Can Read More About These Points In Our Top Blockchain Adoption Challenges Guide!
Step-8: Read Our Transformation Playbook
Want to transform your legacy network to blockchain network? Or do you want to develop your own blockchain based solution? Well, we did give you the compact knowledge of everything you need to so far about the technology. However, it's time for you to strategize your implementation.
Moreover, our transformation playbook is the perfect solution for you if you don't know where to begin. Furthermore, in the transformation playbook, we mainly talk about five steps –
Start With Small Projects At A Time
Build a Task Force That Can Back Your Projects
Train & Educate Your Task Force To Make Them Pro
Develop Strategy To Deploy Your Solution
Communicate With The Right Authority To Boost Your Sale
We've explained everything in the Transformation playbook guide. So, make sure to check that out!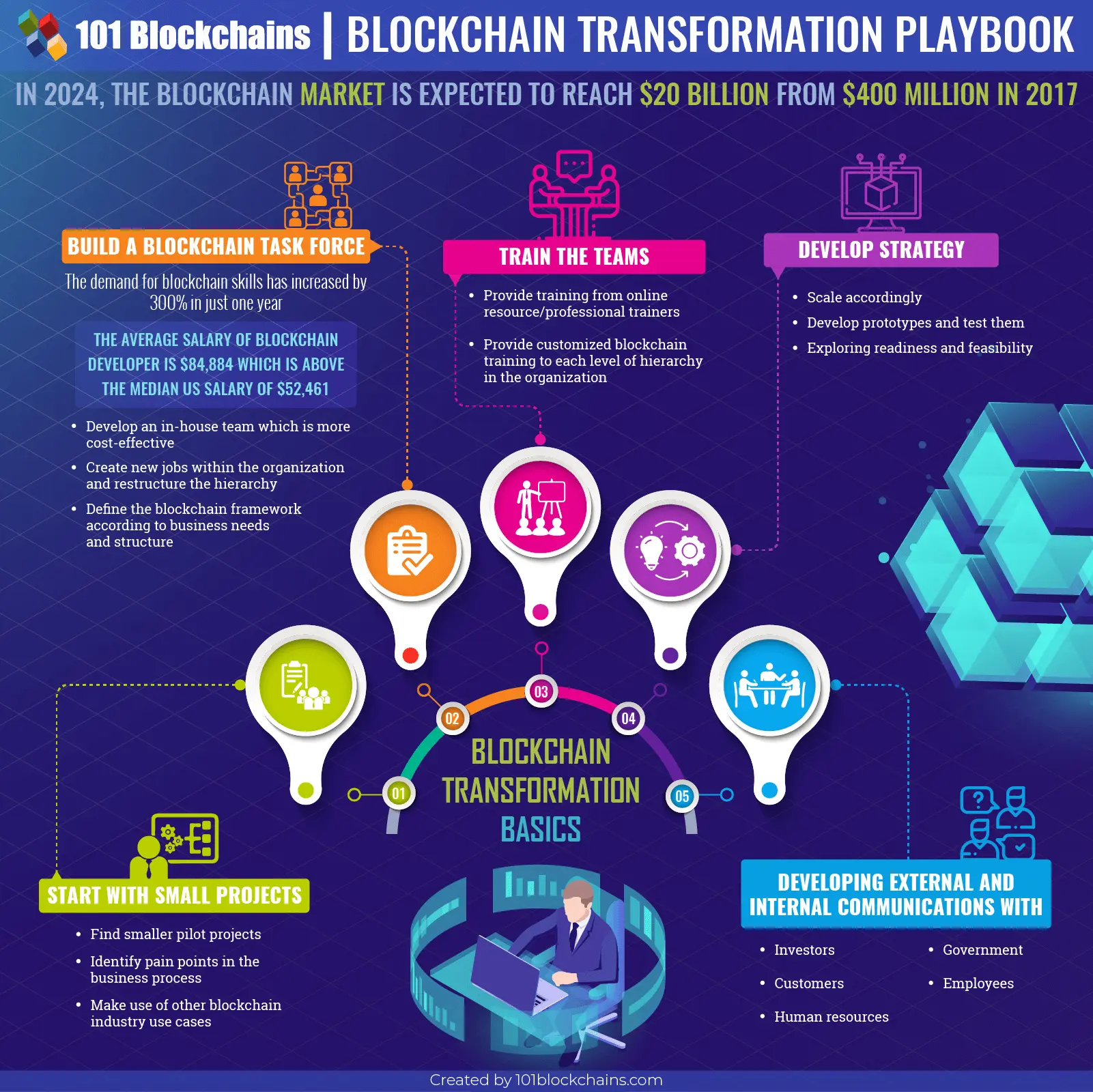 Final Words
Blockchain technology will create a marketplace of $10 million within the year 2022 according to According to Gartner Trend Insights. Furthermore, by the year 2030, it would be $3.1 trillion worth of marketplace. In reality, if you want to claim your spot in that market now is the time to dive into the technology.
Hopefully, our free blockchain training course would help you out in this case. So, don't wait up. Start your blockchain journey now!
Are you a DOER? Join our community now!