Retail industries were booming even last year before the pandemic hit the world. Although many retail companies offer online purchasing facilities, the primary revenue comes from their physical stores. However, after the pandemic came, retailers faced some major issues such as maintaining the supply chain, selling products, opening stores, and keeping all the customers and employees safe.
However, this could all be avoided if this industry embraced blockchain technology right from the start. In reality, blockchain's reliability, sustainability, and quality of tracking and helping in management processes can offer retail industries the ultimate digitization they need.
So, it's about time retail industries focused on the blockchain more seriously and started to integrate it into their legacy systems. Therefore, in this guide, we will cover why the retail industry needs blockchain and how blockchain can solve all of the problems.
Build your identity as a certified blockchain expert with 101 Blockchains' Blockchain Certifications designed to provide enhanced career prospects.
Blockchain In Retail: Does This Industry Really Need Blockchain?
It's normal to wonder whether this industry really needs blockchain or not. In reality, the retail sector seems to be doing quite well compared to other sectors. However, this industry deals with a lot of internal issues that need to be addressed sooner than later. This is the major reason why this industry needs a change like a blockchain at the moment. Let's check out the probable issues.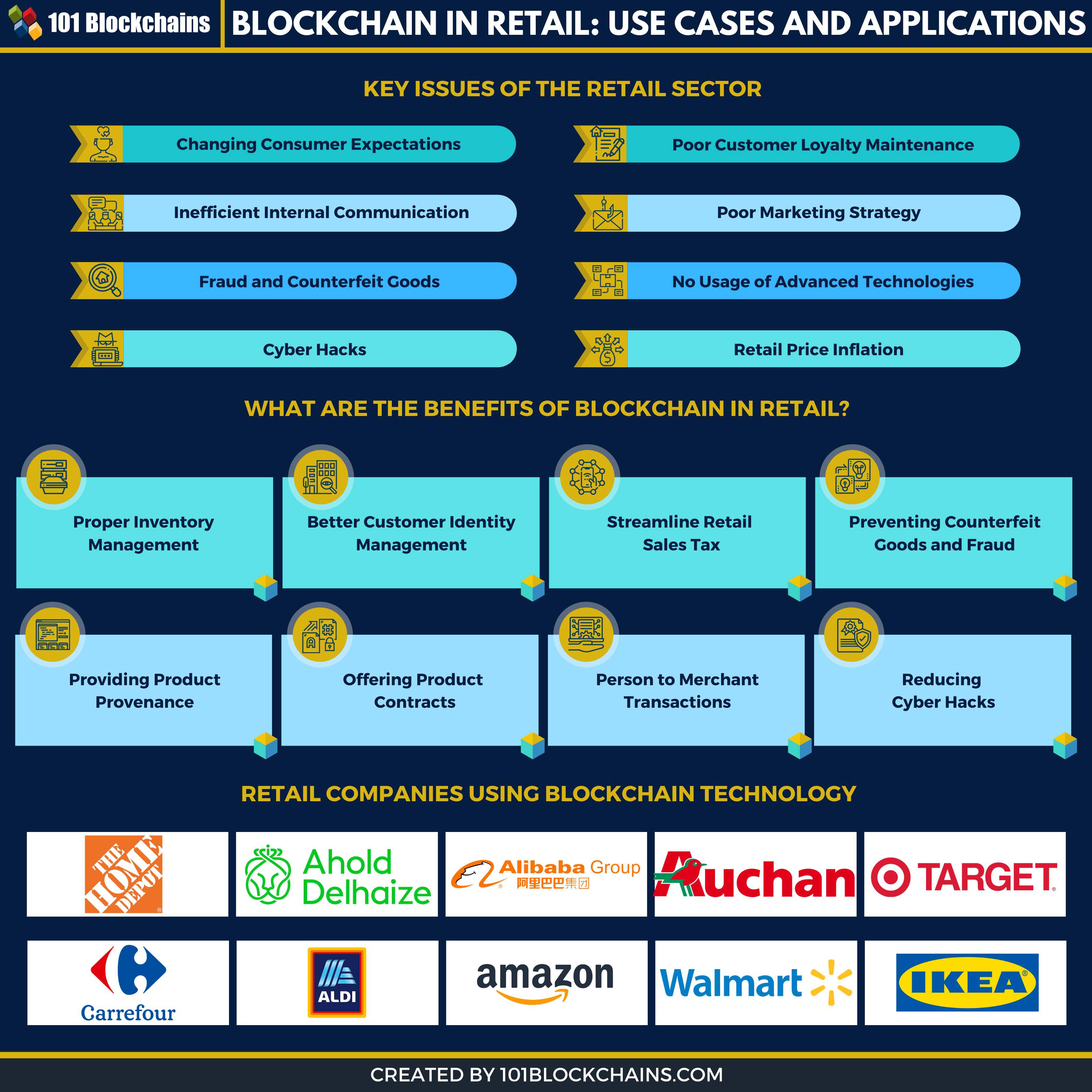 Changing Consumer Expectations
The retail industry has to deal with a lot of volatile elements, and one of these is consumer expectations. In reality, consumer expectations seem to change quite rapidly, which is hard to keep up with. There are just too many elements at play, changing the tastes of the consumers overnight. For example, a good portion of the consumer may love a product today, just the next day, they might have different thoughts, and some may not even like the product anymore.
Season changes, occasions, holidays, trends are some of the crucial factors in this. Therefore, the retail industry needs to be smart enough to comprehend all this information. However, accurate forecasts are still not possible to this day.
Start learning Blockchain with World's first Blockchain Skill Paths with quality resources tailored by industry experts Now!
Poor Customer Loyalty Maintenance
To create good brand loyalty, you need to have a good customer experience. In reality, one of the most prominent issues of retailers is the practice of losing their old customers, thinking they can be replaced easily. We know that dealing with consumers can become hard at times. But the practice of letting go can only come back to haunt you later on.
For example, if you keep this mindset on, then you will find it harder to scale your business. Although promotions or sale offers or special discounts can help your old customers feel wanted, it's still not enough at the moment because most of the time, retailers fail to deliver personalized offers.
Inefficient Internal Communication
This is most suited for large retail companies as they seem to have a lot of divisions in place. Therefore, maintaining this much division at the same time is costly and complex. Thus, the mere complexity of managing and operating these divisions by communicating internally may not be possible at times.
As a result, the lack of communication between divisions can disrupt the business process along with decrease consumer satisfaction. Without a proper system in place to automate these communications, there is no proper way to maintain this problem. Therefore, they need help from technologies.
No Usage of Advanced Technologies
Well, many technologies are made specifically for certain businesses and can help promote extra benefits if used correctly. However, the retailer companies are falling behind this trend completely. Even to this day, many retailers don't even have an inline presence. Therefore, they are falling behind drastically.
In reality, they are still using the old method that expired a long time ago. Also, in many cases, retailers find using technology a difficult task and don't have the ability to utilize it properly.
Again, some retail companies make wrong decisions to choose the technology they need. This can lead to inefficiencies and money wastage as a solution build for other businesses that can't offer the same benefit to retail.
Get familiar with the terms related to blockchain with Blockchain Basics Flashcards.
Poor Modern Marketing Strategy
Yes, many retail companies are slowly transitioning into the realm of online marketing. But the lack of proper knowledge base on the subject matter makes them end up investing a lot of money with barely any outputs. In reality, you can't only stick with social media marketing; there are various ways you can market your products to the customers.
More so, customers nowadays love one-on-one engagement from their personal brands. So, unless you can offer them this feature, they might soon lose interest in your brand. Again, retail companies can sometimes market the products way too much, which increases customer dissatisfaction.
Fraud and Counterfeit Goods
One of the major issues of this industry is the increasing amount of fraudulent activities and counterfeit goods. Not only are there too many counterfeit goods in the market that shatters the reputation the retail companies build-up, but internal fraud activities take a toll on the revenue as well.
In fact, counterfeit goods are becoming harder to identify, which means more consumer dissatisfaction. Without properly addressing the issue, both the customer and retailer will keep losing their precious money. So, retail companies need to solve this issue as fast as they can.
The increasing number of cyber hacks is another bottleneck for retail companies. In reality, most of the retail companies use a typical client-server networking model, which is quite vulnerable, frankly. Therefore, it's almost easy to hack into the servers and steal important data. Furthermore, as every retail company keeps data on its customers, it's quite easy to manipulate that data and get access to their credit card or bank account information. This can quickly become a huge security breach leading to losing lots of revenue. More so, it will also mean that consumers can't trust you with their data, which is not a good impression for your brand.
Consumers have to pay more and more nowadays, for their daily living essentials. So, they tend to have less money saved for the budget of any luxury items. However, the retail prices and heavy price tags' fluctuation only discourage a customer from spending money. So, retailers have to offer special offers or discounts to entice consumers to buy the products.
However, retail companies can't even deal with the high cost at the moment. But why? Well, the lack of proper automation and planning can result in more manufacturing costs, which increases the retail prices as well.
So, keeping a rate higher than consumer expectations is not a good strategy if you want to scale.
What Are the Benefits of Blockchain In Retail?
There are many benefits to using blockchain in retail. Some of these benefits are exclusive and only possible if the industry starts to use this technology. However, with blockchain's help, this industry can soon overcome all the barriers in no time. Let's see what the benefits are –
Proper Inventory Management
As you already know, retail companies need proper inventory management if they want to increase their overall efficiency. In reality, there aren't any downfall that comes with it. The companies can only benefit as inventory management will help them keep track of the products and their expiry dates, and consumer interests.
Blockchain in the retail market can help the companies to manage their inventories more efficiently. More so, it will save them a lot of money as well, as it can automate the process of product shortage or product surplus based on the consumer demand in real-time. We believe it's a great use case for the retail industry.
Use of Crypto as A Payment Method
Another great use of blockchain in the retail market is crypto payment methods. As you already know, the cryptocurrency markets are booming at the moment. More so, it seems that different countries are eager to work on central bank digital currencies, which is practically a crypto version of fiat money.
So, it seems that cryptocurrencies are going to become the money of the future. Here, retail companies can stay one step ahead using already existing crypto as official payment for the products. In reality, it's a good strategy to excite consumers and help them pay for the product using secured and digital money in a transparent way.
Better Customer Identity Management
As you already know, most retail companies use a typical client-server networking model, which is quite vulnerable. So, it's quite easy to manipulate that data and access the consumer credit card or bank account information. This is a massive breach of privacy and a clear violation of state law.
To deal with this problem, companies can use blockchain in the retail market to secure the data relating to the customer. In reality, they can offer authentication processes in the system and store all the information in the immutable storage. So, the customer will only have access to their information, and no third party can breach the network and misuse that info.
Curious to learn about blockchain implementation and strategy for managing your blockchain projects? Enroll Now in Blockchain Technology – Implementation And Strategy Course!
Streamline Retail Sales Tax
Another one of the benefits of blockchain in retail is the process of streamlining retail sales tax. In reality, every year, every retail company has to pay up taxes based on their sales. However, many tend to avoid paying this tax, which amounts to $14.5 billion! More so, most of this tax avoidance happens for online retailers. If this goes on, companies can even get felony charges against them for doing this.
Therefore, to solve this issue, blockchain base automated sales tax collection can help collect the taxes based on the number of sales or profit they made. More so, the retailers can upload their documents, which will go through proper verification on the network. This is actually a great way to pay up the tax in due time and avoid any legal issues.
Preventing Counterfeit Goods and Fraud
Another one of the benefits of blockchain in retail is the prevention of fraud and counterfeit products. In reality, just due to fraud, the retail industry lost $62 billion in 2019. More so, high-end retail companies lost nearly 30% of their profit due to having lenient return policies and high margins. But the issue is not the loss but the damage the brand takes from keeping counterfeit products for sale.
Using blockchain technology, the retailers can track their goods from the manufacturers and ensure that they are getting the authentic product every single time. More so, this can help them deal with counterfeit products for good.
Providing Product Provenance
Another one of the blockchains in retail use cases is the feature of having product provenance. At present, consumers are skeptical about everything they buy. And that is perfectly normal, as they can expect more when they are paying for it. But retail companies can't offer any provenance other than the seal on the container that says "manufactured in xxx."
So, using blockchain, the companies can finally offer the provenance as the consumer can track or see the entire supply chain of a single product. It will start with the suppliers and end with the consumer who bought it. It will provide the provenance the customers want now, and they can spend their money on an authentic product.
Offering Product Contracts
The lack of proper maintenance of the supplier channel hinders this industry from growing. In reality, the shipments' payment process takes up a lot of time, including verification and processing. However, this lengthy process can discourage many suppliers from providing shipment within the promised deadline. Therefore, it can amount to a lot of losses for the retailers as well.
However, one of the best elements of blockchain in retail use cases is the smart contract. In reality, many retail companies can use smart contracts as a guarantee of payment. Here, they can offer a payment promise that will only take minutes to process. Therefore, the suppliers will get motivated to fulfill the shipment within the deadline.
Want to know the real-world examples of smart contracts and understand how you can use it for your business? Check the presentation Now on Examples Of Smart Contracts
Another one of the popular blockchain in retail use cases is the defense against cyber hacks. As you already know, the retail industry faces security threats quite frequently. Therefore, this can quickly become a huge security breach leading to losing lots of revenues. More so, it will also mean that consumers can't trust companies with their data, which is not a good impression for the brand.
But with the use of blockchain here, the scenario can change drastically. As blockchain can offer high-security protocols to fight cyber-attacks, no security breach will be possible anymore. Therefore, blockchain can start to increase the revenues by safeguarding the network from a third-party entity.
Blockchain in a retail store can help out in loyalty programs as well. At present, many retail companies have loyalty programs in place that help them connect with a much bigger crowd and keep their old consumers happy with their brands. But there are inefficiencies in loyalty programs as well. Most of the time, they offer inconsistent rules that don't allow the consumer to get the reward points.
Also, in many cases, due to system mismatch, even though a consumer is eligible for points, he/she may not get it.
But with blockchain's smart contracts at play, retail companies can automate the whole process. They can just pre-program the rules in a smart contract, and once a customer follows every rule, he/she automatically gets the points.
Person to Merchant Transactions
This is a rather cool feature of blockchain that now many retailers are trying to use. Blockchain in a retail store can offer person to merchants' transactions. In reality, this helps both parties to benefit from the payment process. The customer doesn't have to cough up extra fees using other third-party financial services, and the merchant can benefit from directly getting the payment without using any third-party applications.
More so, this can build up an ongoing trust between both parties, which is a massive plus point for the retail companies.
Not sure how to build your career in enterprise blockchains? Enroll Now in How to Build Your Career in Enterprise Blockchains Course
Retail Companies Using Blockchain Technology
Walmart is working on blockchain in retail solutions for food traceability. For that, they are using Hyperledger Fabric. At the moment, they are working with IBM to get their technical support for the solution. More so, the retail giant already worked on two successful proof-of-concept projects using blockchain. According to them, blockchain can help them to maintain food quality and avoid any disastrous outcomes.
Amazon is making the best out of blockchain technology. At present, they are using the blockchain in their advertising business. In reality, this is actually a good usage of blockchain's features as it can improve their efficiency effectively.
Other than this, they are selling out blockchain products such as blockchain as a service where they offer network development based on the client's needs.
Alibaba is also working on blockchain in retail solutions. The company is using blockchain to increase the traceability of its products. More so, they already built a cross-border e-commerce platform named Kaola based on blockchain. Anyhow, this platform will record all the customs clearance, logistics details, and product registrations. Therefore, they are also planning to use it to fight counterfeit products with a two-dimensional code.
Start your blockchain journey Now with the Enterprise Blockchains Fundamentals
A subsidiary of Ahold Delhaize, Albert Heijn, is working on blockchain in retail solutions for digitizing their supply chain process. In reality, they want to use technology to reduce their paperwork process and make the whole process automated. According to them, they want to make their supply chain clean, safe, and smart using the technology.
Carrefour joined up the race of blockchain a long time ago. They are also working on blockchain applications in retail for tracking their products. More so, the good news is that the company claims their sales increased drastically once they switched to the blockchain. The tracking process was a huge success in China. So, they want to incorporate it into other countries as well.
Aldi is using blockchain in retail for managing their supply chain. At present, they are using the tech to validate their corporate buying. Along with Verifish, they are tracking organic and sustainable Irish seafood. More so, Verifish developed the project, and BIM is supporting the solution. Although the project will run for 12 months, the company wants to pack up the project within 2021.
Who doesn't know the name of IKEA? However, you will be pleased to know that this company is also working on blockchain applications in the retail sector. Particularly their Iceland division is taking part in commercial transaction processes using Ethereum. More so, the solution came from Tradeshift, and they used programable cash. In reality, this also establishes the use of CBDC on a global scale.
Auchan is also working on blockchain applications in retail industries. The company recently announced that they are rolling out a food traceability application using blockchain in France, Portugal, Italy, Spain, and Senegal. This is a great example of provenance as they are offering consumers to track the product's life from scanning the QR code.
Home Depot is another familiar name among the retail companies. Using blockchain in a retail store, they want to eliminate any supplier dispute that happens due to mismanagement. More so, the dispute can also bloat the inventory, which is not efficient. So, Home Depot is working on a pilot solution to track all the purchases from the suppliers and ensure that everything is well maintained.
Target is using blockchain in retail to manage its supply chain. However, we still don't know the project's proper application yet, but we do know they are using Hyperledger sawtooth for the solution. But later, they moved on to Hyperledger Grid, which helped them target the retail sector more effectively.
Start learning Blockchain with World's first Blockchain Career Paths with quality resources tailored by industry experts Now!
Final Thoughts
Blockchain in retail can change a lot of aspects of this sector. Although this sector is already quite strong on its own, it still deals with a lot of issues that can cause problems later in the future. But using blockchain, this industry can overcome all the shortcomings and introduce more features for the consumers.
If you are in the retail industry, then it's time for you to embrace this technology and all of its benefits. Any novice who is curious about blockchain technology can check out our blockchain courses and start their blockchain journey.
*Disclaimer: The article should not be taken as, and is not intended to provide any investment advice. Claims made in this article do not constitute investment advice and should not be taken as such. 101 Blockchains shall not be responsible for any loss sustained by any person who relies on this article. Do your own research!