Blockchain product manager is a vital and pivotal position within the blockchain career spectrum. Let's check out the role of blockchain product managers and how you can become one.
Blockchain's undying fame is giving rise to many unique products. Obviously, these are heavily influenced by the underlying mechanisms of this extraordinary tech. Thus, the need for a professional to handle product development is at an all-time high.
The blockchain product manager mainly defines the when, what, and why of the blockchain-based product. You know what this means? It means the manager will have to lead cross-functional teams to ensure a product's conception to the launch. As the position is crucial, most of the time, the job description isn't adequately defined.
As a result, the responsibilities will vary from company to company, and it may seem like they aren't for a similar position. The confusion mainly comes from the recency of this role. When established positions like engineers or developers have fixed roles, product managers are still trying to define what roles they should take on.
That's why this guide will focus on a blockchain product manager's realm and the skills you may need to get a job in this position.
Enroll Now: Certified Enterprise Blockchain Professional (CEBP) Course
Who Is A Blockchain Product Manager?
A blockchain product manager is responsible for developing blockchain-based products in a company. In reality, this practice is called product management. Basically, the product managers are capable of creating a strategy behind a product and oversee the launch of that product from start to the very end.
More so, they may have to coordinate between the work done by others, such as product designers, data scientists, and software engineers. Without a capable product manager, it's challenging to make a product successful.
Blockchain product manager jobs include responsibilities like ensuring the product meets with the user's needs, researching the market for valuable inputs, and so on. Anyhow, the responsibility will likely vary as the product goes through various phases of development. In the earlier stage, it will focus on customer analysis and resource management. In later parts, it will move to testing out the product and launching it effectively.
Not only that, but the product manager also ensures that all the members of the team are in harmony and follow the primary goal of the product. Therefore, to stay relevant in the markets, the manager needs to come up with new ideas.
So, you see, it's actually an essential position because, without a blockchain project manager, it's not possible to successfully create a product.
Also Read: Beginners Guide to Blockchain
What Do You Need to Become a Blockchain Product Manager?
As you already know, the responsibilities and the skills needed to become a blockchain product manager vary greatly. So, it's kind of hard to pin-point the exact skills you need for blockchain product manager jobs. That's why I've divided up the list of skills into several parts based on what the enterprise companies generally want.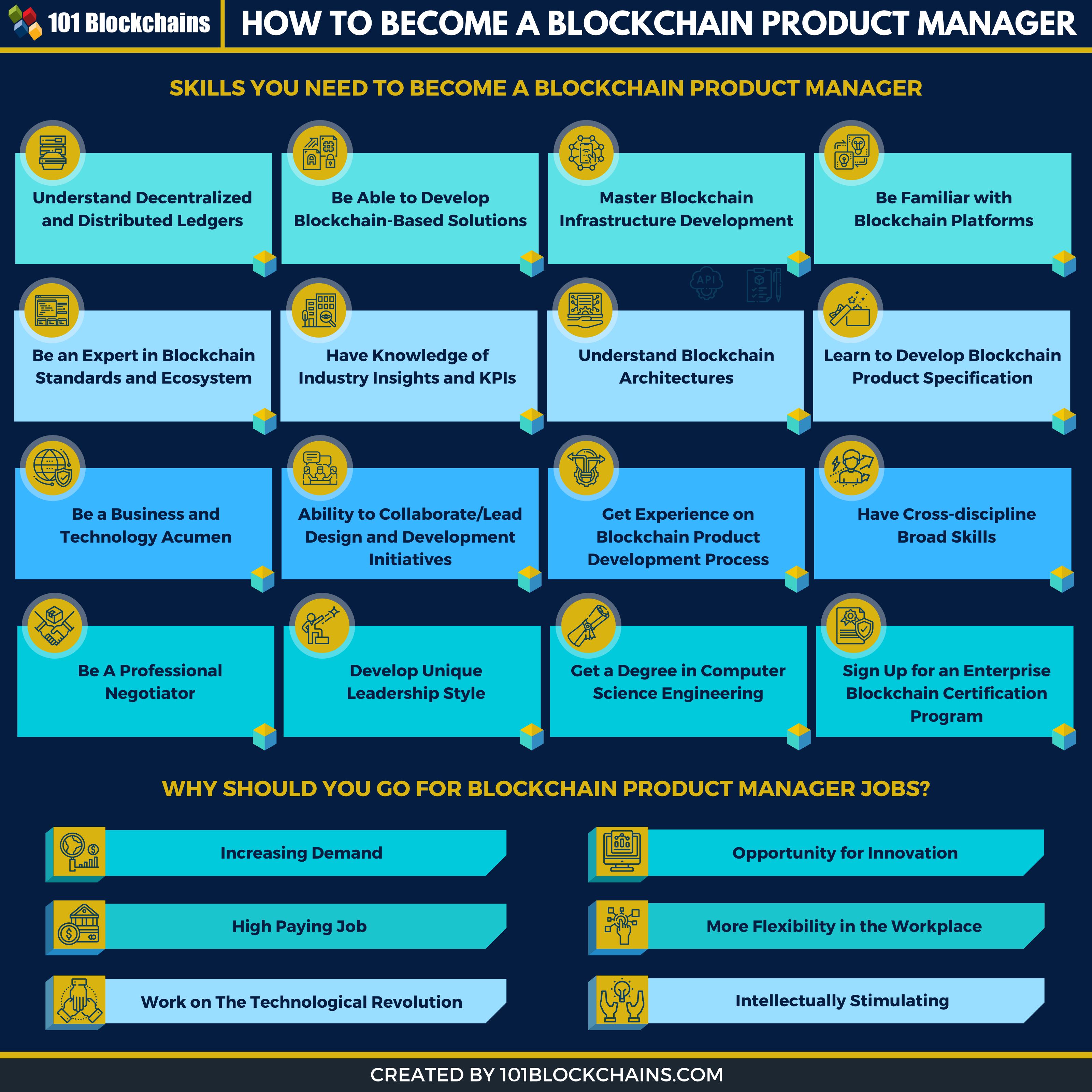 Hard Skills –
Understand Decentralized and Distributed Ledgers
Understanding the concept of distributed and decentralized ledgers is one of the critical skills you will need for product manager posts. Actually, you are only expected to know about blockchain technology. However, the popularity of the distributed ledgers makes this technology worth the shot. You can get inspiration from these technologies in order to come up with unique product outlines.
I would suggest enrolling in any blockchain product manager training to better understand how they work. In reality, these training courses can help you realize the mechanism behind each of the distributed ledgers. But always remember to go for the best ones only.
Be Able to Develop Blockchain-Based Solutions
This is another one of the hard skills for a blockchain product manager. As you will directly work on the product, you have to know how to develop blockchain-based solutions. In reality, product managers in this field need to know about software development because you will directly work with your company's tech products.
So, without understating how to develop them, you can't possibly make the product, let alone lead the team that's going to create the product.
It's best to start with JVM, Node.js, or even service integrations. You can also try to cover the database configurations too. In reality, all of this information will help you develop the products much better than before.
Want to learn more about enterprise blockchain solutions? Read our guide to top blockchain platforms and enterprise solutions now!
Master Blockchain Infrastructure Configuration and Development
Without mastering blockchain infrastructure configuration or development, it's not possible to roll out the product for your clients. A blockchain project manager needs to have a thorough knowledgebase of the configuration process. In reality, it's a massive boost for your resume and will help you make strategic decisions for your products.
But I have to warn you, it may take a bit more time to master them as they are more complicated. Anyhow, I will recommend starting with dissecting established blockchain products in order to get a good understanding of how they work. This should really help you out.
Furthermore, you can also try out any blockchain product manager course to learn about the topic from a professional instructor.
Be Familiar with Blockchain Platforms
Make sure to learn about different blockchain platforms as well. In reality, one of the crucial reasons to master the blockchain platforms is knowing how other platforms work. Without understanding how these works, you can't use them as the base of your product development.
Also, most of the time, these platforms tend to use different methods to reach consensus or even distributed nature. So, the outcome will vary greatly as well. Anyhow, I would suggest you check out the whitepapers of DAML, Ethereum, Hyperledger Fabric, Hyperledger Sawtooth, and Corda to start your training process.
This is actually an excellent way to apply for high paying jobs, as you are already qualified for product development.
Be an Expert in Blockchain Standards and Ecosystem
Blockchain ecosystems and standards vary based on different platforms. For example, the standards Corda uses differ greatly compared to Ethereum. As of today, Ethereum is more popular in this niche. So, you may want to start with learning about Ethereum's standards and then slowly move towards other popular ones.
You just be wondering – what benefits will this skill offer me? You will also recognize the pattern in which they all work and then use them in your development processes.
I guess you can seek proper guidance from a blockchain product manager training course to learn about them in a structured way.
Have Knowledge of Industry Insights and KPIs
This is one of the core skills of a blockchain project manager. In any way, you can't skip mastering this skill. In reality, you need to have knowledge of how the industry and market works. You have to also follow industry trends and track down critical KPIs (Key Performance Indicators).
More so, you have to discover customer conversion rates, user churn, daily active users, customer acquisition costs, features usage, customer satisfaction elements, and so on.
Without leveraging the data that customers are generating, it's impossible to roll out a product and expect an excellent output. So, make sure to sharpen this skill so that you can quickly research the topic and come up with usable statistics for the product.
Understand Blockchain Architectures
Blockchain architecture is a complex topic to begin with. So, at first, you may find it difficult to understand. But it's necessary for you to fully grasp how each of the types works. Mainly, you will see public, private, consortium, and hybrid blockchains.
Also, these have a different working process and offer additional features. Obviously, these all have different levels of disadvantages too. So, when your client outlines what they want, you need to make educative choices on which architecture fits their needs.
Anyhow, you can try to learn about this on your own, or you can enroll in a blockchain product manager course to learn from an expert.
Enroll Now: Certified Enterprise Blockchain Architect (CEBA) Course
Learn to Develop Blockchain Product Specification
For your blockchain product manager training, you need to learn how to develop blockchain product specifications. Here, you will start with understanding how various blockchain products are marketed and packed.
More so, you need to take in what the client wants and what their consumers want as well. In any case, if you fail to define the specifications of the products, the consumers won't understand what you are trying to offer.
You can give a proper outline of the product specifications to your team to keep them focused on the goal and increase efficiency. In reality, it's a good practice to have the goal in mind before starting to work on each product.
Be a Business and Technology Acumen
Product managers are experts in coupling technology and business models together. So, to do that, you need to master the craft of operating a business successfully. Your knowledge of technology will positively influence the end product, so make sure you know about blockchain really well.
Other than that, you should opt for learning the process of typical software development and how the software can influence the business. In most cases, you will have to ensure a good outcome from the products you roll out. So, make sure to keep a balance between the two elements. I would recommend dissecting case studies of reputable companies in order to learn about their business models. This will surely boost up your skills.
Ability to Collaborate/Lead Design and Development Initiatives
Another one of the blockchain product manager skills is leading or collaborating with the design team. In reality, the process may vary from company to company. The design team may have its own leader; in that case, you need to collaborate with that team to come up with new development initiatives.
Make sure to keep an open mind and encourage the team members to do better. Also, help them realize what is more beneficial for the client and how you can achieve that. Insight on what consumers love at the moment will heavily influence the end results of the design process.
But don't overemphasize what the consumers want as most of the time, that isn't feasible.
Analyzing the blockchain business strategy is the first step towards product development. Read our ultimate guide to blockchain business strategy to understand how the process works.
Get Experience on Blockchain Product Development Process
Most of the time, enterprise companies want to hire an employee with a track record of working experience. So, if you can manage to gain experience in the blockchain product development process, it would be a huge plus point for your resume.
If you are just a beginner, it's best to start off in a software company to go through each stage of the product development. Sometimes even having experience as an intern can help you in landing a good job.
I would suggest you build up your resume before you aim for enterprise companies as you need to be highly qualified for that.
Soft Skills –
Possess Strategic Skills to Solve Blockchain Product-based Problems Fast
This is one of the soft skills you need to master. In reality, in the development process of a product, anything can go wrong at any moment. So, as a blockchain product manager, it's your responsibility to solve the issue as fast as possible.
You never want to fall behind the schedule as it also influences the marketing team. So, you need to hone your strategic thinking capability to perfection in order to offer a fast solution. However, make sure to keep your solution error-free as even the slightest error can hinder product development.
Anyhow, you can start by studying the core problems software firms usually face and then move to more unique issues. However, most of the time, you will face unique problems that need unique solutions.
Have Cross-discipline Broad Skills
Cross-discipline broad skills are your strong points. So, make sure you hone them to perfection. A product manager should always have skills like analyzing capability, agility, innovative mind, out of the box thinking, DevOps, and so on.
Usually, enterprise companies want to hire people who are versatile and vocal. As you will be the head of a team, you need to become a people person as well. So, being vocal and extroverted is an excellent quality to shine in an enterprise environment.
Be A Professional Negotiator
You will have to work with various stakeholders and clients, along with team members who come with different views, tastes, and ideas. So, when you are the go-to person, you need to set priorities and successfully manage all crises and conflicts.
This is one of the significant blockchain product manager skills that you really need to be good at. But don't even settle for the middle ground just for the sake of satisfying both parties. Always keep the product's best interests in mind.
In reality, this skill will help you in making the stakeholders agree with budgeting or resources that you may need for the product.
Develop Unique Leadership Style
Yes, the leadership of a blockchain product manager is a bit different from other types of leadership. Here, you need to lead the ideation of the product. In reality, leading a product is very different from leading people. In order to do so, you have to show passion for your product and align all stakeholders with your ideation.
More so, you need to demonstrate your strategy and have a clear vision of what your goal is. This will inspire your team members and how your commitment to the product and the company. All of these position vibes will make the people support the efforts you are putting into the project.
Enroll Now: How To Build Your Career In Enterprise Blockchains Course
Other Qualifications –
Get a Degree in Computer Science Engineering
In most cases, blockchain product manager jobs ask for a degree in computer science engineering. As an educational qualification, it's a good way to start your journey. More so, it shows you really know what you are doing and how much caliber you possess.
More so, the degree in the original field will help you understand the complex terms of blockchain easier, and you can quickly catch them in no time. You can also expect to start from a good position in a company with a higher salary if you have a degree to showcase.
Sign Up for an Enterprise Blockchain Certification Program
As blockchain is a new type of technology, it's not available in educational institutions. So, to learn about it, you will have to enroll in a blockchain course. This is a great way to show that you are capable of working with blockchain products.
I will recommend enrolling in a blockchain project manager course in order to learn about blockchain and your responsibilities. Most of the time, these courses will cover every element you may need for your career. So, it's a good investment.
If you can manage to get a blockchain product manager certification, you can surely expect a high paying job position.
Enterprise blockchain certification can help you enrich your resume faster. Check out the 10 reasons to get your enterprise blockchain certification.
Why Should You Go for Blockchain Product Manager Jobs?
Increasing Demand
The demand for product managers is at an all-time high. Now that blockchain is finally going mainstem, many enterprise companies are eager to launch their own products. For example, take a look at IBM. They are launching a lot of blockchain-based products on the market and successfully creating a niche sector.
More so, there isn't many qualified personnel to fully lead a product development life cycle successfully. So, the demand never gets low. Anyhow, if you can get a blockchain product manager certification to showcase, then you can confidently apply to any kind of company you want.
High Paying Job
Blockchain product manager salary ranges from $46k-$100k per year. This is an excellent level of salary that can offer security for your future. I have to say, the range can also increase if you have good experience and work in a reputable company. Basically, the salary of a blockchain product manager will keep on rising as it's directly linked to the demand spectrum.
You will also be a tech product manager, so your value is always higher than other product managers. This is a good reason to get a career in this field.
Opportunity for Innovation
With product management, you get the opportunity of innovation. In reality, you will work with many clients, and every time they will want something unique and different. Even the niche itself asks for unique product development every time because you can't satisfy people with similar product features.
So, if you like innovation or challenging yourself to do better, then this is the perfect field for you.
More Flexibility in the Workplace
Another added benefit you will get from this job is the flexible nature of the responsibilities. Typically, the team can meet up anywhere, anytime, so there isn't any fixed timeframe to work in the company. Again, you may have a busy lifestyle, but it will vary from product to product. Some products may need more work than others.
Also, many companies offer entertainment rooms to keep you focused and happy with your work. This is a great opportunity for you.
Work on The Technological Revolution
You get to work on an entirely new technology, which is revolutionizing how we see technology products. Can it get any better than this? So, you will be the one to reshape the business model in ways to help promote the product you will launch.
With your management skills, you can explore various outcomes and discover new product lines suitable for consumers. So, you will get the experience of a lifetime.
Intellectually Stimulating
This is one of the primary reasons why you should go for this job. Product management is a tough and challenging field, and it's also intellectually stimulating for you. You get to test out your strengths and overcome your weaknesses and grow in your professional career.
More so, it's one of the exciting job sectors at the moment, so it's only normal for you to be excited about it. In reality, you really won't have any limits and can work in various industries as you please.
Concluding Thoughts
As a final thought, the blockchain product manager job is a good career choice to make at this moment. Blockchain is slowly taking over the business industries, and it will soon start to change how we see the economy as well.
Thus, it's an opportunity for you to seize, and you can rise to the top quickly. If you are interested in learning about blockchain from a professional, you can check out our enterprise blockchains professional course.
Also, if you are a newbie and aren't sure about enrolling in professional courses, then take the first step with our free blockchain course to get a basic idea of blockchain. Why wait? Start your blockchain journey now!