Blockchain has completely transformed the world around us. It started with Bitcoin in 2009 when Satoshi Nakatomi invented blockchain, and Bitcoin was the first cryptocurrency to use it.
You will be surprised if we see the current blockchain usage. There are currently hundreds of blockchain use cases that have an implementation in the real world. And, why not? It has disrupted almost every industry out there, from artificial intelligence to manufacturing.
Numbers are also in favor of blockchain. World Economic Forum has predicted that by 2025, 10% of the GDP will be affected or stored in the blockchain. That's a lot for a new technology which is still not a decade old. Leaders, on the other hand, need to quickly shift their focus and ensure that their business can adapt to the blockchain transformations.
In this article, we will focus on the real-world Blockchain use cases and blockchain applications. All of the real world use cases that we will list have promises to meet. However, it is hard to tell which one will succeed or fail.
Real World Blockchain Applications Infographic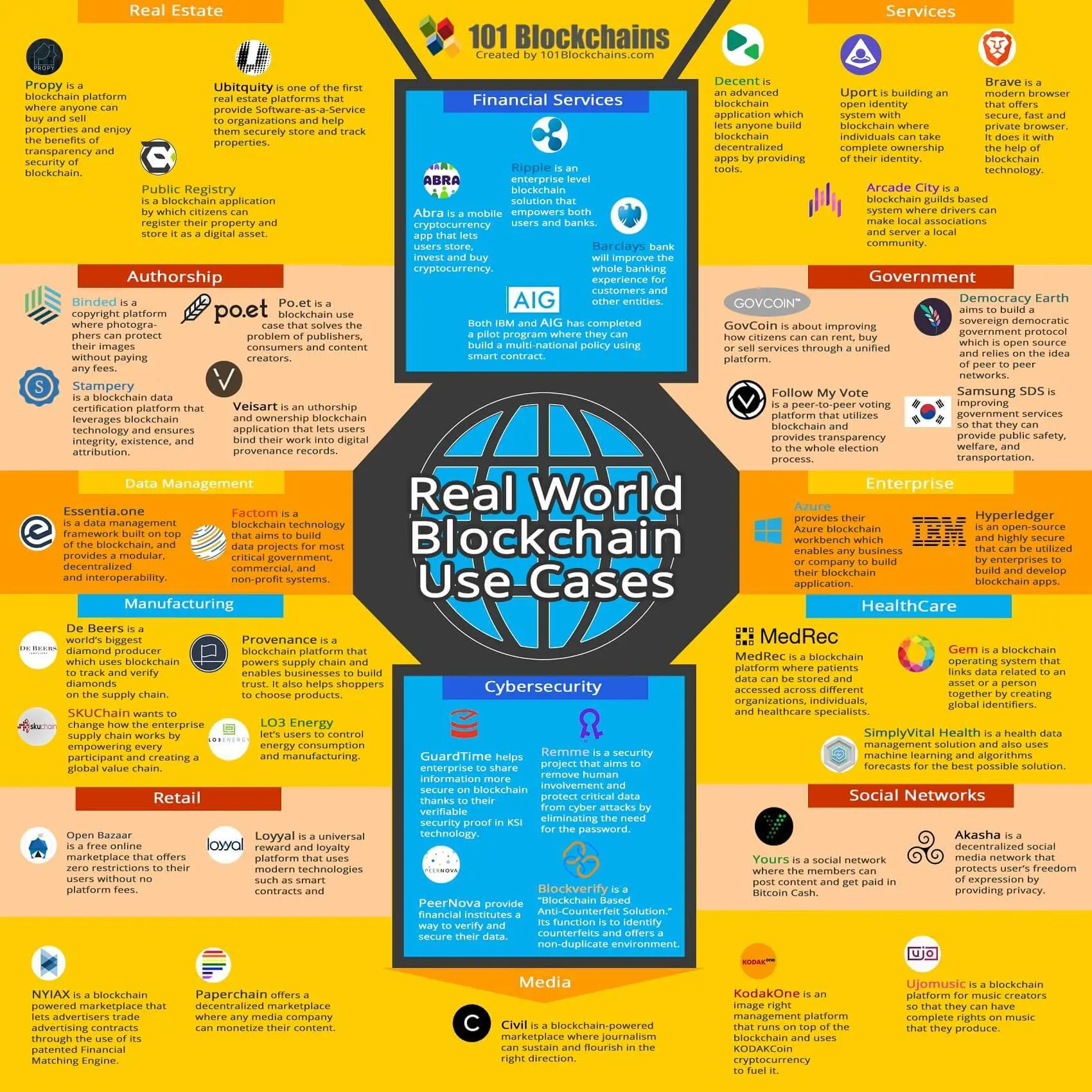 We have categorized the blockchain use cases into specific categories. At the time of writing, we have listed 46 blockchain applications or services as of July 2018. These blockchain examples are chosen according to their impact in their respective category. The list can also be seen as the most promising TOP blockchain real-world use cases. Let's list the categories below.
Content management/distribution:

PeerNova, Brave.

Data management:

Factom, Essentia.one.

Cybersecurity:

GuardTime, Remme, Blockverify, PeerNova.

Platform:

Gem.

Healthcare:

SimplyVital Health, MedRec.

Financial Services:

Abra, Barclays, Aeternity.

Manufacturing and industrial:

Maersk, Provenance, SKUChain, LO3 Energy.

Storage: 

STORJ.io

Government:

SouthKorea's project, Govcoin, Democracy.earth, FollowMyVote.

Retail:

OpenBazaar, Loyyal.

Blockchain platform:

IBM Blockchain solutions, Decent.

Transport and Tourism:

Arcade City.

Media:

KodakOne, Ujomusic, Civil.

RealEstate:

Ubiquity, Propy.

Land Registry:

Public Registry.

Identification:

Uport.

Insurance:

AIG.

Enterprise:

Azure.

Advertising:

NYIAX.

Authorship and ownership:

Blinded, Stampery, Veisart, Po.et.

Social Network:

AKASHA, Yours.

Diamonds:

Debeers.
Let's get started.
Blockchain Applications Category: Content Management/Distribution
1. Brave
Use Case: A need for a browser that can lower data charges by blocking trackers and ads. It protects users privacy by only sharing information that is needed, saving both time and effort.
Solution:  Brave is a modern browser that offers secure, fast and private browser. It does it with the help of blockchain. To do so, it blocks all the ads with in-built ad-blocker. Privacy of the user has also maintained thanks to the tracker blocking. Also, due to the advertisements and trackers blocking, the brave browser operates faster than other popular browsers including Chrome and Mozilla. They are also in the process of monetizing ad blocking by using their utility tokens. They are also testing advertising using blockchain technology.
Status: Available
Website: https://brave.com/
Blog: https://brave.com/blog/
Category: Content management/distribution
2. Paperchain
Use Case: The need for companies, music creators, news organization, etc. to have a proper decentralized marketplace where they can push their assets and monetize them bypassing the industry current long pay cycles.
Solution: Solution: Paperchain offers a decentralized marketplace where any media company can monetize their content and make it available to a global investment network using decentralized market. It solves the biggest industry problem of long pay cycles and helps both small and big players to take advantage of the liquidity. The critical features of Paperchain include providing a decentralized media investment network, inbuilt insights, and a robust financial infrastructure layer that can be used to created financial agreements by the third party.
Status: In progress
Website: https://www.paperchain.io/
Blog: https://blog.paperchain.io/
Category: Content management/distribution
Blockchain Applications Category: Data Management
3. Factom
Use Case: The need for protecting critical commercial, government and non-profit systems from data theft and also instilling honesty on all platforms and systems.
Solution: Factom is about trust, honesty, and immutability. They are securing world's system with technology that can help protect systems and ensuring that the people are lifted out of poverty. By using blockchain, systems gain transparency, honesty, integrity, and security. Also, the need for a reliable framework that can make honesty a party of the larger landscape. In short, with Factom, it will be easier to build data products and take decisions based on it. The Factom software is also pluggable to an existing system, and there is no need to create or rebuilt systems from scratch.
Status: In progress
Website: https://www.factom.com/
Blog: https://www.factom.com/blog
Category: Data Management
4. Essentia.one
Use Case: The need for a data management framework that will help users to access and store data from anywhere in a secure manner.
Solution: Essesntia.one is a data management framework built on top of the blockchain, and provides a modular decentralized and interoperability. It comprises of two important components: Synergies and Essences. Essences own their data and are interlinked through multiple services whereas the synergies act as the connective tissue of operations such as connecting platforms, resources and so on. Developers can take advantage of this architecture and built on top of it, providing accessibility to anyone around the globe.
Status: In progress
Website: https://essentia.one/
Blog: https://medium.com/@matteozago
Category: Data Management
Blockchain Applications Category: Cybersecurity
5. GuardTime
Use Case: The need for a better more verifiable security proof that works on the blockchain and protects user's data much better than traditional blockchain solution.
Solution: GuardTime is a cybersecurity blockchain project that aims to utilize their own Guartime's KSI technology. The technology is designed specifically for the enterprise solutions. Also, the performance is untouched as well.
They built on top of what Bitcoin has to offer until now, i.e, transparency, immutability and security. In 2003, they gave the first formal security proof which builds a verifiable security proof across the network. Currently, they are collaborating with a lot of companies that takes advantage of their KSI technology.
Initially, they started with Estonian government and helped them secure Estonian citizens health records. Currently, they are collaborating with Verizon Enterprise Solutions, and even defense and Aerospace.
You can read more about their technology stack here.
Status: Available
Website: https://guardtime.com
Blog: https://guardtime.com/blog
Category: CyberSecurity
6. Remme
Use Case: A hack proof authentication that protects user's and company's data from cyber attacks.
Solution: Remme is a cybersecurity blockchain project that aims to improve the current standards of security for both users and companies who are trying to protect their data from unauthorized usage. It is also built to handle the cyber attacks. To do so, it helps organizations with critical infrastructure, medtech, crypto exchanges and much more. Also, it takes away the human aspect completely by automating everything. Common attacks against which Remme protects include Brute Force, Phishing, Keylogging, Password reuse attacks and much more.
Status: Implementation of Pilot projects for Infopulse and others.
Website: https://remme.io/
Blog: https://medium.com/remme
Category: CyberSecurity
7. Blockverify
Use Case: There is a need for having transparency to supply chains using blockchain that not only identifies counterfeits but also provides a global solution. Supply chains such as Pharmaceuticals, Electronics, Diamonds and Luxury Items need transparency to work correctly.
Solution: Blockverify is a "Blockchain Based Anti-Counterfeit Solution." Its function is to identify counterfeits and offers a non-duplicate environment. Also, it is entirely customizable for companies, and they can manage their supply chain while registering new products. There are many use cases of Blockverify. Some of the prominent use cases include electronics, pharmaceuticals, electronics and luxury items.
It works by labeling each product with a unique Block Verify tag. The supply is also verified both from the consumer and retail perspective. It also offers anti-corruptible and hence provides the integrity required to run the supply chains with 100% transparency.
Status: In progress.
Website: http://www.blockverify.io/
Blog: None
Category: CyberSecurity
8. PeerNova
Use Case: The need for data integrity in the financial industry which both stakeholders and regulators need.
Solution: PeerNova improves how the financial world works by providing the best from both the Blockchain, BigData, and Cloud technologies. It aims to provide financial institutes a way to verify and secure their data. This also lets them address their audit, reconciliation, and compliance. The three main features of the PeerNova Blockchain technology offers to include immutability, redaction, and logic playback. This means that the data is secure, verifiable and can be retraced whenever needed.
Status: Engaged in multiple projects including Post-Trade Ledger, Lineage of Capital and Cuneiform technology.
Website: http://peernova.com/
Blog: None
Category: CyberSecurity
Blockchain Applications Category: Platform
9. Gem
Use Case: The need for an operating system that can identify silo's problem and connect all the different silos into one saving time, effort, and cost for various business verticals such as health, media, banks and much more.
Solution: Gem is a blockchain operating system that links data related to an asset or a person together by creating global identifiers. This eliminates time consumption and the need for reconciliation. It also provides transparency, and offer better outcomes with reduced risks. In short, it is all about identifying global entities and then giving them a platform to exchange and communicate by sharing data. Not only that everything can be automated with workflows.
This simple solution can be used in many different verticals including Supply Chain, Healthcare, and much more.
Status: In progress with multiple partners including Philips and Xpansiv.
Website: https://enterprise.gem.co/
Blog: http://blog.gem.co/
Category: Platform
Blockchain Applications Category: HealthCare
10. SimplyVital Health
Use Case: The need for a proper healthcare solution that can provide a platform for providers, customers and healthcare specialists.
Solution: SimplyVital Health is a blockchain solution that connects patients and providers under one roof. It is a health data management solution and also uses machine learning and algorithms forecasts for the best possible solution. The analytical insights are provided for patient experience. It also works equally for private providers, hospitals, and health systems. One of its major components is the Health Nexus. It is a HIPAA-compatible protocol that is accepted worldwide. A protocol that can be used to connect healthcare data and patient control.
Status: In progress
Website: https://www.simplyvitalhealth.com/
Blog: None
Category: HealthCare
11. MedRec
Use Case: The need for patients to have their healthcare related data in a single place and should be accessible from anywhere.
Solution: MedRec is a blockchain platform that solves the problem of Electronic Health Records(EHRs) by providing a blockchain solution where patients data can be stored and accessed across different organizations, individuals, and healthcare specialists. This creates an ecosystem which works for the patients and provides them with the ability to have their medical reports at the fingertip. The use of blockchain also offers transparency and create a unique individual imprint. This leads to lower costs and easier health care support for the patient.
Status: In progress
Website: https://medrec.media.mit.edu/
Blog: None
Category: HealthCare
Blockchain Applications Category: Financial Services
12. Abra
Use Case: The need for a mobile app that can let anyone not only invest in cryptocurrency but also make them secure and store their assets without any worries.
Solution: Abra is a mobile cryptocurrency app that lets users store, invest and buy cryptocurrency. It is also secure and ensures that anyone can use it. At the time of writing, it supports 25 cryptocurrencies including popular cryptocurrencies such as bitcoin, litecoin, dash and so on. By using the app, anyone can trade or buy cryptos. It is also safe and provides mobility.
Status: Available
Website: https://www.abra.com/
Blog: https://www.abra.com/blog/
Category: Financial Services
13. Barclays
Use Case: Banks using blockchain technology to improve internal banking process and also improve the user experience.
Solution: Barclays bank understands blockchain and its impact. And, that's why they are building their systems to support blockchain. It will open new doors to users as they can interact with banking systems from anywhere they want. A blockchain-enabled environment will also mean that authentication can be done as fast as possible. Also, frauds can be removed entirely from the system thanks to the transparency and integrity provided by blockchain solution. They are also working to bring a trade revolution where everything is tracked to ensure transparency.
Status: In progress