The simple beginnings of blockchain from the foundations of cryptocurrency to the force behind many new innovations show its versatility. Many people had passed off cryptocurrencies and blockchain as a passing fad in the initial days when blockchain gained hype. In addition, blockchain job roles such as that of a blockchain developer started attracting the attention of tech professionals. Years later, the blockchain ecosystem includes many developer communities with many new professionals working on blockchain-based projects. 
Blockchain has basically aimed at revolutionizing the conventional approaches followed in businesses. If you want to build your career with blockchain developer jobs, then you need clearly organized career paths and guidance. The following discussion offers you insights on the essential highlights you need in a career path tailored for blockchain developers.
Are you ready to take your career to the next level? Join our Premium plan now and get access to exclusive web3 & blockchain job listings on 101 Blockchains.
Role of Blockchain Developers
The first thing you need to know before finding out a suitable blockchain developer course is the job definition. What are blockchain developers? The fast-growing popularity of blockchain technology and its implementation in a wide range of sectors have been driving the need for blockchain-based solutions. Smart contract programming and the benefits of decentralization and encryption offer some promising opportunities for blockchain development. Therefore, enterprises look for answers to "what is a blockchain developer" to figure out why they need developers. Blockchain developers can ensure the active development of a decentralized application or blockchain network. 
A blockchain developer is basically a professional working on the development of blockchain networks and blockchain-based applications. You can find two distinct categories of blockchain developers such as core blockchain developers and blockchain software developers. Core blockchain developers basically create the infrastructure and the security components for the blockchain network, system, or application. On the other hand, blockchain software developers work on the infrastructure with the core blockchain developers. They largely focus on creating decentralized and web3 applications. 
Start your Blockchain Developer Learning Path today and become a Blockchain Developer! 
Responsibilities of Blockchain Developers
The next important highlight in answers for how to become blockchain developer would point at the responsibilities of blockchain developers. You should have a clear impression of the responsibilities blockchain developers have to address on a daily basis. The primary responsibilities of developers would focus on taking care of the blockchain network. At the same time, their responsibilities would also focus on the analysis of existing systems and new technologies. Here is an outline of the responsibilities you have to take up in blockchain developer jobs in any enterprise or project.
Research, analysis, and design of blockchain networks alongside consensus protocols and decentralized applications. 
Planning for security and compliance throughout the complete blockchain network alongside implementing cryptographic mechanisms, like digital signatures and hash functions. 

Blockchain developers must also conduct research and assessment of new technologies and tools. It helps in choosing the suitable picks you can integrate into the blockchain network or related applications. 

Development, testing, monitoring, and maintenance of blockchain networks with specialization in different concepts. The concepts refer to distributed computing, cryptography, performance, consensus protocols, and many other security measures. 
Development, testing, monitoring, and maintenance of decentralized applications, client-side applications, smart contracts, back-end systems, and other application components. 

The role of a

blockchain developer

would also involve responsibilities for documentation of the development process, best practices, and artifacts. Developers must also have the necessary skills for documentation of different blockchain systems and applications. 

Capabilities for implementing a wide range of soft skills, such as communication and problem-solving for working effectively in team environments. 
Want to learn blockchain technology in detail? Enroll Now in Certified Enterprise Blockchain Professional (CEBP) Course
Skills Required for Blockchain Developers
The outline of blockchain developer skills is one of the mandatory highlights you need for pursuing blockchain development roles. Some of the notable skills you need for becoming a blockchain developer would include the following entries.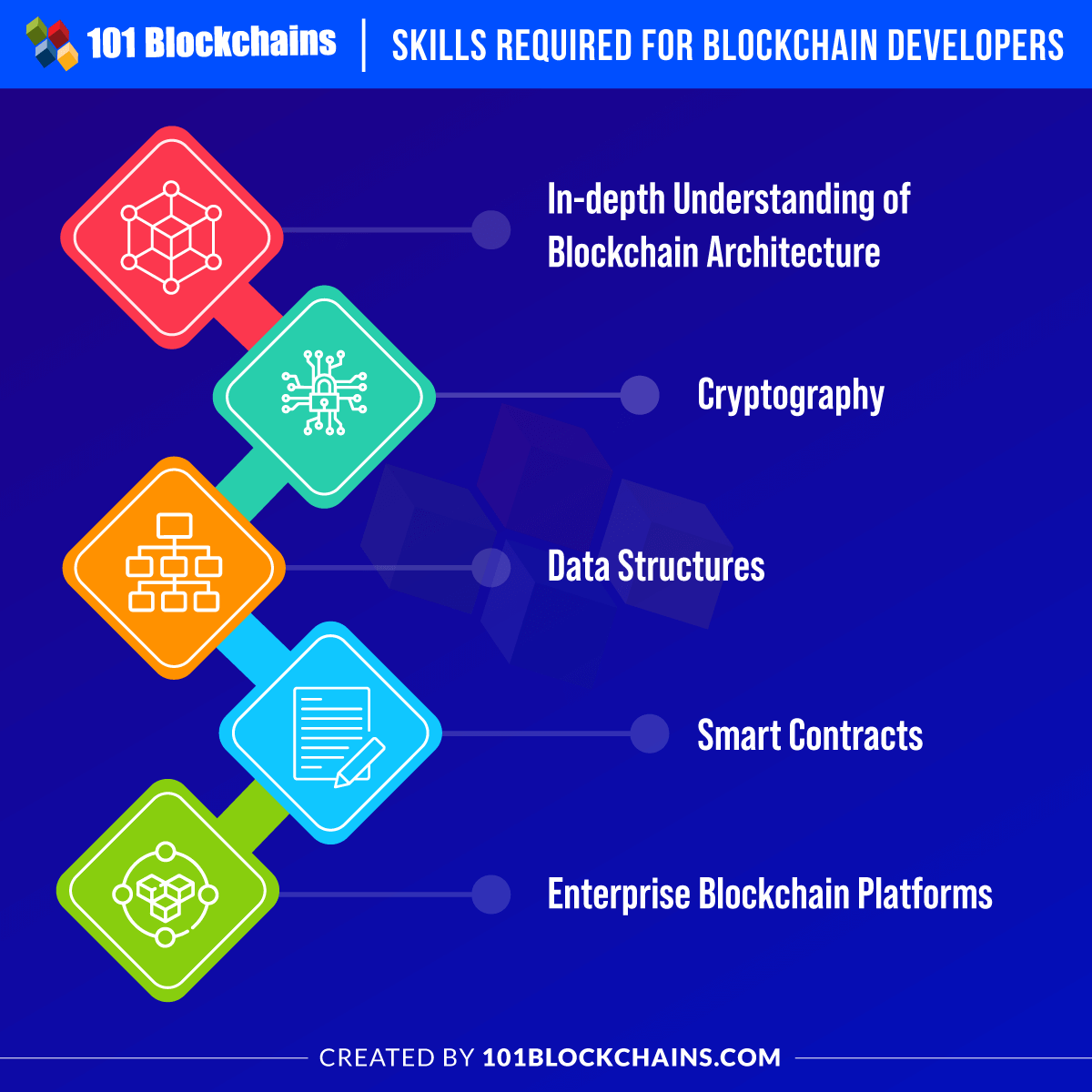 In-depth Understanding of Blockchain Architecture
Blockchain developers must have a solid understanding of blockchain architecture. Blockchain architecture is one of the critical foundations for their job. They must understand the working of blockchain and its architecture to learn more about how it works. A blockchain developer career path would help you develop fluency in various concepts such as smart contracts, distributed ledgers, cryptography, hash functions, and many other important highlights. You must have a clear overview of the private, public, consortium, and hybrid approaches to blockchain architecture before pursuing jobs in blockchain development.
Aspiring to make a lucrative career as a blockchain developer but not sure how? Check the detailed guide Now on How To Become Blockchain Developer? 
The second important skill you need to become a blockchain developer would draw the discussion towards cryptography. You must have a clear understanding of what cryptography means to blockchain and the significance of cryptographic mechanisms for blockchain-based applications. The highest levels of fluency in cryptography can help in creating secure blockchain environments. Developers with a strong foundation in cryptography are more likely to ensure the best safeguards for their blockchain networks and applications. 
If you are trying to find "what is a blockchain developer" and the implications of their role in the modern blockchain landscape, then you would definitely come across data structures. A blockchain network basically includes a lot of data structures with each block qualified as a unique data structure. Developers have to work with data structures on a regular basis while helping people find out how blockchain leverages data structures. 
The next crucial entry among blockchain developer skills you should consider before choosing a course is the knowledge of smart contracts. You need courses that can help you build your knowledge about smart contracts, their technical underpinnings, and the ways for adopting them in the modern blockchain landscape. 
Enterprise Blockchain Platforms
A major share of the work of a blockchain developer would revolve around enterprise blockchain platforms. Therefore, you must work on building your expertise in using enterprise blockchain platforms such as Hyperledger Fabric and R3 Corda. 
Build your identity as a certified blockchain expert with 101 Blockchains' Blockchain Certifications designed to provide enhanced career prospects.
Best Career Path for Blockchain Developers
Your decision to find answers for "how to become blockchain developer" must have been developed on the grounds of various encouraging reasons. Blockchain is popular and so are the applications associated with blockchain. However, it is also important to take note of the suitable blockchain developer career path, which can help you achieve your desired career objectives. The career path is a reliable answer for anyone seeking the resources for building the career as a blockchain developer. You can access the courses you need to complete for earning the skills required in blockchain developers with the career path. 101 Blockchains offers a reliable career path for aspiring blockchain developers with a total of five courses spanning a duration of more than 14 hours. Let us learn more about the highlights of the career path for building your identity as a blockchain developer.
No matter how appealing the blockchain developer salary may seem at an average of $150,000 annually, you should always begin with fundamentals. If you don't know about blockchain, then you must develop your knowledge and skills regarding blockchain basics. The fundamentals basically serve you the confidence required for approaching advanced concepts in blockchain development. 
The popularity of Hyperledger Fabric as one of the most reliable enterprise blockchain platforms for development tasks is unquestionable. Aspiring blockchain developers must focus on enterprise blockchain platforms like Hyperledger Fabric in their blockchain developer career path for technical excellence.
As a beginner, you may feel overwhelmed with a broad range of blockchain developer skills required for achieving the desired development goals. Considered as one of the top enterprise blockchain platforms presently, R3 Corda is an obvious addition to the skills of professional blockchain developers. 
Basics of Ethereum Development
You must also dip your toes in the concepts and best practices for Ethereum development with the 101 Blockchains career path for blockchain developers. The basic and advanced concepts pertaining to Ethereum development help in setting the foundation for your expertise as an Ethereum developer.
Hyperledger Fabric Development
Learning about Hyperledger Fabric is not the only requirement to become a blockchain developer as you must learn how to use it. As of now, Hyperledger Fabric is an open-source project with the best functionalities for developing enterprise blockchain applications. You must work on developing your skills for using Hyperledger for actual development tasks. 
The career path for blockchain developers on 101 Blockchains is available with the exclusive membership plan. You can capitalize on the extensive assortment of learning resources with a career path that can help you earn the skills required for blockchain developers. In addition, you can also qualify for the certifications on 101 Blockchains for cementing your identity as a reliable and professionally skilled developer.
Excited to know more about the fundamentals of Ethereum Development? Enroll Now in Ethereum Development Fundamentals Course.
Final Words
The overview of best options in a blockchain developer career path on 101 Blockchains shows the ideal route for building your blockchain career. Different training and certification providers have been successful in defining new and effective tools for career development in the blockchain. However, a career path delivers the advantage of learning exactly what you should for a specific role. As a result, you won't waste valuable time and resources in building your career as a blockchain developer. In addition, the overview of roles and responsibilities alongside skills required for blockchain developers also delivers plausible advantages. Developers can find out how the career path aligns with the skills required and their professional roles and responsibilities. Start learning more about blockchain development and build your skills as a proficient blockchain developer.
*Disclaimer: The article should not be taken as, and is not intended to provide any investment advice. Claims made in this article do not constitute investment advice and should not be taken as such. 101 Blockchains shall not be responsible for any loss sustained by any person who relies on this article. Do your own research!