Internet of Things, or IoT, is one of the most promising technologies which have the potential to change the future of user experiences. Just like blockchain and AI, Internet of Things has the capability to induce a disruptive impact across different industries. The choice of an IoT certification to boost your career right now can be a challenging task, with different doubts. First of all, many of you would wonder about the possibilities of pursuing a career in IoT. 
Does IoT offer the career roles you want? Do you have to skills to work in IoT jobs? How will IoT certifications help you? You might come across many other questions like these while exploring a career in IoT and learning about the multiple disciplines in IoT. Aspiring IoT professionals must also familiarize themselves with important areas such as security hardware, device programming, systems engineering, and cloud networking.
The task of building your career as an IoT professional would also include references to professional training courses and certifications. You can learn IoT concepts by using professional training courses and achieve specialization in implementing the concepts through credible certifications. The following post offers you a detailed overview of the advantages associated with a professional certification for Internet of Things. 
Why Should You Become a Certified IoT Professional?
The most common question you can come across in the search for best Internet of Things certifications deals with the reasons to become an IoT professional. Aspiring professionals would think of answers to "Is IoT certification worth it?" before investing their time and efforts in training. On top of it, Internet of Things is a comparatively new technology for the world with limited real-world use cases. 
As of now, the applications of IoT in industrial settings limit the exposure of IoT to the general public. However, it is important to note that IoT has become an integral part of the everyday lives of people. According to IoT Analytics, the total number of connected IoT devices could reach around 16.7 billion active endpoints.  
Another important factor underlying the growing demand for IoT professionals is the outline of important advancements in IoT connectivity technologies. Before you find out the benefits of IoT certification, you must have doubts regarding the adoption of IoT in future. Will your Internet of Things expertise serve value advantages for your career in the long run? 
The investments in IoT startups have declined within the last year, albeit with a sizeable amount attributed to startups. Within the first quarter of 2023, around 52 IoT-related funding rounds led to a total investment of almost $840 million. Therefore, you can find a broad range of career opportunities to build your identity as an IoT professional in emerging startups.
Want to familiarize yourself with the technology stack associated with IoT? Enroll Now in Internet Of Things (IoT) – Intermediate Level Course!
How Does a Career in IoT Look Like?
The decision to pursue an IoT certification course can be quite confusing for some people. You can solve such types of confusion by exploring the different career opportunities for IoT professionals. For example, you can prepare for top roles such as embedded programs engineer, safety engineer, sensors, and actuator professional in the field of IoT. 
In addition, you can also explore many other career prospects in IoT, especially in the domains of data analytics, networking structure, user interface design, and IoT security. The job of a professional in the domain of IoT offers the advantage of versatility as you can choose different roles. 
Furthermore, the salary of an IoT professional can vary from $120,000 to over $145,000 per year. The salary estimate for certified IoT professionals could vary significantly on the basis of different factors, such as education, certification, number of years, and additional skills. Therefore, you can conclude that a career in IoT can offer feasible opportunities for professional development in the long run. 
At the same time, it is also important to notice how different sectors are tapping into the potential of IoT for creating interconnected networks. On top of it, IoT also plays a vital role in optimizing the workflow of different industrial operations, particularly in manufacturing. As a result, skilled and certified IoT professionals would become vital necessities for such businesses. 
Want to learn about how to become an expert in IoT? Checkout detailed guide Step By Step Guide To Become An IoT Expert now!
Significance of IoT for the Future
The importance of IoT as a crucial technology trend for the future is a prolific indication of its ability to withstand the test of time. Internet of Things courses and certifications are gradually gaining popularity because businesses are gradually increasing IoT usage. The desire to learn IoT and achieve a professional certification might be fuelled by job opportunities or the predicted future of IoT. Interestingly, the use cases and potential of IoT provide a broad range of reasons to think about pursuing a professional IoT certification. 
Internet of Things is an important requirement for the future as it would encourage the development of intelligent machines which can communicate with each other and with humans. For example, smart appliances offer functionalities for controlling their operations through smartphones, even if you are away from your home. 
You can operate a CCTV camera installed in your home from your office through an app on your smartphone. Imagine how IoT technology could improve user experiences in the future, with the facility of integrating other technologies, such as blockchain, AI, and machine learning. 
Are you ready to take your career to the next level? Join our Premium plan now and get access to exclusive web3 & blockchain job listings on 101 Blockchains.
How Will IoT Certification Help You?
The reasons to pursue a career in Internet of Things provide a clear impression of the benefits for IoT professionals. You can find responses to "Is IoT certification worth it?" through a review of the examples of companies using the Internet of Things. Here are some of the noticeable highlights among the advantages of IoT certification for aspiring IoT experts.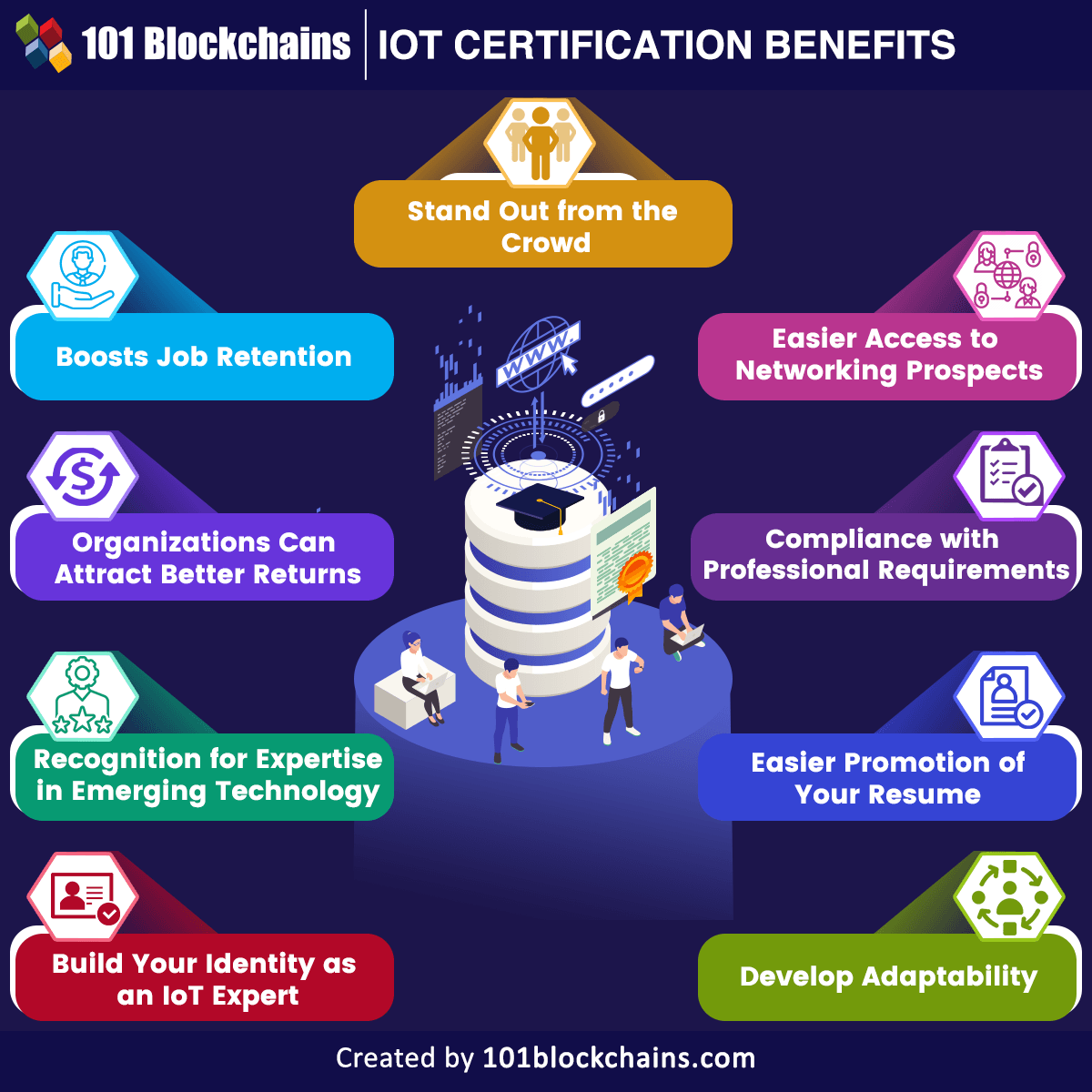 One of the foremost benefits associated with an IoT certification course points directly to the distinction from other candidates. Certified professionals are the obvious favorite over non-certified candidates for any job in the domain of technology. The benefits of IoT certification are clearly visible to employers and hiring managers who want expert professionals on the job. In addition, hiring managers are more likely to give your resume a second look when they find a mention of an IoT certification.
If you are not searching for a new job, then you can choose an IoT certification for crafting job retention strategies. The existing economic environment is highly volatile, and people could lose their jobs anytime with the massive layoffs by businesses worldwide. Most businesses have been implementing layoffs as a method for cutting costs. 
On the other hand, you must identify how certification can help you learn IoT and prepare yourself as a vital asset for your organization. As a professional IoT expert, you can showcase your dedication to professional development and learn about new technologies. Most important of all, you can prove your capabilities to deliver value to the business with effective use of IoT technology.
Easier Access to Networking Prospects
After earning an IoT certification, you can become a part of a community of skilled and certified professionals. You could use this opportunity to expand your professional network for access to appealing employment prospects. Interestingly, the use of an IoT certification to boost your career would also draw references to how professional networks can help in other ways. 
For example, the virtual communities of certified IoT professionals can serve as the ideal platforms for seeking guidance on enhancing your career. In addition, the communities of certified IoT professionals can also serve as an ideal platform for answers to certain problems. Certified IoT professionals can also rely on the advantages of professional networking to learn insights about specific technical concepts. 
Learn the latest insights about the IoT (Internet of Things) and understand how it's related to the blockchain with industry experts through IoT Skill Paths
Organizations Can Attract Better Returns
The decision to pursue an IoT certification can be challenging for individuals. At the same time, it is also important to note that organizations also experience troubles in choosing IoT certifications for their workforce. Organizations can use IoT certifications as crucial tools to help you learn IoT alongside boosting your career development journey. 
The advantages of IoT certifications for organizations generally fall under the rug as everyone is interested in finding out how IoT certifications can help them. Organizations can use the Internet of Things certification programs to offer a viable opportunity to stay updated with latest technologies and trends. On top of it, the organization which empowers its employees with an IoT certification also showcases its commitment to innovation. 
Compliance with Professional Requirements
The most crucial advantage of IoT certifications points to the learning outcomes of the certification course. You can find answers to "Is IoT certification worth it?" by reflecting on how an IoT certification prepares you for the job. Professionals who have completed the certification objectives of an IoT certification are more likely to have the skills required for responding to challenges and issues. 
As a result, you not only prove your skills for specific IoT job roles but also showcase that you can implement the skills in the right way at the right places. Organizations want to invest in certified IoT professionals who are technically fluent in ensuring faster responses to new challenges. 
Recognition for Expertise in Emerging Technology
The prominent detail about Internet of Things suggests that it is an emerging technology. It would require more time to evolve into a futuristic technology. IoT could serve as the foundation of connections between humans and machines. Most important of all, the benefits of IoT certification show how it helps you learn about new technology. 
The IoT certification can serve as proof of your efforts in learning a new technology that remains comparatively unexplored. Candidates could earn the tag of subject matter expert in an organization for any new technology, thereby improving credibility. Your early efforts in IoT training and certification guarantee long-term benefits for your career as an IoT professional.
Easier Promotion of Your Resume 
Most of the candidates seeking jobs in IoT have to face one common problem, i.e., marketing their resumes. You can make a list of all the available job roles in the IoT labor market right now and send applications for all the desired posts. However, it is less likely that you will receive a positive response from all the companies. 
On the contrary, it is important to use your IoT certification course credentials to gain the attention of recruiters. IoT certifications give you an opportunity to seek promotions on the basis of your efforts in skill development and ambition. Certifications can not only guarantee better chances of promotion but also ensure a raise for employees. 
Build Your Identity as an IoT Expert
The most striking highlight among the advantages of IoT certification points to the opportunity to become an IoT expert. You can pursue a career in IoT as a certified subject matter expert with professional credibility through an IoT certification. Organizations use certifications as an important part of their learning culture to offer professional development opportunities to employees. With an early start, you could become the first IoT expert in your organization.           
The final addition to the benefits of IoT certification would point to the need for agility. You can earn an IoT certification and learn about the benefits of recognition in labor markets. However, the training for IoT certification programs can help an aspiring professional earn the self-motivation required to achieve excellence. 
Want to understand the fundamentals of the Internet of Things (IoT)? Enroll Now in IoT Fundamentals Course!
Conclusion 
The review of important advantages associated with IoT certifications shows that you can learn IoT and become a subject expert. You should look for certification courses that offer value advantages of training with detailed training courses. In addition, you must look for learning experiences in IoT technology that can help you expand your IoT expertise. 
Most important of all, certified IoT professionals can find viable opportunities for professional networking and developing agility. The IoT labor market is evolving at a rapid pace, with new job roles making an impact. You should take the initiative to learn more about IoT fundamentals and choose a reliable IoT certification for career development. Find more details about professional IoT certification programs right now.