Aspiring to become certified web3 professional? This comprehensive guide will get you familiar with the steps of getting certified in web3, and thus will help you get your hands on one of the top web3 jobs.
The web3 landscape has been expanding gradually over the course of the last few months. Anyone who is involved quite deeply in web3 must have a clear idea about the potential of the internet in the 90s. The internet changed the way we communicate and trade with each other throughout the world and created many new jobs. Similarly, the demand for web3 jobs has been increasing gradually, and you must be prepared for the changing waves. 
Blockchain has been the driver of web3 technology trends from centralized client/server architecture to decentralized protocols. In addition, it can also help in establishing the foundations for new business models alongside shifting the perceptions of value. How will you become certified web3 professional for favorable career development opportunities? The following discussion helps you find the answer with a detailed guide for becoming a certified web3 professional.
Aspiring to Become a Certified Web3 Expert? Enroll in Certified Web3 Professional (CW3P) Certification Course Now!
Becoming a Web3 Professional
The first thing you need before finding a suitable web3 certification course to establish your career in web3 is an outline of the requirements for the same. You could not choose any random certification course and become a certified expert in web3 technologies. Even if you qualify for a web3 certification, what will you do with the certification? 
Where will you find jobs with the certification? What types of roles can you expect as a certified web3 expert? Apart from these basic questions, you need to familiarize with the best practices for choosing and preparing for web3 certifications. The journey of becoming a certified web3 professional is not easy, albeit straightforward, with the right guidance. 
Curious to develop an in-depth understanding of web3 application architecture? Join the Standard & Premium Plans and Enroll Now in Web3 Application Development Course! 
Opportunities for Web3 Jobs
The essential requirement for any beginner seeking solutions to become certified web3 expert would point at an overview of the available opportunities for jobs in web3. Is it reasonable to pursue jobs in web3? Isn't it a new technological innovation? The impact of blockchain technology on a wide range of industries is obviously one of the foremost highlights for anyone seeking web3 jobs of their choice. The large-scale adoption of blockchain and web3 technologies has been a crucial driver of demand for web3 experts. You can use your web3 knowledge and expertise to explore job opportunities in different places, such as,
Big tech companies are seeking certified web3 experts to ensure the best results with blockchain-based initiatives. 

Blockchain infrastructure development companies working on layer 1 protocols alongside enabling smart contract functionalities also need certified web3 professionals. 

A reliable

web3 certification course can also help you explore many job roles in the financial sector. As a matter of fact, the financial sector is a fertile ground for blockchain applications and web3 applications, thereby calling for experts.
Most important of all, web3 professionals are in huge demand for the emerging DeFi applications, NFTs, and metaverse platforms. The companies working on these projects need certified web3 experts capable of navigating through the new standards and best practices for web3 technologies. 

Above everything else, many new startups and consulting companies in the web3 space are actively looking for web3 experts to resolve their specific project-related requirements. 
Are you ready to take your career to the next level? Join our Premium plan now and get access to exclusive web3 & blockchain job listings on 101 Blockchains.
Job Roles for Certified Web3 Professionals
The next important highlight for any individual seeking a reliable web3 course and certification would focus on the career opportunities emerging with web3. Now that you know where you can work as a certified web3 professional, you must be eager to find the roles you can work in. What type of web3 experts does a company need in the present times? Here is an outline of some of the promising web3 jobs you can explore as a certified web3 expert.
The obvious entry in job roles for a person aspiring for a career in web3 would refer to web3 developer. You can include a broad range of roles within the single job description of a web3 developer. Whether it is a core developer or a dApp developer, every web3 developer contributes to improvement of the decentralized ecosystem. The average web3 developer salary estimate for a year is around $120,000, according to web3careers. Therefore, certified web3 experts can explore some lucrative job opportunities as web3 developers with promising scope for future development. 
Are you aspiring to become a web3 developer? Check here for a detailed guide on How To Become A Web3 Developer now!
Another important job role you can explore in the transition from web2 to web3 would refer to that of a UX and UI designer. Web3 applications also need an interface through which users can interact with the application. Therefore, you can make the most of your skills and knowledge as a certified web3 professional to define unique and appealing user experiences and user interfaces.
Product or Ecosystem Manager
You can become certified web3 professional and land with job roles of a product manager or ecosystem manager. Product managers or ecosystem managers work on empowering decentralized ecosystems with new and innovative offerings, which can enhance the participation of community members. 
Learn the fundamentals, challenges and use cases of Web3.0 blockchain from the E-book: AN INTRODUCTION TO WEB 3.0 BLOCKCHAIN
Steps to Become a Certified Web3 Expert
The detailed overview of the job opportunities in web3 shows the value associated with the career of a web3 expert. Most people want to figure out the ideal steps which can help them become certified web3 expert with practical skills. Here are some of the important steps you need to follow in your journey of becoming a certified web3 professional.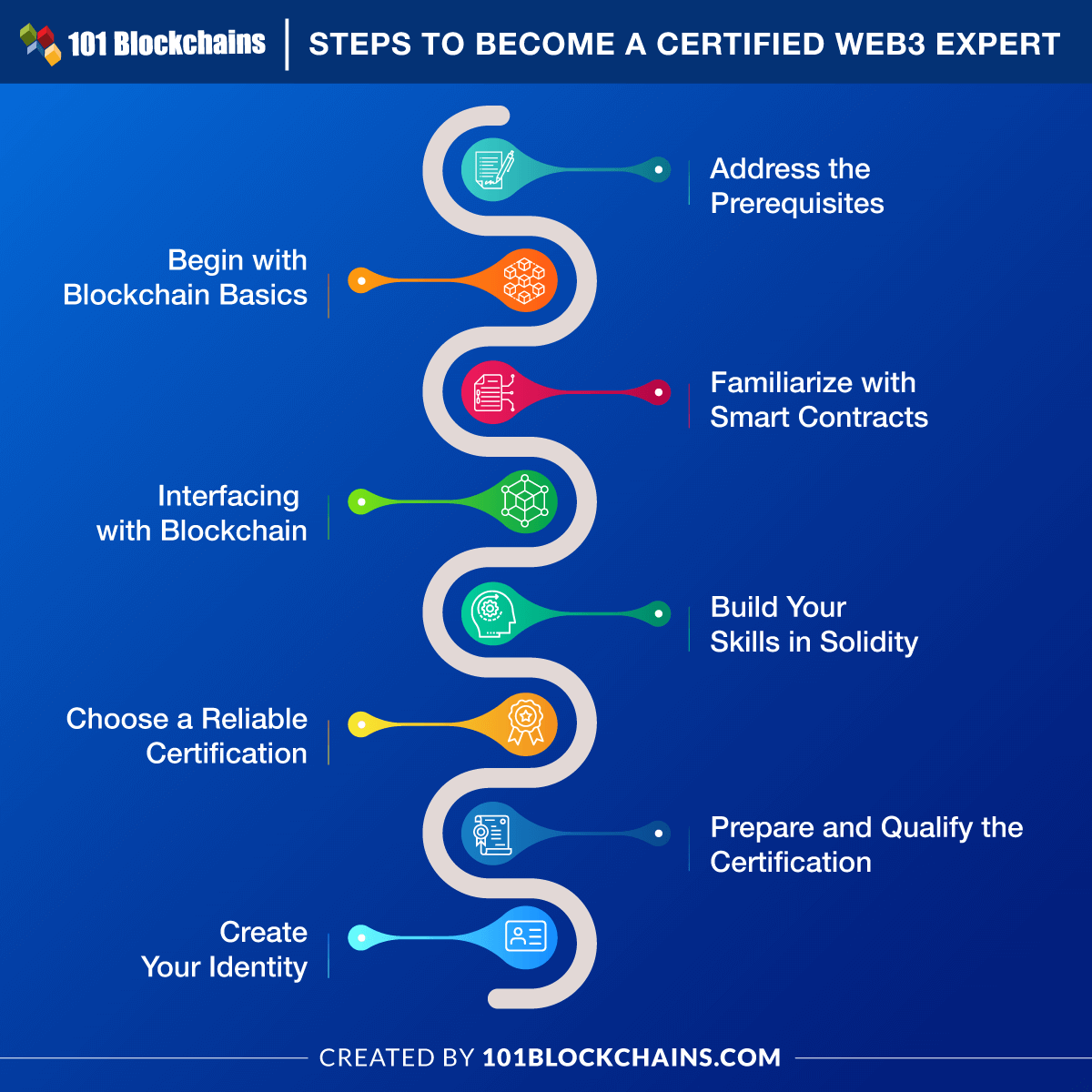 Address the Prerequisites
The foremost thing you need for landing up with web3 jobs is the fulfillment of prerequisites. You must have a clear idea about the basic skills for the web3 job role and the responsibilities associated with the same. For example, a detailed impression of a web3 developer salary might not qualify as an essential prerequisite. However, knowledge of JavaScript and web development is a mandatory prerequisite for web3 developers. 
Begin with Blockchain Basics
Before you choose a web3 certification course you want to pursue, it is important to learn all about the basics of blockchain technology. As a certified web3 expert, you must know about what you would work on. Blockchain is one of the integral technologies associated with the web3 landscape. 
Therefore, you must brush up on your blockchain basics in your preparations for the web3 certification of your choice. You can develop a solid understanding of blockchain fundamentals with trustworthy courses from beginner to advanced levels. The difference in the skill levels of the course can help you choose the courses according to your understanding of blockchain technology. 
Learn the fundamentals of Blockchain through Blockchain Basics Flashcards
Familiarize with Smart Contracts
Learning about blockchain before pursuing a web3 course and certification basically lets you familiarize yourself with the playground for web3 applications. Now, you must also develop a comprehensive understanding of the fuel of the web3 landscape, i.e., smart contracts. Smart contracts are basically the new definition of coding in decentralized environments along with a broad range of functionalities. Smart contracts help in programming the blockchain according to your requirements alongside customizing a completely new breed of web3 solutions. 
Curious to understand the complete smart contract development lifecycle? Enroll in Smart Contracts Development Course Now!
Interfacing with Blockchain
You would also need skills for interfacing with blockchain networks for web3 jobs like that of a web3 developer. Generally, web3 professionals have to work with decentralized applications, which feature two distinct components. The two distinct components include the frontend and the backend, where the latter depends on smart contracts. 
On the other hand, the front end needs an interface with the blockchain to ensure communication between your web3 application and the blockchain. In such cases, you can rely on libraries such as ethers.js or Web3.js for interfacing with blockchain networks implementing the Ethereum API. 
Build Your Skills in Solidity
Programming skills are obviously an important prerequisite to become certified web3 professional with the necessary skills for transitioning to the web3 domain. However, you would need more than conventional development skills to build your career as a certified web3 professional.
This is where you must take note of Solidity and its significance in creating smart contracts. You need to learn about the working of gas and the factors affecting the prices for executing smart contracts. On top of it, specialization in Solidity helps aspiring web3 professionals such as web3 developers discover new methods for optimizing code. 
Choose a Reliable Certification
The biggest highlight in steps to become certified web3 expert would inevitably draw attention toward choosing a reliable certification. Without reliable web3 certifications, you are more likely to end up wasting your money on introductory courses sold off as certification courses. On the contrary, 101 Blockchains offers the Certified Web3 Professional or CW3P certification, a first-of-its-kind web3 certification for everyone interested in web3. 
The most interesting thing about the CW3P certification is that it comes from a platform that has pioneered blockchain training, research, and career development with many courses and certifications. The support of subject matter experts, seamless learning experiences, and high-quality training resources on 101 Blockchains serve as the foremost reasons for choosing the CW3P certification.
The CW3P or Certified Web3 Professional certification is probably the first web3 course and certification with industry-wide recognition. You can build your expertise as a certified web3 professional with an in-depth understanding of web3 basics. At the same time, you would also move beyond web3 basics and learn about the benefits as well as risks with web3. On top of it, the CW3P certification helps you familiarize yourself with different use cases of the web3 technologies. 
Apart from the opportunity for comprehensive skill development, the CW3P certification also hones your practical fluency in web3 technologies. The real-time demonstrations, along with demo exercises in the training course for CW3P certification, help you develop your web3 skills for actual job roles. The multiple value advantages of the web3 certification by 101 Blockchains offer a solid ground for selecting it as a tool for your web3 career plans.
Build your identity as a certified web3 & blockchain expert with 101 Blockchains' Web3 & Blockchain Certifications designed to provide enhanced career prospects.
Prepare and Qualify the Certification
The choice of a reliable certification to become certified web3 professional is not enough for becoming one. As a matter of fact, you have to work on your certification exam objectives right from day one. The best recommendation for anyone preparing for web3 certifications would focus on creating a preparation plan. You must prepare a study plan which can help you complete all the certification exam objectives effortlessly. 
Above everything else, you should maintain accountability for your preparations to ensure the best results in the final exam. Evaluate the certification exam objectives and the details of different modules to figure out the time required for training in each module. The clear outline of the preparation steps and accountability to a timeline helps in strengthening the chances of qualifying for web3 certifications of your choice.   
Once you have qualified for a web3 course and certification of your choice, you might look for lucrative job opportunities. However, you can build better possibilities for jobs in web3 as a certified expert only through a solid portfolio. Employers perceive practical skills as the foremost highlight in any applicant for web3 jobs. Therefore, you need experience in using and managing web3 technologies for such jobs. 
The web3 certifications definitely offer tangible proof of your web3 skills and knowledge. However, employers need skills that bring value to their goals. Therefore, you must work hard on building your practical expertise with your own portfolio to become certified web3 expert with all-around skills and knowledge. As a certified web3 professional, you must check the following important requirements for web3 applications,
Frontend interface

Code optimizations in Solidity

Unit tests

Local tests for network setups

E2E tests for comprehensive contract testing

Continuous Integration 

Continuous Staging

Deploying the application to official testnet
Want to become Web3 Architect? Check our detailed guide on how to become web3 architech.
Final Words
The final overview regarding the journey to become certified web3 professional suggests a straightforward albeit difficult path. You must work on various areas before you establish your career as a certified web3 professional. The discussion highlighted the important prerequisites for pursuing web3 jobs, such as programming knowledge and expertise in smart contracts. 
On top of it, you also learned about the job opportunities available for web3 professionals. In addition, you also found the sectors opening up to web3 professionals in recent times. Aspiring professionals can choose a reliable certification like the 101 Blockchains CW3P certification and become a web3 expert. Follow the above-mentioned best practices and get ready to become a certified web3 professional.