Web3 has been one of the most discussed topics among tech experts as well as digital citizens seeking new trends in technology. The popularity and interest in the development of DeFi and NFTs have spiked up the hype for web3 by huge margins. Developers, entrepreneurs, and product managers seek new opportunities for capitalizing on the opportunities available in this field. Therefore, the search for guides on web 3.0 for product managers has become a primary requirement for multiple aspiring professionals. 
However, you should have a clear impression of web3 and the products it offers before you take the decision to pursue a product management career in web3. The following discussion will offer you an outline of web3 basics and the products it offers, which could be useful for product managers. Most important of all, you can develop a clear impression of the requirements of product managers in web3. 
Fundamentals of Web3
Web3 started off as a term by the co-creator of Ethereum, Gavin Wood. The basic definition of web3 is essential for understanding the fundamentals of web3 product management as it could help in identifying the foundations on which you would work as a product manager. Web 3.0 is generally painted as the third generation of the internet with a revised emphasis on decentralized user experiences. Therefore, you can also consider web3 as the decentralized variant of the internet operating on the foundation of blockchain technology. It is also important to note that users are responsible for the development, operations, management, and ownership of the new version of the web3. 
The curiosity regarding web3 product manager salary estimates would draw attention to the need for product management in web3. You can rely on a fundamental impression of the value of web3 with its benefits for validating the reasons to seek product management with web3. Here are some of the notable benefits you can discover with web3.
True ownership of information data and transactions stored on blockchain networks.  

Permissionless access to digital products and services. 

Emphasis on DAOs or Decentralized Autonomous Organizations for fuelling democracy and user participation in digital networks. 

Censorship resistance enables better scope for a democratic approach to transactions and information exchange. 

Decentralized digital identities or DIDs can facilitate new perspectives on digital identity management alongside maintaining anonymity.
Enhanced privacy and security through peer-to-peer networks.
Curious to develop an in-depth understanding of web3 application architecture? Enroll Now in Web3 Application Development Course! 
What Are the Products You Can Explore in Web3?
The search for web3 product manager jobs would obviously create curiosity regarding the products you have to deal with in web3. As of now, you must have identified that web3 applications are developed on decentralized blockchain networks. What types of use cases do the applications of web3 serve in the real world? Let us take a look at some of the notable products and solutions you can explore with web3. 
Cryptocurrencies and DeFi
One of the clearly evident aspects of the roles of web3 product managers would focus on cryptocurrencies and DeFi. These two solutions validate the impact of web3 on the domain of finance. Decentralized finance, or DeFi, is one of the top applications of blockchain, which brings web3 to the front. DeFi transfers traditional financial services to blockchain networks to enable decentralized access to the services. 
Users don't have to rely on centralized institutions or agents to access an open and transparent financial market. On the other hand, cryptocurrencies have also pointed out an exclusive solution in the web3 domain. Some of the popular cryptocurrencies, such as Bitcoin, Ethereum, and stablecoins, have prompted the development of many similar projects which need product managers.
Want to learn and understand the scope and purpose of DeFi? Enroll Now in Introduction to DeFi- Decentralized Finance Course
NFTs, or non-fungible tokens, changed the conventional definitions of asset ownership with the introduction of digital assets represented on blockchain networks with unique IDs and metadata. The focus of web3 product management on NFTs would primarily deal with the emergence of a creator economy. 
Artists could use NFTs as a tool for monetizing their work while also leveraging the tools offered within the NFT ecosystem for building new NFTs or collections to expand the creator economy. Non-fungible tokens have become one of the popular choices for investors in the web3 space as speculations around the projects could result in price improvements. 
Aspiring to Become a Certified NFT Expert? Enroll in Certified NFT Professional (CNFTP) Course Now!
Decentralized Autonomous Organizations 
The next important product in the web3 landscape, which would be important for web3 product manager jobs, refers to DAOs or Decentralized Autonomous Organizations. People can use the features of web3 for developing organizational entities, which could work without the intervention of central governing authorities. Some of the notable examples of applications of DAOs include joint venture capital investments, fundraising, metaverse administration, or any application which requires collaboration-based decision-making.
Excited to develop fluent knowledge of the DAO ecosystem? Enroll Now in DAO Fundamentals Course!
The Necessity of Product Managers in Web3 
The discussions on web 3.0 for product managers also draw the limelight towards the need for introducing product managers in the domain of web3. Is a product manager really necessary for web3 projects? Interestingly, the most important requirements for a web3 project do not have any association with product managers. For example, the Ethereum Foundation does not have any dedicated project managers. Why? 
Most of the web3 projects, such as NFTs or DeFi protocols, could rely only on developers, community managers, protocol designers, and artists. However, web3 projects are ultimately producing some sort of product or service at the end of the day. Therefore, it is clearly evident that a product manager could serve significant value advantages. Here are some of the potential reasons why you might consider a product manager for web3 projects. 
The engineering teams behind different existing and emerging web3 projects have invariably become large, relying solely on self-coordination. In such cases,

web3 product managers

can improve the efficiency of the projects.

The sheer variety of dApps, DeFi solutions, and NFT collections can be overwhelming for uninitiated users. Product managers are essential for web3 projects which struggle with a complicated, consumer-facing UX or issues in gaining popularity with the target audience. 

The search volume for queries like "

web3 product manager salary

" shows that product managers could address different activities which are beyond the reach of developers. For example, you cannot expect developers to deal with business development and marketing activities. In such cases, a versatile product manager could resolve the pressing needs for developing and expanding web3 projects. 
Key Responsibilities of Web 3.0 Project Managers
After establishing a clear impression of web3 basics and the importance of product managers for the domain of web3, you must know about the responsibilities of web3. The answer to "How do I become a product manager in Web3?" would emphasize developing the responsibilities required for the job. Interestingly, the following outline of the responsibilities of a web3 product manager could help you identify the skills you need for the job.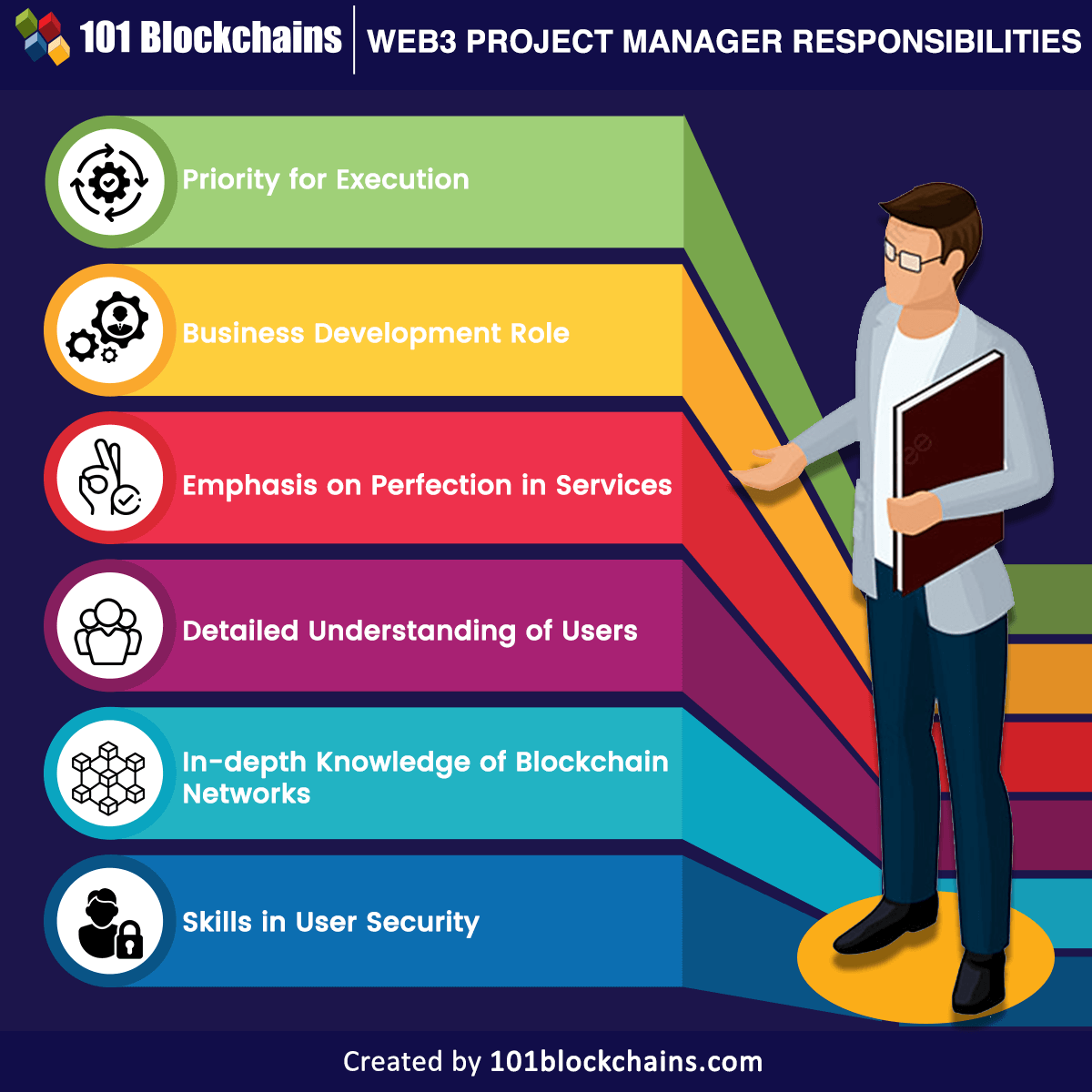 Web3 emphasizes the need for product managers to pay attention to execution over establishing long-term vision or strategic goals. Product managers could have to come up with a technical specification with developers and implement QA best practices followed by creating smart contract audits. 
In addition, the role of product managers would also emphasize launching web3 projects as quickly as possible. The fast pace of developments in the field of web3 can render vision and strategy statements obsolete within the course of a year. Therefore, web3 product management skills emphasize more on development, marketing, and repeating the process over planning, management, and measurement. 
Want to know the real-world examples of smart contracts and understand how you can use it for your business? Check the presentation Now on Examples Of Smart Contracts
Business Development Role
The implications of web 3.0 for product managers also emphasize their role in growing web3 projects. Product managers can serve as vital support for addressing different requirements for the development of a web3 product or service beyond the technical aspects. Product managers have to assume multiple responsibilities as web3 does not favor the conventional structures followed in web2 organizations. 
For example, the web3 product manager or PM might have to interact with the community, plan the UX, develop collaborations with stablecoin protocols or write posts for product launches. In the world of web3, only one person could take on the responsibility for addressing the interdependent technical tasks related to a specific project. 
Emphasis on Perfection in Services
Another crucial responsibility for product managers in the field of web3 reflects on achieving perfection in the existing solution rather than adding new features. For example, the popularity of Bored Ape Yacht Club depends on the quality of the artwork, while a DAO is popular for the facility of easy setup. 
Want to learn the basic and advanced concepts of Stablecoin? Enroll Now in Stablecoin Fundamentals Masterclass Course!
Detailed Understanding of Users 
The scope of web3 product management would also require aspiring professionals to learn about identifying users and their preferences. Web3 makes it difficult to understand user behavior, especially with the privileges for users to maintain complete control over their data. In addition, user data in web3 is spread across multiple wallets and decentralized blockchain networks. 
How could product managers determine how people are utilizing their web3 product? Product managers in web3 would have to use qualitative information such as network information and user feedback to understand users. In addition, some products could also opt for bootstrapping communities through the facility of native tokens.
In-depth Knowledge of Blockchain Networks
The most important highlight in answers to "How do I become a product manager in Web3?" points to the fluency in blockchain networks. You must have a comprehensive base of skills and knowledge regarding blockchain fundamentals. At the same time, you must also develop a technical understanding of blockchain protocols such as Ethereum and Solana. It could help you identify the chains which could support the design of the concerned web3 project.   
The critical skills required for the job of web3 product manager would also focus on ensuring user security. Users need the assurance of proven security mechanisms to avoid any unwanted consequences. At the same time, it is practically impossible for all users to audit smart contracts to identify security risks. Therefore, the product manager must take on the responsibility of ensuring the security of a web3 app.
Learn the fundamentals, challenges and use cases of Web3.0 blockchain from the E-book: An Introduction To Web 3.0 Blockchain
Best Practices for Career Development in Web 3.0 Product Management
The diverse factors associated with Web 3.0 for product managers showcase its necessity in the gradually expanding web3 landscape. You cannot undermine the value improvements contributed by web3 solutions such as DeFi, cryptocurrencies, and NFTs. Furthermore, web3 could also create new and immersive experiences of digital services on the internet through the metaverse. How can you become a web3 product manager? Let us find out the answer in the following three steps.
The obvious recommendation for any individual seeking web3 product manager jobs would focus on learning web3. You could rely on professional training course providers to cover all the fundamentals of web3, including blockchain concepts, Ethereum fundamentals, and how to develop smart contracts. In addition, you need to develop practical experience by using web3 solutions such as decentralized exchanges and NFT collections. 
The demand for web3 product managers might take some time to gain momentum. However, you need to take the initiative for your web3 career as a product manager by looking up teams working on web3 projects. Look for teams that pursue objectives that suit your interests and where you could impose a formidable impact. Access the virtual communities built on different social platforms around the project to understand more about its pace and the community culture.
In the final step of your career development journey in web3 product management, you need to join in the revolution. Start by defining your role and career objectives with respect to the web3 project of your choice. Interact with the founder or core contributors with a convincing explanation about your skills. Approach different teams and attend interviews before making the final decision through careful evaluation of all available options. 
Are you ready to take your career to the next level? Join our Premium plan now and get access to exclusive web3 & blockchain job listings on 101 Blockchains.
Bottom Line 
The outline of Web 3.0 for product managers shows the possibility of career development opportunities in the field of web3. However, product managers are not an immediate necessity in web3 right now. On the other hand, product managers can still serve as vital support for improving the quality of web3 products and solutions. A clear understanding of the responsibilities of a web3 product manager offers the indications towards skills required for building your career in web3 as a product manager. Begin the journey of your career in web3 with trusted training courses and certifications in web3 now.
*Disclaimer: The article should not be taken as, and is not intended to provide any investment advice. Claims made in this article do not constitute investment advice and should not be taken as such. 101 Blockchains shall not be responsible for any loss sustained by any person who relies on this article. Do your own research!