Enterprise blockchain protocol or blockchain protocols are designed to maintain different aspects of blockchain. Let's dissect the various types of blockchain protocols and their characteristics.
If you look at the internet, then you will find that everything works according to a plan. A browser sends signals to a server, and in return, the browser receives the website or the resources the user is looking for. All of these are possible because of the internet protocols that make it happen.
Similarly, in the world of blockchain technology, there are certain guidelines and rules to establish decentralized and distributed ledger systems. Mostly these various types of protocols are necessary for various use cases. Therefore, in this guide, we will focus on the list of top blockchain platforms /protocols in order to better study the market scenario.
Enroll Now: Enterprise Blockchains Fundamentals Course
Top 5 Blockchain Protocol That You Should Know
What is a Protocol?
A protocol is the rules and guidelines that are used to achieve a particular task. The protocol aims to provide a framework (rules and guidelines) for data transfer for the internet. These rules are necessary to ensure that data can be transferred efficiently.
Protocols are meant to work like these, and nothing is different in the case of blockchain.
Enterprise blockchain protocol or blockchain protocols are designed to maintain different aspects of blockchain. This means that there are blockchain security protocols, network protocols, and blockchain consensus protocols. All these protocols, when combined, mainly combine into becoming a blockchain framework.
Our focus in the article is to list the enterprise blockchain protocols. We will also discuss some of the blockchain consensus protocols.
Why Does Blockchain Need A Protocol?
The core idea behind blockchain is its decentralized nature. This means that centralized authority is absent. To make it work as intended, protocols are used. As there is no centralized entity, peers or nodes need to be connected and maintain a ledger copy. There is a consensus method that also works in the network to validate transactions into blocks.
These blocks, once created, cannot be altered. All of this is done using protocols. It acts as a guideline. This also means that we have different types of blockchains that try to do things differently, depending on what they want to achieve from their efforts.
Bitcoin, for example, is a cryptocurrency that aims to improve decentralized value exchange. However, right now, it has become more of an asset used for preserving value, just like gold.
Blockchain is also thriving rapidly in the past few years. It has come along a long way from what bitcoin has started. There are dedicated people, teams, and companies trying to revolutionize blockchain with a better solution that can be implemented in different scenarios.
Top 5 Blockchain Protocols That You Should Know
These protocols are also regarded as the best blockchain platforms in the market. Let's check out each one of them.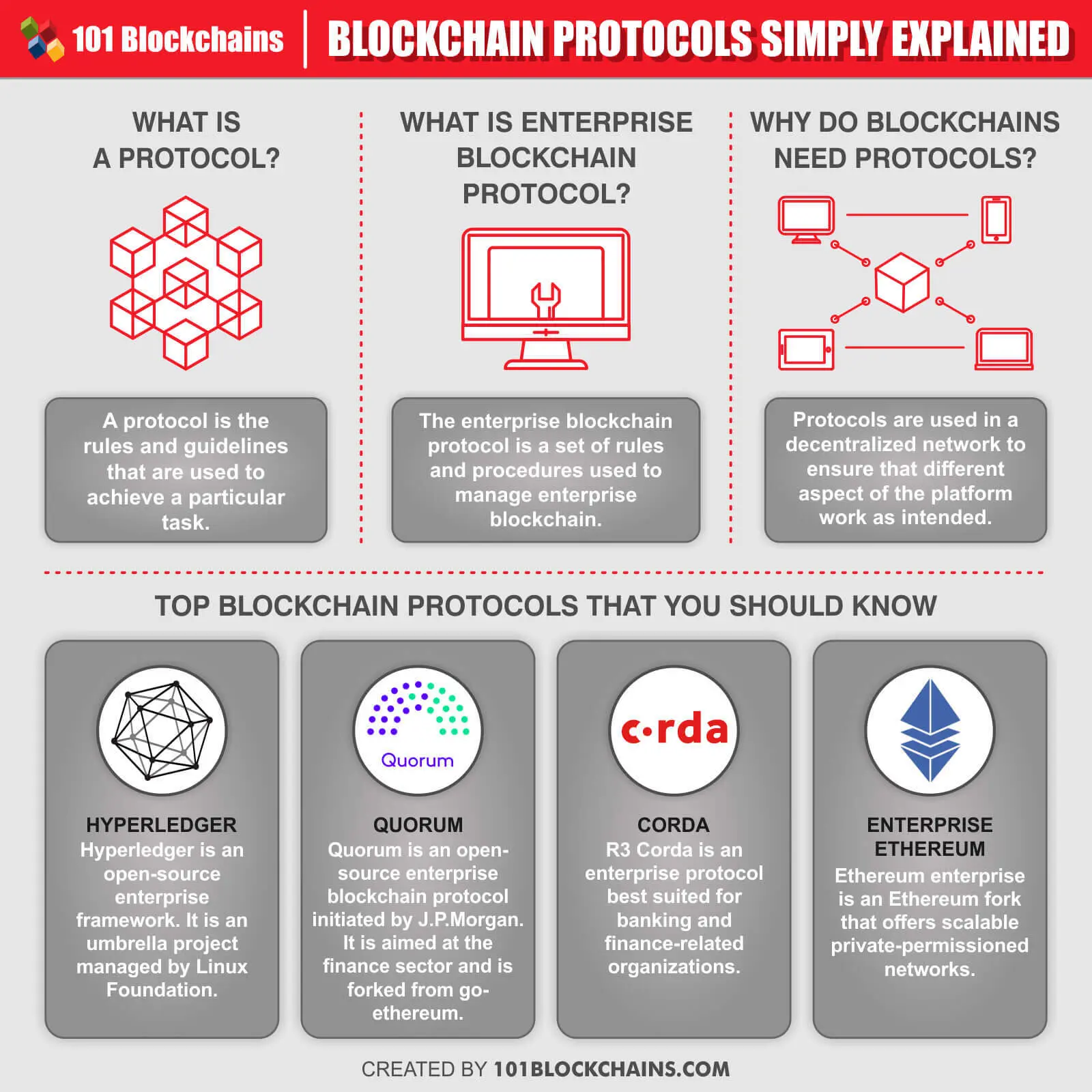 Hyperledger
Hyperledger is an open-source enterprise framework. It is managed by the Linux Foundation. It is an umbrella project which has tons of frameworks and protocols. As it is open-source, anyone with the right expertise can contribute to the project. Also, Hyperledger is all about permissioned blockchain.
The main aim is to provide enterprise blockchain solutions a universal framework or guidelines for blockchain implementation. There are many tech giants that are currently participating in the project, working on the same vision of creating a protocol that can be followed by enterprise solutions.
It was created in 2015. Right now, more than 260 organizations are working towards creating an industry-grade enterprise solution. Hyperledger has a strong security blockchain protocol, and one of their projects, Hyperledger Fabric, is really popular among enterprises.
Benefits of Hyperledger
There are multiple benefits of Hyperledger. They are as below
Cutting edge technology development
Enhanced productivity with the help of frameworks and tools
Good quality of code due to open-source nature
Better at handling intellectual property
Collaborative approach
The key projects within the Hyperledger framework as below:
Hyperledger-Besu
Hyperledger-Fabric
Hyperledger-Iroha
Hyperledger-Indy
Hyperledger-Sawtooth
Hyperledger-Burrow
Hyperledger also offers a lot of tools, including Avalon, Cello, Caliper, and others.
Quorum
Quorum is yet another enterprise blockchain protocol that is aimed to solve finance sector problems. JP Morgan invented Quorum, which can be described as an enterprise-focused Ethereum blockchain. This protocol-based system is key when it comes to solving finance related problems. It can change how financial enterprises function and implement blockchain in-house.
Quorum, just like Hyperledger, is an open-source project and is available under the LGPL 3.0 license. It benefits from Ethereum architecture and approach. With over 10,000+ commits, it is growing into one of the best possible enterprise blockchain framework. Also, it can be used for other industries and use-cases. The protocol-based design makes it possible to serve permissioned networks better.
The key features of the Quorum blockchain include
Better performance
Voting-based consensus mechanisms
Open-source
Mature
Trustworthy and enterprise-ready
Community-driven
Enhanced transactions and contract privacy
Quorum architecture includes three important components — Quorum node, constellation transaction management, and enclave. It also utilizes a raft-based consensus and Istanbul BFT.
Corda
R3 Corda is also a promising enterprise protocol that is built from scratch. It is handled by the R3 banking consortium and is best suited for banking and finance-related organizations. It utilizes distributed ledger software. Corda blockchain utilizes consensus algorithms to ensure transparency, traceability, and transaction validation.
It also offers smart contracts, which means that most of the banking solutions can be automated. The principal features of R3 Corda include the following
The ability to create smart contracts
Offers unique services and timestamping with notary pools
Flow framework that enables enterprises to write complex protocols and make them work with users.
Corda, just like the other blockchain protocols discussed until now, is open source and permissioned. This makes it an ideal solution for enterprises that want to make the most out of the Corda R3 architecture.
The five key standards of the Corda architecture include the following:
Longevity
Secure
Stable
Scale
Interoperable
Also, the business principles on the Corda platform include the following:
Privacy
Legal Footing
Assured Identity
Immutability
Open System
Inclusion
Right now, the ecosystem is thriving and has more than 200 members from different industries.
Enterprise Ethereum
Ethereum is one of the best public blockchain platforms out there. It offers a wide range of features, including smart contracts, dApp creation, and much more. However, to make it feasible for enterprise, it needed to be permissioned. This is where enterprise Ethereum comes in. In reality, it lets enterprises create private-permissioned networks fully capable of scaling to enterprise needs. The private chains created using Enterprise Ethereum are separated from public chains. But the private chains are completely capable of interacting with public chains if needed.
The key difference between Ethereum and Enterprise Ethereum is permissioning. Therefore, Enterprise Ethereum also offers a better privacy level with improved performance and scalability.
The Enterprise Ethereum Alliance maintains it. Right now, there are 300+ member companies from 45+ countries. It also has 1400+ individual members.
The key aim for the Enterprise Ethereum Alliance includes the following:
Open-source standard
Improves alongside Ethereum
Cross-industry development
Here's a comparison guide to Hyperledger vs Corda vs Ethereum. Take a look to understand the differences between these three major blockchain protocols.
Ripple
This enterprise blockchain platform only started their journey back in 2012. However, it was not known as Ripple when it first stared its journey. Ripple was called Opencoin and later they renamed or rebranded as Ripple in 2015. More so, RippleNet can connect banks, organizations, assets exchanges, using their blockchain platform and focus on a faster payment processing.
The key features of Ripple include the following:
Unlimited assets
Rapid deployment
High security
Faster Payments
Liquidity solutions
Modernized messaging
Developer friendly
The Ripple is best suited for enterprise companies within the financial sector. Santander, CROSS ENF, and Siam Commercial bank are some of the popular users of this protocol.
Blockchain Protocols Comparison
Let's check out the comparison table of the 5 top blockchain protocols from below –
| | Hyperledger Fabric | Quorum | R3 Corda | Ethereum | Ripple |
| --- | --- | --- | --- | --- | --- |
| Ledger Type | Permissioned | Permissioned | Permissioned | Permissionless | Permissioned |
| Governance | Linux Foundation | JP Morgan and Ethereum developers | R3 Consortium | Ethereum developers | Ripple Labs |
| Industry-focus | Cross-Industry | Cross-Industry | Financial Industry | Cross-Industry | Financial Industry |
| Cryptocurrency | None | None | None | Ether (ETH) | Ripple (XRP) |
| Consensus Mechanism | Pluggable Mechanism | Voting Protocol | Pluggable Mechanism | Proof of Work (PoW) | Probabilistic Voting Protocol |
| Smart Contract | ✓ | ✓ | ✓ | ✓ | × |
| Smart Contract Language | NodeJS or Golang or Java | Solidity | Java or Kotlin | Solidity | – |
| Application Type | Wide-ranging | Wide-ranging | Financial applications | Wide-ranging | Suited for financial applications |
| Throughput | > 2000 tps | 100 tps | ~170 tps | ~ 20 tps | ~ 1500 tps |
Ending Note
This leads us to the end of our top 5 blockchain protocols. There has been rapid growth when it comes to blockchain. Protocols are also evolving at a rapid pace. Every sector, including supply chain, health, finance, etc., are using a protocol-based blockchain solution. If you are interested in understanding these protocols, you should check out our blockchain courses now!
So, what do you think about the top 5 blockchain protocols? Comment below and let us know.