Recently, China came to the limelight with the ground-breaking DCEP project. Just after the official announcement of this closed pilot project, it started getting a lot of hype. Let's take a look at China's new digital currency now!
China digital currency is initially launching in Xiong'an (Beijing satellite city), Suzhou, and Shenzhen. Many are speculating whether this will turn out to be a revolutionary change for our monetary system and how it will truly affect the global economy.
In 2017, the rapid growth of blockchain networks and cryptocurrencies faced heavy criticism from many financial organizations. That's why the Chinese government is taking an alternative take on the whole issue and launching their very own China digital currency.
Join me as I explore what DCEP is, what it means for China and the global economy, and what you can expect from it. So, let's start!
Enroll Now: Certified Enterprise Blockchain Professional (CEBP) Course
What Is the DCEP Project?
Let's start with what this project actually is. DCEP is China's national digital currency. In reality, the full form is Digital Currency Electronic Payment. Project DCEP is rumored to use cryptography and blockchain technology as the base of the platform. Experts are predicting that it can become the world's first established Central Bank Digital Currency (CBDC), which is a huge thing.
People's Bank of China (PBoC) is issuing the China cryptocurrency. The primary goal of launching China's new digital currency is to increase the international reach and circulation of RMB. In reality, China wants to increase the global acceptance of RMB so that it becomes a global currency, just like the US dollar.
Recently, China is more eager to push blockchain-based initiatives to the market because the government doesn't want to get beaten by Facebook's Libra currency. But I will talk more about it later on.
Let's move on to why China is so eager to launch the Digital Currency Electronic Payment.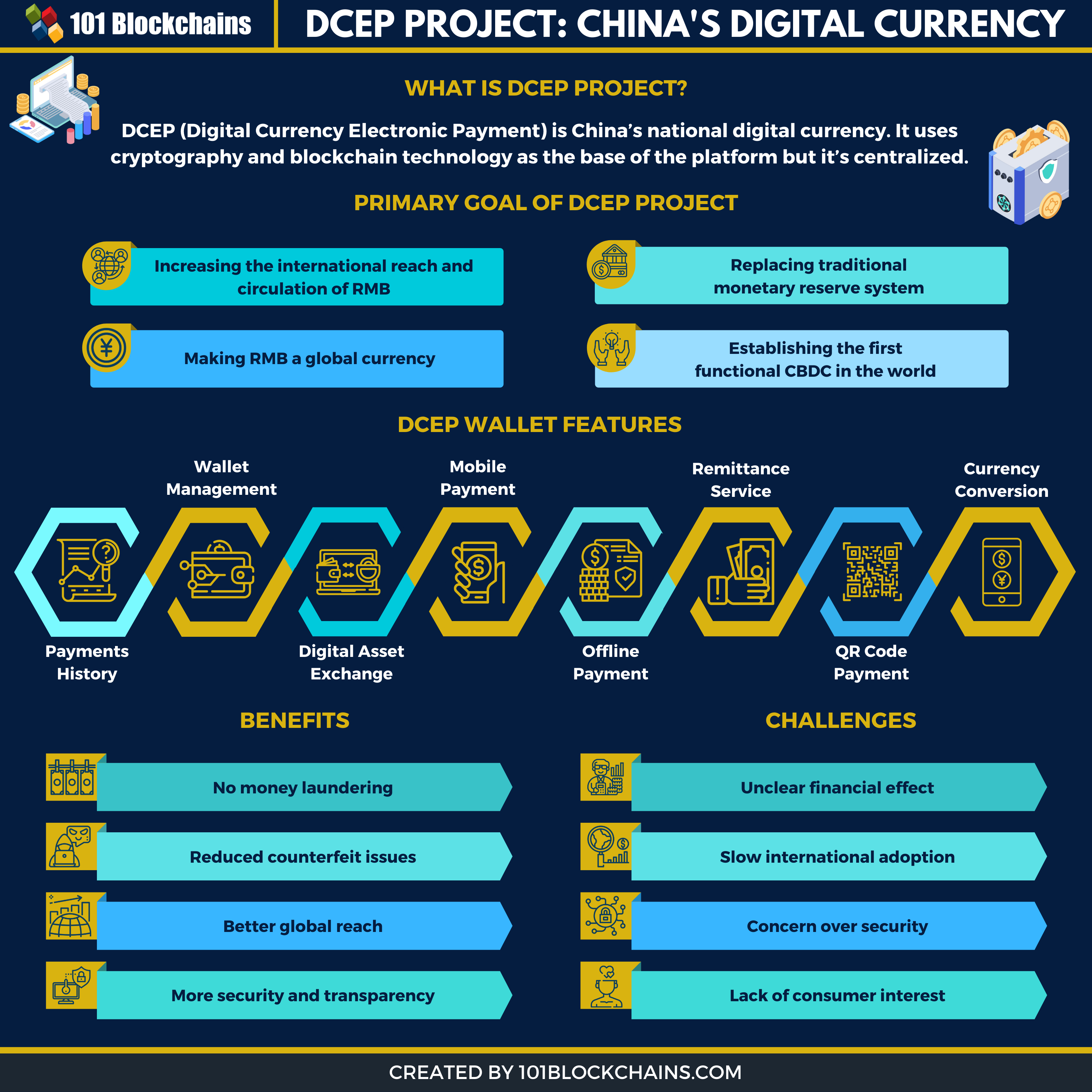 China Digital Currency: Why Are They Launching It?
The primary target of the government in launching the project DCEP China is to replace the Reserve money system. In reality, this will massively cut the costing and friction between banks. Also, they want to use the China DCEP project to cut down all the inefficiencies of offline paper-based money trails that give rise to money laundering, counterfeit issues, and illegal financing.
More so, the best part about this project is that it helps to give the regulator more control over the digital currency eliminating all sorts of illegal activities. Anyhow, this project will also ensure reduced costs for the maintenance of coins and banknotes.
In simple terms, you can think of DCEP as a completely digital version of RMB.
Furthermore, the DCEP may contribute to the promotion of RMB as an international currency and change the way we conduct cross border payments.
At present, in cross border payments, RMB uses SWIFT (Society for Worldwide Interbank Financial Telecommunication) or CHIPS (Clearing House Interbank Payments System). Both of these are extremely flawed as CHIPS is directly a US company.
On the other hand, SWIFT tends to become a concern for the Chinese government as the US controls most of its functionally. Although SWIFT claims to be a neutral ground for international transactions still 12 of the directors are from the USA or from the USA's allied countries.
Therefore, according to the Chinese government, it limits their ability to make internal payments. Thus, DCEP is China's way of establishing and breaking out from the shackles of US-based finance companies.
Is DCEP The Only Digital Currency (Legally) In China?
The China DCEP project and its currency are developed by the Chinese movement. So, you see, it's not like other third-party stable coins many companies are using nowadays. For example, CNHT from Tether is mainly pegged similarly like RMB with a 1:1 ratio.
In reality, other cryptocurrencies are illegal in China, for example, Bitcoin. But DCEP is the only and first legal digital currency in the country.
According to the government bodies of China, the DCEP project is on development for over 5-6 years as of now. Therefore, you can see, they spend a great deal of time in perfecting the technology to make it as much as accessible and free of issues for the whole nation. Now, it's finally ready to roll out, and the People's Bank of China is issuing the digital currency.
DCEP can easily achieve real-time data collection relating to all kinds of bookkeeping and money creation. This process helps to keep the monetary policies in check and make useful alterations when necessary.
Don't know about Blockchain? Check out Blockchain Fundamentals Presentation to learn about this technology now!
Development Process of DCEP Project
The development of the Digital Currency Electronic Payment system actually started way back in 2014. Primarily, they wanted to look into the possibility of creating a digital currency and how they can improve the Yuan with the help of blockchain technology.
But from 2014 – 2018, the project's development slowed down drastically because the nature of blockchain wasn't exactly compatible with the national digital currency. In reality, it's practically common sense that any kind of decentralized network can't back up the centralized structure of national currencies.
Despite the issues and concerns, the development picked up from 2019, and now it's on its way for an official launch. Mainly because Facebook is finally preparing to launch Libra and China sees it as a direct threat.
Therefore, the heat of competition is making China's central bank to push back and launch their very own project that can outshine Libra at all costs.
As of now, China already finished the backend architecture of the solution, and by 2022 major contributors will start participating in the testing phase of DCEP.
Architecture Behind the China DCEP Project
Now let's talk about the architecture behind the China DCEP project, as it will help you understand their concepts much better.
Basically, the architecture of the DCEP is divided into a two-tier system. In the first tier it will mainly include the transactional processes between intermediaries and PBoC. In reality, these intermediaries are mainly financial institutions and non-financial institutions. For example, Tencent, UnionPay, Alibaba, the Industrial and Commercial Bank of China, China construction Banks, and so on.
In the second tier, you can expect a connection or link between participants in the retail industries and intermediaries from the first tier. More so, it will also connect to citizens or individuals in the country.
If it has a chance of becoming popular in the world, then you can use it to connect all of the individuals from different regions and countries. More so, in this tier, all the intermediaries will distribute the DCEP to the retail industry to streamline the currency within the whole country. Therefore, the digital currency will soon start to circulate in the market.
In reality, the main difference is the source that will distribute the cash flow and use digital wallets instead of bank accounts.
What About the Backend Infrastructure for DCEP Project?
At the moment, China confirmed that they already finished the backend architecture of the Digital Currency Electronic Payment system. More so, they also finished all the research, setting the parameters, and development of all functions and even debugging the testing.
However, it still needs more testing to get rid of all the issues. Anyhow, according to another source, the digital wallet of the DCEP will offer many functions such as the history of payments, wallet management, and digital asset exchange.
Furthermore, it will also offer remittance services, QR code payments, mobile payments, and so on. The best part is that you can convert your currency from the interface as well. More so, the user interface also seems a lot of clear and simple for everyone to understand.
Therefore, it won't be long when the project will finalize all of the functions and launch on a global scale. However, it's safe to assume that it will initially launch only within China, and after its success, international markets may get access to it as well.
Want to become a Blockchain Architect? Enroll now in Certified Enterprise Blockchain Architect (CEBA) Course.
Project DCEP Wallet
Now let's talk more about the wallet of the Digital Currency Electronic Payment system. Just recently, on August 29th, 2020, the CCB (China Construction Bank) soft-launched the DCEP wallet. In reality, the customers under that bank found the features of DCEP in their mobile app. However, for using that, they had to register first with their phone numbers.
Once they did that, they could access the digital wallet and navigate to see the features. However, there wasn't any official announcement of this launch, and all of the information I have is from the social media and crypto community of China.
Anyhow, some users claim that they could do small transactions with the wallet by connecting their CCB account with the app. More so, once a user resister with the wallet, they will get a wallet ID for helping them transact with other users.
Also, in the main interface, there are several functions such as withdraws/deposits, connecting to a bank account, seeing all transaction information, gifting red packets, upgrading DCEP wallets, repaying credit cards, canceling DCEP wallet, and so on.
In reality, the red packets are actually gifting money to others. More so, the process of transacting or even receiving the money is super easy. You can even scan another user's wallet to send the money. So, it seems like a super convenient wallet app.
How Can You Test China Digital Currency?
You must be wondering how you can really test the China digital currency to see how it works. Well, they recently announced on August 17th, 2020, that DCEP will go into the pilot testing phase. In reality, they are calling it the "4+1 method".
Mainly because the testing process will remain closed in Xiong'an, Suzhou, Chengdu, and Shenzhen. It will also include the 2022 Olympics locations. Furthermore, their analysts believe that before launching this project on a massive scale, the government needs to see and fix all the technical issues.
So, if they don't fix it beforehand, the negative outcomes can affect market promotions. Therefore, by testing out, the process citizens will use and be comfortable with the new change.
In the future, the test will include more cities and provinces in the Hong Kong Macau Greater Bay Area, Guangzhou, Shanghai, and Beijing. Meanwhile, this expansion of the pilot testing zone will introduce 400 million of China's population.
Big Companies Will Test China Cryptocurrency
Many parties will participate in the testing phase of China cryptocurrency. For example, postal lockers, local hotels, bookstores, unmanned supermarkets, bakeries, gyms, and so on. More so, foreign firms like Subway, McDonald's, and Starbucks will also take part in testing out DCEP.
In reality, this announcement came on April 22nd, 2020, where it was announced that 19 companies will take part in the testing phase of the DCEP project.
More so, the National Development and Reform Commission mainly announced this news at their event. Anyhow, the unmanned supermarket of Jingdong's will also take part in the testing phase of this cryptocurrency.
Also, the companies that are intending to participate in already got the official notice from the central bank of China. Although, as of now, we have no idea how they will conduct the testing phase of the DCEP project.
China Cryptocurrency: Centralized or Decentralized?
Many of you must be a bit confused by now on whether China cryptocurrency is centralized or decentralized. Well, it's a bit of different from all the blockchain technology we know as of now. Although it offers many important features of Blockchain, such as peer-to-peer network, immutability, transparency, and many more.
But this is not a decentralized network rather a centralized one. In reality, it's directly in contrast to what blockchain goes for. Here, the Central bank of China will have full control of the currency and can create and destroy them when necessary.
Blockchain and centralized databases have major differences. Check out blockchain vs database to learn more about it.
How Can You Buy DCEP Currency?
Well, buying the DCEP currency may not be possible. In reality, only the banks working with the People's Bank of China has access to it. But it should be open to the public quite soon. However, there is still no cryptocurrency exchange that offers this at the moment.
Can You Trade DCEP?
China's new digital currency changes a lot of perspectives of trading. Just after hours of announcing the currency, many exchanges offered IOUs or knockoff DCEP currency. In reality, these are not the real deal but mere fake ones.
At the moment, only the banks have access to it and not even the public. Therefore, I will strongly recommend staying away from all these IOUs or knockoffs until there is an official notice about trading it.
NFC Contact Based Payment Method
China's new digital currency can work even without an internet connection. In reality, this is impossible for any other cryptocurrencies as of today. But how will it do that? Well, China is using NFC contact-based payment method to achieve this feature.
For example, you may have used Bluetooth or SHAREit to transfer files without using any data. The concept is awfully similar to that, but it's more advanced.
As China wants to get rid of paper-based money for good, it's only common sense that they will need offline money transfer options. Also, even if you don't have a bank account, it won't matter as you can store your money on your mobile device with an account.
What About Blockchain Adoption?
Well, as you know, this project is not technically blockchain but rather an imitation of that. But China is really trying to push the adoption of blockchain. In reality, the president mandated that the country should speed up the process of blockchain adoption.
More so, in April 2020, the government created a Blockchain Service Network that is unifying all the blockchain projects within the country.
Anyhow, China is more interested in Blockchain rather than cryptocurrency, as these are quite unstable and hard to control. Also, China did ban cryptocurrencies and ICOs in the country, so using them is not possible as well.
When Will Project DCEP Officially Launch?
Project DCEP China doesn't have any specific timeline for its launch. But many experts did give us some insights into what can happen right before the official launch. They believe that before rolling out the project, the country will need multiple adjustments to better accommodate the change. In reality, changing the system of a whole nation is a complicated process.
So, needless to say, it will take a lot of time. Many also believe that it can debut in the second half od 2020, but it's not an official announcement.
Also, you have to note that DCEP is not backed by any gold. But experts believe they may use gold to back up this in order to destroy the US reserve system. However, at this point, its only speculation.
Other Participants in the DCEP Project
The government of China mandated all of the companies that deal with digital payment to accept China's new digital currency, DCEP. For example, WeChat, AliPay, or Apple Pay needs to accept DCEP as a primary currency.
In reality, it will help people to accept the change more quickly and enforce China's dominance in global finance.
Huawei Will Use DCEP
As Huawei is closely connected with the government and how most of the consumers of China use Huawei, it's rumored that this company will first start to use DCEP. Also, there seems to be a leaked image of Huawei's Pay app, where it's seen that it can use DCEP directly.
On the other hand, Tencent, Huawei's rival, is also supporting the project fully from the very start.
Tencent May Become A Major Partner of Project DCEP
Tencent company's Meituan Dianping is talking with the research partner of PBoC about the real application of DCEP. In reality, Meituan Dianping offers a lot of services such as food delivery, grocery shopping, B&B booking, ride-hailing, bike-sharing, and many more services. All of these results in billions of dollars in transactions every day!
So, with only Meituan Dianping, you can really cover all of the necessities. Therefore, it's only wise to want to become a major partner in this project as well.
On the other hand, one of their other companies Bilibili Inc. is also interested in the project. We don't know the specifics of these partnerships, but it's highly likely that these partnerships can give DCEP project a huge boost.
How Will DCEP Currency Affect Other Cryptocurrencies?
The project DCEP China is surely going to pose a threat to current cryptocurrency trends. Well, in reality, the structure behind cryptos are quite different than DCEP currency as they are all decentralized.
But the large scale of promotion going toward DCEP currency surely is changing the perspective of the citizens. If it really gets a global rollout someday, it may negatively affect the crypto trends as well. In reality, cryptos seem to have positive and negative outcomes. Also, there are a lot of scams and security concerns circling the use of cryptos.
So, if DCEP does become successful, other countries may start developing their very own version of digital currency, which may leverage blockchain's technology.
As we still don't know the full technological knowledge behind the DCEP system, so the outcome is still unknown.
Anyhow, there may be possibilities of making DCEP able to create a getaway for another blockchain network to connect and exchange DCEP for cryptos. But this is all just speculations so far.
Comparison Between DCEP, Paper Based Cash, Ethereum, And Libra
There are other players in the market, and DCEP has some strong completions. In one case, Ethereum is already established. More so, the paper-based cash system is already established worldwide. So, to see how these all compare together, we are going to present a comparison table between DCEP, Paper Based Cash, Ethereum, and Libra. So, let's check it out.
| | | | | |
| --- | --- | --- | --- | --- |
| | DCEP | CASH | ETHEREUM | LIBRA |
| Anonymity | Can be made anonymous | ✓ | ✔ | ✓ |
| Decentralized Structure | No | No | Yes | Partially |
| Blockchain Technology Features | Traceability, peer-to-peer payment, tamper-proof | – | Public blockchain features | Consortium blockchain features |
| Security | High | Low | High | High |
| Transaction Speed | 220,000 tps | – | ~20 tps | 1,000 tps |
| Efficiency | High | Low | Medium | High |
| Portability | High | Low | High | High |
| Offline Payment Support | Yes | Yes | No | No |
| Volatility | Low | Low | High | Low |
| Project Status | Undergoing testing | In circulation | In-circulation | In development |
Can the China DCEP Project Challenge US Digital Dollar?
Project DCEP China does pose a threat to the USA's monetary system. In reality, China uses mobile payments far more than the US, and there are 1.7 billion consumers in the nation for that. More so, WeChat pay or Alipay is accepted throughout the country; even street vendors accept it.
However, the USA is working on a digital dollar project that can directly compete with China's DCEP project. Although the USA only recently started the project, and it may take a lot of time to perfect it or even roll it out.
And this is where China is one step ahead of the USA. Another issue is that the USA is not that eager about digital currencies completely replacing paper-based ones. So, this can pose a serious threat to their economy in the future.
The Chinese government, on the other hand, believes that Facebook's Libra may become a wide using replacement for the USA's dollar system. That's why China is trying hard to beat Facebook's Libra in every way possible.
In the end, it's only evident that China's new project can seriously challenge the USA if the USA doesn't start taking it seriously soon.
Don't know about Digital Dollar project? Learn about Digital Dollar from our guide now!
Project DCEP: The First Established CBDC?
If project DCEP China is successful in rolling out the currency, then it's going to be the first functioning CBDC (Central bank digital currency) in the world. In reality, this is a huge thing that can reshape the financial situation in the world.
More so, China may become successful in overthrowing the USA's reign in global payments. But, it's still early to say anything about it. Let's wait for China to launch their project and see whether it can really pull off a nationwide change.