Cryptocurrencies are the hottest trends in the world of technology and finance. Most people would give anything to get their hands on a set of cryptocurrencies. However, everyone cannot get into the domain of cryptocurrencies, considering the price of popular alternatives such as Bitcoin and Ether. 
In such cases, you can look for 'what is crypto faucet' to come up with a simple solution that lets you get some cryptocurrencies. Is it possible? You would need a serious amount of money to buy crypto. On the other hand, crypto faucets can help you find an easy way to get cryptocurrencies without any significant investment. The following post helps you learn about crypto faucets and their working advantages. You can also learn about the top crypto faucets alongside the risks associated with them. 
Want to become a Cryptocurrency expert? Enroll Now in Cryptocurrency Fundamentals Course
What are Crypto Faucets?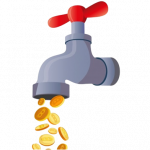 The first thing in any discussion on crypto faucets would revolve around their definition. One of the important details in a crypto faucet meaning would reflect on the problem it aims to solve. As the name implies, they are associated with the term 'crypto,' and it raises questions about their role in the crypto ecosystem. You need to look at the most prominent challenge for users trying to enter the world of cryptocurrencies. 
The newcomers to crypto have limited options for getting the coins they want. If you are an ardent fan of cryptocurrencies, you can invest a significant amount of capital to buy a few tokens. With the price of popular choices like Bitcoin and Ethereum running into six-digit figures, newcomers with limited financial resources are less likely to have any chance at buying crypto. 
The other possible ways for newcomers to obtain more crypto would involve trading or staking them. Trading crypto coins for profit could increase the number of overall coins in their ownership. Similarly, staking rewards could also help in increasing the number of cryptocurrency coins in their possession. The problem in both these cases would point to the necessity of buying cryptocurrencies before trading or staking. 
That brings you back to ground zero once again. Interestingly, you can find some free options for getting cryptocurrencies, such as crypto faucets and airdrops. Crypto faucets are basically an easy, free and legal method for earning crypto. Many of the popular crypto faucet sites offer safe transactions along with actual rewards in cryptocurrencies without additional costs. Let us learn more about the crypto faucets and their working.
Excited to learn the basic and advanced concepts of ethereum technology? Enroll Now in The Complete Ethereum Technology Course
Meaning of Crypto Faucets
The background for crypto faucets shows a brief response for 'what is crypto faucet' without diving deeper into what they actually are. You can explore deeper meaning of crypto faucets by taking note of the literal meaning behind the term. Faucets generally refer to a source of water that pours water in small amounts until turned off. 
In the case of crypto faucets, they would basically churn out cryptocurrencies in small amounts. The definition of crypto faucets suggests that they could be websites, applications or any digital platform tailored for distributing constantly growing amount of crypto assets. Why would the crypto faucets distribute crypto assets? The answer is evident in the simple and easy tasks demanded by crypto faucets. 
What type of tasks can you expect in crypto faucets? Is crypto faucet good? All these questions are obvious doubts in the mind of every beginner dealing with crypto faucets. Interestingly, users don't have to go through any complex tasks to earn crypto through crypto faucets. As a matter of fact, the tasks in crypto faucets could be as simple as clicking buttons or passing CAPTCHA tests at frequent intervals in a day. 
Crypto faucets also feature a crypto mini wallet or micro wallet for depositing the crypto rewards. Users have complete ownership of the wallets and the assets within. On top of it, the wallets associated with crypto faucets can offer incentives like DeFi projects for storing funds in the wallets.
Want to learn and understand the scope and purpose of DeFi? Enroll Now in Introduction to DeFi- Decentralized Finance Course
Why Are They Called Faucets?
The crypto faucet meaning draws attention to the term 'faucets' and establishes the explanation of how they are expected to work. When compared with the water faucet, the rewards from crypto faucet are just like tiny drops of water. You have to accumulate the tiny drops to ensure that you have a larger overall sum. The thing about crypto faucets is that they do not sell the promise of making you rich. 
Crypto faucets give you an extremely small and slow yet steady means for earning cryptocurrencies. Even if you cannot fill up your crypto wallets with hundreds of Bitcoin, you could still add up the small rewards. A few Bitcoins were not so appealing a few years ago. Today, the price of the same Bitcoins is skyrocketing. Who knows, your small rewards may land you with bigger profits in the future.
Working of Crypto Faucets
The explanation for working of crypto faucets reflects primarily on the completion of simple tasks. You have to invest your time in completing the tasks and receive crypto rewards. The mechanism of earning free crypto is one of the advantages of crypto faucet, as it is simple and easy to start with. However, it is also important to note that you would receive humongous crypto deposits as rewards in crypto faucets. 
On the contrary, some Bitcoin faucets offer rewards in Satoshis, which are equal to almost 1/100 million Bitcoin. Until now, the only explanation for how crypto faucets work focuses on simple tasks and small rewards. All you know about crypto faucets is that they work like dripping faucets leaking out free crypto in small amounts. On the other hand, you need to take a deep dive into the working of crypto faucets to understand them better.
Among the many highlights of crypto faucets, one of the significant choices would refer to their limited adoption. You have to worry about low payouts alongside the fraudulent techniques employed by many crypto faucet sites for swindling money. A crypto faucet is basically meant to serve awareness among people regarding new cryptocurrencies. Interestingly, crypto faucets have evolved into something more than a platform for earning 'free crypto.' Now, crypto faucets feature a completely different business model, focused on yielding profits from different types of arbitrage. 
Want to become a bitcoin expert? Enroll Now in Getting Started with Bitcoin Technology Course
Arbitrage Model and Crypto Faucets
The core business model associated with crypto faucets could shed more light on how they work. Companies that run the crypto faucets aim to improve their revenue alongside earning profits. The major part of the revenue of the crypto faucet companies is attributed to traffic arbitrage. Crypto faucet platforms direct traffic to other advertising networks, and in return, they earn revenue from it alongside sharing a small portion of the revenue with users. The people or the users serve as the only traffic source in crypto faucets, who receive small portions of revenue from advertisement networks in the form of crypto rewards. 
Your doubts regarding crypto faucet risks must have grown stronger by now. After all, there is nothing 'free' in the world. Crypto faucets earn revenue based on the tasks you complete and deliver a small portion of the rewards to you. The traffic arbitrage method is not the only revenue model for crypto faucets. 
You can find many other uses of the revenue-sharing arbitrage model in survey companies, affiliate networks, captcha, gaming networks and many other platforms. Apart from the revenue-sharing model, you would find that crypto faucet sites are quite simple to understand. Spend more time on completing tasks and earn more crypto. 
Does the arbitrage model cause any other problems? The arbitrage model might not serve as a problem in the working of crypto faucets. However, the high transaction fees lead to a minimum withdrawal limit, and the micro wallets or mini wallets must be redeemed upon achieving the limit. Different crypto faucet platforms also use native tokens as rewards, which users can redeem for other cryptocurrency coins. 
Want to get an in-depth understanding of crypto fundamentals, trading and investing strategies? Join the Standard & Premium Plans and get free access to Crypto Fundamentals, Trading And Investing Course.
Methods for Using Crypto Faucets
The answers to 'what is crypto faucet' could serve a clear impression of how to start using crypto faucets. However, it is important to know the best practices of using a crypto faucet before accessing one. The good thing about crypto faucets is that they are comparatively simpler choices in comparison to other crypto-based applications. One of the interesting highlights about crypto faucets is that you don't need technical knowledge to use one. Here are the simple steps for using a crypto faucet of your choice.
Sign up on the crypto faucet site of your choice.

Enter the details of the micro wallet address on the faucet site.

Find and complete the different tasks on the faucet site.

Receive payments once you reach the minimum withdrawal limit.
The interface of crypto faucet sites can be different from one another, albeit with similarities in the steps. After signing up and completing the profile on the faucet site, you can start completing different tasks to earn micro rewards. The micro wallet is an integral part of how you use crypto faucets as they help in storing the small rewards without incurring high transaction fees. You can notice the completion time and payouts for the tasks before you start one, which helps you decide the suitable tasks. 
Curious to know the impact and in-depth understanding of crypto compliance in businesses? Join the Standard & Premium Plans and get free access to Crypto Compliance Fundamentals Course.
Advantages and Risks of Crypto Faucets
The details of crypto faucets help you find some credible answers to "Is crypto faucet good?" to a certain extent. You have to admit that the concept of crypto faucets is definitely a promising answer to the problem of crypto accessibility. Most people have a tough time buying cryptocurrencies or trading them for profit. If you are a newcomer, you need to make the most of the advantages of crypto faucets to earn 'free crypto.' 
The benefits of crypto faucets are evident in the simplicity of models they follow for operations. You can enjoy the privilege of crypto ownership by completing simple tasks such as clicking on a CAPTCHA button. The number of crypto rewards in crypto faucets depends on the time you invest in the platforms. Therefore, beginners can have better chances of accumulating crypto deposits by completing simple tasks at regular intervals throughout the day. 
On the contrary, you must also take note of the crypto faucet risks, such as possibility of malicious links in tasks. You must be wary of fraudulent crypto faucet websites, which can cause malware infection. In addition, some crypto faucets can block your rewards, citing complaints of abnormal behavior. 
Start learning about Cryptocurrencies with World's first Cryptocurrency Skill Path with quality resources tailored by industry experts Now!
Bottom Line
The detailed understanding of crypto faucet meaning served as a credible advantage in identifying a new method to earn cryptocurrencies. Just like water faucets, crypto faucets can drip small amounts of crypto when you complete certain tasks. The crypto faucets work by engaging users in different tasks and earning revenue from the same. 
In return, the faucet distributes a share of the revenue among the users for their efforts in the tasks. While crypto faucets offer multiple advantages in terms of accessibility of cryptocurrencies, they also feature certain setbacks. Start learning more about crypto faucets and choose credible alternatives now.
*Disclaimer: The article should not be taken as, and is not intended to provide any investment advice. Claims made in this article do not constitute investment advice and should not be taken as such. 101 Blockchains shall not be responsible for any loss sustained by any person who relies on this article. Do your own research!