.0..0000.0.0The web, as we see it today, has come a long way since its inception. Starting from static pages delivering information to the dynamic social media networks we use now, the internet has developed in various aspects. Now, the discussions about web3 have created the prospects for establishing an internet that will be in the control of people. Web 3.0 is painted as the next generation of the internet with a specific emphasis on decentralization. How are the best web3 wallets helpful for users in accessing services and solutions in web3? 
The consistent improvements in the way people interact with digital services have been refined over the years with a focus on digital wallets. Web3 wallets can serve as gateways for accessing the world of web 3.0. However, the multiple options available in the market can be quite confusing. The following post will help you learn about the top web3 wallets and their unique benefits. 
Importance of  best Web3 Wallets
Before you look into an outline of the top best web3 wallets, you must understand their significance. Web 3.0 is an innovative take on the transformation of user experiences on the internet. Based on the foundations of blockchain technology, web 3.0 solutions aim to offer engaging, relevant, and immersive web 3.0 experiences. 
Predictions suggest that the market could reach around $6 billion in market capitalization by 2023. Subsequently, the web3 landscape will continue growing at an exceptional CAGR of 44.6% by 2030. The interesting fact about web 3.0 is that it encompasses blockchain solutions, NFTs, DeFi, and the metaverse, among other technologies. At the same time, growing markets for VR/AR devices also indicate favorable trends for the rise of web3. 
Where do web3 wallets come into play in the broader scheme of affairs in the web 3.0 market? Web3 wallets are digital wallets you can use for accessing dApps and storing NFTs or use DeFi protocols. The importance of web3 wallets is evident in how they open the doors to web 3.0 solutions and projects. 
You can use your desired pick from a web3 wallets list and proceed towards using the next generation of web. For example, you could use it for accessing financial services without intermediaries, creating on-chain identity, engaging in collaboration with web3 communities, or collecting NFTs. 
Build your identity as a certified blockchain expert with 101 Blockchains' Blockchain Certifications designed to provide enhanced career prospects.
Which Web3 Wallet is the Best for You?
The clear definition of "what is web3 wallets" and their significance offer adequate reasons for identifying the top web3 wallets. However, it is important to choose a web3 wallet that would serve different desired use cases according to your needs. You must look for specific features and services offered by web3 wallets which can help you make the most of web 3.0 solutions.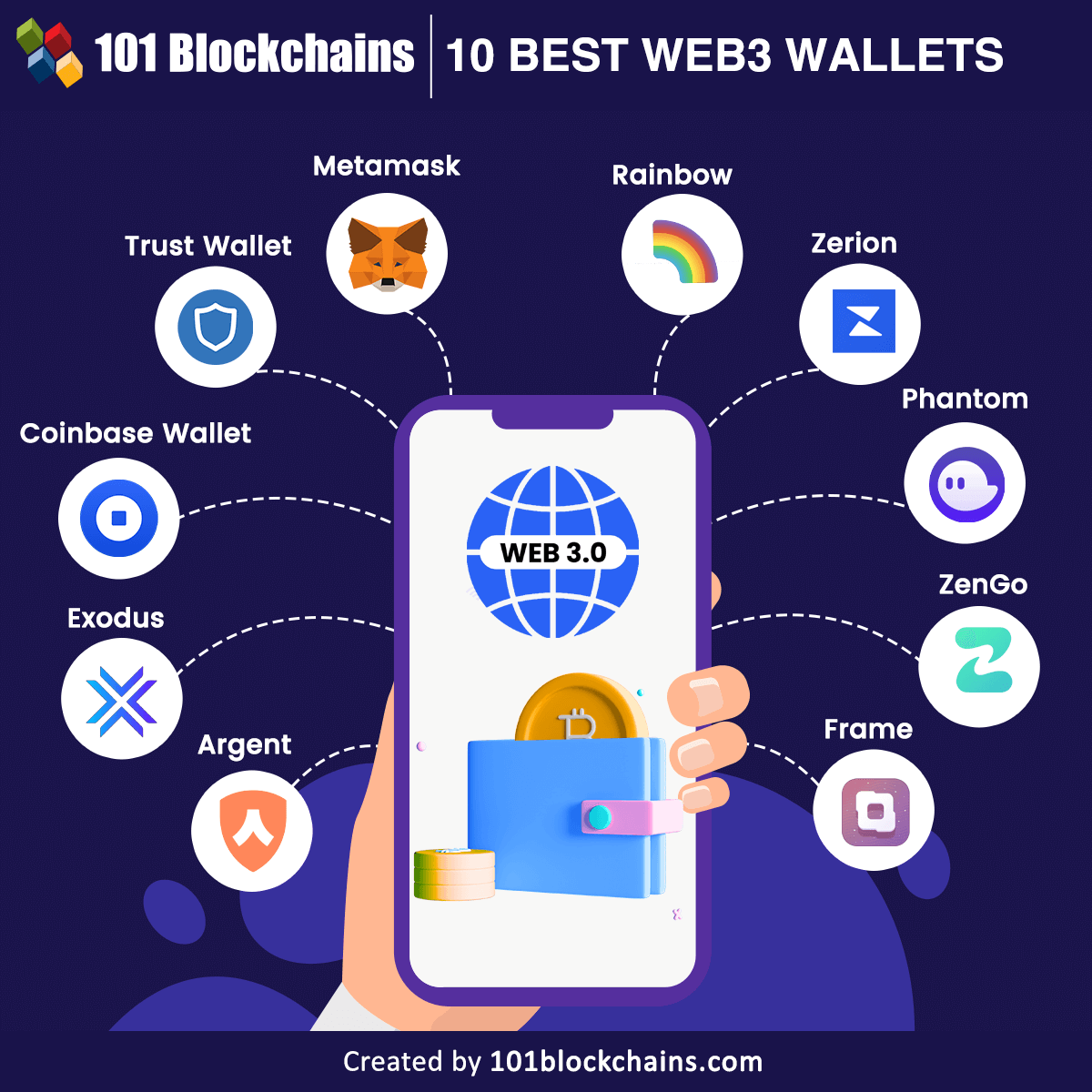 1. Metamask
The obvious choice among reliable web3 wallets would point to the top web3 wallet provider, Metamask. You can avail of the services of Metamask as a browser extension. The striking highlight of Metamask is the easy setup process and the flexibility of interacting with Ethereum-based dApps. You can purchase ETH directly from the wallet without the need for any exchanges or crypto trading platforms. 
As of now, Metamask has a massive user base of over 30 million with its trusted set of features. The non-custodial wallet allows you to take complete control over your assets and achieve the true benefits of decentralization. However, Metamask is an online wallet, and you have to take responsibility for securing your private key. Any malicious agent could gain access to your private keys by compromising access to the system on which you access Metamask. 
2. Trust Wallet
Trust Wallet is another prominent web3 wallet example with innovative features. It introduces a distinct approach to using web3 wallets with the multi-asset support facility. On top of it, Trust Wallet is completely independent of the blockchain network on which you use the web3 applications. 
You could download the wallet on any iOS and Android device, thereby enabling better flexibility in using the wallet. Most important of all, you would find an in-built dApp browser that helps you interact with different decentralized applications directly from the wallet. However, the only limitation of Trust Wallet is that it does not run on laptops or PCs, as you cannot access it as a browser extension. 
Excited to learn the basic and advanced concepts of ethereum technology? Enroll Now in The Complete Ethereum Technology Course
3. Coinbase Wallet
The name Coinbase is known to almost every person invested in the world of cryptocurrencies and blockchain. It is a crypto exchange that encountered prominent setbacks following the DeFi boom. Many users moved from the centralized exchange to decentralized exchanges and new web3 wallets. However, Coinbase came up with one of the best web3 wallets by taking the decision to build their web3 wallet. The Coinbase Wallet is a non-custodial DeFi wallet that shines on the grounds of its advanced security features. 
4. Exodus
The examples of the top best web3 wallets would also feature Exodus, one of the earliest blockchain wallets. Exodus has maintained its quality as a top web3 wallet with consistent improvements in introducing new features. Now, Exodus offers a web3 wallet that can work seamlessly on Chrome and Brave browsers. It also offers comprehensive support for accessing web 3.0 functionalities on Android, Windows, macOS, and iOS devices. With the benefit of multi-asset support, Exodus helps users interact with Ethereum, Algorand, and Solana blockchains. 
Curious to develop an in-depth understanding of web3 application architecture? Enroll Now in Web3 Application Development Course! 
5. Argent 
The next addition to a list of top web3 wallets would refer to Argent. It is a mobile web3 wallet that works as a dApp browser with an emphasis on dApps and DeFi applications. Argent works as a renowned wallet for NFT and DeFi applications. You can consider Argent as your pick from a web3 wallets list for its improved features that ensure security and scalability. For example, multiple signatures and remote locking alongside biometric security are a few notable features of Argent.
6. Rainbow
You can also try seeking other web3 wallets, such as Rainbow. It is a trusted non-custodial web3 wallet for supporting interactions with the Ethereum dApps ecosystem. The best thing about Rainbow as a web3 wallet provider is the flexibility for using it as an app or an extension for your web browser. Rainbow could help you carry out the desired transactions in the Ethereum ecosystem, such as token swaps. In addition, the sleek and simple UX of Rainbow makes it an appealing and productive choice among web3 wallets. 
Learn the fundamentals, challenges and use cases of Web3.0 blockchain from the E-book: AN INTRODUCTION TO WEB 3.0 BLOCKCHAIN
7. Zerion 
Zerion is something more than the general web3 wallets as the intuitive interface of the web3 social wallet offers significant value advantages. Users could easily connect their other wallets, including hardware wallets, to Zerion to manage their portfolios from one platform. The in-built trading and bridging aggregator with Zerion is a reliable instrument for accessing the best offers in trading. Interestingly, the social features on Zerion offer the flexibility for receiving push notifications regarding NFT drops and following the wallets of other users.
8. Phantom 
Phantom is one of the best picks among web3 wallets for the Solana ecosystem. The features of Phantom align perfectly with answers to 'what is web3 wallets and their functionality? For example, it helps in managing NFTs and crypto assets from one platform alongside accessing many other services. You can participate in staking or token swapping with the easy-to-use interface on Phantom. 
On top of it, you can also connect your hardware wallets to Phantom with limited trouble. The wallet is currently limited within the Solana ecosystem and could grow further in the future. As Solana blockchain grows in popularity for its low gas fees or transaction costs, Phantom would have to fight it out against established and emerging web3 wallets.
9. ZenGo
If you are seeking security advantages in a web3 wallet example, you must try ZenGo, which features MPC cryptography. The MPC web3 wallet does not feature any vulnerability due to private keys while offering the conventional benefits of non-custodial wallets. For example, it can help you make the most of multichain support for interaction with different blockchain networks. Most important of all, the safety and recoverability features, based on encrypted biometrics, could offer better ease of recovery. 
10. Frame
Another common entry in a web3 wallets list would refer to Frame, an Ethereum wallet for working on macOS, Linux, and Windows operating systems. Some of the unique facilities for users include verification of names on Twitter by using a display of gas fees. It guarantees the assurance of seamless design and easy user experience, which can help you transfer assets throughout active blockchain networks. On the contrary, Frame is still under development in the beta stage, and users could encounter errors and bugs. In addition, it does not have a mobile wallet. 
Build your fluency in Web3 and develop decentralized solutions with the world's first Web3 Expert Career Path with quality resources tailored by industry experts Now!
Final Words 
The details of the top best web3 wallets showed a glimpse of what you can achieve with web3 wallets. As the popularity of web3 gains momentum with many new advancements, you need to find the right choice for a web3 wallet. A web3 wallet not only helps you store digital assets but also interacts with web3 apps. 
Some of the wallets also point out prominent setbacks you must be careful of. Learn more about web3 wallets and how they can help you make the most of your potential with web 3.0. Explore the web 3.0 industry trends and decide the best course of action for choosing a web3 wallet now.
*Disclaimer: The article should not be taken as, and is not intended to provide any investment advice. Claims made in this article do not constitute investment advice and should not be taken as such. 101 Blockchains shall not be responsible for any loss sustained by any person who relies on this article. Do your own research!