The changes in the internet user's experience over the years have been quite sporadic. There was a time when websites used to serve the role of information bearers or notice boards. Gradually, the web welcomed e-commerce platforms and social media networks, thereby encouraging users to contribute content to the internet. Now, the evolution of the internet would have to adapt further to cope with the requirements of users in the constantly changing digital landscape. At this point in time, discussions about best dApp browsers download might appear as marketing gimmicks for a new technology trend. 
However, dApp browsers are a portal to the ecosystem of decentralized applications. Web browsers offer us the necessary tools for addressing our social, financial, and cultural needs. Are dApps browsers similar to traditional web browsers? The following discussion offers you an introduction to dApp browsers alongside some of the top names among them.
Build your identity as a certified blockchain expert with 101 Blockchains' Blockchain Certifications designed to provide enhanced career prospects.
Definition of dApp Browser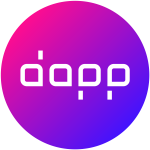 Before you start seeking the best dApp browsers, it is important to learn what they are. The dApp browsers are UX, and messaging interfaces developed specifically to help users in connecting and interact with decentralized applications developed on blockchain technology. In order to achieve their specified objectives, dApp browsers have been developed for blockchain technology through peer-to-peer P2P file hosting integration. In addition, dApp browsers also offer support for crypto wallets, thereby enabling a seamless transition of users to dApp browsers. 
As a matter of fact, certain crypto wallets, such as Trust Wallet, have come up with unique methods to enable dApp browsers. You can also find certain dApp browsers which have their own web3 wallets or work as browser extensions of the wallets. The top dApp browsers could not only help you access dApps and browse decentralized web ecosystems but also ensure additional functionalities. The dApp browsers could help in browsing the opportunities for purchasing, selling, trading, or holding cryptocurrencies and other digital assets. Furthermore, dApp browsers also provide ease for facilitating cryptocurrency transactions in different dApps. 
Want to get an in-depth understanding of crypto fundamentals, trading and investing strategies? Join Yearly/Yearly+ Plan and get free access to Crypto Fundamentals, Trading And Investing Course.
Working of dApp Browsers
The consistently growing list of the most popular dApp browsers in the blockchain and web3 landscape creates curiosity about their working. Traditional web browsers such as Chrome, Safari, or Firefox retrieve content from different servers and resolve site addresses. Subsequently, they work on other important activities required for offering access to web content. Therefore, you can think of a traditional web browser as the gateway to internet services. It helps you in accessing apps and websites through minimal storage and processing requirements. 
Decentralized application browsers work in a different way than the usual web browsers. Rather than using centralized networks, dApp browsers have been created as decentralized applications with the features of traditional browsers. The primary functionality of dApp browsers revolves around enabling access to multiple dApps. 
The dApp browser list includes some unique names other than Chrome or Firefox. Remember that you could also use Chrome or Firefox for accessing dApps, albeit with additional effort. For example, you would need a wallet or browser extension such as Metamask or introduce changes in your DNS settings. Some new browsers, such as Brave and Opera, offer in-built wallets alongside web3 support. 
However, you can learn more about the working of dApp browsers by reflecting on examples like Trust Wallet. It is one of the renowned Ethereum-based crypto wallets, which features a browser extension to facilitate seamless interaction with dApps and smart contracts. The majority of dApp browsers available now work as crypto wallet applications with browser extensions. The in-built dApp browser, like in Trust Wallet, or integrating a browser extension, such as MetaMask, with a traditional browser, are the two options for accessing dApp browser functionalities.
Popular dApp Browsers in 2022
The benefits of top dApp browsers revolve primarily around seamless access to dApps. The renowned dApp browsers offer better privacy and security in comparison to conventional web browsers alongside safeguarding user data. Users could receive incentives for engaging through social media and content viewership. 
At the same time, dApp browsers also feature certain setbacks, such as restrictions to the web3 landscape and a limited user base. However, you would need a dApp browser download guide to understand how to access the massive dApps ecosystem from one single platform. Here is an outline of the popular dApp browsers you can try out now.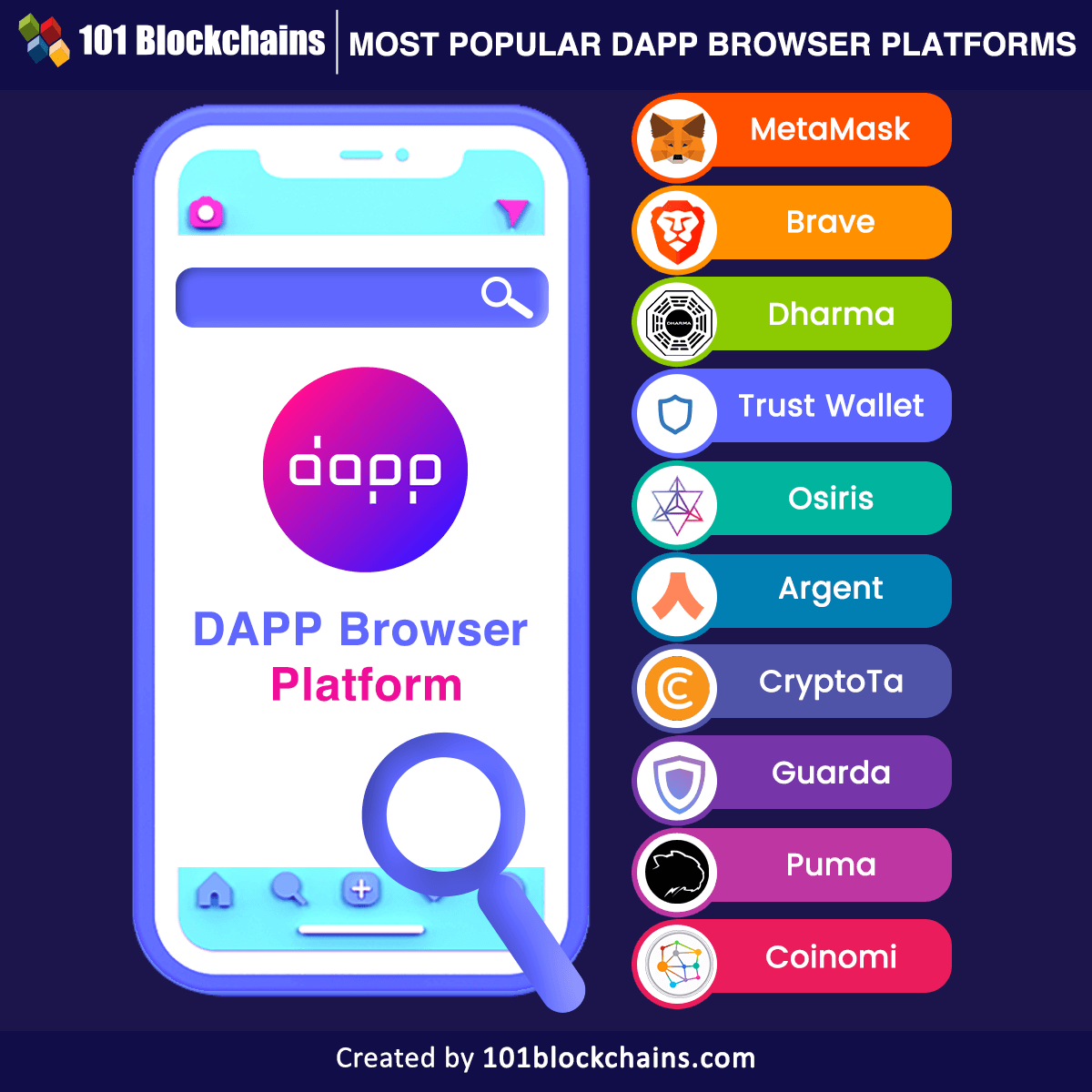 1. MetaMask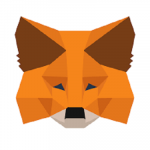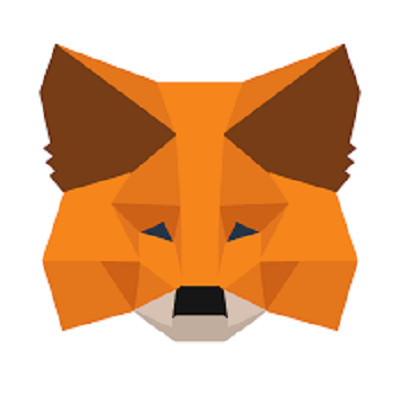 The most common crypto wallet which helps in accessing dApps with its in-build dApp browser is MetaMask. It is one of the most used crypto wallets and helps in connecting any regular browser to the Ethereum blockchain. As a result, it can offer easy access to Ethereum-based dApps. The platform features more than one million users and also offers a secure login key vault and token wallet alongside other assets required for the secure management of digital assets.
2. Brave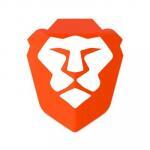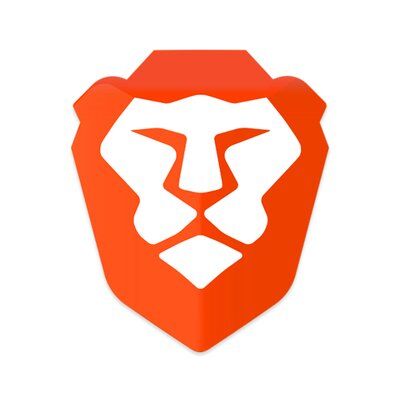 Brave is another top name for the dApp browser list due to its design as a decentralized browser. With more than 25 million active users, Brave dApp browser has become one of the popular choices among dApp browsers. The best thing about Brave is that it is open-source and completely free of cost. The brave browser also features its own economy and offers the facility of IPFS support to offer in-built decentralized file storage. 
Excited to learn the basic and advanced concepts of Ethereum technology? Enroll Now in The Complete Ethereum Technology Course
3. Dharma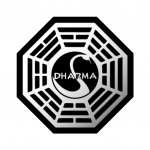 Another notable entry among popular dApp browsers would be Dharma. It is a mobile-friendly, Ethereum-based wallet app that allows users to connect with any decentralized application on the Ethereum blockchain. Users rely on Dharma as one of the best dApp browsers for interacting with DeFi protocols. In addition, it helps users in linking their wallets to bank accounts along with prominent user-friendly features. The user-friendly features could ensure that users can access direct DeFi services by lending and borrowing assets without intermediaries.
4. Trust Wallet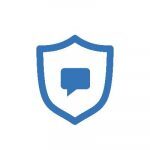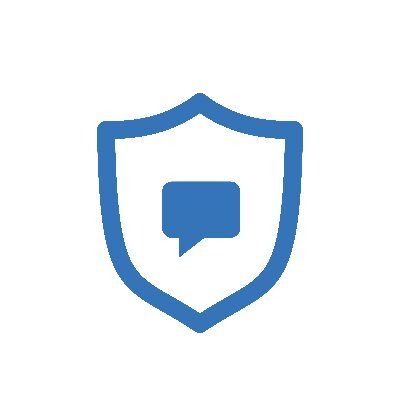 The prominent player in the list of most popular dApp browsers right now is Trust Wallet. It offers a secure dApp browser you can enable on your Android and iOS devices and use with limited concerns. Trust Wallet offers support for ERC-20, and ERC-223 standard tokens, alongside offering thousands of assets through the application. The security and simplicity of use with the Trust wallet dApp browser are the primary reasons for using the browser.
Want to explore in-depth about DeFi protocol and its use cases? Join Yearly/Yearly+ Plan and get free access to Decentralized Finance (Defi) Course- Intermediate Level Now!
5. Osiris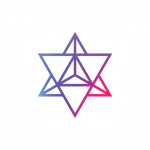 Osiris is another example of a web3 browser that has been garnering the attention of users in recent times. It has been tailored particularly for cryptocurrencies and includes many crypto-centric features, featuring an in-built wallet supporting ETH as well as Tron and Acent blockchain networks. Osiris provides the assurance of lower transaction fees along with better speed, thereby garnering formidable levels of popularity. 
6. Argent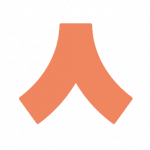 You could also look for intriguing entrants in the dApps browser market, like Argent, a mobile-only crypto wallet. It also qualifies as a popular option for dApp browser download to access dApps directly from your smartphone. Argent has been tailored specifically for DeFi dApps and features stronger security mechanisms. Interestingly, it provides the assurance of zero transaction fees and effective management of crypto assets while enjoying seamless access to DeFi protocols.
Want to become a Cryptocurrency expert? Enroll Now in Cryptocurrency Fundamentals Course
7. CryptoTab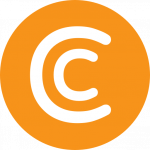 The CryptoTab browser is the dedicated dApp browser of Opera, launched recently in January 2022. It is one of the unique additions to the dApp browser list owing to its development from scratch, without any links to the standard Opera browser. The browser offers multi-wallet support alongside easy sign-in for different dApps. Users can also enjoy the flexibility of browsing dApps directly from the address bar of the browser.    
8. Guarda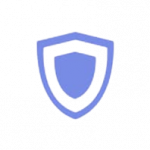 Guarda Wallet is another prominent addition to the list of popular dApp browsers with multiple functionalities. For example, it stands out in this list for its ability to support operations on mobile devices as well as desktop computers. Guarda wallet supports more than 50 blockchains and 10,000 tokens and could link with dApps through the Wallet Connect protocol.
Want to learn blockchain technology in detail? Enroll Now in Certified Enterprise Blockchain Professional (CEBP) Course
9. Puma

The Puma browser is another example of the best dApp browsers with promising levels of usability for the web3 ecosystem. It has been designed to offer privacy and security through design, alongside ensuring P2P payments and file hosting. On top of it, the dApp browser also features an integrated web monetization tool, coil, which offers direct incentives to creators according to a subscription model.
10. Coinomi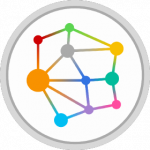 Coinomi also works as a multi-blockchain wallet which can provide the flexibility for accessing dApps on mobile and desktop computers. The wallet supports almost thousands of tokens and more than 125 blockchains, along with broad cryptocurrency coverage. The versatility and easy-to-use design of the Coinomi wallet contribute to its popularity.
Build your fluency in Web3 and develop decentralized solutions with the world's first Web3 Expert Career Path with quality resources tailored by industry experts Now!
Final Words 
The final impression regarding the top dApp browsers reveals that you can choose multiple options according to your requirements. Almost all the entries among popular dApp browsers feature multi-blockchain support alongside support for multiple cryptocurrencies. On the other hand, some of the recent additions have introduced new features, such as support for use on mobile and desktop computers. The necessity of dApp browsers emerges from the constant improvement in a number of dApps and their applications for use cases beyond blockchain and finance. Learn more about dApp browsers and choose the best pick for your requirements now.
*Disclaimer: The article should not be taken as, and is not intended to provide any investment advice. Claims made in this article do not constitute investment advice and should not be taken as such. 101 Blockchains shall not be responsible for any loss sustained by any person who relies on this article. Do your own research!