Corporations, organizations, enterprises as well as individuals are increasingly implementing blockchain technology as they seek to take advantage of its capabilities. In this guide, we will focus on the companies that are implementing blockchain solutions.
Blockchain technology is not all about cryptocurrency. In reality, the underlying decentralized ledger technology continues to find applications in a diverse range of industries all in the effort of changing how things are done' and improving people's lives.
In addition to enhancing payments processing systems, blockchain implementation continues to find its way into various industries starting from supply chain to the government. Some people and entities are also using the technology to power retail and loyalty rewards programs as well as digital IDs and for immutable data backup.
Therefore, blockchain technology has brought with it a new set of business ideas as well as models that companies are increasingly taking advantage of. Companies are using technology to launch new products as well as enhance the efficiency of their existing products and service delivery.
So, in this guide, we will take a look at the top enterprise companies who are using blockchain for their own betterment.
Enroll Now: Free Blockchain Course
Top 20 Enterprises Implementing Blockchain Technology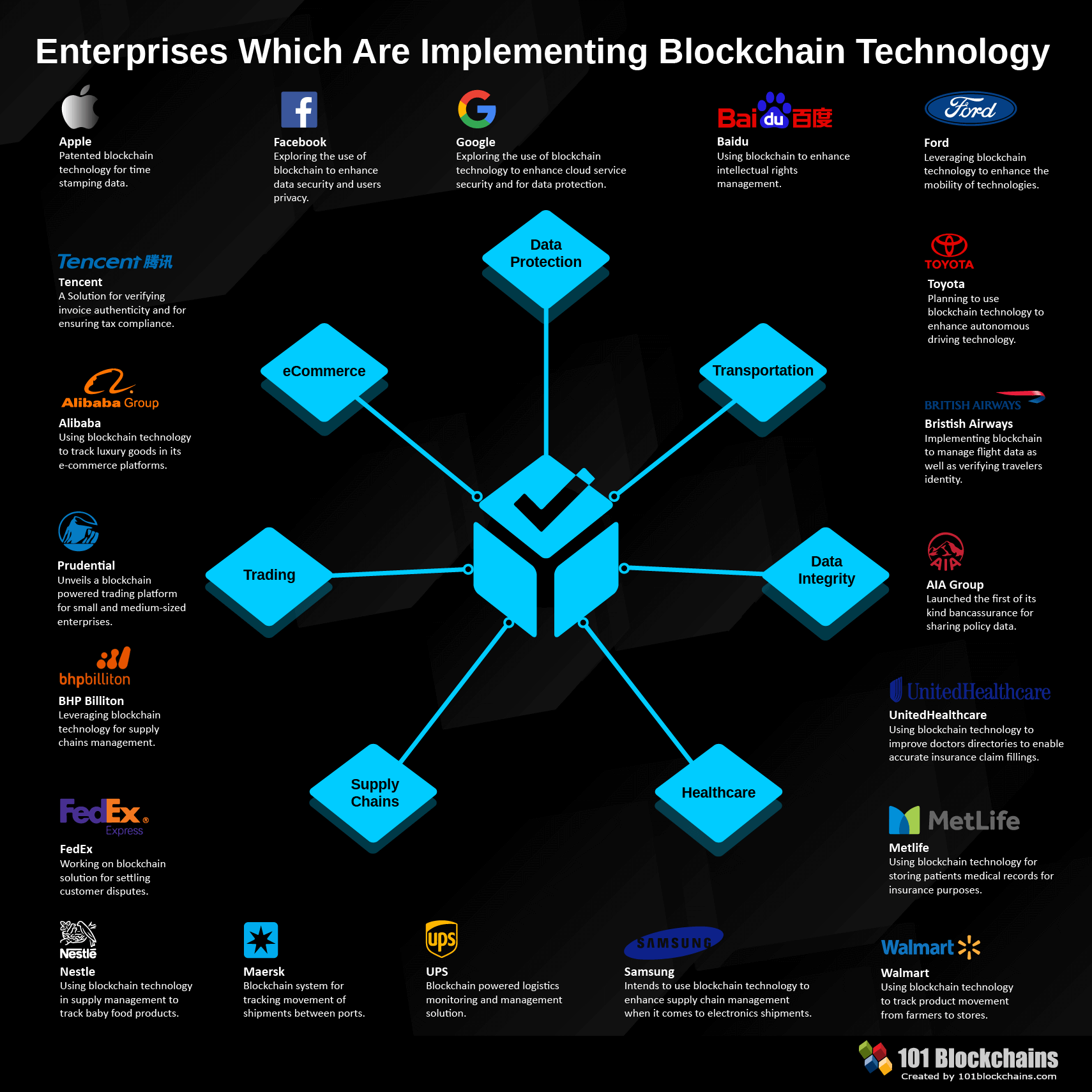 Walmart: Product Tracking
Retail giant Walmart is one of the multinationals that has taken the lead in Blockchain implementation. The company is leveraging the digital ledger technology to enhance data tracking and management process, in its day-to-day operations. More so, Walmart is working with IBM in what is seen as a perfect example of blockchain implementation in the business of tracking meat and poultry products sold in its outlets.
This is the perfect example of high-profile companies using blockchain.
More so, the company already implemented a blockchain system capable of tracking information right from the farmer to the broker, distributor and retailer.
Walmart employees and consumers can now track products back to their roots, thanks to blockchain technology integration.
British Airways: Blockchain Monitoring System
Britain largest airline British Airways is another example of companies using blockchain. In reality, it has also implemented blockchain technology to manage information about data flights between key airports in London, Geneva and Miami. More so, the airline is also testing a new blockchain-powered VChain Verification Service that has the potential to revolutionize the check-in process.
With the new system, airlines and airport authorities will be able to verify the identity of people traveling against a database held on a blockchain. The system will counter check the validity of travel documents without sharing personal information with third parties.
Maersk: Blockchain Shipping Platform
Maersk, another example of companies using blockchain, has teamed up with tech giant IBM to launch a platform to monitor the shipping of cargo. Thus, TradeLens is the implemented blockchain platform that is to be used' to track shipments as they move from one port to another.
The platform already has more than 175 participants. Also, the digital electronic shipping ledger is designed' to record details of cargo shipment as they leave shipping yards until they arrive at their final destination.
During the shipping process, the parties involved in the supply chain will be able to track information such as shipment arrival times and documents such as customs releases and commercial invoices. According to the shipping giant, blockchain implementation has the potential to streamline and enhance security when it comes to international shipping.
Want to know how blockchain can alter the supply chain sector? Check out our guide to blockchain in supply chain right now!
UPS Blockchain: Logistics System
United Parcel Services has joined the Blockchain in Trucking Alliance for implementing blockchain solutions for the multibillion-dollar freight industry. The alliance is planning to spur standards development for the shipping industry through the implementation of a secure blockchain system.
Under the alliance, they are planning to develop new innovations that can offer an efficient and cheaper logistics management system. A large number of brokers, as well as hidden information across complex supply chains, are some of the challenges that blockchain technology will solve in the industry as part of the latest push.
FedEx: Blockchain For Disputes Settling
FedEx is another shipping giant that has unleashed a good example of blockchain implementation. Blockchain implementation has allowed the company to enhance the process of settling disputes involving customers
The company is implementing blockchain solutions to identify the type of data to store on a blockchain, ideal for settling customer issues. More so, the technology is also to be used' to store records for future reference.
BHP Billiton: Blockchain For Supply Chain Management
Mining giant BHP Billiton is also implementing blockchain technology as it looks to enhance its supply chain processes. The company intends to use the distributed ledger technology to record and trace movements of the wellbore rock and fluid samples. By leveraging the technology's capabilities, the company should be able to secure real-time data generated during delivery.
The blockchain system should allow the company to enhance internal efficiency thus allow it to work closely with partners. The company also requires vendors to use blockchain technology through solutions provided by the likes of BlockApps and ConsenSys to collect live data.
In addition, the company is running nodes on the Interplanetary File System, which acts as a peer-to-peer file-sharing protocol in conjunction with blockchain systems.
Alibaba: Tracking Luxury Goods
Despite being one of the biggest critics of cryptocurrencies, Alibaba's co-founder Jack Ma remains bullish about blockchain technology. The company plays host to the most blockchain patents in the world, underlining how focused it is about using it to enhance its operations.
On the application front, the e-commerce giant has unveiled, a blockchain-based solution that enables the tracking of luxury goods sold on its e-commerce sites such as Tmall. Enhancing cross-border supply chains is another blockchain implementation example by the e-commerce giant.
The company's Australian Unit has also developed a blockchain platform for tracking food movement with partners.
Tencent: Blockchain For Legal Billing and Taxation
Tencent is implementing blockchain technology to enhance legal billing and taxation in the Chinese city of Shenzhen. In reality, the multinational is exploring blockchain for enterprise applications leveraging the technology to help combat fake invoices as well as reduce the case of businesses in the city taking advantage of tax drawbacks
In partnership with Shenzhen city State Administration of Taxation, the company is hoping to use the emerging technology to verify invoices authenticity. The proposed blockchain solution is to be incorporated' into the company's messaging-scale media app WeChat platform.
Baidu: Intellectual Rights Management
Baidu is another Chinese multinational that has provided a good blockchain implementation example. The search giant has launched an image rights management system powered by blockchain technology.
In reality, the system provides a way for photographers as well as photo agencies to create profiles and be in a position to claim copyrights to their images. The comptECH any appears to have borrowed a leaf out of Kodak's photo tracking system KodakOne.
The company has also unraveled a good example of blockchain implementation in the gaming sector. Leci Gou is the company's new blockchain-powered pet rearing game that is somehow similar to the CryptoKitties. The game serves as a marketing and loyalty program as players can earn crypto puppies as well as game credits on purchasing Baidu products.
In addition, Baidu has launched an open platform that allows enterprise developers to build blockchain-based applications focusing on areas of digital billing and bank credit management.
AIA Group: Blockchain Enabled Bancassurance
One of the finance companies using blockchain is AIA Group. In reality, it has implemented blockchain technology and in the process launched the first blockchain-enabled Bancassurance. The solution will make it easy for the company and its bank partners to share policy data as well as documentation on a real-time basis. The solution should also lead to increased transparency as well as reduced processing times
Integration of insurers IT systems and legacy bank systems have always been a big problem. However, with the digitization of the bancassurance channel, banks should be able to pick and use their software of choice.
The implemented blockchain-powered bancassurance should deliver significant revenue for life insurers. It should also help insurers engage more effectively with consumers while improving turnaround times.
Check out the importance of blockchain in insurance industry now!
Metlife: Blockchain-Powered Automated Insurance Solution
Another one of the finance companies using blockchain is Metlife. However, they are using it through its Singapore based innovation center Lumen Lab. In reality, it has uncovered a blockchain implementation example in the health industry.
Therefore, the company is currently testing the world's first blockchain-powered automated insurance solution for offering women struggling with gestational diabetes financial protection.
Vitana is an example of a blockchain implementation platform that seeks to address the needs of one in five expectant women in Singapore. By implementing a blockchain solution, Metlife will be able to connect customer's electronic medical records in real-time and issue policies within minutes.
The solution will also issue automatic payout upon diagnosis without the need of people making claims.
Facebook: Blockchain For Digital Payments
Facebook has had to come up with new ways of ensuring better protection of people's data in response to the Cambridge Analytica scandal. Implementing blockchain technology to take care of the huge trove of data appears to be the company's latest push.
Another popular project they are working on is the Libra cryptocurrency project. Previously, it was more focused on supporting only the Libra token. But now, it will include existing government-backed currencies on the platform as well.
In reality, this project can actually become the first-ever platform to introduce digital dollar. So, it's a big step up for the international community.
Walt Disney: Blockchain To Track Inventories
Blockchain implementation in theme park giant Walt Disney is also taking shape. The most obvious use case of the technology in the company's operations is the tracking of inventories as well as sales and shipments in the parks.
The company is also exploring the use of technology in making it easy for people to know whether a transaction is approved or declined. Dragonchain is the proposed blockchain solution that the company is working on, as it joins other companies in making inroads in leveraging its capabilities.
Ford: Blockchain To Support Mobility Technologies
Ford has joined a growing list of automotive companies implementing blockchain technology in the industry. The company is planning to implement blockchain technology to enable mobility technologies to support its Smart Mobility solutions.
A newly awarded patent suggests that the company could soon leverage blockchain technology to make it easy for cars to communicate with each other as a way of reducing traffic. The vehicle-to-vehicle patent details a system that will seek to alleviate traffic congestion through coordination of cars speed on the road.
Enroll Now: Certified Enterprise Blockchain Professional (CEBP) Course
Prudential: Blockchain Trade Platform
Singapore's insurance giant Prudential has teamed up with Starhub on blockchain implementation. The two are working together on a digital trade platform targeting small and medium-sized enterprises.
Fast-track Trade is the blockchain-powered platform that will seek to make it easier for businesses to find partners, and distributors as well as be able to make payments and track goods. Prudential is also to use the platform to offer insurance products.
Nestle: Blockchain in Supply management
Nestle is implementing blockchain technology in tracking food products especially those used by kids, right from farms. The company is implementing blockchain technology in its supply chain in line with what is happening in the shipping industry.
The fact that baby food tends to be highly sensitive calls for the use of the technology to deal with food recalls. The experiment project which will target Gerber baby food is part of an ongoing partnership involving Unilever Walmart and IBM.
Toyota: Blockchain to enhance autonomous driving technology
Japanese auto giant Toyota is considering implementing blockchain technology to accelerate autonomous driving technology. The company's research unit has teamed up with MIT Media Lab to foster a digital environment whereby people and businesses will be able to share autonomous vehicle data as well as manage ride-share and car-share transactions
The two are working with other partners to develop applications as well as proof of concepts to enhance mobility in the auto industry According to the company blockchain implementation will help people become more comfortable with autonomous technologies.
UnitedHealthcare: Blockchain For Improving Doctors Directories
UnitedHealthcare, Humana, Optum and Quest Diagnostics have teamed up to explore how to implement blockchain technology in business. In reality, they want to use it for healthcare business which will focus on doctor's directories. Therefore, healthcare companies are going to use the technology to secure healthcare data and distribute it in a secure way.
Blockchain implementation should allow the companies to improve the quality of data that is handed over to insurance companies in addition to reducing administrative costs. The use of digital ledger technology should eradicate the all-too-common problem that comes on a claim coming through from insurers while mismatching the information provided by healthcare providers.
Also Read: How Could Blockchain Disrupt Healthcare?
Samsung: Blockchain For Supply Chain Management
Hardware giant Samsung has also implemented blockchain technology as it looks to enhance supply chain management as well as logistics. Being one of the world's largest manufacturer of electric appliances, the company is in dire need of a system that is capable of managing its vast supply chain.
The company is planning to use the technology to track its myriad of shipments made up of electronic devices and appliances of all sizes. The company expects blockchain implementation to fuel digital transformations by enhancing operational efficiencies.
Apple: Blockchain To Timestamp Data
For the longest time, Apple has been mum on whether it sees potential in blockchain technology being part of its massive empire. The filling of a new patent has, however, put the debate to rest having emerged that the company could be planning to use the digital ledger technology to create and verify timestamps.
So, at present, they are still exploring how to implement blockchain in business.
HSBC: Decentralized Vault Platform
HSBC is already using a blockchain-based platform. In reality, they are implementing blockchain to digitize their vault system. To make it more secured and private, the bank is moving away from paper-based record keeping. So, their investors can now track all of their money from the platform.
Anheuser Busch InBev: Blockchain For Supply Chain
This is one of the largest brewer enterprise companies in the world at the moment. At present they are using blockchain for their supply chain. Together with BanQu, they want to increase the overall transparency of their systems. More so, it will actually trace and increase the transparency of their Cassava crop chain. Thus, it will also empower over 2000 farmers in Zambia.
Pfizer: Pharmaceutical Inventory Management
Pfizer is also implementing blockchain technology. Biogen and Pfizer just completed proof of concept for the project. This project is for tracking records and managing the digital inventory of pharmaceutical products.
In reality, the group also comes with other players such as GlaxoSmithKline, Merck, AstraZeneca, and Deloitte.
Shell: Blockchain For Crude Oil Trading
Shell is one of the energy companies implementing blockchain for the energy sector. Using the tech this company along with Sinochem Energy Technology Co Ltd and Macquarie, Shell is planning to use blockchain for crude oil trading.
Also, they are exploring the tech for other purposes in the oil industry as well. Anyhow, they plan to use the platform to promote transparency and get rid of corruption.
JLL: Spanish Commercial Real Estate Valuation
JLL is another company implanting blockchain technology. At present, they are using this technology for the valuation process of the Spanish commercial real estate. More so, they are planning to use this technology for the construction of the real estate sector. Using the application, you can rent or even sell properties. This initiative is mainly focused on JLL Japan.
Learn more about enterprise blockchain platforms to understand how each of them works.
List of Enterprises Implementing Blockchain
| Company | Sector | Blockchain Solution |
| --- | --- | --- |
| Walmart | Retail | Using blockchain technology to track product movement from farmers to stores |
| British Airways | Travel Industry | Implementing blockchain to manage flight data as well as verifying traveler's identity |
| Maersk | Shipping | Blockchain system for tracking movement of shipments between ports |
| BHP Billiton | Mining | Leveraging blockchain technology for supply chain management |
| Tencent | e-commerce/ retail | Solution for verifying invoice authenticity and for ensuring tax compliance |
| Toyota | Auto Industry | Planning to use blockchain technology to enhance autonomous driving technology |
| UnitedHealthcare | Healthcare | Using blockchain technology to improve doctors directories to enable accurate insurance claim fillings |
| UPS | Shipping | Blockchain powered logistics monitoring and management solution |
| Baidu | Search giant | Using blockchain to enhance intellectual rights management |
| Samsung | Tech | Intends to use blockchain technology to enhance supply chain management when it comes to electronics shipments |
| FedEx | Shipping | Working on blockchain solution for settling customer disputes |
| Alibaba | e-commerce | Using blockchain technology to track luxury goods in its e-commerce platforms |
| AIA Group | Insurance | Launched the first of its kind bancassurance for sharing policy data |
| Metlife | Healthcare | Using blockchain technology for storing patients medical records for insurance purposes |
| Facebook | Tech | Exploring the use of blockchain to enhance data security and users privacy |
| Ford | Auto | Leveraging blockchain technology to enhance the mobility technologies |
| Prudential | Insurance | Unveils a blockchain powered trading platform for small and medium-sized enterprises |
| Apple | Tech | Patented blockchain technology for time stamping data |
| Nestle | Retail | Using blockchain technology in supply management to track baby food products |
| Google | Tech | Exploring the use of blockchain technology to enhance cloud service security and for data protection |
| HSBC | Bank | Using blockchain technology to fully digitize their record keeping and increasing the security of vault system |
| Anheuser Busch InBev | Beverage | Using blockchain for their beverage supply chain and increasing transparency |
| Pfizer | Pharmaceutical | Tracking records and managing the digital inventory of pharmaceutical products |
| Shell | Oil | Planning to use blockchain for crude oil trading to get rid of corruption |
| JLL | Real Estate | Exploring blockchain for Spanish commercial real estate valuation |
In the End
We covered 20+ enterprises implementing blockchain technologies in a bid to enhance service delivery and improve operational efficiency. Increased investments into the sector should lead to better innovations all geared towards enhancing people's way of life. If you are interested in implementing blockchain for your industry, you already have some insight into how others are doing it.
However, if you want to learn about the technology from scratch you can check out our free blockchain course now!