Do you want to know about the top blockchain vendors in the industry? Then, you have come to the right place.
When it comes to blockchain, we have problems and solutions.
In the era of four industrial revolutions, we are at a stage where the blockchain ecosystem exponentially.
Generally, there are three major components of a blockchain ecosystem.
It includes platforms, vendors, and real applications. Each player has a crucial role to play in the ecosystem.
Blockchain vendors are companies that provide services to other startups or business aiming to use blockchain. Clearly, not every company can create an end-to-end solution. Also, the wide range of use-cases for blockchain means a different approach every single time a problem needs to be solved.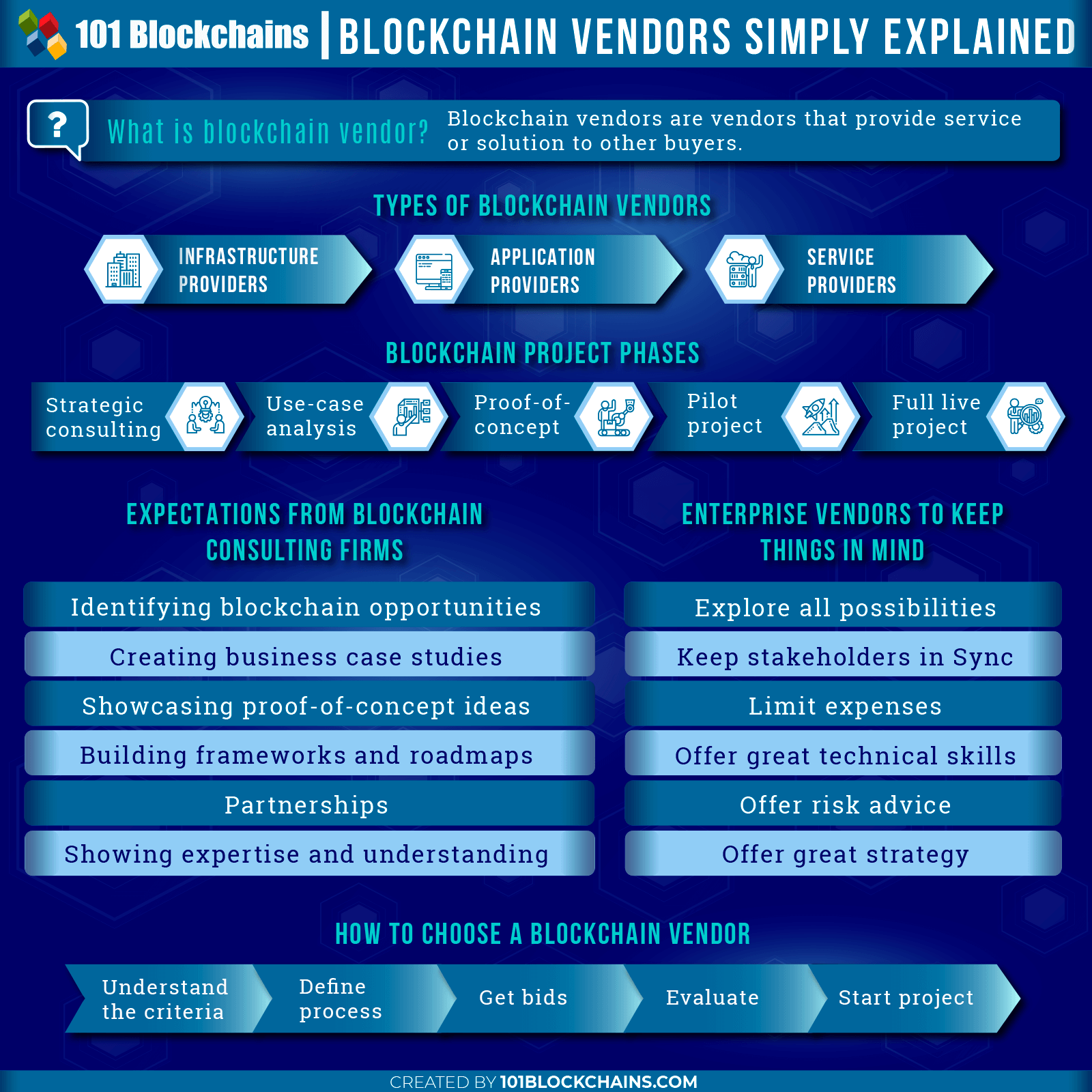 Read more about Distributed Ledger Technology.
In this article, we will go through the blockchain vendors. We will also cover blockchain-as-a-service(BaaS) providers as they fall under the blockchain vendor definition.
So, what does blockchain vendor? Let's explore.
What is the Blockchain Vendor?
Blockchain vendors are companies, startups, or business that are providing services or solutions. The blockchain vendors landscape is big and expanding at a rapid pace.
Vendors can also be defined depending on who is the buyer. For example, a manufacturer who builds products using raw material might be the vendor to a distributor, whereas the retailer is the vendor to the consumer.
That's why we are going to discuss both small and big players that are changing the blockchain landscape by providing unparalleled and unique solutions.
We will also try to categorize them into:
Blockchain Infrastructure Providers, example: Primechain, Bluzelle, IBM, Microsoft

Blockchain Application Providers, example: Ripple, Factom, DigitalX

Blockchain Service Providers, example: Infosys, Accenture, Wipro
Choosing the Right Vendor for Blockchain Technology
Blockchain consultancy vendors are part of the ecosystem. The service model is gaining popularity due to the sudden rise of blockchain or DLT adoption.
As an enterprise, you need to take the proper steps before you choose the right blockchain consultancy vendor out there.
Also, you need to understand the blockchain project phases to get a good grasp. To ensure that you learn in the best possible manner, let's go through the key phases of a blockchain project first.
Also, read our Trade Finance Blockchain
Blockchain Project Phases
Strategic consulting
In the stage, the business needs to do strategic consulting. As blockchain is new, it is ideal to do strategic consulting to avoid any form of a lapse in understanding the impact and scope of blockchain in the project. There are multiple blockchain consultancy vendors out there that can help you achieve the desired result. 
Use-case analysis
Now that you are familiar with the role of blockchain and its impact, it is now time to do use-case analysis. It is an important first step for any blockchain project. In this step, you need to use an analytical method to determine the correct use-case for your project. To make sure you do it right, you need to do systems requirements, understanding the scope, and gathering all the possible details of how users interact with the system.
Proof-of-Concept
Another crucial phase is Proof-of-Concept. In this step, feasibility studies are done to ensure if the blockchain idea is feasible or not. In the feasibility test, both financial and technical aspects are taken care of. In this phase, it is easy to find an obstacle that can take place during project implementation. 
Also, read our POC Guide
Pilot Project
In the Pilot project, a small scale implementation is done. This is done to evaluate the cost, feasibility, and practicality of the project. 
Full live project
If everything goes as planned, the project goes live at full scale.
Learn more about Blockchain Implementation
What to expect from Blockchain Consulting Firms?
As a business, your job is to offer information and support to the consulting firms. To help you understand what you can expect or demand from a consulting firm, let's go through the points below.
Identifying blockchain opportunities: Consulting firms have a deep understanding of blockchain and its use-cases. They understand how and when to utilize blockchain, which can result in better efficiency. So, if you are a business, you should expect that the consulting firm you choose to help you find out the right opportunities for utilizing blockchain. Besides, they should also have the full capability to implement it.
Creating business case studies: Case studies is an essential tool to understand business. Your consulting firm should be able to create compelling case studies for the buyer or with the buyer. 
Showcase Proof-of-concept ideas: The consultancy firm should be able to have a good track record when it comes to proof-of-concept ideas. They should able to showcase them. Also, any projects that show their implementation process or results. Also, any proof-of-concept or project that can help you to compare your requirement can give you a definite edge.
Building business roadmaps and frameworks: You can expect the consultancy firm to be able to create clear roadmaps and frameworks. These frameworks and roadmaps should be inclined to use blockchain technology by keeping factors such as requirements and objectives.
Partnership: Vendors having partnerships can be great as it opens new possibilities. 
Understanding and expertise: They should have a full understanding of the enterprise buyer's business and how it can be used for benefits.
What should an enterprise keep in mind?
Using blockchain is tricky. That's why enterprise should also need to make sure that they provide the best service to the consumers.
Exploring all possibilities:

As an enterprise, you should explore all the possibilities. It can be done by going through blockchain use cases. You also need to take note of the skills required to take advantage of the opportunities.

Stakeholders in Sync:

Make sure that you keep all stakeholders informed during the process of utilizing blockchain.

Limit expenses:

As an enterprise, you should always try to limit expense. For this, cost planning needs to be done.

Offer great technical skills:

This will help you to solve the client's problem faster.

Offer risk advice:

Risks are an integral part of any project and you as a vendor should always provide one.

Offer great strategy:

Ensure that you can provide a proper strategy that can be utilized in real-world scenarios.
How to choose a blockchain vendor
Now it is time for us to list how you should choose the right blockchain vendor for your business. After all, making a choice determines whether your blockchain will succeed or not. 
Choosing the right vendor or blockchain company is not as easy as you might think. You need to create a checklist and ensure that the blockchain vendor that you choose to tick most of them.
The checklist can contain a few must-have aspects which you can just not ignore. There will also be a few aspects that you may want to be light on. It is not possible to have everything from the blockchain vendor of your choice. In the end, you should choose a blockchain vendor that can understand your pain points and provide you with solutions.
Understanding the criteria's
Blockchain development, services, or solutions have already become complex. That means you need to set the criteria's upfront.
For example, you should know which technologies you are going to work on and whether the blockchain vendor you chose to support them. There are other criteria that you need to take into account which include terms of service, payment terms, any form of refunds, integrability with other systems, and so on. If you do these right, you are set for the rest of the journey.
Define the process
Finding the right vendor is not simple. You have to define a process that can help you do so. The process should include the steps for getting your requirements out. You may also want to get in touch with the few blockchain vendors that think fits your criteria's well. 
If you think that contacting the vendors directly takes too much time, then you can make your requirements online. Try to publish an advertisement or better utilize your social media accounts.
Once you start getting pitches, it is now time for you to set a team to handle it. Also, make sure that you put your best employees to do it as making the wrong decision is not an option here.
Get Quotes
With few blockchain vendors, it is now time to get quotes or bids. This is known as Request for Proposal(RFP). These proposals should contain all the information that you will require to make your decision easy. The bids should contain all the expenditure breakdown with delivery dates. You can also learn about their quality standards.
Evaluation process
With bids in your hand, now it is time to match them against your criteria. You should take the proper time to do the evaluation process. Also, contact the vendors if you need to know more information about a particular criterion. 
In short, you need to understand the full scope before you pull the trigger. 
Start working
The last step is to start working on the project. Always keep a team dedicated to overlook the progress.
List of Blockchain Vendors
Now, that we have a complete understanding of vendors for blockchain, let's list the popular blockchain vendors out there. This will give you a clear idea of the options available in the market.
Amazon web services are known for their dominance in the industry. They are leading web service provider and have also started providing their service in the blockchain sector.
Their Amazon Blockchain Service surrounds round AWS Blockchain Templates while leveraging cloud platform. As a user, you can utilize Hyperledger Fabric, Ethereum to use their platform.
Their blockchain as a service solution provides an excellent opportunity for business to implement their blockchain solution. Their key benefits include faster deployment time, tools, plan choice, and pay-as-you-use. 
In short, they provide a global infrastructure to implement end-to-end blockchain platforms. Ther services are also cost-effective.
Want to learn more about Blockchain as a Service? Check out our article on Enterprise-Grade BaaS 
BigchainDB
BigchainDB is known as the blockchain database. They provide the database technology that works seamlessly with the blockchain solution. It has low latency, powerful query functionality, and high throughput. Moreover, with BigchainDB, you do not have to give up on the decentralized control. It offers immutable data storage.
BigchainDB is compatible with popular applications, platforms, and you can also use it to deploy blockchain proofs-of-concept. It can be used in diverse use-cases and industries.
They are collaborating with multiple partners, including Cognizant, Capgemini, Interledger, and others. Last but not least, they also provide hands-on production and consulting.
IBM Blockchain
IBM Blockchain is all about delivering value through their blockchain services. Their IBM Food Trust speaks volumes about their blockchain solution. 
They have mastered the supply chain through blockchain. Their blockchain service works on different use-cases and industries. With over 500+ blockchain client engagement, they are ranked number one when it comes to blockchain leadership credentials.
With IBM blockchain, partners can easily scale with high security. IBM's infrastructure helps sustain the blockchain network. They also have the technical expertise to carry forward a project.
Hewlett Packard(HP) offers their enterprise-grade blockchain deployments. They made it possible with the help of the end-to-end delivery, purpose-build architecture, and strong partners ecosystem.
Their blockchain solutions offer a cutting edge solution. They offer HPE mission-critical distributed ledger technology(DLT). In services, they offer HPE Pointnext, which includes workshop, implementation services, proof of value, and other blockchain services.
Microsoft's Azure blockchain is a famous blockchain as a service solution. 
They provide simplified development, easy deployment, and tools for accessible innovation. Many customers are using Azure blockchain, including XBOX, Insurwave, Project Ubin, and others. 
Microsoft's Azure marketplace offers access to blockchain platforms such as Hyperledger Fabric, Ethereum, and Corda. You can also check out their solutions architectures which cover a different architectural approach to wide use cases. 
Key features of the Azure blockchain include built-in consortium management, simple blockchain network operations and deployment, extensile and open design, and so on. Their pricing is also simple as they offer per-node pricing.
Oracle approach to blockchain has always been unique. They offer a blockchain platform, enabling businesses to do B2B transactions with reliability and scalability. With Oracle blockchain, you can start pre-assembled using the auto-provisioned Hyperledger Fabric components. 
Oracle works seamlessly with open-source Hyperledger Fabric which ensures easy plug-and-play integrations, automated operations, enterprise-grade setups, and much more!
The key features offered by Oracle Blockchain platform includes simple provisioning, easy partner organization addition, ability to build a complete blockchain platform and hybrid networks. You can also automate with smart contracts and conduct private transactions. Lastly, you can integrate blockchain transactions in applications with the help of REST API-driven development, plug-and-play integration, building new apps and so on!
SAP is undoubtedly at the forefront of blockchain innovation, services, and tools. 
They offer their SAP Cloud Platform Blockchain service and SAP HANA Blockchain service. Each facility offers unique value to the user. The Cloud Platform service provides easy cloud deployment, ability to use open blockchain platform, and also extend existing applications using blockchain.
SAP HANA Blockchain Service, on the other hand, enables external blockchain applications to SAP HANA, an in-memory data platform.
Applied Blockchain
Applied Blockchain is an application and blockchain development company that offers their services on smart contracts and distributed ledger technology. 
They are also listed in Gartner's top 20 blockchains consulting firm in 2017 and 2018. In their services, they provide DLT applications and product building. Their services are applicable across various industries including supply chain, legal, telecoms, medical and others. Their partners include Quorum, Parity, Hyperledger Fabric, Vodafone, and so on.
What is the success rate?
Even though we went through the blockchain vendors, there are still many skeptics that question the real-world implementation success of blockchain. One blockchain study published on TheRegister talks even talks about 0.00% success rate for distributed ledger technology. 
In fact, some vendors are not keen to contact again if asked for reports or proof regarding blockchain implementation. This is a severe concern for the blockchain vendor industry and should be solved.
However, we are sure that the blockchain vendor success rate will increase with time.
Conclusion
This leads us to the end of our vendors for blockchain article. We explored the definition of blockchain vendor, steps to choose blockchain consultancy vendor, expectations, and so on. 
The market is growing at a rapid pace, and it is the only time we will see better blockchain vendors out there. Any business who is interested in blockchain should take precautionary steps when dealing with vendors. 
So, what do you think about vendors for blockchain? Comment below and let us know.