EOS has been in the news lately. Its mainnet got released, and people are still skeptical about what to expect from them yet. At 101Blockchain.com, we understand that there will be nervous investors, skeptical analyst and an inquisitive reader just like you. That's why today, we will go through 40+ EOS dApps that we think adds value to the current dApps ecosystem that EOS has to offer.
EOS Mainnet launch has already been done on June 14th. It received mix success during the first week of launch. It also saw the launch of Infinito Wallet, which is the first official wallet to manage EOS's mainnet assets. Also, a few of EOS Airdrops also happened after the mainnet launch. It was a historic moment for blockchain community.
EOS raised a total of $4 billion in EOS Sales. That's huge when it comes to any ICO or cryptocurrency project out there. Also, they are prompt when it comes to supporting their own ecosystem. At the time of writing, they have decided to invest more than $1 billion in building the startup ecosystem on EOS. The rest $3 billion usage is yet to be announced.
Our research was done in a way to ensure that the EOS dApps fall into specific categories. Here is the complete list of EOS dApps (44 apps) as of June 2018. The list includes the most promising, I mean the TOP EOS decentralized applications. Let's list them below before we get started with the complete list of EOS dApps.
eCommerce: EOXCommerce
Education: Carmel, Everipedia, Trybe.
Exchange: EOSfinex, Chaince, OiX, Tokena
FinTech: Chintai, HorusPay, Atidium
Gaming: Azarus, Billionaire Token, DEOS Games, EOS Bet, EOS Gems, ParSEC Frontiers, Prospectors, SFEOS
HeathCare: IRYO
Identification: Scatter
Marketplace: Cards & Tokens, Emanate, HireVibes, Insights Network, Maestro, Nebula, NoMad, UNICO, Verv, Karma.
 Media: Plactal, TXT
Platform: Cybex, Irespo, Letitplay, Meet.One, OracleChain, Zimbra X
Security: Uncloack
Social Network: Ono, QOQO, Sense.
Transportation: EVA
Now, let's get started!
Want to learn blockchain technology in detail? Enroll Now in Certified Enterprise Blockchain Professional (CEBP) Course
Now that we have established a basic understanding of EOS dApps ecosystem let's get started with the list already.
dApps Category: eCommerce
1. EOXCommerce
EOX aims to build an eCommerce platform on top of EOS. It is an ecosystem that lets you spend crypt-assets online without any middleman. With EOX, the global commerce system can be built. This means that the goods and services can be traded or exchanged with the help of EOS or other cryptocurrencies.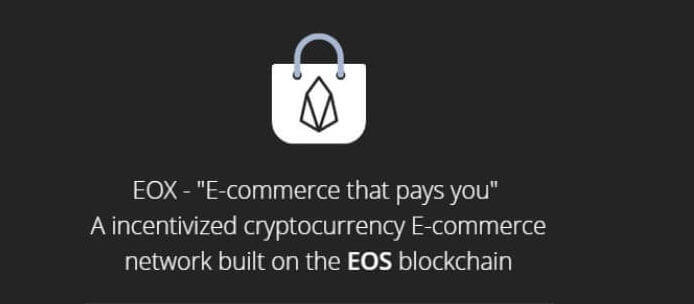 Image Source: EOX Commerce
Features
EOS can be spent on EOX network making it liquidity friendly.

A global ecosystem that builds on top of the EOS with no geographical limits.

100% transparency and how and when the transactions take place. Eliminates the possibility of frauds.

The platform has 0% fee associated with it. Sellers won't be charged for bringing their business on EOX platform.
Status: In Development
Website: eoxlab.io
Blog: None
Category: eCommerce
dApps Category: Transportation
2. EVA
You should have heard about Uber – a transport driven application that connects riders with the drivers. However, they take a huge chunk of the money for rendering their service. All this can be changed with the help of EVA. EVA is a blockchain based urban mobility platform. It is best described as "sustainable ride-sharing platform." It takes advantage of blockchain technology on EOS and gives the profit to the drivers and riders.


Image Source: EVA
Features
EVA lets the community grow with the help of decentralization

It offers the best profitability rate on the market with up to 85% of each ride.

Mobile apps will soon be available on app stores.

Drivers can set flexible schedule.

EVA is all about creating a decentralized community with benefits for the community by the community.
Status: In development. The apps will soon be available on Google Play and App Store.
Website: eva.coop
Blog: None
Category: Transportation
Start learning Blockchain with World's first Blockchain Skill Paths with quality resources tailored by industry experts Now!
dApps Category: Social Network
3. QOQO
QOQO is a decentralized question and answers platform. As of now, there is not much information about it. However, it is similar to what we have on the web, i.e., StackOverflow. Q&A websites are popular in their way as they provide a unique platform for interacting.
Keep watching this space as we update more info about QOQO once it surfaces.


Image Source: QOQO
Status: In development
Website: qoqo.io
Blog: https://medium.com/qoqoio
Category: Social Network
4. ONO
ONO is the next-generation, free-to-use decentralized social network built on top of EOS blockchain. The social networking platform is build to give power to its users. ONO lets you share and communicate real-time to the members. It also has a unique idea of Tone Partners. They are the first 300,000 people that join ONO. They will be given the ability to create the ONO ecosystem and also the tone of it. On the other hand, ONOT, the ONO's token will be used in the ecosystem as the transaction currency.


Image Source: ONO
Features
Share as you like. The platform is about sharing anywhere and anytime.

Good content will be filtered and rise for other members to see.

Do real-time chatting and engagement with other members.

The platform is entirely secure, and messages exchanged are encrypted.

The platform supports Referendum.

A great set of APIs available for connecting with 3rd party apps and services.
Status: Running, requires invitation code to use.
Website: ono.chat
Blog: https://medium.com/@ONOsocial
Category: Social Network
dApps

Category: Security
5. Uncloak
Uncloak is a cybersecurity threat management. It is also touted as the first cyber threat solution powered by blockchain. The demo is already out, and you can try out by clicking here. So, how does it work? It works by utilizing advanced artificial intelligence. By doing so, it eliminates any "Zero Hour" cyber threats. It also comes equipped with cybersecurity scanner. Uncloak is powered by true blockchain 3.0 and is an entirely automated system.


Image Source: Uncloack
Features
A completely automated cyber threat solution run on EOS.

It comes with vulnerability cybersecurity scanner.

Security experts worldwide collaborate and make the platform even better.

A clear roadmap with a release set at Q4 2018.
Status: Demo available
Website: uncloak.io
Blog: None
Category: Security
Want to learn about security in blockchains? Enroll Now Certified Blockchain Security Expert (CBSE) Course
dApps Category: Platform
6. OracleChain
OracleChain is an infrastructure on the blockchain. It focuses on providing real-world data uplink services. In short, it will help other blockchain applications to run flawlessly in high-demanding situations. The market is huge when it comes to data. The blockchain will support both cross-chain and real-world data. Moreover, it will use smart contracts to automate most of the transactions.


Image Source: OracleChain
Features
It links real-world world with the blockchain world.

It utilizes Deposit mechanism and autonomous Proof-of-Reputation

OracleChain Core acts as the bridge between EOS blockchain infrastructure and OracleChain Services.

An efficient way to connect data across the world.
Status: In development.
Website: oraclechain.io
Blog: https://medium.com/@OracleChain
Category: Platform
7. Cybex
Cybex aims to provide a testing environment on EOS blockchain. It is an EOS practitioner that developers the EOS blockchain and its applicability among the developers. Moreover, they also do community development and project incubation. By using Cybex, EOS developers can take advantage of one-stop services. Developers can access test chains anytime they want.


Image Source: Cybex
Features
CYBEX will also empower a decentralized exchange using Grephene technology.

It will also offer the world's first hardware cold wallet.

The cold wallet is secure and provides better security than hot wallets.

It provides excellent development zone for the developers. They also host global incubators so that dApps project flourish on the blockchain.

Excellent media coverage for better reach within the ecosystem.
Status: In development
Website: eos.cybex.io
Blog: https://medium.com/@eoscybex
Category: Platform
Want to know the difference between cold wallets and hot wallets? Check the detailed guide Now on Hot Wallet Vs Cold Wallet Comparison
8. Meet.One
Meet.One is an excellent project that is currently being developed for EOS blockchain. It is also known as the "Portal to EOS Ecology." So, what exactly it does? According to the white paper, they are currently in the process of developing a side-chain that will aid the development of dApps on EOS. It will make progress more manageable and also cost-effective. In short, they are trying to improve the EOS app ecology in different ways.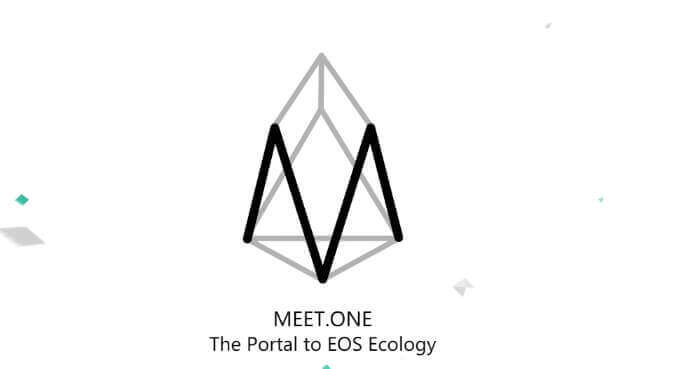 Image Source: Meet.One
Features
A great team behind the project that aims to improve EOS dApp ecosystem.

Offers service related to dApp development. They are also developing side-chain to aid development process.

They launched a lot of different EOS software which makes it easy for the developers to develop their dApp.

Also offers BP voting, EOS asset management and much more.
Status: Partial release, work still going on.
Website: meet.one
Blog: https://medium.com/@MEET.ONE
Category: Platform
9. Irespo
Irespo is a game-changer in the area of polls and surveys. By tokenizing the poll/survey market using the blockchain technology iRespo gives both organizers and participants an opportunity to earn on their activity. iRespo uses EOS blockchain platform to create an ecosystem in which users will be incentivized to take part in the voting by earning tokens, when they respond to questions during polls and surveys. Both sides – the organizer and participants – will become the owners of the results collected during the voting. A smart contract allows calculation of the amounts received by each party that is allowed to benefit from the voting participation as well as the data sharing. Their goal is to build real-world applications using blockchain technology.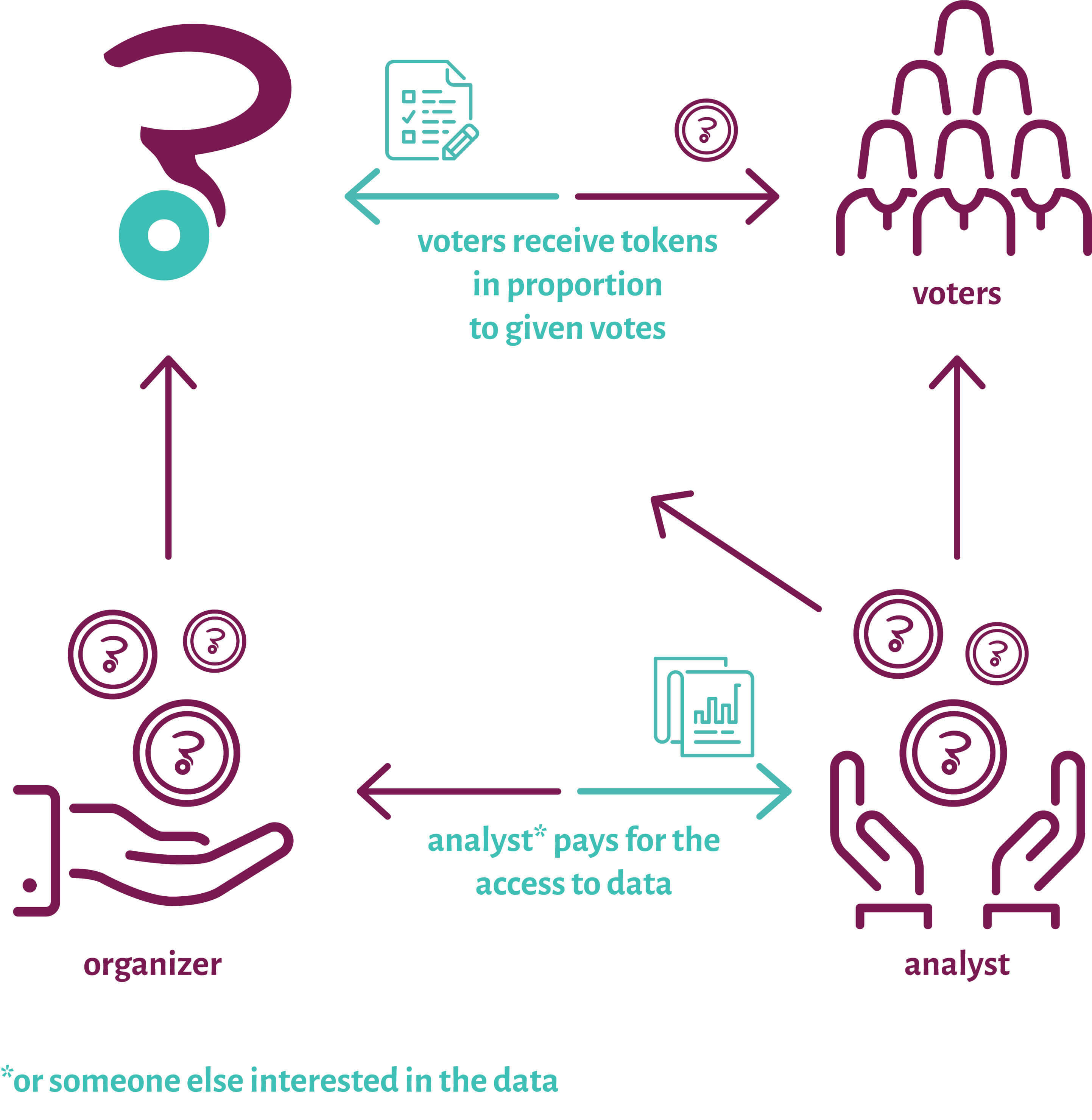 Image Credits: irespo
Features
It offers easy and fast voting solution to run polls and surveys
Real-time data can be collected and stored on the blockchain
The data can also be shared on social media in real-time
Offers intuitive voting creator interface
Scalability up to 100.000 votes per minute with room for further growth
Status: Available
Website: irespo.com
Blog: https://medium.com/@irespo
Category: Platform
Start your blockchain journey Now with the Enterprise Blockchains Fundamentals – Free Course!
10. Letitplay
Letiitplay is another amazing project that aims to use the decentralized ecosystem around attention economy. So, how does it work? Generally, we have a lot of free time in our hand that we don't utilize. It can be traveling by bus, cycling or just exercising. This free time can be used to listen to something or better ask LetitPlay do something for you. For example, you can ask it to give you a movie digest or listen to music and so on. Letitplay does it for you and also according to your preferences. However, the real fund starts when the rules of attention economy apply.
In simple words, a content gets valued according to the attention it gets. Also, the reward will be given to the valuable content.


Image Source: LetitPlay
Features
One of a kind project that revolves around attention of the user.

It runs entirely on EOS platform.

Customers attention value is different from each other and hence cannot be exploited.

It uses Play utility token to run the platform. There is another entity in the ecosystem that is PlayPower. It determines how much influence a user have in the ecosystem
Status: Working minimum viable product(MVP)
Website: letitplay.io
Blog: https://medium.com/letitplay
Category: Platform
11. Zimbra X
Zimbra X is an email collaboration application platform by Syancor that takes advantage of the EOS blockchain. It will also be the first enterprise application that happens to do so. It is not built from scratch as it is based upon the Synacor's old ZImbra email platform. It is an email-as-a-service and depends entirely on blockchain for its functionality. They are also active in the EOSIO community and developing the app to take advantage of EOS blockchain.
Zimbra X will be more reliable compared to the old Zimbra email platform. It will also come with new features. Also, it will have zero downtime and can be customized according to the different verticals.


Image Source: Zimbra X
Features
Zimbra X is optimized for flexibility and high performance.

It can be completely automated.

Application and services are entirely separated.

Comes with recovery, automated deployment, and traffic management.

Highly secure.
Status: In development
Website: info.zimbra.com
Blog: None
Category: Platform
Eos dApps Category: Media
12. Traffic Exchange Token
The next dApp that we are going to discuss is Traffic Exchange Token (TXT). It aims to solve the problem of decentralized advertising economy. By doing so, it will pay the viewer for their contribution to the network. It tries to open up the $335 B market. Also, it will solve the problem of ad blocking. Ads are intrusive, but the viewers are incentivized for their behavior, it can benefit both the advertiser as well as the viewer. It will also stop bots to ruin the network. Middlemen will also perish.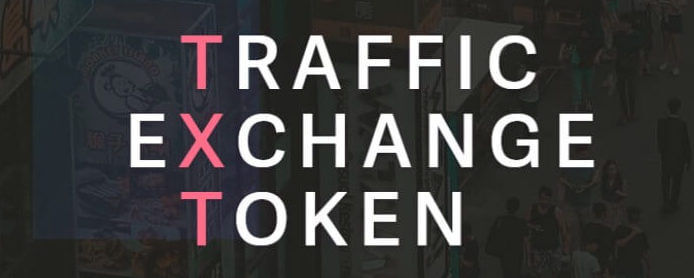 Image Source: TXT
Features
OES powers it.

The TXT token will fuel the network and enable users to send or receive TXT from each other.

There will be no mediator thanks to the use of blockchain technology.

User authenticity will be maintained with bots squashed by using the network.

Three main players of TXT will be Advertiser, Publisher, and Viewer.
Status: In development.
Website: txtnet.io
Blog: None
Category: Platform
13. Plactal
Gaming is billion dollar industry, and PLACTAL aims to change it with its idea. Plactal plays around the idea of game play data. This means that gamers who generate the data will be paid for their data. According to PLACTAL, more than 2 billion gamers smartphone record data which have value. Their idea is to create gamer's resume and use the data for creating gamer's resume and tokenizing the gameplay data. That's sound interesting. It will solve the problems that the current game companies and players have.
In simple words, PLACTAL is a decentralized mobile game advertising platform that is data-driven. It connects gamers with companies and ensures that both can prosper in the right direction. They have a PLACTAL Play app where the gamer's data is generated and updated on the blockchain.


Image Source: PLACTAL
Features
PLACTAL is completely data-driven.

Gamer's profile is created to service them better.

It is only mobile based.

PLACTAL Token(PLT) is used to fuel the network.
Status: In development
Website: plactal.io
Blog: https://medium.com/@plactal_io
Category: Platform
Want to understand blockchain terminologies? Check Now Blockchain Glossary For Beginners: A-Z Blockchain Terms!
Eos dApps Category: Marketplace
14. Emanate
Emanate is a self-governing "audio exchange" protocol. It is a platform where creativity and collaboration is center. Through this platform, artists can participate in a music ecosystem that solves the very foundation of the music industry. It gives artists the ultimate tool to take advantage of the blockchain technology. This means that artists can use smart contracts for collaboration purposes. They can also monetize their creative music without the need for a mediator.


Image Source: Emanate
Features
The platform is highly scalable.

Artists control every aspect of their work including copyright

The artists earn value when a listener listen to their audio.

Artists can collaborate through blockchain.
Status: In development
Website: emanate.live
Blog: None
Category: Marketplace
15. HireVibes
HireVibes is a decentralized autonomous community running on the EOS.IO blockchain. It is an open source platform which can be used by anyone. HireVibes Tokens acts as the currency to run the platform. So, what's unique about the platform? It gives back to the community. This means both the job seeker and the business will be able to get benefits from it. Moreover, both the entities will have the option to give back to the community by donating some portion of their rewards to environmental and humanitarian initiatives.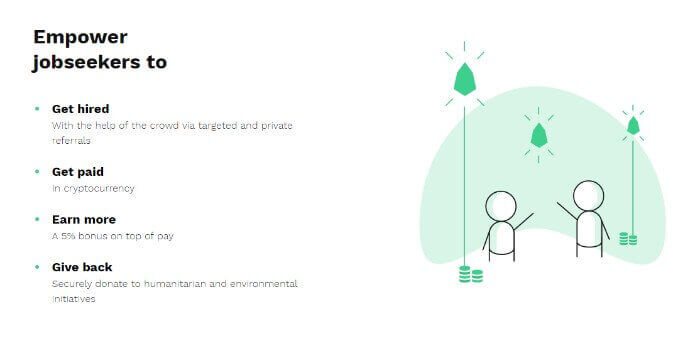 Image Source: HireVibes
Features
Earn more when you refer or apply in crypto.

Donate to different initiatives and give back to the community.

Entirely community driven with benefits for both business and job seeker

Business can reduce hiring cost using the platform.

Full transparency in the hiring process.
Status: In development
Website: hirevibes.io
Blog: https://steemit.com/@hirevibes
Category: Marketplace
16. Card & Tokens
Card & Tokens is a unique take on monetization of the digital content. Any of the digital content that a creator creates can be linked to a digital card. The digital card is customizable to the core. Once done, it will be hosted on the blockchain for others to see and use. If any user likes your content, they will have the option to make a copy of your card. This means that your digital card can level up, making it more valuable over time and giving your rewards in the form of crypto. The faster they level up, the better the profits. The platform that handles the card is known as Digital Collectible Cards.


Image Source: Cards&Tokens
Features:
Create unique, attractive cards related to your work.

Attract audience and improve your card value and get paid more.

Digital Collectible Cards platform handles all the card creation and voting system.

Monetize content in a card based system that values creation more than anything.
Status: In development
Website: cardsandtokens.com
Blog: https://steemit.com/@viterbo
Category: Marketplace
17. Insights Network
Insights Network is a trendy project based on EOSIO blockchain. It is based on data exchange and brings data under your control. This means that you can manage, secure and even monetize your data with the use of smart contracts, multiparty computation and blockchain technology. The Instar Token is used to fuel the Insights Network. The token is extremely fast and makes instant transactions. Also, there are no fees associated with it.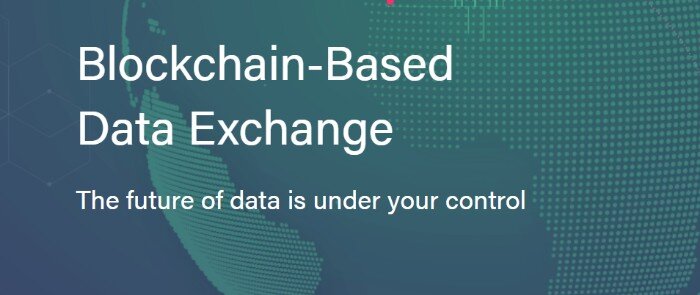 Image Source: Insights Network
Features
The protocol has many use cases including private information retrieval, custom surveys, customer feedback, and much more.

The data transferred within the network is safe and secure

Data can be validated without being revealed thanks to SMPC.
Status: In development
Website: nsights.network
Blog: https://medium.com/@InsightsNetwork
Category: Marketplace
18. Maestro
Maestro is a music-based blockchain platform. It is created for the listeners and the artists. It works by gathering investors through crowdfunding. After fans and artists successfully crowdfund a project, it is uploaded to the Ensemble dApp. Moreover, it also has a Sympony dApp where users can listen to new music. It is a music streaming dApp within the Maestro platform.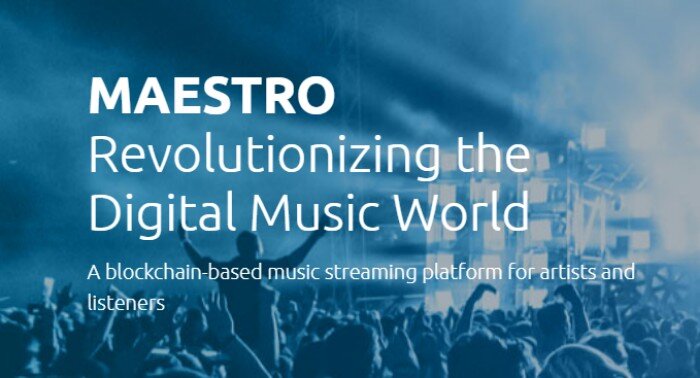 Image Source: Mastero
Features:
Maestro makes it possible for artists to crowdfund their project and bring the project to life.

The rights are also secured to artists for their creative work.

It also offers fair profits for artists.

Listeners only need to pay for the songs that they listen too.
Status: In development
Website: maestroproject.io
Blog: https://medium.com/@maestroproject
Category: Marketplace
19. Nebula
Nebula is a job platform build on EOS. It hosts professionals and job opportunities in a decentralized form. This means that it provides a decentralized proof of skills and lets job seeker a way to find new jobs using decentralized technology. Right now, the platform offers curated job opportunities, decentralized reputation system, secure payments for both parties, and spamless social network.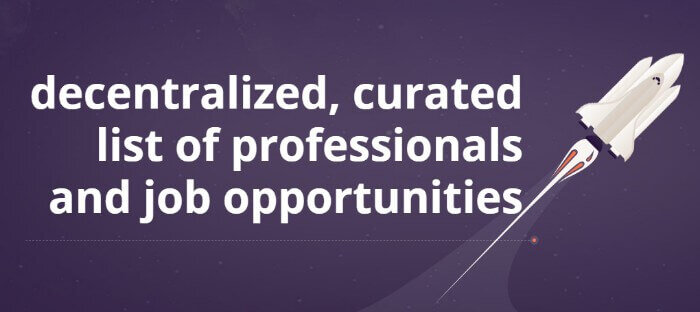 Image Source: Nebula
Features:
A decentralized platform for job seekers.

Job listing can be managed and curated with ease.

A reputation system is provided so that there is a way to improve the environment.

No spams.
Status: In development
Website: nebulaprotocol.com
Blog: None
Category: Marketplace
20. Nomad
Online hotel rooms booking has always been a struggle for many of us out there. Nomad, a blockchain platform aims to solve it. The goal of the project is to create a hotel online booking platform that eliminates the need for a middleman. This also leads to saving for both the hotel and the users booking the hotel. They are advertising themselves as the "unlimited space of your traveling."


Image Source: Nomad
Features
With the help of blockchain, Nomad offers lowest transaction cost.

Build on top of blockchain platform EOS.

Their client base is big. This means that as soon as the project launches, it will be ready to use.

Completely capable Technical and Financial infrastructure.

Honest reviews backed by blockchain transparency.

It helps in the implementation of non-staff hotel concepts powered by IoT.
Status: In development
Website: nomad.space
Blog: None
Category: Marketplace
Want to know the real-world examples of smart contracts and understand how you can use it for your business? Check the presentation Now on Examples Of Smart Contracts
21. SENSE
SENSE is a messaging platform powered by smart contracts and SENSE network running on EOS and Ethereum blockchain. The SENSE token will be used to power the platform. It is soon planned to be released for the EOS platform. There are many utilities of the platform for consumers, humans, and business.


Image Source: Sense
Features
Messaging platform builds on both EOS and Ethreum.

Consumers can tag their data as their own and also assign it to their wallet.

By doing so, they can earn by generating more data every day.

Business can access those data and contact potential humans to further improve human knowledge.
Status: In development
Website: sensetoken.com
Blog: https://medium.com/sensay
Category:  Marketplace / Social-Network
22. UNICO
UNICO aims to become a make digital collection important again. Right now, we all have plenty of access to the digital collection of anything that we like. Be it video games, music or simple images. But, they are not valued in the right way, due to overabundance. UNICO aims to solve this by adding a fixed number of tokens to the digital content and making it "digital scarce." It will turn digital content into limited-edition collectibles that are blockchain-certified.


Image Source: UNICO
Features
Digital content creators can now create their collectibles digitally.

They can also turn them into limited-edition.

All limited-edition are blockchain-certified.
Status: Available
Website: unico.global
Blog: https://steemit.com/@unico.global
Category: Marketplace
23. Verv
Verv is an excellent project that aims to be the world's first blockchain-based P2P energy trading platform. It is powered by VLX tokens which are now readily available in the market. Its integrated P2P trading system is powered by blockchain, artificial learning, and deep learning. So, what exactly it does? It enables the consumers to use sell extra renewable energy to their neighbors. The platform aims to make it easier with blockchain and ensure that transactions go as smooth as possible.


Image Source: Verv
Features
They are also going to release a proper energy trading platform. It will also have a Verv smart hub.

The smart hub will showcase real-time electric consumption in many ways.

The platform will facilitate low carbon economy.
Status: In development
Website: vlux.io
Blog: https://medium.com/@vlux
Category: Marketplace
24. Karma
Karma is a unique idea that relies on Karma. It takes advantage of the decentralized ecosystem offered by EOSIO. So, how does it work? Anyone can join the network and start helping the community. This way they can help change the world and give and earn karma in the process. Other witnesses who verify the deeds validate karma. The gamechanger here is the use of blockchain. There is a simple Karma dApp that anyone can download and use.

Features
Build the world around you with KARMA based rewards.
Completely established on EOS blockchain with proper integrity and verifiability.
Incentives beneficial interaction within the society and help it grow.
Status: In development
Website: https://www.karmaapp.io/
Blog: None
Category: Marketplace
Excited to learn the basic and advanced concepts of ethereum technology? Enroll Now in The Complete Ethereum Technology Course
Eos decentralized Applications Category: Education
25. Carmel
Carmel is a tech education-based platform build on top of EOS. They aim to provide a decentralized platform on which software developers and not only track their skill but also grow them by setting a goal. To facilitate the process, tokenized peer challenges will be made available to the learners.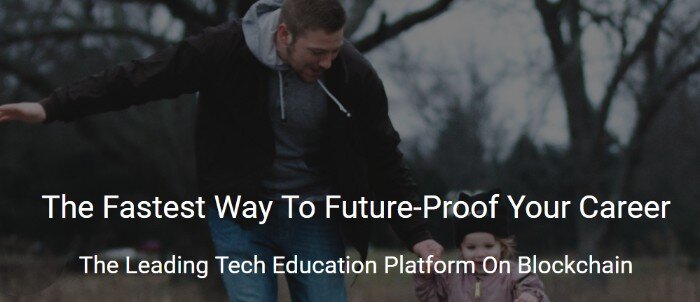 Image Source: Carmel
Features
Completely decentralized education platform.

A community-driven approach where both learners and teachers take part equally.

Carmel facilitates a hands-on learning experience

Tokenized growth tracking with an incentive to learn and grow
Status: In development
Website: https://carmel.io/
Blog: None
Category: Education
26. Everipedia
Everipedia aims to be the world's largest knowledge base. It is built for the modern age and is open source and free. It currently has 6 million articles! Now, they are moving their whole platform on EOS and take advantage of the blockchain. It is one of the biggest projects on EOS and has already garnered a lot of attention from the media and users across the globe. Tokens will also power it. These tokens will facilitate different tasks on the platform making it a great incentive for the contributors. For example, if the community approves an edit, the editor will receive some tokens.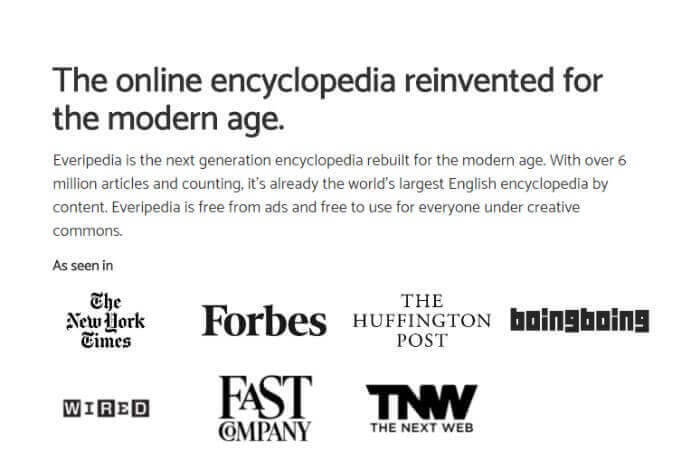 Image Source: Everipedia
Features
Gives incentives to users to add quality content and rewards them with tokens.

It also offers IQ tokens which are used for voting purposes.

A completely decentralized platform for the community.
Status: Platform available, implementation pending
Website: everipedia.org
Blog: https://everipedia.org/wiki/everipedia/
Category: Education
27. Trybe
Trybe is a knowledge sharing platform which aims to build an online network where anyone can share their knowledge and get paid. Trybe, like other decentralized education platforms, is not limited to technology. The users can share anything they want including marketing, history and so on. If a user creates high-quality work, he can have subscribers and earn at the same time.


Image Source: Trybe
Features
A completely decentralized platform on EOS.

Content creators can build their reputation and improve their chances of getting paid.

Earn rewards for participating in the growth of the platform.
Status: In development
Website: trybe.one
Blog: None
Category: Education
Want to know the best tips to navigate through the career path in blockchain easily? Check the detailed guide Now on Top 10 Tips To Start A Career In Blockchain
Eos dApps List Category: Exchange
28. EOSfinex
EOSfinex is a decentralized exchange built on top of EOSIO solution. It is currently in development by no other than Bitfenix, one of the leading crypto exchange in the world. Bitfenix announced it on Feb 2018. According to them it will a high-performance decentralized exchange. It is built to deliver an on chain demand for an exchange that facilitates trustless, transparent and fast platform.


Image Source: EOSFinex
Features
High performance and Trustless

On-chain solution built on top of EOS

Promised to handle high-volume and fast transactions.
Status: In development
Website: eosfinex.com/
Blog: https://medium.com/bitfinex/announcing-eosfinex-69eea273369f
Category: Exchange
29. Chaince
Chaince is asset trading platform. For now, it only focuses on EOS projects. Also, it calls itself a superior blockchain trading platform as a marketing drive. The exchange is already up and running, and you can access it directly through their website. It offers a good interface and the ability to do trading without losing focus. It also comes with audit module which audits project on well-established criteria and ensures that it meets standard before listing it to the exchange. Chaince is also unique when it comes to fees. It doesn't charge anything for the projects and help them grow.


Image Source: Chaince
Features
Decentralized exchange trading platform.

Improves the projects chance of success by not asking for any fees.

Currently have listed only three pairs, BTC/EOS, ETH/EOS and ETH/BTC.
Status: Available
Website: chaince.com
Blog: https://medium.com/@Chaince
Category: Exchange
30. OiX
Open Investment Exchange(OiX) is a trading platform built for the next generation. Their aim to build a platform that only lists the tokens that hold value in long-term. This means that only the tokens that have chances to go compliant will be available to be traded on the platform. The OiX platform is a self-regulated token platform. The infrastructure provided by OiX is ideal for security and tokens trading. So, this means that they will try their best to comply with the ICO according to the standards from the start. Once done, the project becomes some sort of future-proof.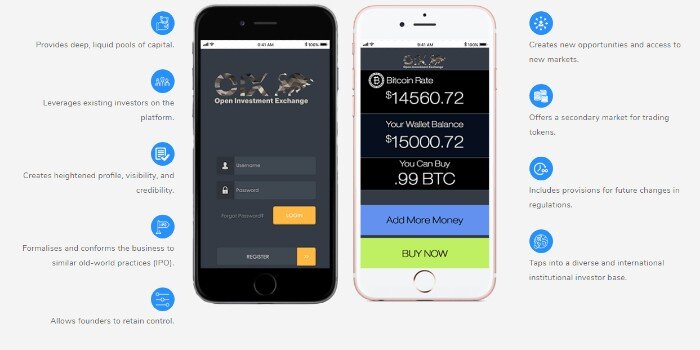 Image Source: OiX
Features
An exchange that drives ICOs to be better and complaint from the start

Users will get chance to invest in ICOs that match a certain standard and compliance.

Good capital flow.

Provides visibility, credibility and a heightened profile.
Status: Available
Website: oix.global
Blog: None
Category: Exchange
31. Tokena
Tokena is fast, secure and smart EOS based decentralized exchange. It is powered by KEN tokens that are used to reduce commissions on trade executed on the exchange. By using EOS, it enables itself to be super fast, secure, decentralized and automated. It uses smart contracts to handle everything on the platform. The trading fees are also low and set at only 0.3%. However, if a user uses KEN tokens, he will have to pay a fee of just 0.15%.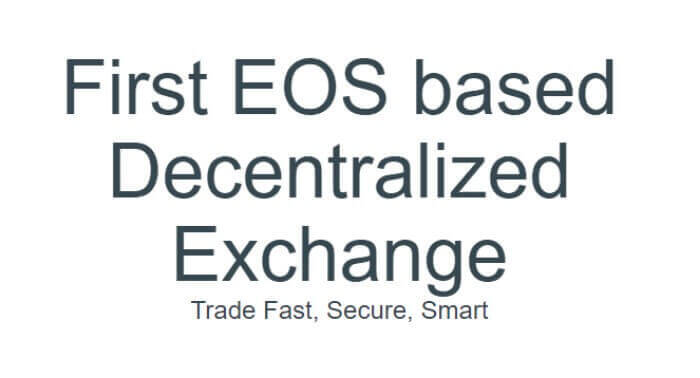 Image Source: Tokena
Features
Tokena is secure thanks to EOS smart contract

EOS is faster compared to Ethereum, and hence Tokena also benefits from it.

Withdrawals and deposits are instant.
Status: In development
Website: tokena.co
Blog: None
Category: Exchange
Get familiar with the terms related to ethereum with Ethereum Flashcards
Decentralized Apps Category: FinTech
32. Chintai
Chintai is a FinTech based blockchain platform. It is best termed as the global decentralized leasing platform. By this, dApps developers and community members can lease blockchain bandwidth through a smart contract. It will help disrupt the industry by ensuring the flow of solutions among diverse users. dApps can also be leased, and the owner will be in full-control until the lease time expires. It has benefited as it enables dApps holders to earn money by leasing them to other users on the EOS blockchain. It is powered by Chintai leasing engine which utilizes advanced algorithms for proper trading and execution.


Image Source: Chintai
Features
It offers great token leasing marketplace.

No fees on transactions among users.

High liquidity

Secure and lighting fast.
Status: In development
Website: chintai-eos.io
Blog: None
Category: FinTech
33. HorusPay
HorusPay is a yet another FinTech related blockchain application. It is a Global Payroll Portal that is decentralized and provides secure data exchange between international payroll vendor and companies. Everything is carried out using blockchain, and hence it is secure, scalable and transparent to the respected entities.


Image Source: HorusPlay
Features
Companies can bring their vendor to the blockchain and help standardize the process.
Completely secure as blockchain consensus algorithm runs it.

HorusPay eliminates mediators who can save upto 40% of the company's revenue.
Status: In development
Website: horuspay.io
Blog: None
Category: FinTech
34. Atidium
Atidium is budgets and payments management decentralized app. The app is built to leverage the current technologies such as AI and blockchain. It is curated for both businesses and individuals. By using it, you will be able to handle your budget and payments. It also sports its own cryptocurrency ATD. It is a 100% payment token. This means if you want to send payment to someone else, you can do it with a simple tap. Also, you are in control of everything including budget management.


Image Source: Atidium
Features
ATD tokens bring the necessary currency to make the blockchain work.

Smart contracts can be coded to ensure automation for many tasks.

Use ATD tokens the way you want and manage your budget in the best possible way.
Status: In development
Website: atidium.io
Blog: None
Category: FinTech
Want to become a bitcoin expert? Enroll Now in Getting Started with Bitcoin Technology Course
dApps Category: Gaming
35. Azarus
Azarus is a transparent platform that lets you use to play and bet. It is powered by tokens. The video game industry is full of opportunity, and that's why Azarus wants anyone remotely interested in having the ability to play with the help of blockchain technology. Real-money can be put at stake for playing, and everything is controlled by smart contracts. It leverages transparency and trust and ensures that everyone is treated equally. To work, it utilizes a concept of "rings." Yes. By creating rings (with platform fee), anyone can set up rules and let players play according to the rules. Payouts are given out automatically. This is extremely useful for organizers as they can organize events with full transparency. The organizer can also stream the event with a streaming fee.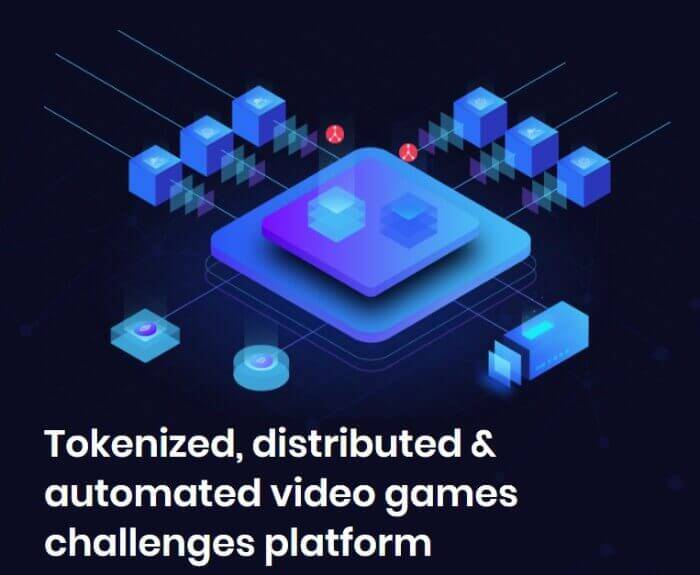 Image Source: Azarus
Features
It comes with a desktop and mobile application.

Organizers can create rings and their own set of rules. Once set, they cannot be changed.

Rings can only be created using supported games.

Player's data can be browsed using blockchain history.

Users can find challenge and then participate in them.
Status: Available
Website: azarus.io
Blog: None
Category: Gaming
36. Billionaire Token
Billionaire Token is a unique idea and takes on tokenization. Right now, you will find almost all the projects having their tokens either available through mining or staking. But, Billionaire token is opposite. Mainly, it runs around the idea of a raffle. The mechanism that it utilizes is known as a deflationary mechanism. By using it, it burns XBL tokens(tokens associated with Billionaire Token Platform) through decentralized Burner Smart Contracts and decentralized Raffle. This improves the intrinsic value of the token and ensures that the number of tokens diminishes over time.


Image Source: BillionaireToken
Features
The coin is currently listed on major exchanges

Wallets are also supported.

You can set up your wallet to automate the raffle.

They are currently in the process of migrating from Ethereum blockchain to EOS blockchain.
Status: Available
Website: billionairetoken.com
Blog: None
Category: Gaming
37. DEOS Games
DEOS games is a blockchain platform build around games. It hosts decentralized games on its network and utilizes the power of blockchain to make them even better. Currently, it is scheduled to have 21 games soon including Blackjack, Lotto, Roulette, and much more. It also lets gamers to vote for the next game that should join the EOS network. So, what exactly it brings to the games? First of all, there are no fees associated with it. Normally, it will cost 5% for traditional games and 1% in Bitcoin games. It is completely eradicated from the system. Also, it offers the fairest way of playing games with transparency and integrity of data.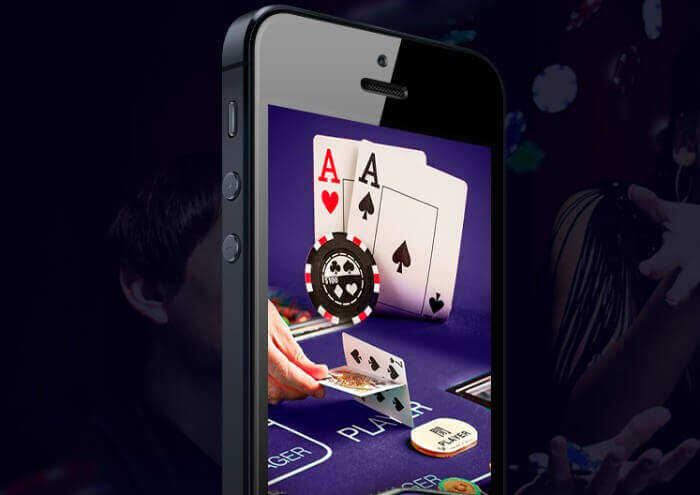 Image Source: DEOSGames
Features
Gamers can instant cashout their winning.

Crypto can be used to play your games.

Banking Staking is available with DEOS games.
Status: In development
Website: deosgames.com
Blog: None
Category: Gaming
38. EOSBet
EOSBet is all about gambling on the blockchain. It is built on top of EOS blockchain. Initially, they started with Ethereum, but due to lack of future growth, they moved to EOS. EOSBet is the future of decentralized gambling. To ensure that full transparency, trust and integrity are maintained, everything is handled using smart contracts. And that what makes it trustless, decentralized platform capable of scaling and handling millions of users.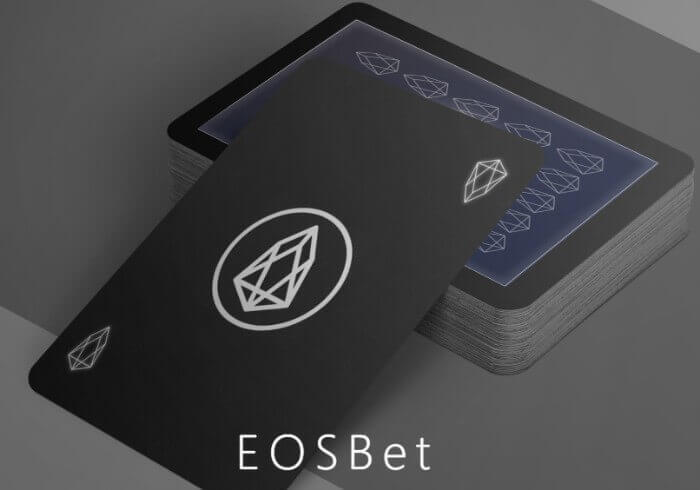 Image Source: EOSBet
Features
Betting can be done instant.

The lowest house edge is set at only 0.5%

Bettors get free EOSBET tokens.

There are more than 5000x multiplier jackpot. It also offers bankroll.
Status: In development
Website: https://www.eosbet.io/
Blog: None
Category: Gaming
39. EOS Gems
EOS Gems lets you collect games on EOS blockchain. It works around the idea of collecting gems. It is an EOS-based dApps that let you just that. You can trade, collect or even fuse gems. The game is inspired by another similar kind of games such as Cryptokitties. Players will be in full control of what they can do with their gems.


Image Source: EOSGems
Features
Uses three.js JavaScript library to render beautiful gems directly into the browser.

Collect, play and combine gems to make powerful and unique ones.
Status: In development
Website: eosgems.io
Blog: None
Category: Gaming
40. ParSEC Frontiers
ParSEC Frontiers is an MMO experience built on the blockchain. It is a feature-rich and deep MMO with the ability to conquer and explore the galaxy. The game is built by players and is for players. A market is also provided for easy access to items and spaceships!


Image Source: ParsecFrontiers
Features:
Play an MMO game fully on a blockchain.

A completely player-driven economy in which players can build starships, defense and do other activities such as trade resource and so on.
Status: In development
Website: parsecfrontiers.com
Blog: https://medium.com/parsec-frontiers
Category: Gaming
41. Prospectors
Prospectors is a real-time economic strategy game. It is played on a massive scale and hence also falls under the category of Massive Multiplayer Online. In short, we can say the game falls under MMORTES. The games run on EOS blockchain and utilize its features in powering the game.


Image Source: Prospectors
Features
Decentralized world – a new way to explore an MMO game.

Rewards are given in both crypto and real cash

The market economy is free and controlled by demand and supply

It offers Own Crypto Gold(PGL) token as the game's main currency.
Status: In development
Website: prospectors.io
Blog: https://medium.com/@prospectorsgame
Category: Gaming
42. SFEOS
SFEOS is a free to play turn-based science fiction MMO. It is built on EOS platform and offers high immersion for the players. Due to some limitation, it is not high graphics. The main feature is its economy and how players can control them in their favor. It follows old BBS game traditions. A player starts with a spaceship and then move out to explore different worlds across the galaxy.


Image Source: SEFOS
Features
The game offers "Player Founded" concept. It means that players can add features and become the founder of the game entities themselves. It will help improve the IP in future.

Gameplay is unique, and you can play in your way. You can focus on economics or battle. It is up to you.
Status: In development
Website: sfeos.io
Blog: https://steemit.com/@sfeos
Category: Gaming
Want to learn the fundamentals of tokenization? Enroll Now in Tokenization Fundamentals Course
Category: HealthCare
43. IRYO
IRYO is a healthcare based blockchain application. It is redefining global healthcare with a focus on improving health data access across the globe. It works on public blockchain and hence the patient's data can be accessed from anywhere. This makes treatment from any location reliable. It also means that patients don't have to carry their documents with themselves.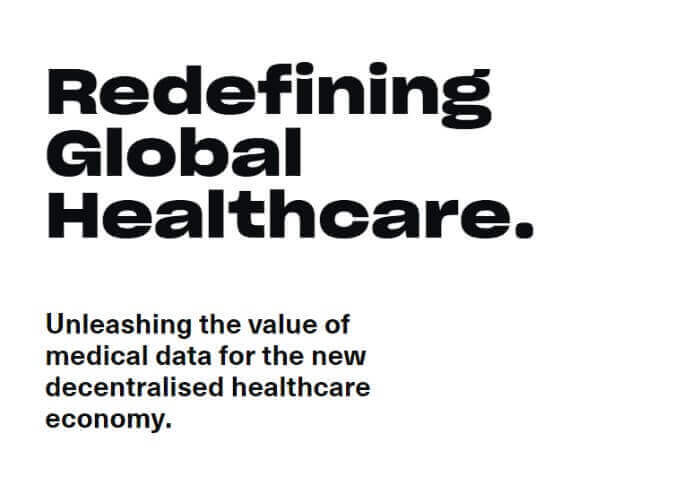 Image Source: IRYO
Features
Iryo Tokens offers a unique economic model to run on the blockchain. It facilitates the data flow and incentivize doctors and patients for positive action.

Medical apps can be built on top of IRYO to bring the best out of the current medical facilities and blockchain.

Iryo Clinics are also created to make the idea move forward.
Status: In development
Website: iryo.io
Blog: https://medium.com/iryo-network
Category: Gaming
Category: Identification
44. Scatter
Scatter is an EOS web extension that lets you sign transactions on the go. This means you don't expose your information or the private keys for signing your message. The application acts as a black box. For example, when you have to buy an item from a shopping an eShop that use crypto, you don't have to enter anything. It will be completed by Scatter, from end to finish. It also protects you from fraud websites that try to steal your private key.


Image Source: Scatter
Features
All information is hidden and secured using EOS blockchain.

Confidential data is encrypted and safe.

By using Scatter, user-experience is improved to a new level.

A simple web extension and can be used by anyone.
Status: Available
Website: get-scatter.com
Blog: None
Category: Identification
Also, read Top 5 EOS dApps to follow in 2018, here.
Credits:
Join our annual/monthly membership program and get unlimited access to 25+ professional courses and 55+ on-demand webinars.
---
*Disclaimer: The article should not be taken as, and is not intended to provide any investment advice. Claims made in this article do not constitute investment advice and should not be taken as such. 101 Blockchains shall not be responsible for any loss sustained by any person who relies on this article. Do your own research!