Do you want to know who is behind Hyperledger or who invented hyperledger? If you do, then you have come to the right place.
Hyperledger is always known to be one of the best open-source collaborative blockchain projects. It is combining efforts to improve blockchain technology. Also, it is managed and hosted by none other than The Linux Foundation.
So who invented Hyperledger? Is Brain Behlendorf, the person behind the creation of Hyperledger? In this article, we will learn about the foundation of Hyperledger, the role of Brian Behlendorf and how he helped shape the future of Hyperledger.
But, before we do, let's take a brief look at the Hyperledger project itself.
Enroll Now: Getting Started with Hyperledger Fabric Course
An Introduction to Hyperledger
Hyperledger is an open-source collaboration across industries to improve blockchain technology. The Linux Foundation hosts it. You can see Hyperledger as an umbrella project which gives developers a set of tools, guidelines, and framework to build an enterprise-ready open-source blockchain. These tools, frameworks, and guidelines are applicable across industries.
Read more about Hyperledger 2.0 here: Hyperledger Fabric 2.0 Next Generation Blockchain.
Also, if you new to Hyperledger, then check out the beginner's tutorial: Hyperledger Tutorial: The Ultimate Guide.
Hyperledger goals include the following
Support business transactions using enterprise-ready, open-source DLT codebases and frameworks

Provide technical communities a way to develop blockchain

Educate the public about the blockchain technology market opportunity

Offer a toolkit approach using frameworks and platform to promote communities

Offer neutral, community-driven and open infrastructure by business and technical governance.
If you are well-versed in Ethereum, then you can check out our comparison articles to get a better idea.
Who founded Hyperledger?
It is very common for people to think that Brian Behlendorf, a blockchain visionary, is the one who created Hyperledger. After all, he is the executive director for Hyperledger. However, Hyperledger is more than just an invention of one man's vision. This should partially answer your query of "who invented Hyperledger," but there is more to it below. Let's explore
Hyperledger was first launched in 2016. The project, which was managed by Linux Foundation, has 30 founding members. Their aim is to improve and advance blockchain technology and make it more accessible to everyone out there.
More technically, we can see this as a distributed ledger effort that aims to establish an Open Technical Governance Structure. With this, they are bound to get more code contribution proposals from different contributors.
The 30 founding members included the following:
Hitachi

Guardtime

The Depository Trust & Clearing Corporation (DTCC)

Intel

Symbiont

State Street

IntellectEU

Credits

BNY Mellon

ANZ Bank

SWIFT

R3

Calastone

J.P. Morgan

CLS

CME Group

Accenture

ConsenSys

Red Hat

Cisco

ABN AMRO

Deutsche Börse Group

IBM

Digital Asset Holdings

Wells Fargo

VMware

NTT DATA

Blockchain

NEC

Fujitsu Limited
You can see that many big organizations and companies are placing their bets on the Hyperledger. Many companies and organizations started to provide their proposals to improve technology. These companies include the likes of IBM, Ripple, Digital Asset, and Blockstream.
Right now, it has more than 100 member companies who are investing their effort in creating a global blockchain revolution and improving business processes efficiency and performance.
This should answer your question, "who created Hyperledger."
Technical Steering Committee(TSC)
The reviewing committee for all the technical contributions in Hyperledger its Technical Steering Committee(TSC). They are composed of industry-leading experts capable of doing a transparent discussion and process for perfect decision-making.
The core role of TSC is to oversee the following:
Manage the project's technical direction

Oversee the working groups

Manage code base multiple contributions
The approach is to utilize the open-source approach to build a unified codebase.
From where the Hyperledger name came from?
Digital Asset donates the Hyperledger trademark to use it to improve blockchain technology. They donated the trademark to The Linux Foundation. The name will be used by the Hyperledger Project Governing Board exclusively and would require Linux Foundation approval.
Who owns Hyperledger?
The above should clear your understanding of Hyperledger. However, all of these can be confusing if you want a single answer to who owns Hyperledger. But, one thing is for sure that Hyperledger is an open-source collaborative initiative managed by The Linux Foundation. And I think this is the best time to learn more about The Linux Foundation.
Learning about Linux Foundation
Linux Foundation organization aims to provide the world's top companies and developers to build ecosystems that can help accelerate commercial adoption and technology development. They aim to provide a solution to the hardest technological challenges through open-source communities.
It was founded in 2000, and from there, they have constantly improved the state of open source technological projects to reach their true potential.
Few of the amazing technologies they are working on include the following
Hyperledger

AGL platform

Revolutionizing networks

Linux
Some statistics about Linux foundation is as below:
16B USD development cost(estimated) on all Linux Foundation hosted projects

Thirty-five thousand technologies attend annual events hosted by Linux Foundations.

1 million open source professionals taking advantage of their free courses
They also provide training courses free of cost to different developers. Their catalog has training courses on diverse technologies, including cutting-edge technologies such as Blockchain. However, not all courses are free. There are free-courses which you can take and then choose to get a certification with a paid amount. Other courses are paid to get started with, which means that you have to pay upfront to get access to the course material.
Check out the official site of the Linux Foundation here.
Who founded Hyperledger Fabric?
Now that we have answered, who invented hyperledger, let's try to answer who invented Hyperldger Fabric. Hyperledger is an umbrella project and hence consists of multiple projects that fall under it. One of those projects is Hyperledger Fabric.
We have also covered it in detail: Hyperledger Fabric Tutorial: Getting Started Guide
Hyperledger Fabric is all about modular blockchain architecture so that companies can plug-and-play features that they require. The modular approach is a welcome design for diverse industries and use-cases. It also solves privacy and performance scaling.
The same is true for other projects of Hyperledger. They all fall under Hyperledger. A proposal is created by the Hyperledger members and then sent to the TSC for approval. If it gets approved, then the project enters the incubation state where it is constantly improved upon. If the project is now in state of release, then the project status is now changed to active. The last state of a project is decrepitated or inactive state when it is discontinued and no one works on it.
There are other Hyperledger projects. Learn about it here: Hyperledger Project: 15 Projects You Should Know About
Proposals/Sponsors
The closest thing we can say to invented is the people who submitted the proposal. So, let's go through all the projects within the Hyperledger Umbrella.
Casey Kuhlman, Monax

Benjamin Bollen, Monax

Silas Davis, Monax

Dan Middleton, Intel
Hyperledger Fabric
Christopher Ferris, IBM

Tamas Blummer, DAH
Phil Windley, Sovrin Foundation

Steve Fulling, Sovrin Foundation

Jason Law, Evernym

Nathan George, Everynm
Hyperledger IROHA
Makoto Takemiya

Toshiya Cho

Takahiro Inaba

Mark Smargon
Mic Bowman, Intel Corporation

Richard Gendal Brown, R3cev
Hyperledger Aries
Hyperledger Quilt
Hyperledger Transact
Hyperledger Ursa
Hard Montgomery

Dave Huseby

Jan Carmenisch
And others
Hyperledger Caliper
Victor HU, Huawei

Haojun ZHOU, Huawei
Hyperledger Explorer
Dan Middleton, Intel

Christopher Ferris, IBM

Pardha Vishumolakala, DTCC
Who is Brian Behlendorf?
We talked a lot of things about Hyperledger and its background. But, we didn't discuss the blockchain visionary. He neither owns Hyperledger nor created it, but he plays a crucial role in its success.
He is currently the executive director of Hyperledger. He was known for his Apache HTTP server work and was the founding Apache Group member. He is also a leading open-source software movement figure. His past work also included serving on Mozilla Foundation.
Brian Behlendorf is known for his work and decision-making. After being appointed as the executive director, he quickly used his experience and skills to determine the community strategy. Just after a few months, he also released his vision of Hyperledger and how it will act as a "business blockchain umbrella."
He started his career in 1193 where he started working as an "Online Sherpa" at Wired Ventures, Ltd. for a period of 1 year. His next job was at HotWired. For the next five years, he worked as a CTO for Organic Online and as a co-founder. After that, he gained good attention from the industry leaders and became an Advisory Board Member of Critical Path in 1996. In the same period, he was also appointed as the Director for Apache Software Foundation. This was the time when his work towards the open-source community was being praised. In the next decade, he worked in notable organizations including CTO and Senior advisor for World Economic Forum from 2011 to 2013. Right now, he manages three positions including Member of the Board of Directors at Mozilla Foundation, Member of the Board of Directors at the Electronic Frontier Foundation and finally the Executive Director of Hyperledger.
Linkedin: https://www.linkedin.com/in/brianbehlendorf/
His first project online music resource and electronic mailing list — SFRaves. His other achievements include getting named in the top 100 innovators in the MIT Technology Review TR100.
He is also a published author and wrote, "Open Sources: Voices from the Open Source Revolution."
You can check his site to know more about him.
In this post, he went forward and discussed his decisions. One of the major points that he focused on is the concept of "umbrella." In this post, he also shared a key philosophy for Hyperledger. He also discussed the model and his next steps.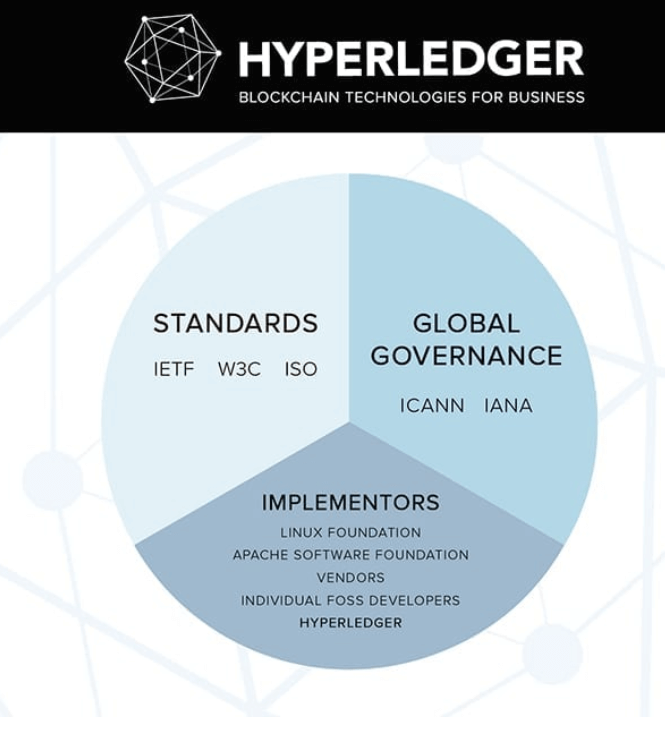 Source: Hyperledger Blog
Conclusion
This leads us to the end of our article, "Who invented Hyperldger". We went through quite a lot of stuff about Hyperledger and tried to understand its origin. We also learned about Brian Behlendorf's role in the success of Hyperledger. It is growing nicely in the past couple of years with tons of new projects being announced under the Hyperledger umbrella. So, what do you think about Hyperledger? We hope you got your answer to "Who Invented Hyperledger". Comment below and let us know.