The current trends in the domain of blockchain and cryptocurrencies have brought not only forward new technological advancements but also completely massive transformations in the experiences of digital technology. Cryptocurrencies, for example, have changed the conventional views on financial transactions and exchanging money in return for products and services. At the same time, dApps have changed the approaches to using traditional applications, albeit with prominent value advantages for users. 
If you want to use these solutions, you must know how to set up Metamask wallet and use its features. How is the Metamask wallet useful for accessing blockchain and crypto applications? A crypto wallet is an essential tool for accessing cryptocurrencies and the ecosystem of decentralized applications. However, you must be familiar with the best practices for setting up a Metamask wallet with detailed knowledge regarding its basics. 
The following post helps you find answers to "How to set up a Metamask wallet?" in the form of simple steps. You can learn about the specific highlights which separate Metamask from the crowd, thereby validating the reasons for using Metamask. Most important of all, the post also reflects on the use of the wallet for accessing NFTs, cryptocurrencies, or decentralized applications. 
Want to be a certified professional in blockchain technology? Enroll Now in the Certified Enterprise Blockchain Professional (CEBP) Certification Course.
What is Metamask?
Metamask is one of the earliest examples of crypto wallets. It was developed in 2016 by Consensys and is presently the most-used crypto wallet worldwide. Metamask enjoys the trust of almost 30 million active monthly users, thereby indicating its popularity. New and existing crypto users search for Metamask wallet setup best practices to establish the first point of interaction with the crypto or NFT ecosystem. 
Metamask is a free crypto wallet you can access through a browser extension or mobile app, which helps you in interactions with the Ethereum blockchain. The wallet is more or less similar in functionality to a real-world wallet you use for storing money. Crypto wallets are software wallets that help in buying, selling, and trading digital assets, such as cryptocurrencies and NFTs. 
The popularity of Metamask has increased by almost 38 times since 2020. What could be the potential reason behind the staggering rise in the adoption of Metamask? Users can install Metamask wallet as a browser extension in Google Chrome, Brave, Edge, or Mozilla Firefox browser on their devices. The flexible process for creating a Metamask wallet serves as a formidable reason to select it for accessing cryptocurrencies and NFTs. 
Want to learn about the Ethereum Technology? Enroll now in The Complete Ethereum Technology course.
Working of Metamask 
The most important aspect of a guide to creating a Metamask wallet would draw the limelight on how it works. As a matter of fact, the working of Metamask can help you find the specific details for validating the choice of Metamask as your crypto wallet. Metamask wallet works by using smart contracts operational on a specific node, referred to as Infura, which helps Metamask with plugging into the network. 
You can use Metamask for storing crypto or purchasing and selling ETH, the native token of the Ethereum blockchain. In addition, it offers support for storing Ethereum-compatible tokens, following the ERC-20 and ERC-721 standards. Users could also achieve peer-to-peer token swaps, without any intermediary, directly in the wallet. 
Another important highlight in the working of Metamask refers to its interoperability. Users are interested in the methods for Metamask wallet setup for capitalizing on its features for interacting with different dApps on multiple EVM-compatible chains. As a result, you would never experience any issues in connecting Metamask wallet to the BNB Smart Chain and the massive dApps ecosystem. 
Learn how to build smart contracts with Solidity? Enroll in our Solidity Fundamentals Course Now!
Methods for Setting up Metamask Wallet
Any guide to setting up a Metamask wallet could be challenging for beginners in the domain of blockchain and crypto. However, you can set up Metamask wallet with a few simple steps, making the process straightforward and easy to understand. Here are some of the important steps you need to follow to create and set up your own Metamask crypto wallet.
Step 1: Downloading and Installing Metamask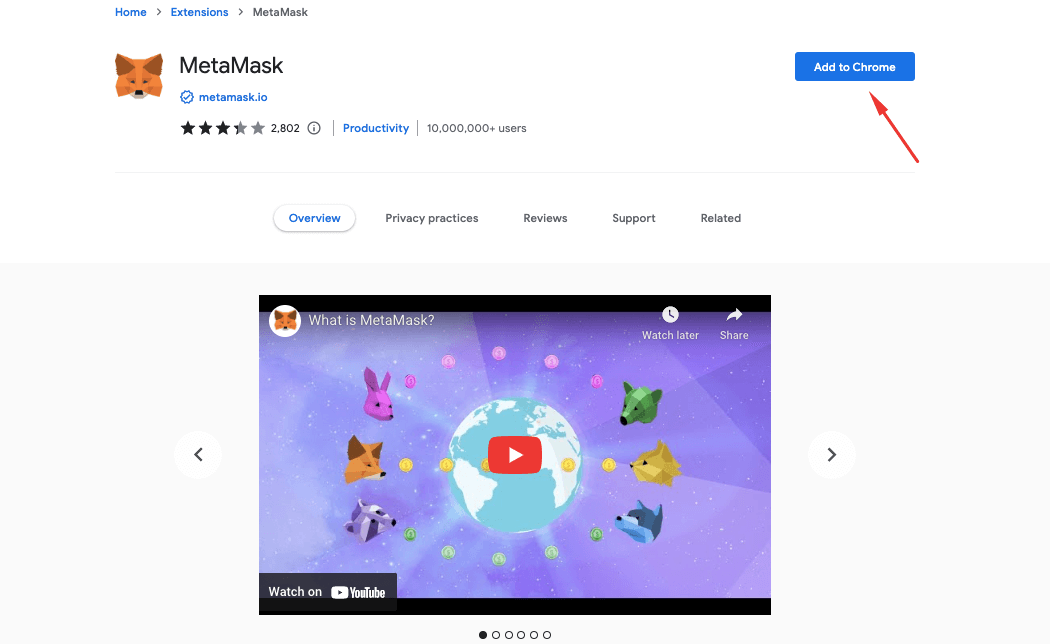 The first step in setting up the Metamask wallet is to visit the official website of Metamask. It can help you identify the essential instructions for downloading the wallet. In addition, you can also find a list of browsers that are compatible with the Metamask extension. As of now, you can create Metamask wallet on desktops and laptops through Chrome, Firefox, Microsoft Edge, and Brave browsers or through Android and iOS apps. Experts suggest that the best approach to start using Metamask would be to set it up on their PC or laptop. 
Why should you set up Metamask on a PC or laptop when you can use it on mobile? You can encounter some difficulties in accessing or storing NFTs on a mobile interface, as many projects do not support the same. Once you complete the download and installation process for the Metamask browser extension, you can move to the next step. 
Want to become a Cryptocurrency expert? Enroll Now in Cryptocurrency Fundamentals Course
Step 2: Creating Your Account
The integral highlight of all answers to "How to set up a Metamask wallet?" would refer to creating your account. You will find the first selection screen of the Metamask wallet after downloading and installing the browser extension. Interestingly, the selection screen offers two choices based on how you want to set up your Metamask wallet. The two options include, 
Create a Wallet
Import Wallet
Both of these options are targeted to distinct user types, i.e., beginners and existing crypto wallet users. You can choose the "Create a Wallet" option if you are setting up a crypto wallet for the first time. On the other hand, existing crypto wallet users could use the "Import Wallet" option for transitioning to the Metamask wallet. Let us take a look at what you must go through with these two options in creating your Metamask account. 
Create your Wallet for the First Time
After you download and install Metamask wallet, it is important to select the "Create a Wallet" option. Beginners could use the simple installation and setup procedure of Metamask wallet to their advantage for accessing crypto and NFT assets. Once you select the choice for creating a new wallet, the application will prompt a request for collecting usage data. You can either agree or decline the prompt by Metamask or opt out later through the settings in Metamask wallet. 
In the next step, the setup procedure would ask you to come up with a Metamask wallet login password. The login password is an important requirement for signing into your crypto wallet account through a browser extension or a mobile app. Remember that the login password is not the private key or seed phrase for your Metamask wallet. However, you must pay adequate attention to secure storage of the Metamask login password. 
The immediate step after choosing a password would focus on your secret recovery phrase or seed phrase. Metamask would randomly generate a string of words that could help in recovering access to your wallet and crypto assets on any platform. You must confirm the seed phrase by entering it into the required section on the app. Users are redirected to the main page of the Metamask wallet after confirming the seed phrase. 
While you create Metamask wallet, you must be careful about the security of your seed phrase. For example, you could write down the seed phrase on a piece of paper or a notepad and store it in a secure location. Users can also opt for a password manager to help them in the encryption of the password and seed phrase for the wallet. The security of your seed phrase is critical, as most of the NFT scams in 2021 have been attributed to compromises in seed phrases. 
Importing an Existing Wallet
If you have been using another crypto wallet, then you can import your assets to your Metamask wallet. In such cases, you can set up Metamask wallet with minimal difficulties owing to your prior knowledge of crypto wallets. All you need to do is choose the "Import Wallet" option in the first selection screen you find after installation. 
Clicking on the "Import Wallet" option would open up prompt asking users to enter the private key or seed phrase of their wallet. Users could also upload a snapshot of their wallet info in the form of a JSON file. Make sure that you have one of these inputs ready for the import process, and you can import your existing wallet to Metamask effortlessly. 
Interested in NFT and want to Become a Certified NFT Expert? Enroll in Certified NFT Professional (CNFTP) Certification Course Now!
Step 3: Configuration of Metamask Wallet Settings
The explanations on "How to set up a Metamask wallet?" would also draw your attention towards exploring and configuring the settings of the new wallet. You should understand the settings of the Metamask wallet carefully as a beginner, as it can help you navigate the wallet without any issues. Users can click on the account photo on the top right section of the page near the Ethereum Mainnet to access the general settings of Metamask. You can define the account name alongside the contact list and notification settings with the general settings page. 
Users can identify the unique Ethereum address of their wallet in the "Account 1" identifier section. The Ethereum address of your Metamask wallet is a random string of characters, just like a bank account number. You can use the address to interact with the Ethereum blockchain and associated applications. All the Ethereum addresses are public and can be searched through Ethereum block explorers. 
However, the visibility of the ETH address does not allow control to any random user. Only you can access the wallet and manage your assets on Metamask wallet by using your Metamask wallet login password and seed phrase. On top of it, you must also ensure that your wallet has been configured in your preferred language. At the same time, users must also verify that the settings have been tuned to their preferred currency conversions.
Want to have a deeper knowledge of Ethereum? Enroll now in our Ethereum Development Fundamentals Course.
Step 4: Funding Your Wallet
The process for setting up your Metamask wallet might seem complete with the access credentials and user settings in place. However, the Metamask wallet setup process would also focus on the addition of funds to the wallet. How do you expect to use the wallet with the funds required for interacting with dApps, NFTs, and cryptocurrencies? 
Just like you need money in your wallet for accessing products and services of your choice in the real world, you need funds in your Metamask crypto wallet for accessing the crypto ecosystem. You can use a crypto exchange or the default payment interface of Metamask, Wyre, to add tokens to your Metamask wallet. Users have to select the "Add Token" button on the main wallet page and add the token they want to import. 
Experienced users could import tokens directly from an exchange by copying their wallet ETH address and using the address in the 'send' feature of their selected exchange. On the other hand, you can also opt for Wyre as a viable choice for purchasing ETH for your Metamask wallet. Wyre can help in receiving the funds directly in the wallet for storing, trading, or swapping for a different token. Users can access Wyre through the main wallet page of Metamask and enter the desired amount alongside the billing details. 
Remember that Wyre accepts debit card payments only, and you cannot use credit cards. At the same time, you must also note that the exchange rate of Wyre could be different from other exchanges. Why? Metamask charges a service fee in return for the default payment service, and you can find a detailed estimate of the fees for Wyre through the Metamask website.
Want to get an in-depth understanding of crypto fundamentals, trading and investing strategies? Become a member and get free access to Crypto Fundamentals, Trading And Investing Course.
Final Words 
The final overview regarding the guide on how to set up a Metamask wallet suggests that the best practices could make your job easier. Beginners are turning towards Metamask as their favorite choice of crypto wallet. It is an ideal choice for establishing their first point of contact with the ecosystem of cryptocurrencies, NFTs, and decentralized applications. 
However, you must be careful of certain essential aspects, such as your login password and seed phrase for the wallet. On top of it, you must also invest time and effort in research regarding the applications of the Metamask wallet. Learn more about the significance of crypto wallets and other popular alternatives available in the market now.       
*Disclaimer: The article should not be taken as, and is not intended to provide any investment advice. Claims made in this article do not constitute investment advice and should not be taken as such. 101 Blockchains shall not be responsible for any loss sustained by any person who relies on this article. Do your own research!