Distributed ledger technology is one of the biggest topics in the world of tech right now. The need for learning about different distributed ledger technology use cases is gradually becoming evident with each day. At the same time, many people have been confusing blockchain with distributed ledger technology. Yes, blockchain is one of the top distributed ledger technology examples and not the technology itself. 
Many people use blockchain and distributed ledger technology interchangeably. However, it is important to note that distributed ledger technology has the potential to introduce many beneficial use cases like the blockchain. The following discussion helps you learn about the top use cases of distributed ledger technology with some examples. 
Build your identity as a certified blockchain expert with 101 Blockchains' Blockchain Certifications designed to provide enhanced career prospects.
What is Distributed Ledger Technology?
The overview of distributed ledger technology uses sheds light on the effective use cases of blockchain. On the other hand, it is important to understand that blockchain and distributed ledger technology are different than each other. At this point in time, distributed ledger technology is basically a distributed database featuring multiple records with the facility of node validation. The database of records in distributed ledger technology demands node validation for introducing modifications in the ledger. However, a blockchain would differ from distributed ledger technology in terms of architecture followed for transactions. 
How is DLT Different from Blockchain?
A clear overview of the differences between blockchain and distributed ledger technologies can help in identifying blockchain and distributed ledger technology use cases from each other. The first highlight of blockchain implementations refers to the bundling of different validated transactions into blocks with timestamps and cryptographic hashing. Just like any other distributed ledger technology, blockchain features an immutable ledger. 
On the other hand, blockchain is different from a DLT in the element of global availability to all network participants. In the case of a DLT, the transactions on the ledger are available only to the parties included in the DLT. You can also notice the difference between cryptocurrencies in the blockchain network as an instrument for facilitating financial exchanges. On the other hand, a DLT could only serve as a distributed system of record or (SoR).
Want to become a Cryptocurrency expert? Enroll Now in Cryptocurrency Fundamentals Course
Components of DLT
The difference between blockchain and DLT shows how blockchain is one of the most notable DLT examples with many practical use cases. At the same time, it is important to know-how distributed ledger technology works. The best way to learn about the working of distributed ledger technologies would refer to an overview of the components in a distributed ledger technology application. Here are the important components in the design of distributed ledger technologies, along with their role in working with DLT.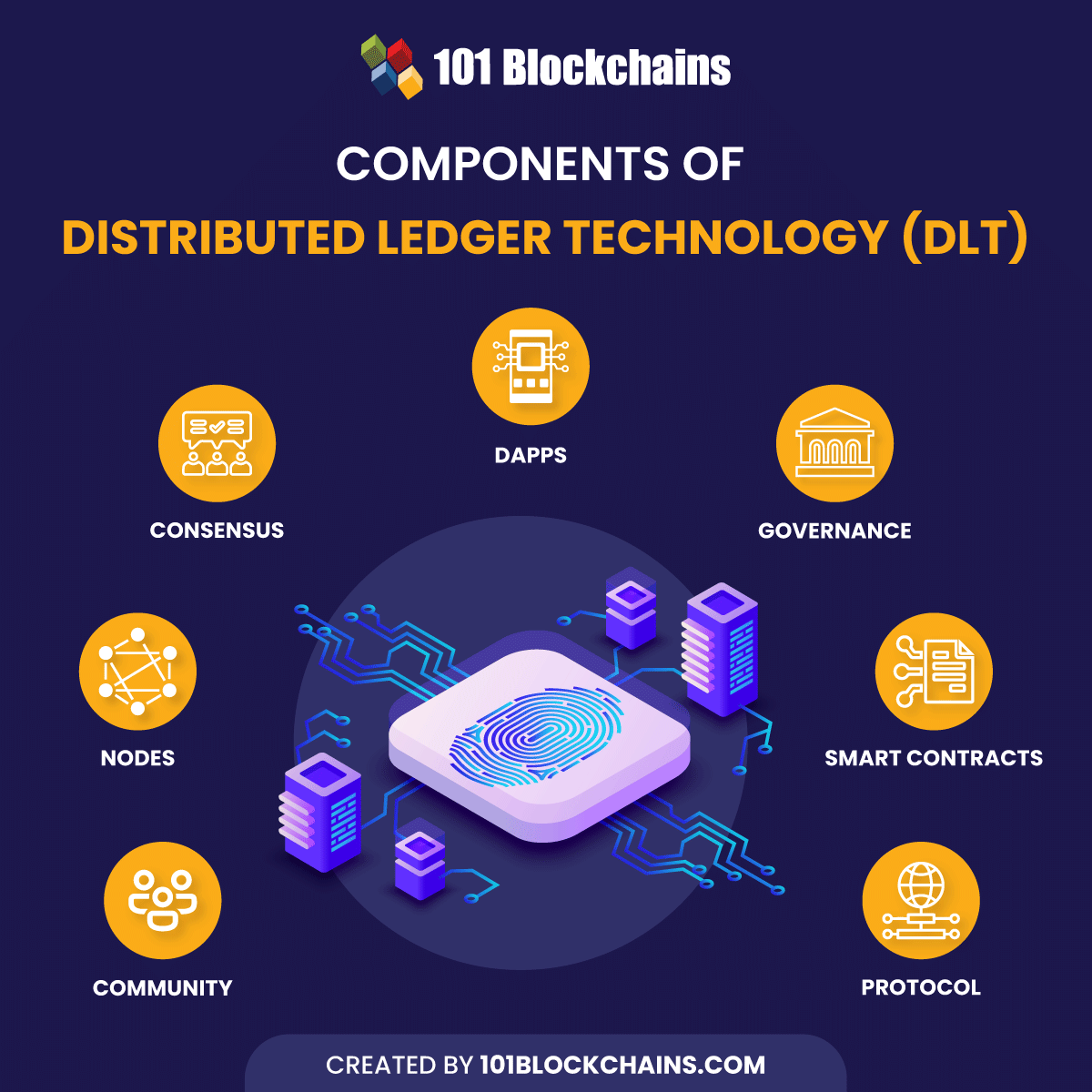 The community is the group of people or businesses focused on achieving a common goal. 
Nodes are basically the devices you can find connected to the network. 
Consensus is the method for transaction approval and data sharing with agreement of members in the network. 
Governance is an important aspect of distributed ledger technology use cases as it focuses on defining the decision-making structure of business networks. 
The protocol refers to a specific collection of software rules, conditions, parameters, and terms for defining the interactions between the community and network. 
Smart contracts are the self-executing programs that help in governance and safeguard transactions on the distributed ledger technology network. 
Decentralized Applications
Decentralized applications or dApps are a crucial highlight in DLT use cases as they offer a network interface for interactions between the community and the broader business world on a DLT network. 
Use Cases of Distributed Ledger Technology (DLT)
The discussion on distributed ledger technology uses would now reflect on the most promising applications of DLT. As of now, majority of discussions around the uses of DLT revolve around the applications and value advantages of blockchain. On the other hand, it is also important to note how the differences between blockchain and distributed ledger technologies take the front seat in different use cases of DLT. Here are some of the most popular use cases of distributed ledger technologies you should watch out for. 
1. Leveraging Smart Contracts in Streamlining Industrial Processes
The first entry among answers to "What are distributed ledger technologies used for?" refers to using smart contracts. It is important to note smart contracts as one of the most prominent use cases of DLTs in industrial sector. Smart contracts are the individual pieces of code for defining relationships and interactions among two different parties. 
The word contract makes perfect sense as the code sets some clear conditions and parameters for carrying out a specific predefined action and behaviors. Interestingly, the basic design of smart contracts ensures eligibility for multiple applications where they can help in defining all aspects of a relationship. 
Notable Use Cases of Smart Contracts 
Maintenance of shipping timelines from the time of purchase to receiving the products. 

Identification of high or low price threshold for different materials in a procurement system. 

Addressing quality assurance conditions, which must be fulfilled before moving products into the next stage of production.

Generating invoices and conditions for settlement. 
The blockchain and distributed ledger technology use cases with smart contracts can grab mainstream attention in the coming years. How will they deliver any value advantages? Here are some of the notable benefits of using smart contracts. 
Accountability is one of the foremost value benefits in

DLT examples

with smart contracts. You should look up to smart contracts as a tool for ensuring broader transparency for transactions. The availability of smart contracts on a globally accessible blockchain network delivers plausible advantages for improved transparency. 

You can find smart contracts on the immutable blockchain ledger, thereby providing easy safeguards against fraud. 

The next crucial highlight in

distributed ledger technology uses

with smart contracts refers to significant savings. Smart contracts can ensure significant reductions in the amount of time required for managing different processes and operations. The importance of savings is also visible in the reduction of paper used in different processes. 

Another important facility with use cases of distributed ledger technologies refers to speed. Smart contracts help in avoiding conventional approval processes. Therefore, distributed ledger technologies can help in removing traditional intermediaries from conventional transactions.
Want to know the real-world examples of smart contracts and understand how you can use it for your business? Check the presentation Now on Examples Of Smart Contracts
2. Prevention of Identify Theft
The use of blockchain as one of the top DLT examples also makes a solid case for preventing identity theft. Over the course of time, we have witnessed the growth of the internet alongside the need for personally identifiable information. Personally identifiable information or PII is essential for accessing different online services. 
As a result, PII has set the foundations for growth in risks such as theft and exploitation of personal information. It is important to note that almost 2.6 billion records were compromised in 2017, and the number of cases continued building up by huge margins in the following years. 
The existing pace of the internet alongside all other connected services suggests that they wouldn't subside anytime soon. At the same time, the adoption of new technologies such as Internet of Things IoT makes things more difficult. The growing adoption of IoT solutions has penetrated various commercial industries, thereby placing personal data at higher risk. How will distributed ledger technology examples help here? 
First of all, one could note how the immutability of blockchain could offer desired value advantages in terms of security. Blockchain could serve as the foundation for new and secure approaches to personal identification. The most prominent entry among examples of DLT use cases for secure personal identification refers to the Secure Identity Platform or SIP of Civic. 
It is a distributed platform that helps in conducting different secure transactions through cryptographically secure PII. Services such as Civic SIP help customers pass through security verification for validation and encryption of identifiable information. As a result, banks and retail vendors could easily find out the legitimate transactions and verify their authenticity. Banks and financial institutions, alongside other vendors, can verify transactions through the digital profile of an individual.
Want to learn how you can use blockchain in the Internet of Things (IoT)? Join Standard/Premium Plan and get free access to the Getting Started with Blockchain And IoT Course Now!
3. Immutability and Secure Transactions
Almost all answers to "What are distributed ledger technologies used for?" would revolve around another important trait common in distributed ledger technologies. Irrespective of the type of DLT network, immutability is an inherent aspect of distributed ledger technologies. It is important to note that the immutable ledger in DLTs serves as a zero-trust network for multiple-party data validation in case of changes to the SoR. In addition, you should notice that no one can modify or change the record after validation and entry on the ledger.                 
The immutability trait in DLT serves as a vital pointer for distributed ledger technology uses in fraud prevention and security. One of the notable examples of financial risks is Wells Fargo, which had to pay hundreds of millions of dollars as US Federal Trade Commission fines. The company had to pay huge fines as a penalty for fraudulent activity in the past few years. 
Immutable ledgers can help in avoiding such fraudulent activities through audit trails beyond modification. In addition, you can also look up to better standards of data validity in comparison to existing systems. For example, many cryptocurrencies have found mainstream adoption in recent times without any issues. 
At the same time, cryptocurrencies have shown promising growth in terms of value in the recent decade. As a matter of fact, blockchain and distributed ledger technology use cases have a crucial role in driving adoption of cryptocurrencies. DLT and blockchain networks could serve a massive influence on the financial sector. 
Banks and financial institutions have started recognizing different ways in which cryptocurrencies, blockchain, and DLTs offer an alternative to conventional banking methods. As the number of applications using cryptocurrencies as accepted forms of payment increases, the popularity of distributed ledger technology will increase further. Distributed ledger technology has enabled transparency and convenience in using cryptocurrency wallets and other solutions in financial services.
Banks may face formidable threats from distributed ledger technology examples with cryptocurrencies and improved blockchain-based financial services and protocols. On the other hand, the legacy banking system can find more opportunities to drive the uses of DLT in financial sector. 
For example, Ripple and Bitpesa create the ideal ground for fuelling B2B transactions as intermediaries between big financial institutions for customers interested in transactions through blockchain. As of now, banks and large financial institutions could help in implementation of DLT solutions over the course of future. 
How Does Distributed Ledger Technology Serve Useful?
The different prevailing use cases of distributed ledger technologies show how the DLTs can be revolutionary. On the other hand, it is also important to note the distributed ledger technology use cases which can make a mark in the future. Here is an overview of the potential ways in which DLTs can transform existing processes and systems. 
DLT plays a crucial role in data encryption and preventing the entry of duplicate and incorrect data. Therefore, DLT uses can help in easier management and safeguards for data. 
University certificates, as well as diplomas, can make use of distributed ledger technologies to enable universities, public offices, and institutions to issue certifications. Such certifications based on distributed ledger technology are immutable and free from any dangers of unauthorized modifications. 
The most revolutionary factor pertaining to distributed ledger technology uses points at ensuring security for Internet of Things. IoT networks exchange huge volumes of personal information and are at higher risk of attacks. Distributed ledger technology can change the conventional precedents by introducing favorable integration of DLT and IoT in healthcare, supply chain management, and machine and facility monitoring. 
Start learning IoT (Internet Of Things) with World's first IoT Skill Path with quality resources tailored by industry experts Now!
Final Words
The final impression regarding use cases of distributed ledger technologies reflects the similarities with blockchain. However, the use cases of DLTs can present new benchmarks for digital solutions worldwide. Why? The value advantages of DLTs serve as a crucial benchmark for the future and the transformations that come with them. 
Applications of distributed ledger technologies not only bring exclusivity and control to the hands of users but also facilitates advantages for institutions. For example, faster transaction processing could improve efficiency of banking institutions. Learn more about distributed ledger technologies and the different ways to make the most of them.
*Disclaimer: The article should not be taken as, and is not intended to provide any investment advice. Claims made in this article do not constitute investment advice and should not be taken as such. 101 Blockchains shall not be responsible for any loss sustained by any person who relies on this article. Do your own research!