The time of celebrations is upon us once again as the Christmas bells have started chiming. It is exciting as we bring you the 101 Blockchains Christmas Sale with some attractive deals. 101 Blockchains has been conducting the Christmas Sale yearly with new and exciting offers. The Christmas Sale 2022 will soon go live on 101 Blockchains with value-based deals for you. 
The 101 Blockchains Grand Sale is one of the unique opportunities for aspiring blockchain professionals and enthusiasts to get learning resources at a low cost. Most importantly, the Grand Sale 2022 would enable users to take cost-effective career routes in blockchain technology. We invite everyone to review the details of our grand Christmas sale and find the best way to make their Christmas holidays more enjoyable.
What Does the 101 Blockchains Christmas Sale Bring This Year?
The news of the 101 Blockchains Year-End Sale must-have spiked your interest in what the sale will bring this year. However, before moving towards the details of the Christmas Sale, you need to understand that the terms Year End Sale, Grand Sale, or the Sale of the Year on 101 Blockchains are all the same. 101 Blockchains will begin this year on 23rd December and last until 30th December. With the dates for our Christmas Sale announced, you must be curious about the deals you can account for in the sale. 
Does the 101 Blockchains Sale of the Year 2022 have anything particular in store for blockchain learners? For starters, you can find the benefits of capitalizing on the broad assortment of learning resources at cost-effective prices. But, most importantly, our Christmas Sale 2022 features unique value propositions for everyone interested in blockchain and related technologies.
Here is an outline of noticeable offerings in the sale –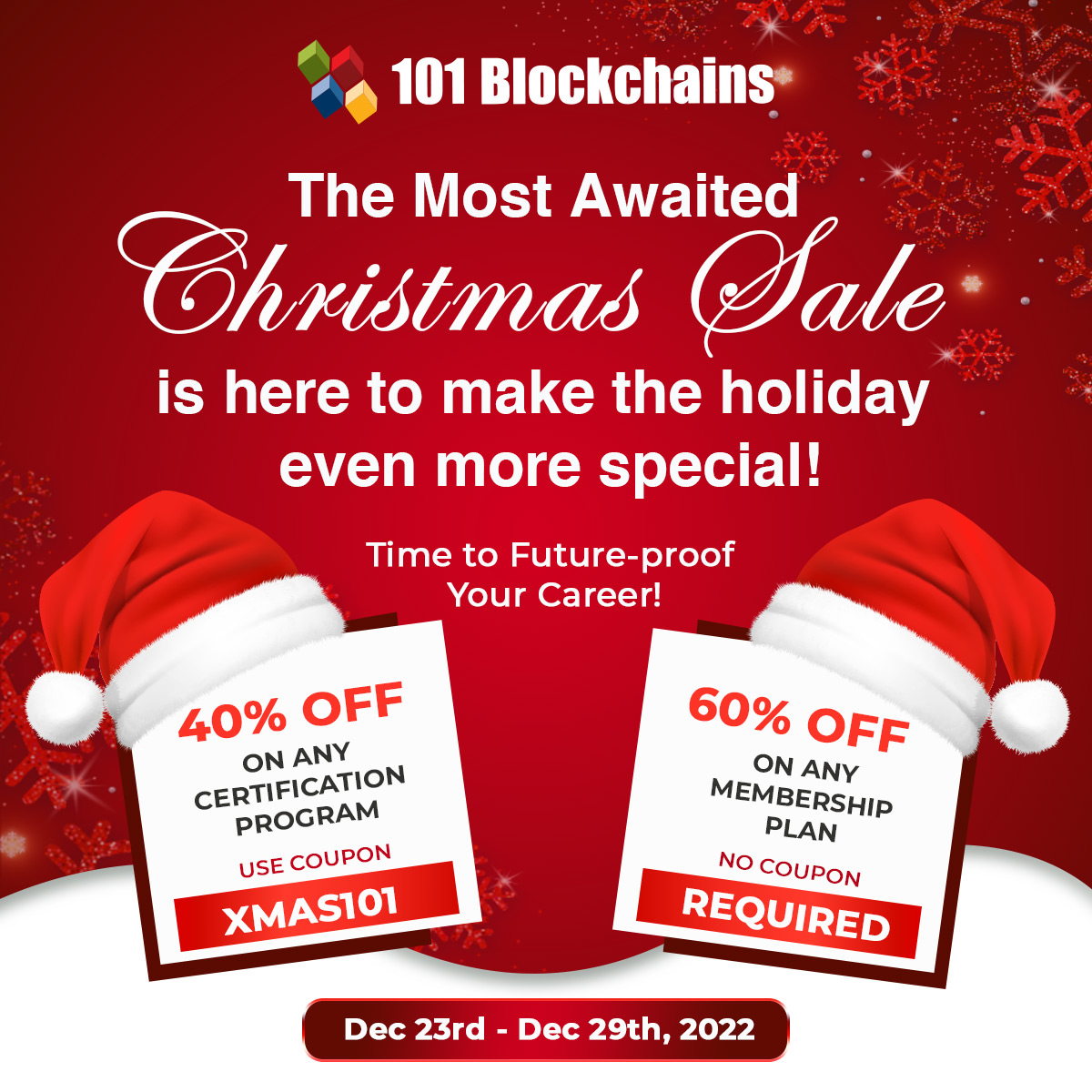 Discount on Membership Plans
The recently introduced Yearly and Yearly+ membership plans have emerged as top choices for every individual interested in comprehensive skill development. In addition, the 101 Blockchains Christmas Sale 2022 brings you an opulent discount of 60% on both membership plans. Each membership plan has unique benefits for everyone who wants to pursue a career in emerging technologies. No coupon code is required to avail the benefits of any membership plans. 
Discounts for Certifications
While the discounts on membership plans are a prominent highlight of the Christmas Sale, the discount on certification courses is also notable. The 40% discount on all 101 Blockchains certifications in the sale is a promising option. In addition, any aspiring professional can choose the 101 Blockchains Grand Sale to take advantage of the certification discount with coupon code 'XMAS101' at checkout. 
Build your identity as a certified blockchain expert with 101 Blockchains' Blockchain Certifications designed to provide enhanced career prospects.
Is the 101 Blockchains Grand Sale a Reliable Event?
As Christmas approaches, many brands introduce year-end sales with product discounts.  However, purchasing every product or service at a Christmas sale discount is not reasonable. Do you have to get every certification on 101 Blockchains just because you get a discount? 101 Blockchains has become a trusted destination for learning and certification in the blockchain. The 101 Blockchains Year-End Sale is a reliable choice for every person interested in learning about blockchain. But make a wise decision while choosing the certification that could help you take your career to the next level.
Over the years, 101 Blockchains has emerged as a top choice for small businesses and companies interested in blockchain training. We have also emerged as a leader in new markets, further strengthening our resolve to offer quality blockchain education for everyone. 101 Blockchains has also offered a promising choice in 101 Blockchains Sale of the Year for every professional to use membership plans for improving their professional network. Furthermore, the continuous improvements in course content alongside new certifications have helped us gain the trust of learners. The proof of our credibility has been evident in the different badges we have earned in G2 reports. 
Start learning Blockchain with World's first Blockchain Career Paths with quality resources tailored by industry experts Now!
Value-based Benefits of the 101 Blockchains Christmas Sale for Learners
The Grand Sale is about more than just the discounts on membership plans and certifications. You can also get many other benefits with the Year End Sale on 101 Blockchains and understand how it can help you build a career in blockchain. 
Achieve Your Desired Certification at Low Costs
The details of the 101 Blockchains Christmas Sale 2022 show that it is a perfect opportunity for career development in the blockchain. You can choose the certification you want for developing skills and knowledge in new blockchain skills and trends. With the 40% discount on new certifications, you can become a certified NFT expert or a certified metaverse professional at discounted prices. You can choose from the following professional certifications at 101 Blockchains.
Exclusive Tools for Blockchain Career Development
The Yearly and Yearly+ membership plans are available at a discount of 60% with the 101 Blockchains Grand Sale 2022. The membership plans could help you access Council Membership, skill, and career learning paths alongside unlimited access to all courses and certifications. Therefore, you can notice that you get more than the discount on membership plans with the Grand Sale 2022. 
Get Ready for the 101 Blockchains Year-End Sale
The Year-End Sale on 101 Blockchains is an exclusive opportunity for every person interested in blockchain technology. You can take advantage of grand offers on the Christmas Sale, which starts on 23rd December 2022 and lasts till 30th December 2022. The 60% discount on both membership plans without any coupon code offers better accessibility to the plans. Anyone wanting to learn blockchain and develop professional skills could leverage the membership plans. The 101 Blockchains Sale of the Year can also give you a chance to surprise your friends and loved ones. Make them happy with the gift of blockchain learning. As the celebration season sets in, prepare for Christmas and New Year with our Grand Sale 2022.