Cryptocurrencies have gained notorious popularity in recent times, particularly for the rise in their prices as well as volatility. People who want to invest in cryptocurrencies are often held back by the assumptions of unprecedented reduction in the prices of cryptocurrencies. Therefore, stablecoins such as the USD Coin or USDC have emerged as one of the top solutions for maintaining stability. Stablecoins are basically digital currencies associated with a specific set of stabilization protocols for reducing price fluctuations. 
The benefits of stablecoins can help users capitalize on the perks associated with different decentralized payment alternatives. The following post offers you a detailed introduction to USD Coin explained in simple terms with a focus on its origins and how it works. You can also learn about the potential use cases and the benefits and limitations of the USD Coin in the following discussion.
Want to become a Cryptocurrency expert? Enroll Now in Cryptocurrency Fundamentals Course
The Need for Stablecoins
Popular cryptocurrencies such as Bitcoin and Ether take up all the attention in the crypto space. Both the coins account for a total of 60.6% market share in the domain of crypto, thereby proving their dominance. On the other hand, many new blockchain projects and cryptocurrencies have been gradually evolving for a large-scale transformation in finance. 
However, price volatility in crypto makes them a risky asset for investors. Stablecoins evolved as an important class of digital assets with price stability, which can help in countering the massive value fluctuations in cryptocurrencies. Before you dive into details of the USDC Coin, you must learn the essential benefits of stablecoins. 
Stablecoins help in safeguarding your capital and profits in deflationary periods. Most important of all, stablecoins allow users to transfer funds without leaving the crypto ecosystem as they don't need conversions to fiat currency. Therefore, stablecoins can also provide a viable solution for unregulated exchanges which don't facilitate conversion to fiat currency. In addition, stablecoins present a cost-efficient and faster alternative when compared to fiat money. 
Want to learn the basic and advanced concepts of Stablecoin? Enroll in our Stablecoin Fundamentals Course Now!
What is USD Coin?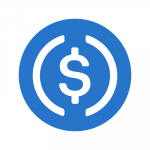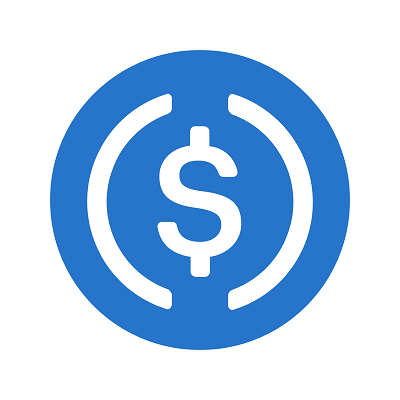 The foremost highlight in any discussion on USDC would focus on what is USD Coin and how it works. US Dollar Coin or USDC is a stablecoin with a 1:1 pegging ratio against the actual US Dollar. In simple words, one US Dollar Coin or USDC is equal to one actual US Dollar. It can offer considerable stability in the market. Although designed initially as an ERC-20 token, the USD Coin has expanded effortlessly into the Solana and Algorand blockchain networks. Why did the creators of USDC think of such a stablecoin, and who were they?
Reasons for Creating USDC
The introduction to USD Coin or USDC is incomplete without reflecting on the reasons for introducing the stablecoin. Was USD Coin developed with the sole objective of dealing with price volatility? As a matter of fact, the underlying reasons behind creating USDC also focus on the sophistication of systems alongside the volatility in cryptocurrency market. The sudden changes in asset prices can be quite challenging for new investors. On the other hand, stablecoins such as USDC can offer a credible store of value alongside avoiding the volatility evident in cryptocurrencies. 
In addition, the outline of USD Coin explained in detail also showcases another important reason for coming up with USDC. Generally, the UI and features offered by cryptocurrencies can be complicated for new investors. Unless you are a technically skilled user, you are more likely to encounter confusion in using cryptocurrencies. USDC was created for an easier onboarding process to help users familiarize with cryptocurrencies easily. 
Origins of US Dollar Coin
Another important highlight in the discussion what is USD Coin draws the limelight toward the creators of the stablecoin. The founder of USDC, Circle, launched the stablecoin in September 2018 with the support of the crypto exchange, Coinbase. Another notable partner of Circle in creating USDC is Bitmain, which helped Circle in garnering a $110 million initial investment.
Now, the governance of USDC depends on the CENTRE consortium, including Coinbase and Circle. Another remarkable highlight regarding USD Coin points to the fact that it was the first stablecoin listed on the Coinbase crypto exchange. Subsequently, another notable exchange, Binance, added USDC to its listing. 
The popularity of USDC or USD Coin increased by huge margins after its availability for trading in more than 80 countries. Many people used stablecoin as a viable hedge against fiat currencies. At the same time, DeFi solutions have also led to massive growth in the demand for US Dollar coins. As of now, the circulating supply of USDC has crossed 9 billion, with a promising future revolving around evolution of infrastructures pertaining to permissionless decentralized protocols. 
Want to learn and understand the scope and purpose of DeFi? Enroll Now in Introduction to Defi- Decentralized Finance Course
Working of USD Coin
The overview of the definition and background of USD Coin serves a credible impression of one of the most popular stablecoins. However, it is also important to look for answers to "how does USDC work" to figure out its special highlights. On the other hand, you must find out the answer from a technical perspective. 
The first highlight in the working of USD Coin refers to the creation of a USDC token upon depositing a dollar. Therefore, the USDC coin of a user is permanently burned for maintaining a consistent 1:1 pegging ratio. Another important aspect in ensuring the working of USDC stablecoin would point to the necessity of transparency and trust. Therefore, the CENTRE consortium delivers routine updates to ensure consistency in the 1:1 ratio. 
It is important to note that the USD Coin has been based on the ERC-20 standard with a tokenization process. The notable steps in the tokenization process are, 
Users have to apply for the KYC verification process. 

Upon completing the KYC verification process, users would receive a particular bank account for a wire transfer. 

The party issuing the USDC would leverage a smart contract for creating the USD Coin or USDC

amount for the corresponding amount of dollars transferred by the user.

The user would receive the USDC coin in their wallet, and the dollars transferred by them would go into the reserve. 
What happens during the redeeming process? If customers want to convert their stablecoins into USD, then the reverse tokenization process comes into play. You can send a petition to the person, agency, or platform issuing USDC, and the smart contract would come into play for the conversion process.
Want to learn the fundamentals of tokenization? Enroll Now in Tokenization Fundamentals Course   
Special Highlights of US Dollar Coin
The answers to "how does USDC work" serve a clear impression of how it is one of the best stablecoins. However, the USD Coin is not the first or the most popular stablecoin backed by the US Dollar. Tether is one of the prominent competitors of the USDC stablecoin and has been around for quite a long time. On the other hand, Tether is currently under intense levels of scrutiny regarding the authenticity of its finances. Tether had claimed that they had a real dollar in the bank backing every Tether token in circulation. 
Unfortunately, an ongoing investigation has proved that the claim is false. As a result, alternatives among US Dollar-backed stablecoins such as True USD, the US Dollar Coin, and Gemini Dollar have taken a center stage now. These alternatives come with the assurance of better transparency in the auditing and funding processes. The features of USD Coin explained in detail can offer credible advantages for revising the way you perceive stablecoins. Here are some of the special highlights which separate USD Coin from the other stablecoins available now. 
The first special highlight you can find with USDC stablecoin draws attention to the parent company, i.e., Circle. As a financial services firm, Circle is a registered company in the United States. Therefore, it falls under the ambit of the US Government's Financial Crimes Enforcement Network or FinCEN, which focuses on fighting off money laundering. 
One of the common highlights in 'what is USD Coin' focuses on the speed of transactions. Generally, you would have to wait for a long time when you want to send US Dollars to other people and institutions. Why? You have centralized institutions such as banks, and their complicated procedures slow down your transactions. On the contrary, USDC can offer the stability of US Dollar while ensuring faster speed of transactions, just like in cryptocurrencies. 
Another special highlight of the USDC Coin refers to the facility for auditing. One of the most popular accounting firms, Grant Thornton, carries out audits on USDC, thereby ensuring its credibility. 
Build your identity as a certified blockchain expert with 101 Blockchains' Blockchain Certifications designed to provide enhanced career prospects.
Use Cases for USDC Stablecoin
The identity of USDC as a stablecoin and its unique features show what it is capable of. It serves as a stable digital asset, which you can use in different unique ways when compared with other cryptocurrencies. Here are some of the notable use cases of US Dollar Coin, which would gain momentum in the future. 
Simpler Accessibility of Crypto Markets
You can capitalize on the essence of 'how does USDC work' to ensure easier access to the domain of cryptocurrencies. USDC helps you purchase, sell and exchange funds without leaving the cryptocurrency ecosystem at any point. Rather than following the burdensome task of converting your cryptocurrencies into fiat currency, you can exchange your crypto assets for USDC. Interestingly, almost every big cryptocurrency exchange accepts USDC stablecoin. Whether you choose a centralized or decentralized exchange, you have multiple options for managing your crypto assets. 
The next striking use case of USD Coin or USDC refers to the domain of crypto payments. USDC can serve the ideal traits required for enabling crypto payments. For example, crypto payments in USDC can work as a great choice for paying employees. On top of it, you can also notice news about startup employees and professional athletes working on negotiations for crypto payments. 
As of now, Bitcoin and Ether seem to have the upper hand in the crypto world, albeit with the limitation of price volatility. Therefore, it is practically impossible to consider such assets for regular crypto payments. On the contrary, the USD stablecoin can help safeguard recipients against the concerns of price volatility. Furthermore, users can leverage their USDC to obtain cryptocurrencies or assets of their choice.
Want to get an in-depth understanding of crypto fundamentals, trading and investing strategies? Join the Standard & Premium Plans and get free access to Crypto Fundamentals, Trading And Investing Course.
The use cases of USD Coin explained in detail would also focus on how it aids governance. USDC, along with many other stablecoins, have found many use cases in governance policies. As a matter of fact, USDC enables easier transfer of relief funds because of the ability to transfer to internet-connected businesses and individuals. 
USDC stablecoin also provides the basis for international donations alongside moving the roadblocks associated with cross-border bank transfers. The functionalities of USD Coin can also help citizens of countries afflicted with high inflation rates with exposure to the US Dollar. 
Speaking of exposure to the US Dollar, the outline of "how does USDC work" must also reflect on the ease of cross-border payments. Traditional approaches for transferring local fiat currency to businesses and individuals in other parts of the world can be costly. On top of it, cross-border payments can be quite time-intensive alongside impose considerable levels of inconvenience. 
For example, the payment process can take a few days and demand hefty transaction fees. On the other hand, a reliable solution like the USDC stablecoin can serve as an effective solution for cross-border payments. USD Coin can help in making cross-border payments or remittances easily to any individual with a cryptocurrency wallet. Most important of all, the USDC stablecoin facilitates all these advantages at only a fraction of the total cost of bank payments. 
The most striking highlight among use cases of USDC would refer to the opportunity for accessing DeFi solutions. USD Coin can work as ideal leverage for capitalizing on the features of DeFi applications for lending your crypto assets. For example, lending USDC could help you earn more in comparison to traditional savings accounts. On top of it, the US Dollar Coin also offers the flexibility for investing your funds rather than locking them up in one account.
Want to explore in-depth about DeFi protocol and its use cases? Join Standard/Premium Plan and get free access to Decentralized Finance (Defi) Course- Intermediate Level Now!
Limitations of US Dollar Coin
The details of the introduction to USDC Coin showcase an impression of the benefits they can offer. For example, you can notice the evident benefit of safeguards against price volatility in crypto. Similarly, the easy-to-use UI and features of USDC make it easier for almost everyone to use stablecoin. 
However, you would also come across a few limitations with US Dollar Coin, such as the competition among stablecoins. Popular alternatives such as Tether still dominate the stablecoin market, thereby creating setbacks in adoption of USDC. Furthermore, the price stability of USDC stablecoin creates problems in price appreciation.
Want to know the answers to some of the commonly asked questions about cryptocurrency? Check the detailed guide on Frequently Asked Questions About Cryptocurrency 
Bottom Line
The introductory insights on USD Coin or USDC deliver a comprehensive explanation of one of the most popular stablecoins. With the primary objective of offering price stability, USDC can serve a broad range of functionalities. It features special highlights such as regulations and audits, which increase trust in the USDC stablecoin. On top of it, the use cases of USDC extend beyond cross-border payments, crypto payments, and access to DeFi services. 
You must also notify the possible use cases of the US Dollar Coin in governance, particularly for transferring relief aid. As the world of decentralized applications matures, businesses, governments, and crypto users can seek new value advantages with stablecoins. Explore to learn more about US Dollar Coin and its practical implications in the broader crypto landscape.
*Disclaimer: The article should not be taken as, and is not intended to provide any investment advice. Claims made in this article do not constitute investment advice and should not be taken as such. 101 Blockchains shall not be responsible for any loss sustained by any person who relies on this article. Do your own research!