The developments in web3 have caught the attention of many people and organizations in recent times. Web 3.0 presents vital opportunities for transforming the conventional perceptions of technology, more particularly the internet. Cryptocurrencies, blockchain, NFTs, and DeFi serve as crucial highlights of the web3 revolution, which also encompasses many other technological and philosophical advancements. 
Most important of all, one of the primary objectives of web3 focuses on empowering users with better experiences and control over their data and assets. Therefore, the top web3 business ideas could emerge as favorable options for startups to make an impact. Some reports indicate that the web3 market will be worth almost $81.5 billion in 2030. The consecutive stages in the maturity of web3 have been responsible for dictating new opportunities for monetization. 
As the wave of innovation in web3 continues gaining momentum, entrepreneurs seek new opportunities for using web3 in business. How could you determine whether the best web3 business ideas would serve favorable returns? The following discussion will offer a detailed impression of some of the most popular web3 business ideas you can try in 2023. In addition, you can also identify the opportunities which encourage the development of web3 business ideas.
Business Opportunities with Web3
Just like every new technology, web3 presents many interesting business opportunities. Considered the next generation of the internet, web3 has redefined conventional precedents for user experience, asset ownership, and data control for digital services. Web3 reimagines the concept of the internet by emphasizing empowering users with better data security, privacy, and scalability. 
Most important of all, web3 business ideas for 2023 focus on new advancements featuring decentralization, blockchain, and token-based economics. Cryptocurrencies and NFTs are also a part of the web3 revolution with the assurance of direct ownership of assets without the involvement of intermediaries. 
Should you pursue a web3 business idea because it is a new concept? Some of you may have doubts regarding the feasibility of business opportunities in web3. However, a few statistics about web3 could help you identify how it can open new monetization opportunities for you. 
As of 2021, the global web3 market was valued at almost $3.2 billion. 

In terms of geography, major players include North America, with almost 34% of the worldwide web3 market. While the Asia-Pacific region is catching up to web3 developments, China could help fuel the Asia-Pacific region higher in the global web3 market. 

You can find reliable answers to "What opportunities web3 can bring for business?" with the fact that web3 companies garnered over $1.8 billion in the first half of 2022 alone.   
Furthermore, the rise of DeFi usage, and the constantly increasing volume of crypto activity alongside the usage of blockchain games, have also established formidable prospects for web3 businesses. 
Become a certified blockchain expert with 101Blockchains' Blockchain Certifications designed to propel your career in blockchain technology.
Top Web3 Business Ideas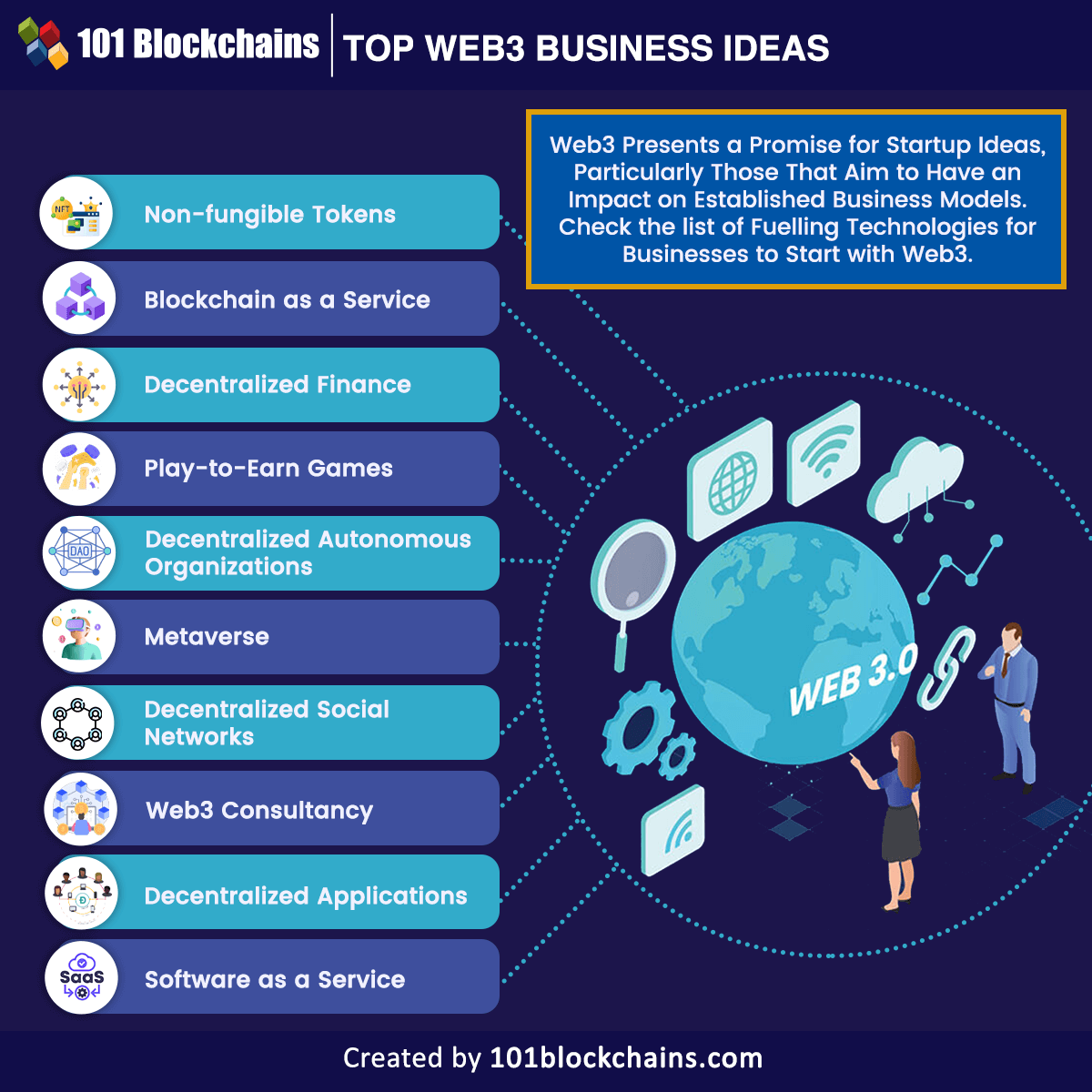 The existing state of web3 offers a promising foundation for web3 startup ideas, particularly for a revolutionary impact on conventional business models. Web3 has the capability to introduce disruptive changes in how businesses operate and offer their services. Most important of all, web3 has emerged as a formidable medium for fuelling innovation for businesses. Here is an outline of the top ideas you can use for your own startup with web3. 
Curious to develop an in-depth understanding of web3 application architecture? Enroll Now in Web3 Application Development Course! 
Decentralized Finance
DeFi is the first aspect you can notice in your pursuit of developing innovative web3 startups. With a TVL of almost $41 billion, decentralized finance offers an exclusive opportunity for transforming financial services with value-based improvements. DeFi qualifies on the list of web3 startup ideas on the grounds of its potential for transforming the financial system by excluding intermediaries and central governing authorities. DeFi solutions could help in expanding financial services beyond the restrictions of conventional centralized banking systems and processes. Web3 technologies could help in establishing trustless frameworks with the assurance of better transparency in DeFi services. 
One of the most promising use cases of DeFi startup ideas would refer to decentralized lending platforms. Many other choices among top web3 business ideas in the domain of DeFi refer to DeFi staking, yield farming, and decentralized exchanges. The feasibility of existing use cases of decentralized finance offers viable reasons for pursuing it as a web3 business idea.
Want to know more about DeFi? Enroll Now in our Introduction to DeFi Course.
Play-to-Earn Games
The outline of web3 business ideas for 2023 would also refer to play-to-earn games, which are another integral highlight of the web3 revolution. Web3 games have introduced significant changes in the gaming industry with revolutionary paradigm shifts. The play-to-earn games leverage blockchain technology to offer immersive and highly interactive gaming experiences. What helped in driving the popularity of web3 games? The answer directs toward the play-to-earn model, wherein players could make the most of their time in games to make passive income. 
One of the interesting highlights about play-to-earn games as one of the best web3 business ideas refers to the monetization opportunities for players as well as creators. By utilizing the power of blockchain, play-to-earn games help creators obtain better monetary rewards for their contributions. On the other hand, players could exercise better control and ownership over their assets and experiences in the games.
Non-fungible Tokens
The next big entry in the list of web3 startup ideas would obviously bring NFTs into the discussion. Non-fungible tokens have proved successful in revising the conventional modes of digital ownership. At the same time, it has also emerged as a favorable option for some of the top brands to exercise their presence in the web3 space. Non-fungible tokens have also been considered the foundation stones for the digital art culture in the crypto world. Some of the popular NFT collections, such as CryptoPunks and Bored Ape Yacht Club, have gained immense popularity, even among celebrities. 
The prospects for web3 startup ideas with NFTs are clearly evident in the humongous appreciation in the value of NFTs. In February 2021, the artwork was auctioned off at $70 million in the form of an NFT. As of May 2022, the total amount of transactions in NFT marketplaces amounted to more than $37 billion. Therefore, you can notice how web3 startups with non-fungible tokens can support your dream of building a web3 business.
Interested in NFT and want to Become a Certified NFT Expert? Enroll in Certified NFT Professional (CNFTP) Certification Course Now!
Decentralized Autonomous Organizations
While many people might think of the possibilities of developing a startup in web3, DAOs offer something different. What if you can build an organization completely according to the principles of web3? Decentralized Autonomous Organizations, or DAOs, are one of the top web3 business ideas which could help you create a community-based web3 startup. 
DAOs offer a dynamic governance system based on smart contracts for establishing standardized protocols that would support transactions. Decentralized Autonomous Organizations offer a decentralized management approach for business operations while enabling every member to express their vote. 
Curious to gain more insights and clarity regarding the potential of web3? Check the detailed guide Now on Frequently Asked Questions About Web3
Blockchain as a Service
Another favorable response to "What opportunities web3 can bring for business?" would refer to Blockchain as a Service or BaaS. The concept of BaaS is a lucrative business opportunity in web3 as it could leverage blockchain as an offering. Users could capitalize on the value of BaaS solutions for utilizing cloud-based solutions in the development, hosting, and operations of their blockchain apps and smart contracts. 
Some of the most notable value propositions of BaaS refer to simple setup workflow, auditable transaction records, and platform architecture management. The popular examples of BaaS solutions refer to the IBM blockchain platform, Azure blockchain service, Oracle blockchain cloud, and others. 
Decentralized Applications
You can also rely on web3 for business ideas by leveraging innovative ideas with decentralized applications or dApps. Decentralized applications are digital protocols based on blockchain, which feature decentralized infrastructure to avoid any regulatory authorities. 
dApps are crucial components in the web3 landscape as they help in preserving decentralization. Subsequently, dApps also rely on personal data ownership, censorship resistance, and equitable distribution of rewards. The interesting fact about dApps is the opportunity to access multiple monetization opportunities across different niches, such as finance or utility applications. 
Metaverse
The best web3 business ideas could remain incomplete without accounting for the metaverse. Almost 89 million Americans would use VR by the end of 2022, and around 38% of people expressed a desire to try out extreme sports in the metaverse. Market research reports also suggest that the metaverse market valuation may reach around $678 billion by 2030. 
The metaverse is one of the powerful drivers of change, with an emphasis on redefining the experience of digital services. It envisions the use of the internet in a 3D immersive environment with access to different innovative functionalities. The metaverse can offer multiple opportunities for creating solutions in customer relationship management, education, gaming, and virtual real estate. 
Metaverse is the future. Future-proof yourself with our Certified Metaverse Professional (CMP) Certification Course.
Decentralized Social Networks
The possibilities of decentralization in social networks could also present another option among startup ideas based on web3. With web3, you can imagine social networks with decentralized ownership over identity and user data. Decentralized networks can serve as exceptional web3 startup ideas for offering an immersive experience to users without the intervention of centralized servers. Users could achieve success in retaining their digital identities alongside leveraging new monetization opportunities. You can definitely rely on peer-to-peer social networks for web3 business. 
Web3 Consultancy 
The innovative ideas for answering questions like "What opportunities Web3 can bring for business?" would also turn the attention to web3 consultancy services. Just like you are seeking business ideas in web3, there are many other aspiring entrepreneurs and startups. 
You can develop a web3 consultancy business to guide them along the journey of web3 adoption. As a consultancy service, you would offer recommendations to new startups about the best practices for using web3 in business. In addition, web3 consultancy businesses could also offer recommendations regarding the modeling of new web3 businesses.
Learn the fundamentals, challenges and use cases of Web3.0 blockchain from the E-book: AN INTRODUCTION TO WEB 3.0 BLOCKCHAIN
Software as a Service
The rapidly expanding ecosystem of web3 solutions and systems requires effective software support for scalability. You can offer Software as a Service or SaaS solutions, such as crypto wallets, and charge fees for hosting the service. Many organizations have adopted SaaS solutions for exploring multiple business opportunities in the web3 domain. The best thing about SaaS solutions in web3 is the limited need for users to bother about managing the resources for the solution. A web3 business could utilize this value proposition and generate viable revenue. 
Build your fluency in Web3 and develop decentralized solutions with the world's first Web3 Expert Career Path with quality resources tailored by industry experts Now!
Bottom Line 
The different entries in the list of web3 startup ideas showcase how you can utilize the common applications in web3. NFTs, decentralized finance, and the metaverse are a few of the top examples you need to focus on for web3 businesses. Building your own web3 startup can be a challenging task when you have multiple business ideas. 
However, the assurance of proven ideas that can work effectively for the web3 domain is a saving grace for many aspiring startups. Make sure that you do your research to identify how a specific business idea can benefit your goals. Learn more about web3 technologies and the best practices for leveraging them in productive business ideas for you.  
*Disclaimer: The article should not be taken as, and is not intended to provide any investment advice. Claims made in this article do not constitute investment advice and should not be taken as such. 101 Blockchains shall not be responsible for any loss sustained by any person who relies on this article. Do your own research!