Fintech is one of the top terms under discussion in most technology forums today. The combination of finance and technology can introduce disruptive effects in the conventional banking and finance industry. At the same time, people are also wondering about the regulatory concerns with the integration of technology in financial services. However, favorable trends in the fintech industry and the prospects for growth in the future imply the feasibility of fintech career opportunities. 
Therefore, most people want to know the top fintech skills that can serve as a competitive advantage for their careers. The significance of fintech might be one of the prominent concerns for any beginner seeking career development in this field. You can find answers to your doubts about fintech with a detailed overview of a beginner's guide to fintech. How could you find the fintech skills to land desired jobs?
The multitude of technologies in the fintech ecosystem creates doubts regarding the most in-demand fintech skills you must pursue right now. For example, you have smart chip ATMs for secure two-factor authentication through OTP as well as cryptocurrencies for availing the benefits of peer-to-peer financial transactions. Which technology should you learn first to become a fintech expert? The following post serves as an outline of the important skills you need to become a fintech professional. Most important of all, you can also learn about the trends driving the need for learning fintech skills.
Excited to explore the impact of technology on financial services? Enroll Now in the Certified Fintech Expert (CFTE)™ Certification Course Now!
Importance of Fintech 
The journey of any beginner in identifying the best fintech skills for their desired career path must start with an overview of the significance of fintech. Why should you worry about learning fintech skills? Fintech is a term explaining the use of digital technologies for streamlining the delivery of financial products and services. 
In the recent two decades, digital technology has penetrated the legacy banking and financial services systems, inducing large-scale transformation. For example, the accessibility to the internet and smartphones, alongside cloud computing and blockchain, played a vital role in transforming access to financial services across multiple industries. 
The definition of fintech suggests that it could be a formidable driver for the future of finance. As of now, the advantages of blockchain and cryptocurrencies have paved the path for new advancements in experiences with financial service access and management. Therefore, people would want to know about fintech skills in demand right now and prepare their resume for a career in fintech. Is the definition of fintech enough to convince an aspiring professional to learn fintech skills? No, you must emphasize the important trends which establish the significance of fintech.
Build your identity as a certified blockchain expert with 101 Blockchains' Blockchain Certifications designed to provide enhanced career prospects.
Fintech Trends for Aspiring Professionals
The decision to pursue a career in fintech comes with the obligation of learning about the trends! Why? The trends can show you whether a fintech career path would be the safe option for you. Fintech has obviously created a disruptive impact in the financial services industry with multiple value advantages. 
At the same time, the fintech industry is also growing continuously at an exponential rate, with experts suggesting that it could reach almost $37 billion by 2026. The market's potential for growth is one of the valid reasons to learn the top fintech skills which would help you with career development. Here are some other statistics which can offer more clarity regarding the trends in the fintech industry now. 
Around 64% of the global population used fintech in some form, primarily fintech apps, in 2019.

The fintech industry has been drawing in considerable volumes of investment alongside fuelling the growth of new startups. A recent report has outlined that global investment in fintech has increased by almost 87% in the course of a decade from 2010 to 2021. Insurance fintech companies were capable of raising more than $3.8 billion as funds in 2020. 

Any individual searching for the

most in-demand fintech skills

would also emphasize how the NASDAQ stock exchange has listed around 49 fintech companies currently. The mainstream popularity of fintech companies is a favorable indicator for developing the necessary skills to avail employment opportunities. In addition, you must remember that the world has more than 26000 fintech firms, with 10,000 registered in the USA alone, as of 2021. 

Another favorable trend in the fintech market which calls for identifying the

best fintech skills

would refer to job advertisements. The number of jobs advertised by fintech firms increased by almost 176% in 2021. Therefore, you can notice the necessity of learning fintech skills to capitalize on emerging fintech career opportunities.
Learn the basic and advanced concepts of Fintech. Enroll Now in Fintech Fundamentals Course!
In-demand Fintech Skills You Must Learn in 2022
The continuous growth in the fintech industry, evident in the existing trends, provides the ideal grounds to pursue fintech skills. Fintech is one of the in-demand industries with the fastest rate of progress. Early examples of fintech, such as credit cards, and popular choices in fintech today, such as mobile banking and cryptocurrencies, prove how fintech aims at making finance simple for everyone. 
The overview of top fintech skills could help you build an outline of the essential skills you need to become a fintech professional. At the same time, you must remember that fintech professionals need technical or hard skills as well as soft skills. Let us find out the different types of skills you need to become a fintech professional.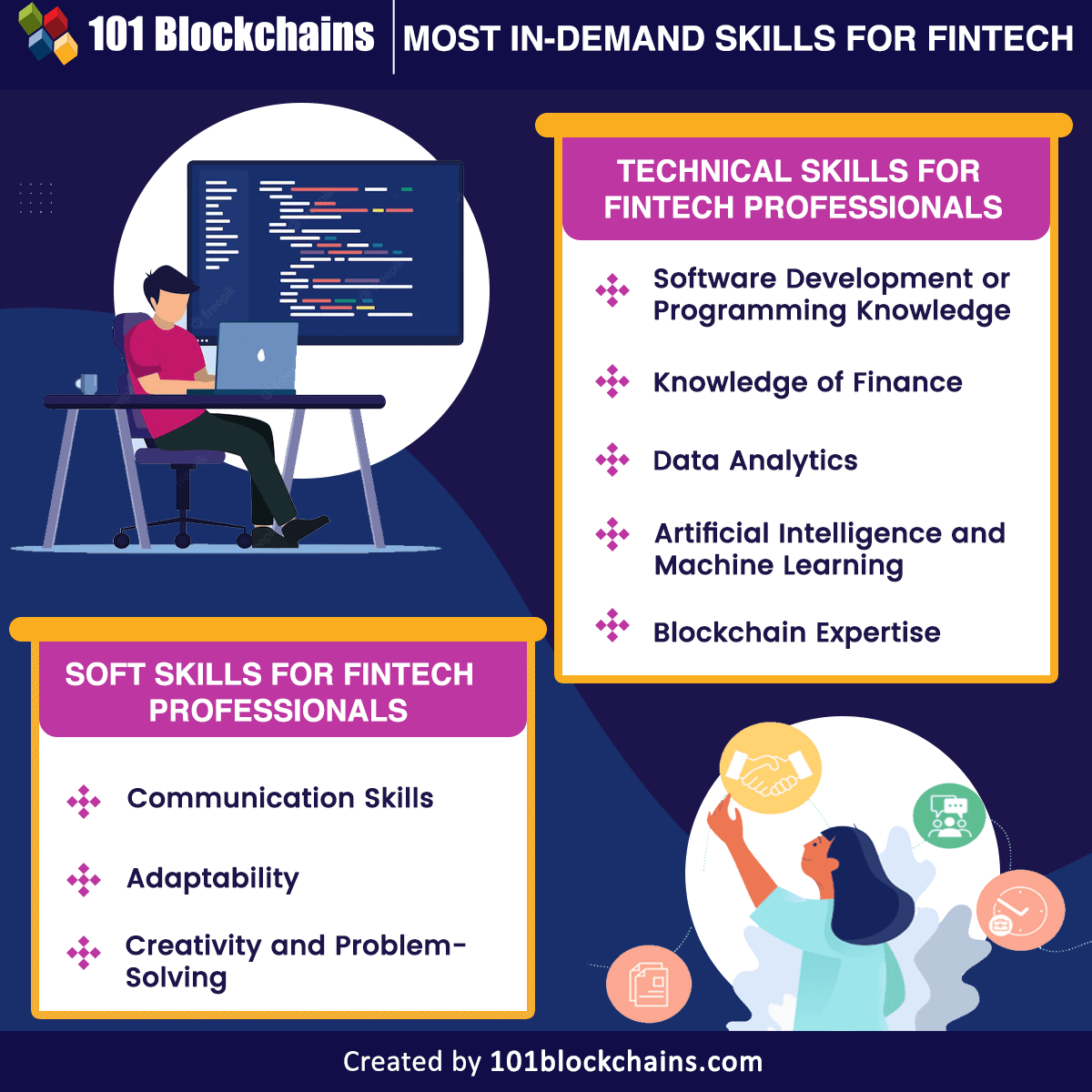 Technical Skills for Fintech Professionals
The obvious highlights in answers to "What skills do you need for fintech?" would refer to technical skills or hard skills needed for fintech jobs. Here is an outline of the mandatory technical skills for fintech professionals.
Software Development or Programming Knowledge
The foremost entry among the in-demand fintech skills would refer to programming knowledge and software development expertise. Fintech professionals must have the skills of a full-stack developer, with capabilities for adapting to new user requirements. As one of the popular fintech skills in demand, programming skills could serve a comprehensive global language for navigating fintech. Considering the present trends, programming would become one of the essential literacy skills like writing, counting, and reading. 
Software development or programming skills can play a vital role in supporting a wide range of fintech functionalities. The work of software developers in fintech can focus on the development of an online platform for a new digital bank or the development of electronic marketplaces for an insurance business. At the same time, fintech businesses would also focus on the UX design skills of a full-stack developer. Candidates aspiring for fintech roles must work on honing their skills in the design, development, and architecture of fintech apps. 
Want to become a Cryptocurrency expert? Enroll Now in Cryptocurrency Fundamentals Course
The outline of most in-demand fintech skills would also point to the expertise of learners in concepts of financial services. Fintech professionals should also have the capabilities for calculating and evaluating different financial processes and activities. In addition, fintech experts need to dive into accounting, taxation, and audits. Without expertise in financial services, a professional could not develop a clear impression of the long-term vision for the firm. 
Fintech experts could use their knowledge of finance to evaluate project opportunities and competition and ensure effective management of the economic and financial operations of the company. At the most basic level of job responsibilities, a fintech professional has to work by evaluating the financial situation and cash flow of an organization. 
The responses to "What skills do you need for fintech?" would also reflect on data analytics. Technology has been a crucial contributor to the disruptive impact on financial services while also prompting the creation of humongous volumes of helpful data. Now, fintech experts have to evaluate, analyze and interpret the insights from the data available to them for making decisions. The overview of outcomes from analyzing available data would help in drawing suitable recommendations on using the data for improving services. Subsequently, assessment of customer data could also help in achieving better ways to offer value to them. 
The significance of data analytics as one of the top fintech skills also emphasizes the necessity for learning about SQL, Python, and other programming languages. In addition, aspiring fintech professionals must also learn about creating dashboards and automating processes. You would need skills for reading official documentation alongside abilities for comprehension and use of data manipulation tools with commendable speed.
Aspiring to make a lucrative career as a blockchain expert too but not sure how? Check the detailed guide Now on How To Become A Blockchain Expert
Artificial Intelligence and Machine Learning
The next addition among the important fintech skills for you in 2022 would refer to artificial intelligence and machine learning. AI and ML are spelling new changes in the field of automation with formidable enhancements in productivity. The capabilities of AI have been evident in the resolution of challenges in understanding algorithms and random sequences of events. 
With the power of machine learning, AI can fuel innovation in the identification of trade patterns in the domain of fintech. As one of the best fintech skills for professionals, AI and ML are improving consistently with new initiatives for integrating neural networks in the domain of banking and financial services. 
The earliest example of the use of chatbots shows how AI could transform the fintech sector. Aspiring professionals in the field of fintech would need expertise in AI and ML to develop solutions that could help users. For example, AI can help in training neural networks to offer investment advice to traders according to behavior patterns. Furthermore, AI could also help fintech professionals identify new opportunities for developing fintech solutions that allow minimal human intervention. 
Another critical choice among fintech skills in demand would refer to blockchain expertise. Fintech companies could not undermine the importance of blockchain as a pivotal tool in the transformation of financial services. Blockchain technology has successfully changed the conventional perceptions of financial services and networks. 
The blockchain serves as the founding technology for cryptocurrencies, an alternative to traditional currency for financial transactions. At the same time, blockchain has also offered the roadmap for tokenization, DeFi, NFTs, and many other applications which would define the future of fintech. 
Fintech experts with fluency in blockchain could understand and explain how blockchain technology improves financial services. Blockchain offers decentralized access to financial services alongside ensuring cryptographic security for the assets of users. The new developments in the blockchain landscape, such as DeFi and NFTs, present revolutionary implications for fintech. 
How? DeFi offers the concepts for transforming financial services by enabling decentralization so that any individual can access financial services. On the other hand, NFTs are the perfect example of the tokenization of digital and physical assets with control over asset ownership. Blockchain expertise could also help in strengthening your skills in cybersecurity for safeguarding fintech applications. 
Want to learn blockchain technology in detail? Enroll Now in Certified Enterprise Blockchain Professional (CEBP) Course
Soft Skills for Fintech
The details of most in-demand fintech skills would also draw attention toward soft skills. Here is an outline of the important soft skills you would need in the world of fintech.
The rapidly evolving nature of the fintech industry also emphasizes opportunities for success in your fintech career with communication skills. Fintech experts can achieve success only through collaboration with relevant teams and exchanging ideas. Effective interpersonal skills are a must-have for every fintech professional.
The flexibility of fintech experts in adapting to new trends also qualifies as another essential skill for fintech professionals. Rather than holding on to traditional practices, fintech experts should always be ready for change. 
Creativity and Problem-Solving
The essential addition among the best fintech skills required for professionals would refer to creativity and problem-solving. Fintech primarily aims at using technology in innovative ways to resolve existing issues with financial services. Creativity can fuel the development of better ideas and effective-problem solving with ease. As a result, creative fintech experts are more likely to come up with value-centric solutions for notable problems emerging in fintech. 
Want to know the best tips to navigate through the career path in blockchain easily? Check the detailed guide Now on Top 10 Tips To Start A Career In Blockchain
Final Words 
The outline of the important skills required in the fintech industry shows that you have to work on multiple aspects to ensure success as a fintech professional. You can notice how the top fintech skills include both technical as well as soft skills. Most important of all, the discussion highlighted the trends which favor the importance of learning about financial technology. As you learn more about fintech, the industry comes up with new trends. Therefore, aspiring professionals need fluency in the in-demand skills for fintech to ensure possibilities of success. Start exploring the opportunities for your career development in fintech now.

*Disclaimer: The article should not be taken as, and is not intended to provide any investment advice. Claims made in this article do not constitute investment advice and should not be taken as such. 101 Blockchains shall not be responsible for any loss sustained by any person who relies on this article. Do your own research!