The popularity of new terms such as fintech and edtech has been making a lot of buzz in discussions across various technology forums. Fintech is more relevant than ever, and people are wondering how to become fintech experts and make the most of lucrative opportunities for rewards. At the same time, beginners also have doubts regarding prospects for a thriving career in fintech. Therefore, it is important to start with proper guidance regarding the basics of fintech, such as its origins, working, and basic skills required for developing a fintech career. 
New technologies such as smart chip ATMs, cryptocurrencies, dApps, non-fungible tokens, and many other disruptive technologies have defined the modern fintech landscape. On the other hand, new innovative fintech advancements also create confusion for beginners. For example, terms such as blockchain, decentralized banking, and cryptocurrencies would be alien to any fintech beginner. The following discussion offers a career guide for navigating your way to desired fintech job roles and becoming a professional.
Importance of Fintech 
The first concern in the minds of beginners right now would be, "is fintech a good career" and it is a valid one. Any individual would be concerned about the feasibility of career development in the domain of fintech, especially a beginner. Can you pursue a long-term career in fintech? While the answer to this question may vary, most beginners would look for evidence before committing to a fintech career. 
Let us start with a simple outline of how fintech advancements influence the financial services industry now. The new trends suggest the sustainability of fintech as digital banking has become more efficient and immersive. On top of it, artificial intelligence and data analytics have become prominent additions to the fintech landscape. AI and data are important technologies you must learn to become a fintech professional as they help in tailoring fintech solutions to the needs of consumers. Furthermore, recent improvements in the use of blockchain technology have redefined the domain of fintech. 
Develop in-depth knowledge of fintech concepts and become a part of the advancements in finance with elementary Fintech Flashcards
Is Fintech the Ideal Choice for Career Development?
The trends in the fintech industry could also provide an explanation for doubts about pursuing a fintech career path of your choice. The Q1 2022 report by ABN AMRO has suggested that fintech startups successfully raised almost $32.4 billion, with almost 473 unicorns worldwide. At the same time, the number of new unicorns has increased by 40 in 2022, thereby showcasing proof of new job opportunities. Furthermore, crypto startups have been successful in raising around $7 billion in the first quarter of 2022. Interestingly, cryptocurrencies and DeFi have showcased the fastest possibility of growth, with an increase of almost 2.4 times as compared to the first quarter of 2021.      
People searching for opportunities to learn fintech must note that financial institutions and banks would adopt fintech to make consumers access financial services easily. The technologies in the fintech industry are evolving, and fintech companies, alongside banking and financial services organizations, would search for new ways to adapt to the trends. Organizations have the right opportunity to capitalize on the implementation of fintech technologies at scale for transforming their global operations. Therefore, the rise of fintech companies would drive growth in demand for fintech professionals. 
One of the biggest examples for verifying the necessity to become a fintech expert would refer to JPMorgan Chase and Goldman Sachs. Both of these firms work as technology firms now, thereby bringing them within the ambit of fintech. Goldman Sachs has claimed that around half of their job advertisements till 2017 were posted for tech talents. In addition, JPMorgan also employs tech talent as a major share of its workforce for the development of intellectual property. All these factors provide a clear impression regarding the feasibility of a career in fintech. 
Learn the basic and advanced concept of Fintech. Enroll Now in Fintech Fundamentals Course!
Career Roles in the Fintech Industry
Any career guide on fintech would obviously focus on the four core elements of the industry. The four horsemen of fintech are blockchain, artificial intelligence, data science, and machine learning. The answers to "how to start a career in fintech" would obviously emphasize the available job roles. Here is an outline of the popular job roles you can explore in the domain of fintech.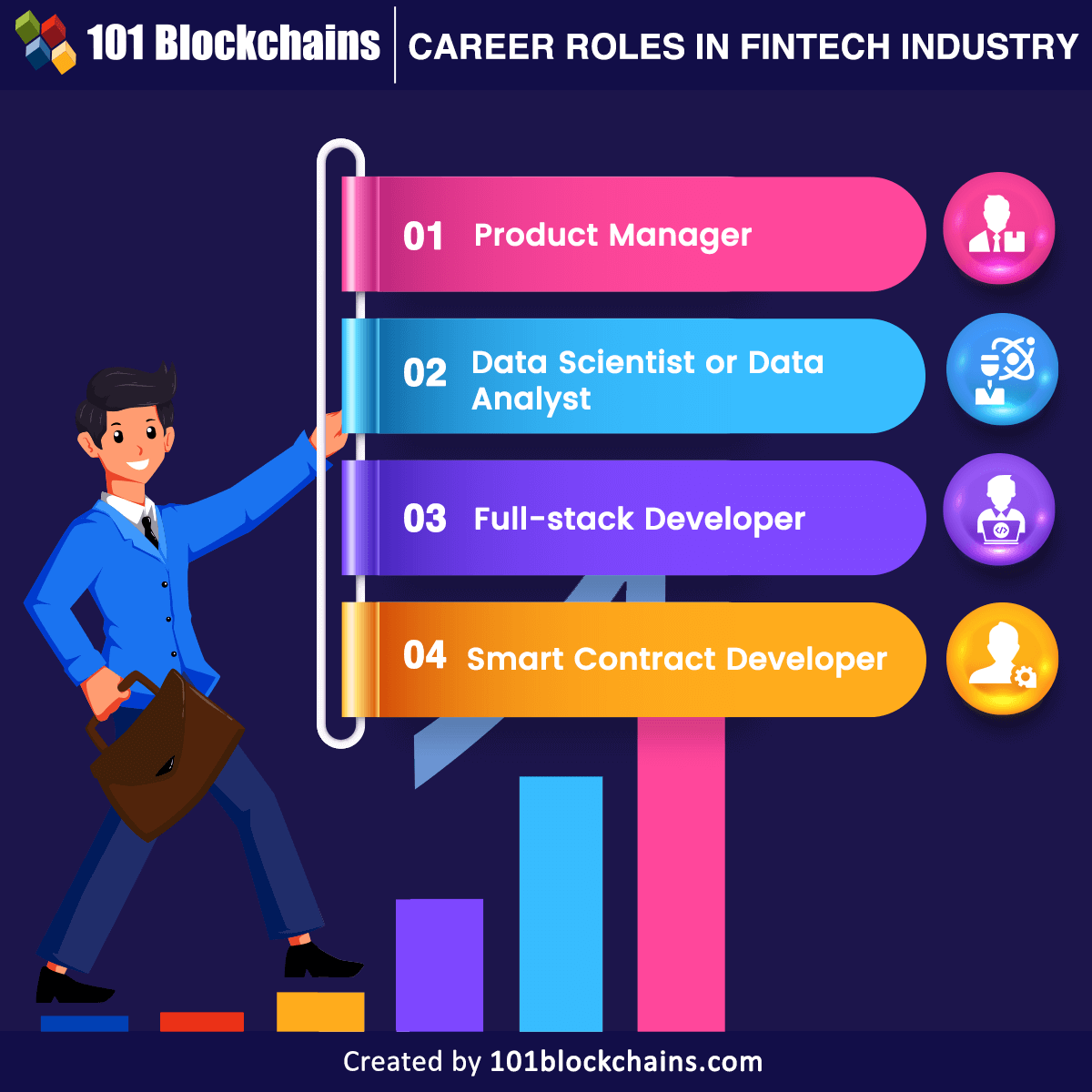 Product managers work as communication channels between financial institutions and merchant banks. The primary work of product managers focuses on strategic goals for developing solutions that can be feasible in the fintech sector. They are responsible for communicating the utility of fintech services to financial service organizations. 
Data Scientist or Data Analyst
Data scientists or data analysts work on the development of comprehensible patterns from a massive data stream, which they can access daily. Candidates who want to become a fintech professional are most likely to find the data scientist role interesting as it focuses on analyzing multiple data sets. You would create strategic plans on the basis of the data insights and create financial products and services tailored to your fintech service requirements.
Mobile app developers with skills in UI/UX design alongside capabilities for translating their skills into web-based solutions could also find promising career opportunities in fintech. Full-stack developers must have expertise in various programming languages and the capabilities to adapt to the new improvements in fintech solutions. 
Another prominent career opportunity in the fintech industry would refer to the role of smart contract developer. Blockchain-based dApps have become integral highlights in the fintech ecosystem, and smart contract developers can build these innovative solutions. Smart contract developers could develop and maintain decentralized applications such as crypto exchanges, decentralized autonomous organizations, or DeFi apps. 
Interestingly, the average fintech salary you can expect as a blockchain developer or smart contract developer is around $100,000. Similarly, you can also expect lucrative financial remuneration in other fintech job roles. At the same time, you could also explore many other roles in fintech according to your academic qualifications, past experience, and transferable skills. For example, you can try roles such as risk and compliance manager, fintech lawyer, business analyst, or cyber fraud investigator. However, you must follow the best practices recommended by experts for career development in fintech.
Curious to understand the complete smart contract development lifecycle? Join Standard/Premium Plan and get free access to the Smart Contracts Development Course Now!
Best Practices for Becoming a Fintech Expert
The ideal route for becoming an expert in fintech would start with developing your career in the domain. Apart from the guidance regarding fintech career path opportunities, it is important to reflect on the ways to strengthen your identity as a fintech professional. The good news for beginners is that you don't have to climb a rocket for learning about fintech and becoming a professional. On the other hand, it is important to remember that you could not follow any random shortcut to become fintech expert and pursue your career journey. A clearly planned strategy for career development would work wonders and help you reach your goals more easily. Here are some of the notable steps you must follow for career development in the field of fintech.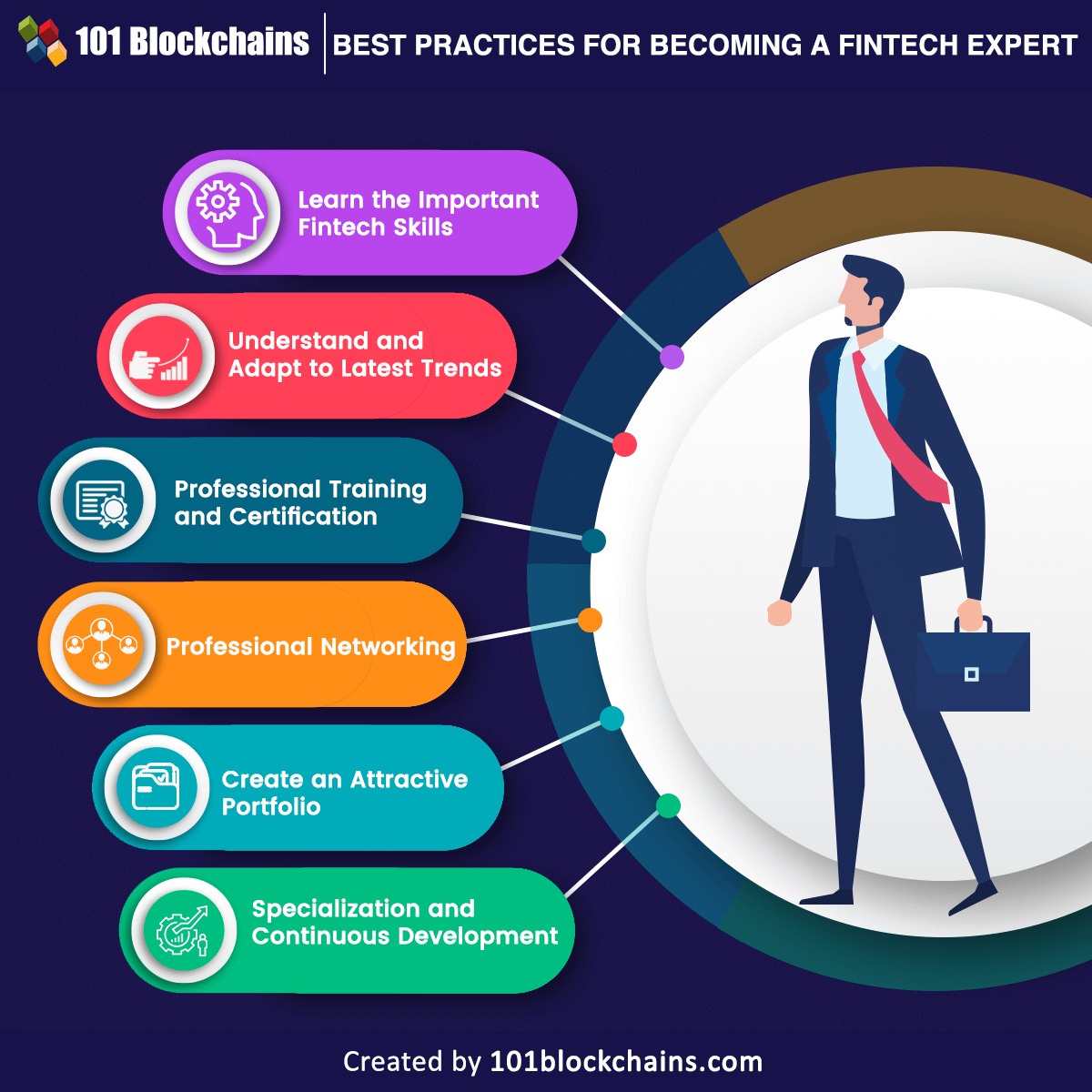 Learn the Important Fintech Skills
The obvious entry among steps for making your way to the lucrative fintech salary estimates would start with fintech skills. You can leverage the in-demand skills to achieve the initial boost required for accessing the fintech space. Some of the most notable skills you must have for a fintech career include machine learning, AI, cybersecurity, and programming. In addition, you must also learn data analytics and data mining. 
Furthermore, you must also have fluency in different financial services concepts and learn fintech troubleshooting for responding to critical scenarios. The outline of fintech skills would also focus on important soft skills such as strong communication skills and leadership skills. You must also emphasize leadership skills, the ability to adapt to dynamic environments, time management, and problem-solving skills. Furthermore, an innovative and agile mindset can also favor aspiring fintech professionals. The skills needed for the fintech job would depend on the roles and responsibilities in the job.
Embrace the new generation of financial services powered by innovative technology with the guidance of Fintech experts through Fintech Skill Path
Understand and Adapt to Latest Trends
The necessity of innovation and adaptability can never be overstated in a guide on 'how to start a career in fintech' owing to the consistently evolving nature of fintech. You must stay updated with the latest digital trends and innovative practices within the industry. The knowledge of new trends could also help you achieve a competitive edge in job interviews for fintech roles. According to Forbes, some of the top trends you should note in fintech are web3 and embedded finance. 
The concept of embedded finance helps encourage non-financial organizations to integrate financial technologies into their business operations. Fintech trends also call for developing a super fintech app that helps in accessing multiple financial services in one place. Similarly, web3 is also another revolutionary concept that can change the fintech industry with capabilities for decentralizing finance. 
Professional Training and Certification
The next crucial step in building your fintech career focuses on how you learn fintech and understand its applications. The internet is stuffed with multiple training courses on fintech concepts. Therefore, you need to identify the important topics you need to learn. At the same time, it is also important to select the right training course provider for learning the fintech concepts. In addition, you should also pursue certifications for professional skills required for a fintech professional. Certifications could help you communicate your expertise to potential partners, clients, and employers in a tangible manner. Training courses on fundamentals of blockchain technology, cryptocurrency, DeFi, and tokenization could help you build important skills. As a result, your fintech skills can strengthen your chances of landing up DeFi roles.
Build your identity as a certified blockchain expert with 101 Blockchains' Blockchain Certifications designed to provide enhanced career prospects.
The significance of professional networking in your pursuit to become a fintech expert is evident in multiple benefits. First of all, you could find the opportunity to learn new insights in communities of fintech professionals. At the same time, interaction with industry professionals can also help in encouraging possibilities of networking. You could start with LinkedIn and try visiting job fairs or fintech conferences to meet fintech professionals. A good professional network can help you achieve better possibilities for starting your career in fintech.
Create an Attractive Portfolio
The best tool for increasing your chances of becoming a fintech professional is your professional portfolio or resume. Make sure that your resume outlines your academic qualifications and knowledge in the fintech domain. Mention the details of certifications in fintech technology you have qualified for and any professional experience in the field of fintech. At the same time, you could also use your digital profiles on social media to express your views on fintech. For example, you can publish blogs or create YouTube videos with your opinions on fintech technology and new advancements. As a result, you can develop a clear proof of your comprehensive knowledge of fintech concepts. 
Specialization and Continuous Development
The final recommendation for any individual seeking a fintech career path would focus on continuous development. As you progress ahead in your career path, you have to seek new resources for learning about new trends. For example, a fintech professional could start with mobile programming fintech apps and end up as a smart contract developer. Therefore, you must always prepare for continuous learning and professional development for a career in fintech. 
Start learning Blockchain with World's first Blockchain Career Paths with quality resources tailored by industry experts Now!
Bottom Line
The consistent growth of fintech has been evident in the staggering rise in the adoption of technologies in the fintech landscape. Therefore, new organizations and startups in fintech could open up new career opportunities. Do you want to become a fintech expert with a clear set of career goals? The answer is evident in the skills which can help you make the most of lucrative career opportunities in fintech. For example, blockchain, programming, and AI/ML algorithms are a few areas of technology you can learn for fintech career opportunities. 
At the same time, you should also pay attention to the choice of training courses for learning about fintech. The fintech industry has maintained continuous expansion across multiple industries. Simultaneously, fintech has also brought non-financial organizations into its scope; fintech professionals can become valuable assets. Learn more about fintech with basic courses on blockchain, crypto, and DeFi to become an expert now.
*Disclaimer: The article should not be taken as, and is not intended to provide any investment advice. Claims made in this article do not constitute investment advice and should not be taken as such. 101 Blockchains shall not be responsible for any loss sustained by any person who relies on this article. Do your own research!