The following will list the top 10 most expensive NFTs on the market and help you understand why these NFTs are valuables.
The crypto community is more than eager to invest in NFTs such as unique digital assets, songs, images, collectibles, GIFs, or Memes. More so, they are voraciously buying various non-fungible tokens creating a new form of digital assets industry from the last few months.
Well, just in February, there are more than $300 million in sales, and the NFT marketplaces are surely making a huge profit on top of other people's work. Even newer platforms are gaining massive traction from selling these NFTs.
But all of these sales make you wonder what is the most expensive NFTs on the market now? In this guide, we will make a list of the top 10 most expensive NFTs and help you understand why these have a high price.
Aspiring to Become a Certified NFT Expert? Enroll in Certified NFT Professional (CNFTP) Course Now!
What Are Non-Fungible Tokens?
Let's understand what non-fungible tokens are before moving towards the list of the top 10 most expensive NFTs. Non-fungible tokens are a form of digital token that is unique in nature. They can be anything, starting from an audio clip to paintings or video games. Mostly these are a form of collectibles that are very unique in nature, and you can't interchange it with another token like you can with other cryptos.
For example, a painting of Mona Lisa is a one-of-a-kind painting in the world, and there is only one authentic piece. Thus, as you can see why this painting will hold value. Therefore, even if you take a photo or buy a replica, it won't be the one and original painting.
This type of unique nature of this token gives it value. But it also needs to be associated with media, which means not just anyone can sell NFTs at a high price point. You need to have a fanbase or an admirer of your work to be renowned to buy and sell NFTs. Thus, when you are buying the non-fungible tokens, you will get ownership of that asset and can sell it later on. Anyhow, let's move on to the list of the top 10 most expensive NFTs now.
Want to get an in-depth understanding of non-fungible tokens (NFTs)? Join Yearly/Yearly+ Plan and get free access to NFT Fundamentals Course.
Please include attribution to 101blockchains.com with this graphic. <a href='https://101blockchains.com/wp-content/uploads/2021/04/most-expensive-nfts-1.png' alt='most expensive nfts' border='0' /> </a>

Top 10 Most Expensive NFTs
1. Everydays: the First 5000 Days – $69.3 million
Even before last year, the artist known as Beeple was not that much popular as you would seem. However, in 2021, he sold one of the most expensive NFT artwork on the market. The artwork is named "Everydays: the First 5000 Days." The more interesting part is that this auction took place at an auction house called Christie's.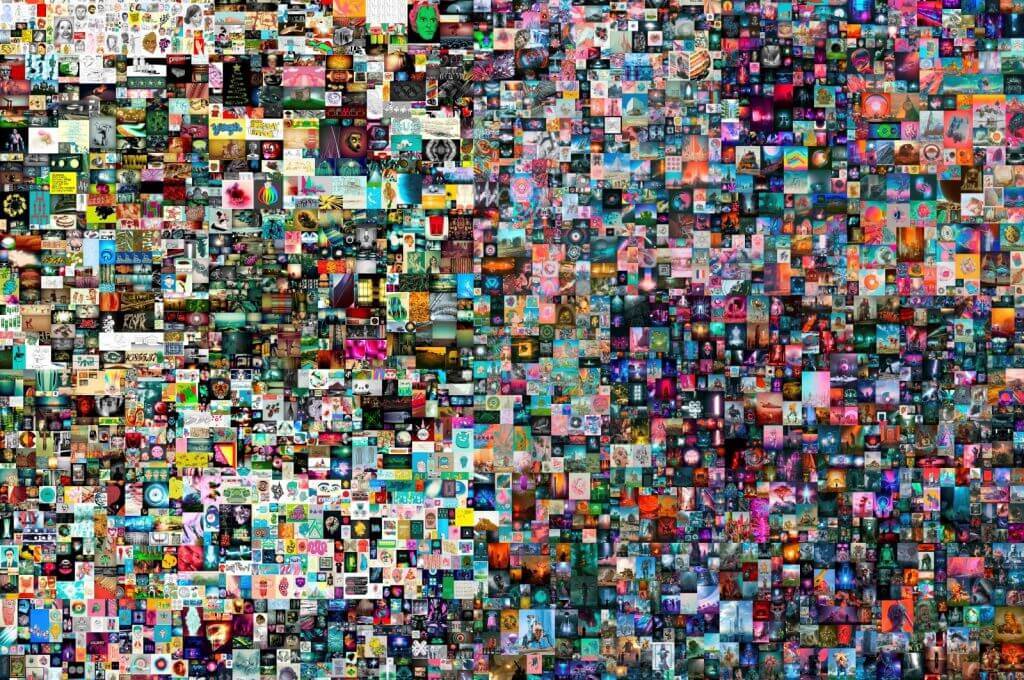 Image Source: Beeple
The bidding actually started out at $100, but it soon started to go higher and higher, and ultimately it was sold at a price of $69.3 million! You just be thinking that's a lot of money for some digital artwork. Well, with the technological revolution, isn't it obvious that we will soon move on to digital paintings rather than physical paintings.
Anyhow, this artwork was a compilation of the first 5000 digital arts of Beeple. In reality, when Beeple started making digital arts, he did not miss even a single day starting from May 2007. Therefore, the compilation has a lot of varying styles, contents, and mediums. Some of the very first ones were definitely not up to the mark; still, the value increases immensely as a collective. And that why this is one of the most expensive NFT ever sold so far. This is surely one of the valuable non-fungible tokens in 2021.
2. CryptoPunk #3100 – $7.58 Million
CryptoPunks is a new kind of creation of the NFT world. Actually, these are the very first NFTs created on the market, and after the boom of NFTs, now many of them are selling at millions! And that's why CryptoPunk #3100 is also on our list, as it's the second most expensive NFT ever sold.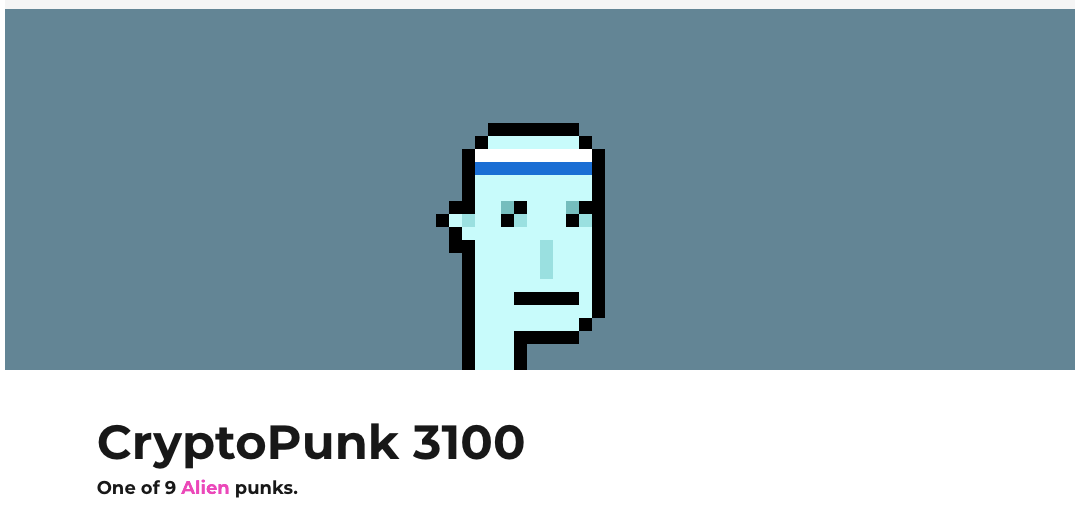 Image Source: Larva Labs
In reality, this CryptoPunk is one of the rare ones, and it belongs to the group of 9 Aliens. You see, CryptoPunks only has 10,000 punks in store. More so, among them, only 9 are Aliens. So, you see, these 9 are some of the rarest collections they have. These tokens are also ERC-20 token so they follow ERC standards.
The character has blue-greenish skin, and it also comes with an accessory. In this case, it's a headband, and only 406 punks have this accessory. More so, as it only comes with a single accessory, which is also rare, and only 333 punks have a single accessory. So, based on the type, accessories, and accessory counts, this punk is super rare. That's why it was sold at a price of $7.58 million.
3. CryptoPunk #7804 – $7.57 Million
Another CryptoPunk is on our top 10 most expensive NFTs list with $7.57 million. The Punk #7804 is another Alien, and this time it comes with three accessories. More so, the accessories include Cap Forward, Small Shades, and a Pipe. Apparently, only 254 punks come with Cap Forward, 378 punks come with Pipe, and 317 punks come with small shades. But basically, the pricing is due to the fact that Alien punks are extremely rare.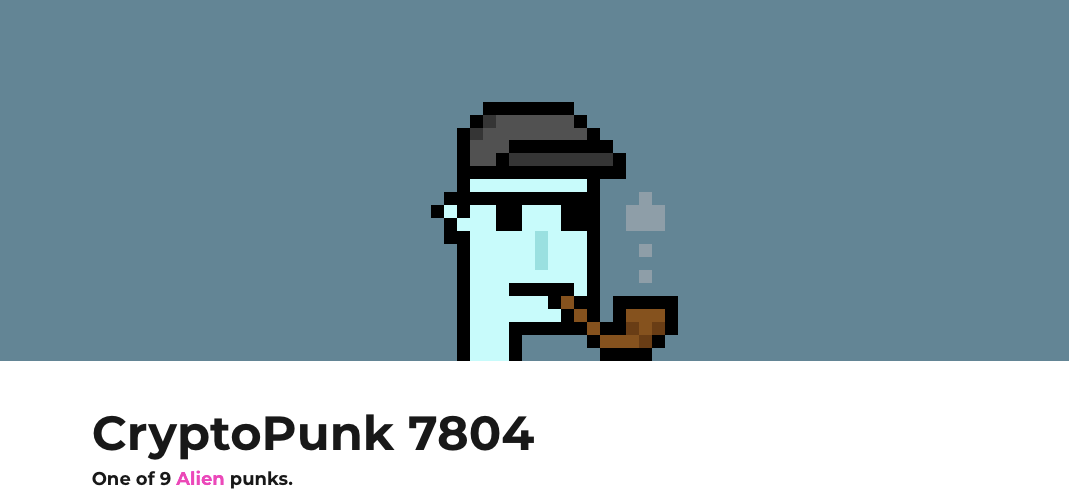 Image Source: Larva Labs
Dylan Field first got the punk back in when the company first started to give away the 10,000 CryptoPunks. In reality, he owns the startup Figma, which is based on technology designs. But why did he buy that punk? Well, he saw the potential for this Ethereum based NFT, which led him to make the purchase back in 2018.
4. Crossroads – $6.6 Million
Crossroads is another most expensive NFTs on our list. This is another artwork from Beeple, and this sale happened just days before the massive sale of Everydays. More so, the artist sold this piece in Nifty Gateway. Also, this is not a compilation like Everydays, but it's a single piece of artwork. Therefore, the evaluation of this piece makes it even more expensive.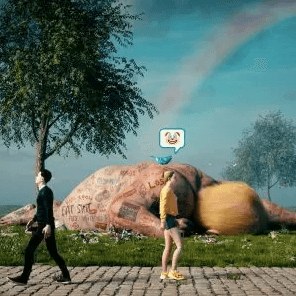 Image Source: Beeple/NiftyGateway
Well, the artwork is somewhat a political gamble and a response to the presidential election happening in 2020. The fun fact is that the artist made two versions of this – one was for if Trump would win, and another one was for If Trump would lose. And based on the outcome of the election, the video would change.
Want to become a certified blockchain professional? Enroll Now: Certified Enterprise Blockchain Professional (CEBP)
5. The first Tweet – $2.9 Million
Next, on our list of most expensive NFTs in 2021, we have the very first tweet. In reality, the CEO and founder Jack Dorsey tweeted the very first tweet after setting up Twitter back in 2006. The tweet read, "just setting up my twttr." And later on, he sold this tweet as an NFT for a hefty amount of money – $2.9 million! Well, judging by the massive popularity of the social media platform Twitter, it's not a shocker that the very first tweet will get this much attention. This is definitely a new from of asset tokenization.

Anyhow, the founder sold this tweet to Oracle CEO Sina Estav, who believes it's as much as important as buying the Mona Lisa. More so, the CEO sold this tweet on Valuables, which is an online auction platform. According to the platform's rules, they will take a 5% cut from the selling price. Although the post will stay on Twitter, the owner of that piece is now Sina.
6. CryptoPunk #6965 – $1.54 Million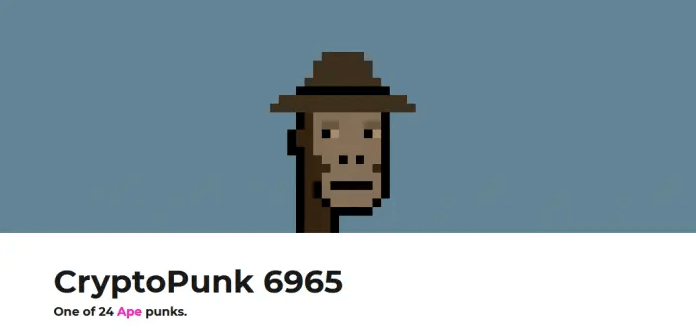 Image Source: Larva Labs
Another punk is on our list as one of the most expensive NFTs in 2021. As we said earlier, every single CryptoPunk comes with its unique characteristics and attributes. Therefore, this punk is no different than that. Well, here, CryptoPunk #6965 is one of the Ape species. It also comes with a Fedora as an accessory. More so, only 186 punks have Fedoras, and there are only 24 Ape punks. That's why the price is $1.54 million! However, these are not ERC-721 tokens but similar to ERC-20 token.
7. Axie Infinity Genesis Land – $1.5 Million
If you are into virtual games, then you know how in-game items can cost a lot of money. However, this Ethereum based virtual game called Axie Infinity may have taken it to the next level. In reality, Genesis Land is extremely rare within the game, and it has a high price. But a community member just bought nine Genesis blocks at a whopping $1.5 million! Thus, making it one of the most expensive NFTs in 2021.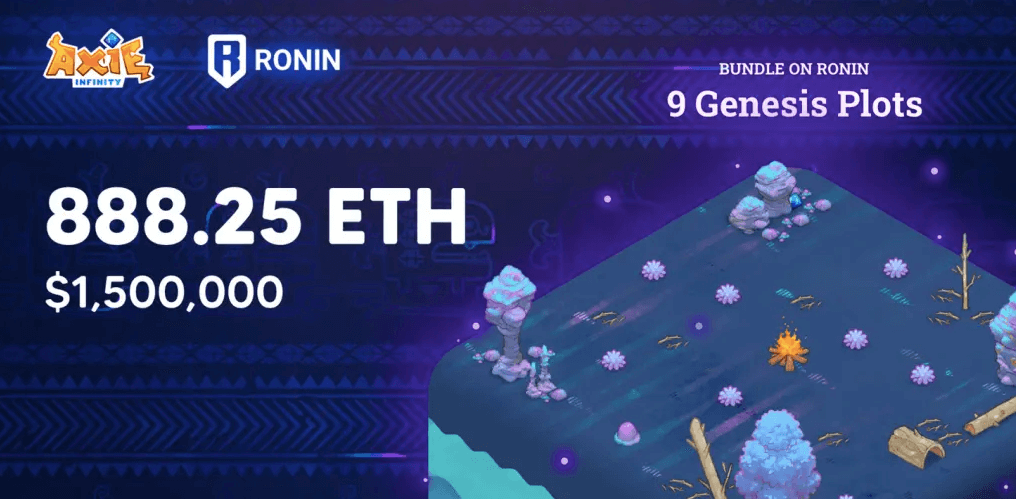 Image Source: Axie Infinity
At the time of the selling, it was worth 888.25 Ether; however, the value has increased drastically as the price of Ether has also increased over the few months.
8. CryptoPunk #4156 – $1.25 Million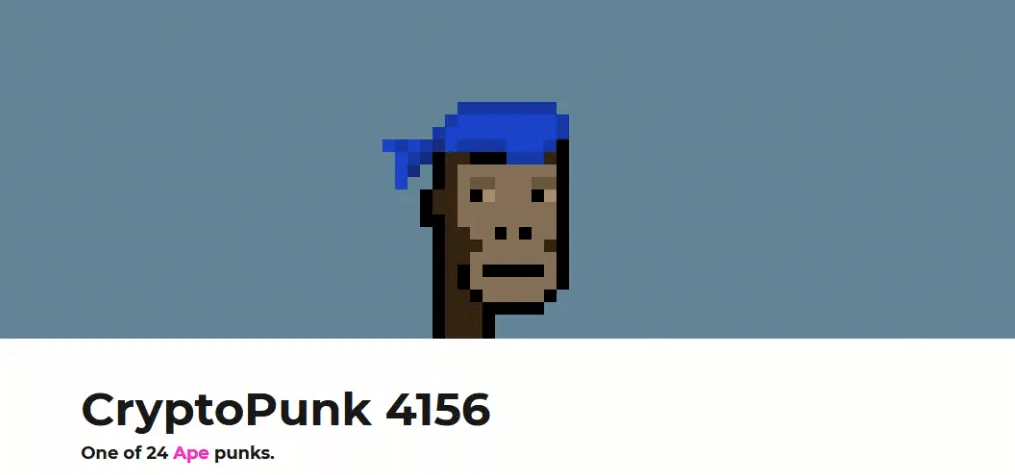 Image Source: Larva Labs
On our list, next, we have the most expensive NFT ever sold on the market, and it's CryptoPunk #4156. That's right, another CryptoPunk is on our list again. This time it's also another Ape punk, and this time it also comes with an accessory – a blue bandana. Among the 10,000 punks, only 481 punks have this feature. And now it belongs to the Ethereum address 0xf476cd for $1.25 million. However, buying CryptoPunks will need Ethereum Gas, so remember that if you want to invest in some CryptoPunks as well.
9. Not Forgotten, But Gone – $1 Million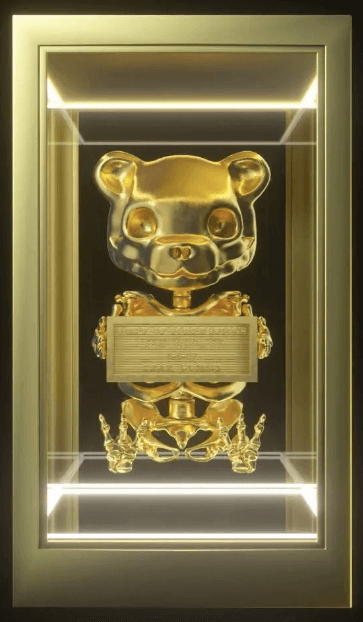 Image Source: WhIsBe/NiftyGateway
Do you want to buy a rotating gummy bear video clip for millions? Well, this is what happened in Nifty Gateway NFT sales. An artist called WhIsBe was the creator of this artwork. Apparently, he features various gummy bears in many creative forms. More so, it's a 16-second video of a rotating golden gummy bear skeleton, and it's called "Not Forgotten, But Gone." The artist sold this piece for $1 million.
Get familiar with the terms related to non-fungible token with Non-Fungible Token Flashcards
10. Metarift- $904.41K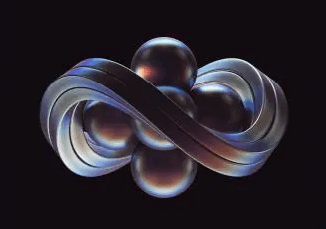 Image Source: Pak/MakersPlace
It's another Satoshi situation here as no one knows who is the designer of this artwork. Well, the artist goes by the name Pak, but no one knows the real identity. Apparently, Pak is very popular in the digital art ecosystem, and due to the mysterious nature, the piece was sold at $904.41K. The NFT art features some spherical objects, and they are rotating in various directions, and they are clustered together. There are other various NFTs use cases like this, it's not only limited to art!
Conclusion
NFT marketplace is taking a massive boom over the last few months, and definitely, 2021 is the year for NFTs. Just right after 2021 started, many of the NFTs started to go for millions. It might seem a bit crazy to some people, but it's a different form of token, and in this age of digital revolution, NFTs fit in perfectly.
Now that you know the most expensive NFTs on the market, you can also try your luck. However, do remember these tokens are powered by blockchain technology, and so this is the perfect time to educate yourself about it. So, we suggest starting with our blockchain courses to learn more about the technology.