Ever wonder how blockchain can truly help your organization to grow? Blockchain technology is one of the leading innovations at present, and our blockchain masterclass will cover all the core values of this powerful tech. In our blockchain masterclass, we combine deep research with real-world applications along with different examples.
Every person attending our masterclass will be able to grasp the concept of blockchain for business and utilize that knowledge for their enterprise blockchain digital transformation.
So, take a look at what we have in store for you!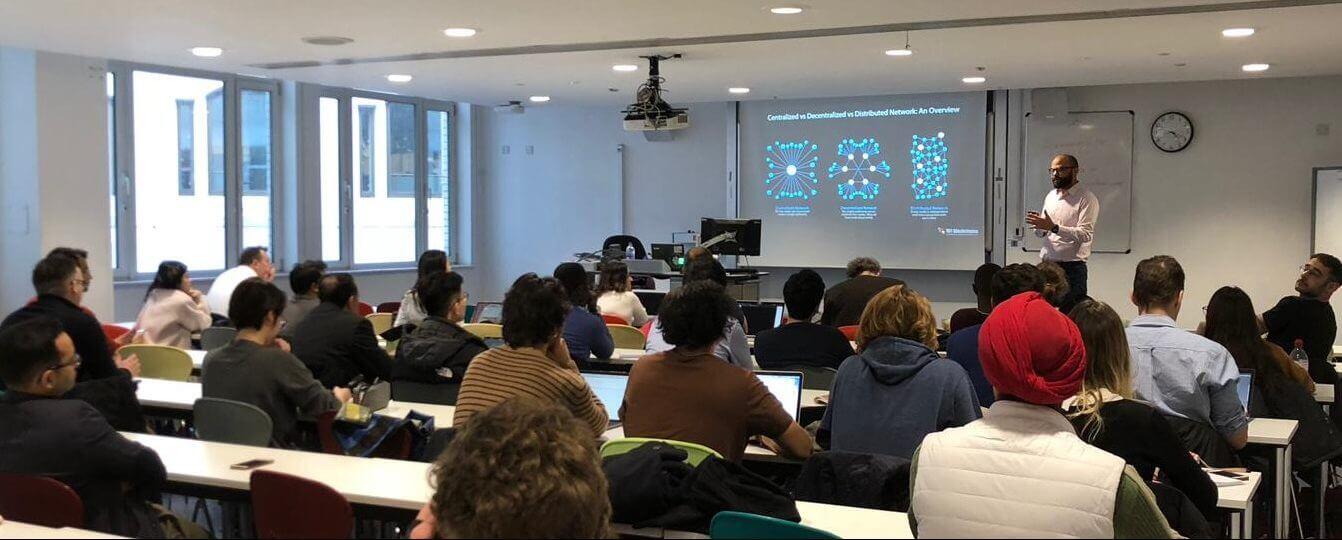 London School of Economics, 2019
Why Use Our Enterprise Blockchain Training?
Every topic covered in the private blockchain masterclass will help you understand the technology and the overall landscape more thoroughly. Furthermore, this way you will be able to participate in the new frontier quite easily. However, we mainly boast about our private blockchain masterclass for three major reasons –
The blockchain masterclass will offer strategic approaches which will expand your knowledge.
To help your business bloom you would need to target the right industries. Moreover, with our blockchain masterclass, you'll get the latest industry insights to help you target the right marketplaces.
We will also let you know about today's enterprise blockchain use cases. These lessons will help you model your blockchain integration more accurately.
Our masterclasses are all private sessions dedicated to enterprise-grade personals only. So, you will be getting premium lessons with more attention to your enterprise needs. Furthermore, you will be able to interact with our instructor more freely which will help you learn faster.
Description of Our Business Blockchain Training Course
In our blockchain masterclass, we will dive deep into blockchain technology and everything related to this technology. Our classes are mainly for executives and individuals who want to explore the impact of blockchain on their respective industries and wants to understand and formulate the potential risk factors.
Blockchain technology is a disruptive force to impact traditional businesses. All these disruptions are unfolding as the technology evolves. This technology is impacting a various range of sectors including supply chain, healthcare, government, finance, trade, retail and many more.
That's why now a large number of leaders and executives are looking for good resources to understand the tech more efficiently so that they can also utilize it for their betterment.
Our private blockchain masterclass contains "no fluff" materials, and we deliver insightful knowledge for these professionals. Furthermore, our masterclass instructor will cover every topic one by one in a simplistic manner that would be easy for anyone to understand.
So, if you are looking for enterprise blockchain training, then this course is definitely for you.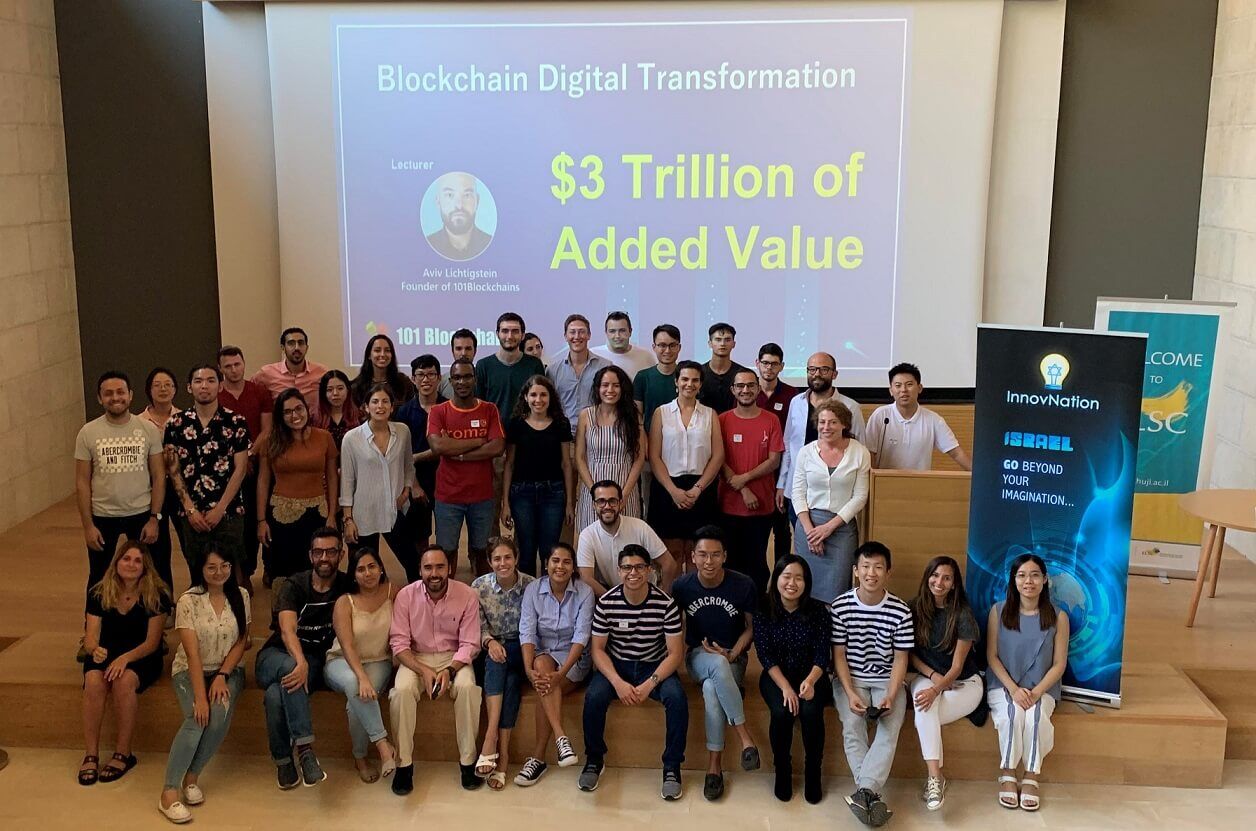 Enterprise Blockchain Masterclass @ July 2019
What Topics Will Our Blockchain Business Training Cover?
Our instructor will cover a wide range of topic, and with our every class he'll cover –
All the fundamentals of the blockchain training starting from what is it, how it works, key features of the technology.
Go over some important Blockchain terms. You'd need to know about these special terms to fully master the concept of this tech.
History of the technology and how blockchain technology evolved over the years.
Different Blockchains Types:
Three general types of blockchain that you can use in digital transformation such as Public, Private and Federated networks. Further, two permission types – Permissioned and Permissionless. Our instructor will also compare these networks in the business blockchain training.
Blockchain Digital Transformation:
Go over blockchain digital transformation and introduce which companies are already going through this transformation.
When and where you should use them and which industries need it the most.
Current business trends related to blockchain – STOs, BAAS (Blockchain as a Service), Stablecoins and more.
Different distributed ledger technologies (DLTs) other than blockchain that are worth looking into.
Web 3.0 and The Internet:
Future scenarios of blockchain such as Web 3.0 – the new decentralized internet, IOT and many more.
Follow up on blockchain enterprise use cases and discuss the various business model idea for your company.
Enterprise Blockchain Companies:
Go over popular enterprise blockchain that you should look into and how these work and can help you out. We will mainly include Hyperledger, Ethereum, and Corda in the enterprise blockchain training course.
Different case studies of enterprise companies and how these different industries are implementing blockchains such as Retail, Government, Healthcare, Insurance and many more.
Implementations Challenges:
There are some implementation challenges that you should definitely know about before getting started. We will cover each of them thoroughly.
How you should develop your POC (Proof of Concept) strategy.
Enterprise Blockchain Workshop:
Here you'll learn to innovate new ideas for your company.
Practical exercises to help you grasp all the concept of the blockchain masterclass.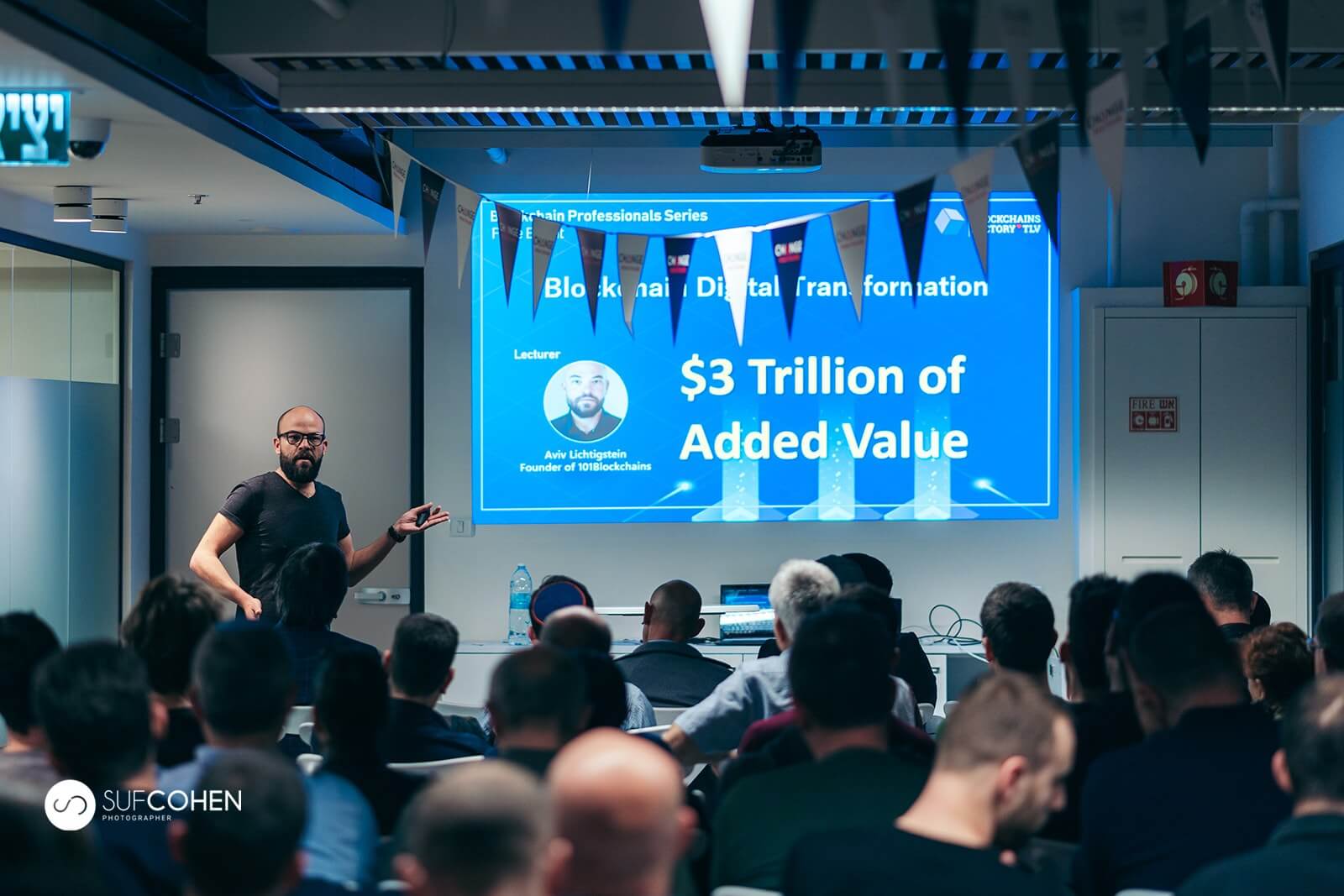 Change Healthcare, 2019
Will The Course Material Be Included?
Yes, we will include the presentations slides (100+ pages) along with the course book for every student attending our blockchain masterclass. Moreover, we update and revise every single course material to give you the most recent information as much as possible.
Who Should Attend The Blockchain Masterclass?
The blockchain for business and corporate training is specifically designed for non-technical and technical people who want to develop a powerful understanding of the whole blockchain tech and the impact on enterprises.
So, CIOs, CTOs, CEOs, Innovation Managers, Strategic Directors, and VPs, Business Leaders, Decision Makers, and Entrepreneurs should definitely attend our corporate training.
Moreover, Governmental institutions, Trade organizations, Municipalities or any kind of professional who is dealing with technological and organizations industrial transformation should definitely try out our blockchain business training.
Certification of Completion
All the participants attending the private blockchain masterclass and completing the enterprise blockchain workshop will get the 101 Blockchains Certificate of Completion.
About The Instructor
Aviv Lichtigstein is an experienced leader and entrepreneur who has vast experience in building enterprise-grade products utilizing Artificial Intelligence and Big Data. He is also the CEO and founder of one of the world's leading resource portals for blockchain – 101Blockchains.com.
As Aviv is a senior level executive for over 12 years, he now has extensive experience in various fields where he takes part in business, operational and technical oriented roles. Moreover, he is efficient in launching, growing and running programs and projects using numerous business models. With Aviv's brilliance and wit, he drove many renowned startups to Fortune 500 companies to their success and glories.
Other than all these, Aviv shows an immense level of expertise in developing and managing teams to develop businesses and products. Moreover, Ironman triathlete and a passionate traveler.
So, book our blockchain masterclass now and learn from one of the very bests in the industry.
Just send a mail to suppor[email protected] we will get back to you as soon as possible