This article offers a detailed view on use cases and applications of blockchain for insurance and how insurance companies can take the advantage of blockchain technology.
Insurance is one of the sectors, that can gain from the use of blockchain. In this article, we will be exploring what blockchain insurance has to give to us. Insurance has always been a big task for anyone going through a problem, and we hope that blockchain insurance can change the whole landscape. Many blockchain insurance startups are working towards a better insurance experience for the end-user and the businesses that handle the insurance for people.
Few of the blockchain insurance startups are focusing on an entirely novel approach, whereas others are trying to augment the already present insurance processes and improve them in the whole process.
Also, to get a better grasp of the blockchain insurance policy, we need to be going through the blockchain insurance use cases. By going through these blockchain insurance use cases, you will get a better idea of how blockchain insurance startups are trying to solve the problem of the blockchain insurance industry.
Enroll Now: Enterprise Blockchains Fundamentals Course
Blockchain for Insurance: Current Conditions and How Blockchain Can Help
The prevalence of insurance in our life is nothing new. It has been running for thousands of years. Right now, we are living in an insurance industry that depends heavily on brokers. It is common for brokers to call up people and convince them to take up a policy.
The approach is to make a paper contract which means the inclusion of human errors during the draft or when claiming the insurance. All-in-all, it all makes things complex for all the parties in the pipeline including the insurers, brokers, and consumers. We also need to take into consideration the risk associated with the whole process.
How Blockchain Can Benefit the Insurance sector?
Blockchain is the technology that can transform the industry. However, it is not as impactful right now, but it does show promise. To get a better understanding, we first need to understand how blockchain impacts or changes in the insurance industry?
Also, we need to know which use-cases will have a significant impact in the long run. For insurance companies, blockchain insurance is the newest term that they need to deal with. It will give rise to blockchain insurance companies which will make the most of what blockchain has to offer.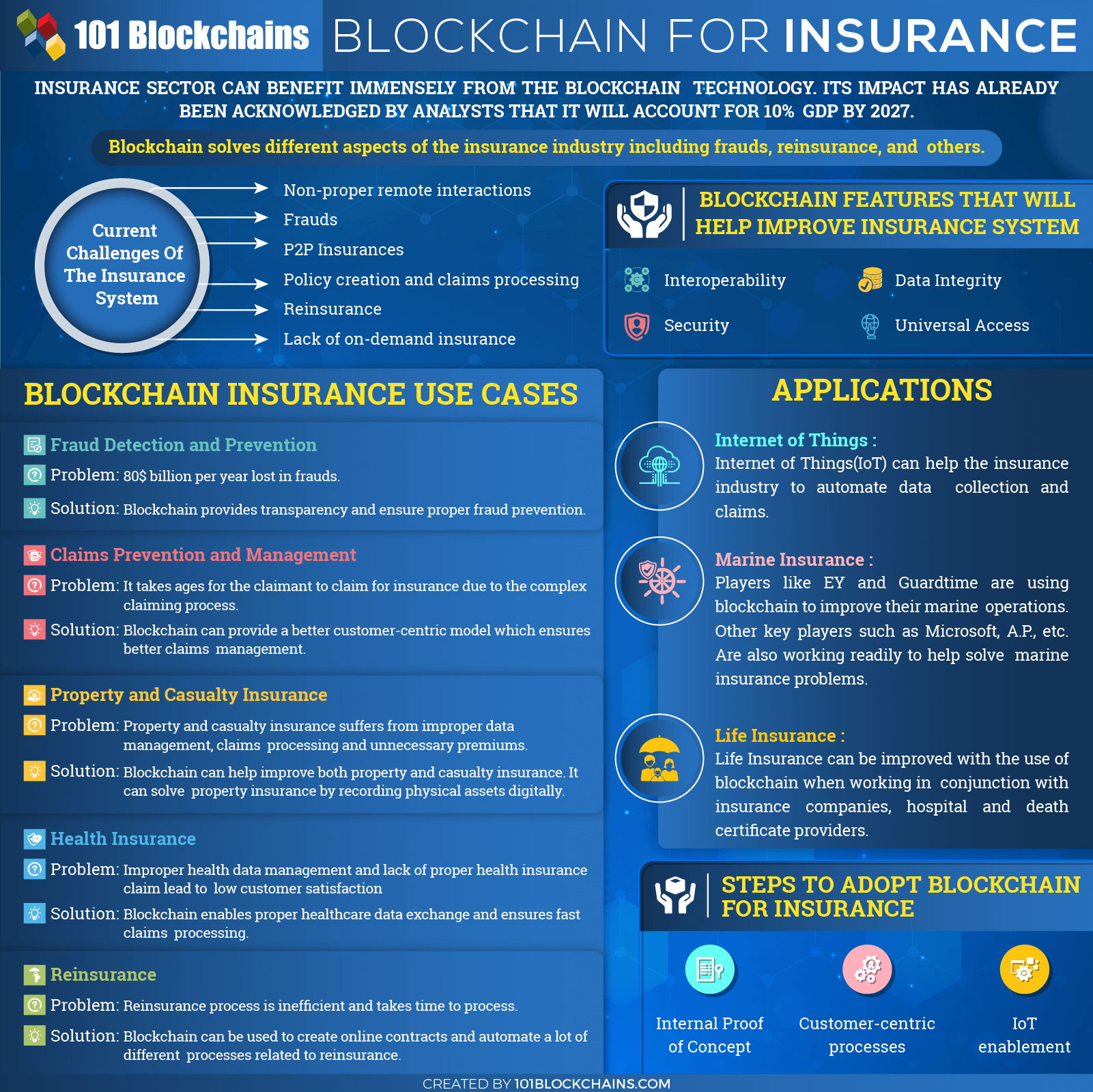 Right now, we can say that we have a lot of proof-of-concept projects where the ideas are more of a concept than a reality. Also, insurers need to redo everything including changing their insurance business model. This will take time and proper testing before substantial changes can be seen in the market.
However, there would be early adopters who will have the first movers' advantage. The four blockchain use-cases and applications include the following.
Fraud Detection and Risk Prevention
Claims Prevention and Management
Health Insurance
Reinsurance
Property and Casualty(P&C) Insurance
To understand the potential outcomes, let's go through the blockchain insurance applications and use-cases below.
Blockchain Insurance Use Cases and Blockchain Insurance Applications
Fraud Detection and Risk Prevention: Current Issues and Problems
Frauds in insurance are a big problem which both the organizations and the end-users want to be solved. With insurers not truly invested in solving the fraud issue. Their approach to solving fraud has always been less than required. However, the use of anti-fraud technology is quite common among insurers with as much as 95% of them using it.
Even with all the precautions and use of anti-fraud technology, insurers still have to suffer from a large number of frauds. According to reports, the insurance industry suffers from 80$ billion per year. Both the insurance companies and the end-users suffer due to fraud. On average, a family can lose anywhere from $400 to $700 per year.
In short, the standard method fails to prevent fraud considering the sheer complexity that the insurance industry offers. Most of the time, a visibility issue occurs when information is sent between peers including the insurers, reinsurers, and claimers. The paperwork also enables criminals or fraudsters to modify the information and hence make frauds.
How Can Blockchain Help with Fraud Detection and Risk Prevention?
Blockchain can solve the fraud problem thanks to the transparency it has to offer. Better coordination between insurers means that fraud can be combated properly. The distributed ledger technology ensures that the transactions done on the blockchain are permanent.
This means that no data can be modified once written which provides the basis of data security. Claims can now reside on the distributed ledger making it easy for the insurers to verify the information when the time comes.
To improve fraud detection, significant insurers gather data publicly and then predict fraudulent activities. With the data, patterns are revealed which in return helps to improve recognition. However, the challenge is to share sensitive data across organizations that have always been there which makes the whole process complex.
The aim is to build a fraud detection platform that can work network-wide by also keeping privacy in check. Blockchain lets insurers do just that. It lets stop fraud and bring more coordination among insurers which can benefit indefinitely.
So, what frauds can be stopped using blockchain? Let's list them below.
Stopping or reducing counterfeit is the number one benefit with the help of digital certificates.
Double spending or booking can be eliminated where clients cannot claim for the accident twice.
Removing unregistered sellers and reducing the premium.
Claims Prevention and Management: Current Issues and Problems
Keeping frauds aside, another big issue that the insurance industry suffers from claims prevention and management. It takes time for insurers to gather all the required information while verifying or settling an insurance claim. This can lead to problems considering the severity of the claim.
Another challenge is to find out the right fullness of the claims. It is common for claimants to forge false documents which can lead to claims that never happened.
How Can Blockchain Help with Claims Prevention and Management?
Blockchain, when combined with modern technologies, can enable insurers to create a transparent yet capable customer-focused claims model. The model should depend heavily on trust which means that it needs to be transparent to a great degree.
The claims prevention aspect of insurance can benefit heavily from the information regarding the event's location, analytics, and external risks associated with the event.
Blockchain's distributed nature enables an implementation method that puts both insurer and the claimant in the same network. The insurers or other third-party parties can easily capture information regarding forms, police reports, evidence, and soon. Other key aspects of technology that can help in the process can be either mobile phones or sensors attached to the other devices attached either to the entity or around the area where the event takes place.
These will streamline the whole process and ensure proper claim submissions. In return, it will improve customer satisfaction and improve coordination between all the parties involved in the claim process.
So, how would an insurer know when an event takes place? The sensor permission to provide information can alert the required parties when an unplanned event takes place.
In short, insurers, in combination with blockchain and other technologies such as satellite, sensor data, mobile technology, and others can help solve the problem of trust in the system. Blockchain acts as the backbone as it offers transparency from the onset. Moreover, blockchain can also be used to facilitate payments if certain criteria are met, improving the time it takes to handle a claim.
Property and Casualty Insurance: Current Issues and Problems
Property and casualty insurance is one of the most important segments of insurance as it is used heavily by individuals, startups, or even enterprises. This type of insurance accounts for 48% of all US premiums and is considered significant all across the world. However, it is also plagued with problems such as data evaluation for claim processing, manual data entry, coordination across parties, and so on. The manual data entry also leads to errors which later result in the loss for any of the parties depending on the type of error that occurred.
The lack of a proper framework for claims processing hurts the end-user. For example, if your house got damaged due to negligence, then you need to fill the claims papers and then ask for claims from your insurance provider. Once done, the insurance company will then proceed with the claims and verify them.
However, it can get delayed or halted depending on how the offender's insurance company handles the claim. This issue occurs due to the mismatch between how the insurers handle the claims from their clients.
How Can Blockchain Help with Claims Property and Casualty Insurance?
Blockchain can help solve the current problems of property and casualty insurance. The approach is to manage the physical assets digitally. As we already know that blockchain can be used to write smart contracts in code.
This also means that business rules can be implemented and executed automatically. In short, claims can be processed automatically by using smart contracts. Also, all the changes can be traced for authenticity which makes them auditable.
The key here is smart contracts as it offers the required functionality of changing paper contracts into programmable code. The smart contracts, in turn, can be then automatically executed by taking in all the information and then executing it accordingly. The liabilities can also be calculated using smart contracts which then can be paid out to all the participants.
Auto insurance can take benefit of the overall technological growth as the sensors on the vehicle can be sent automatically if a crash happens. The smart contract will automatically take the next steps such as towing or medical services.
Next, it will try to gauge the damage to the vehicle with the help of sensors mounted on the vehicle and also through manual inspection. The smart contracts will then record when new reports arrive. After getting all the required information, the smart contract will settle the claim. All this can be done with minimal or no human intervention.
Health Insurance: Current Issues and Problems
One of the major issues includes non-access to patient's data due to confidentiality. This leads to a lack of information/data required for the claim insurance which costs both hospitals and the patient.
Any patient dealing with health issues is bound to visit multiple doctors across his lifetime. This leads to issues when sharing information from one doctor to another. Overall, everyone in the healthcare industry ecosystem including insurers, providers, and patients suffers from glaring issues.
Most of the time, a healthcare organization will store the information in their own silos rather than share it with other service providers. Also, there is an issue of duplicate or error information that gets stored without any form of the rectification process. Non-usage of the connective framework also means more administrative overhead and even a headache for the patients.
In short, there are two significant problems with healthcare that affect healthcare insurance directly or indirectly. Rigid privacy laws mean information cannot be shared seamlessly among healthcare institutes.
Blockchain in Health Insurance: Solutions
Blockchain is a cryptographically secure network that provides healthcare with the necessary infrastructure to function properly. It can be used to create privacy in the network and in return help the healthcare industry save billions of dollars.
The main objective of blockchain to create a network that ensures that the patients are always in control of their medical data. By doing so, they can let patients decide when and how their data is shared with the practitioners or medical institutes.
The overall impact of the blockchain on healthcare means that insurance can also function as it should. They can use the blockchain network for the medical records of the patients and ensure that they are correct. As blockchain uses a cryptographic signature it ensures data cannot be manipulated by any means.
The blockchain protects the data using timestamps. Also, the document stored on the blockchain can be updated regularly to reflect changes. Both insurers and providers can access the data anytime and make sure that the audit information is carried out without any problems. Patients can also add more information to the audit in the process and add value to their insurance claim.
Read More: Blockchain For Healthcare: Use Cases and Applications
Reinsurance: Current Issues and Problems
Reinsurance is also a big part of the insurance industry. They protect the insurers and protect their interest when natural disasters take place. Just like insurance helps people to mitigate risks and manage unexpected life events, reinsurance also does the same for insurers.
For insurers, reinsurance is all about mitigating risks when the odds are against them. For example, in natural disasters and mass health epidemics, reinsurance can help insurance cope with all the claims and demands.
The current solution used by reinsurance is inefficient at best. It is manually processed and determined by one-off contracts. The current situation leads to complexities as each contract is explicitly written which covers partial risk or a specific event. The real issue happens when the event occurs. It can take up to 3 months for a contract to be decided which makes the whole process hard to carry on for both parties.
Also, an insurer doesn't just negotiate with one reinsurer, but multiple ones, complicating the whole process. In short, no standard needs to be followed which leads to different data standards across institutions.
How Can Blockchain Help with Reinsurance?
As discussed above, reinsurance suffers heavily from the lack of information flow between organizations. Blockchain technology can help solve the problem by providing a streamlined network for information exchange between the parties.
The use of a shared ledger is the key here where the necessary information is updated as soon as it becomes available. This means that both the parties, insurers, and reinsurers can connect and share information to settle claims faster.
This efficiency can help the industry function more efficiently and hence decrease the operational cost associated with it. Consumers also benefit from it as it reduces the overall cost associated with claims.
Internet of Things (IoT)
Another interesting use-case of blockchain for insurance includes the blockchain and Internet of Things (IoT). In the day of the connected world, it is common for devices to stay connected and exchange a huge amount of data to be created and collected. This same data can be used by insurers and improve their insurance-models based on usage.
The auto insurance market can benefit heavily from these usage-based models which can let them gather data regarding insured vehicles. So, if a vehicle meets an accident, the information can be collected and then sent to the blockchain-based insurance network.
Read More: The Importance of Blockchain in Insurance Industry
Applications That Improve Blockchain for Insurance
Insurance for blockchain has always been in the works at big companies and organizations. They are trying to solve the insurance problems with blockchain, and many applications utilize it correctly. To get a clear picture, we will be listing some of those particular applications that focus on the proper use of insurance in the blockchain. Let's get started.
A Special Use-Case: IBM Blockchain
IBM blockchain is one of those amazing insurance projects that is transforming insurance management with the help of IBM blockchain. IBM is also one of the big companies using blockchain technology. It lets companies build a platform with transparency in mind.
So, how does it change the insurance industry?
Firstly, it simplifies the whole process of the company that is working with insurance operations. Also, it makes it easier for them to handle multiple parties as they constantly interact with them. Overall, the usage of IBM blockchain in insurance can help reduce the challenges related to handling multiple parties.
The validation and updating process is done in accordance with the distributed ledger technology. This means that there is an overall reduction in cost associated with managing and dispersing policies. In return, the customer support is streamlined to work seamlessly across the whole insurance industry. In short, the IBM blockchain lets us manage current challenges in insurance management.
Some of the critical ways IBM blockchain improves insurance management are as follows:
Complete risk coverage
Subrogation
Group benefits
Reinsurance
And so on. There are other use cases where IBM blockchain can be applied to reduce costs, streamlining operations, and in return improving customer service. It also builds trust among different vendors, customers, and parties directly or indirectly related to insurance.
Blockchain Marine Insurance
The majority of the players work towards solving a particular problem. This is also true in the case of the marine industry as players like Guardtime, EY, and other insurance blockchain projects are trying to solve the marine insurance problem.
Other key players taking active participation in the process include Microsoft, A.P, and others. They aim to improve risk management using automated ledger transactions.
In the beginning, they will only focus on managing risk for 1,000 commercial vessels. Once, they are established and have a success rate; they will then expand their platform to other business insurance including aviation, energy, marine cargo, and other sectors.
Blockchain in Life Insurance
Human life is probably the most important. And, when it comes to technology, it can help shape the lives of millions of people across the world. Life insurance can gain a lot from the use of blockchain improving the death registration process and claims related to it.
As life insurance procedure differs from country to country, it is important to search for a unified means to handle all the claims and processes related to it.
The existing life insurance claims are not efficient as it can take up to six months for the claims to be processed. It means that the claimant has to go through a lot of hassle before the claims are finally processed. Blockchain life insurance can help mitigate all the problems.
A proper blockchain life insurance-based model can work in conjunction with the hospital, insurance company, process death certificate, and burial permit to ensure that they can process the claims faster and with a better approach.
Steps Required Blockchain for Insurance to Mature and Adoption
Just like any other technology, it will take some time before blockchain can be properly implemented in Insurance. However, to make sure that it succeeds, it needs to follow a three-path solution for proper maturation and adoption.
They are as follows:
Internal Proof of Concept
The first step that the insurers need to take is to use the internally focused use cases. By doing so, they can use their own customer data set and improve internal operations using smart contracts.
The experimentation needs to be done to learn how conducive their systems are to the blockchain.
Customer-Centric Processes
Even though it is common for companies to improve their overall process efficiency, they forgot to use a customer-centric approach. The ideal situation is to ensure that the customer-facing applications are done right using strategies that fit right into the large ecosystem.
This approach will ensure that the adoption is done in the market and the insurers can become market makers rather than followers. Also, the insurers need to follow the right regulatory, legal, and tax frameworks to ensure that the technology is developed for long-term usage.
IoT Enablement
Insurers rely heavily on information and data captured through the different devices for accuracy and credibility. The best approach to ensure that the data captured is correct, insurers need to make sure that blockchain is integrated into IoT.
This way the interaction between blockchain, IoT, and big data can change how the insurance industry works. The key here is to automate the whole process including premiums, claims, and other issues.
To implement blockchain technology-based solutions, you need to understand the underlying challenges. Learn more from our list of top 10 enterprise blockchain implementation challenges.
Conclusion
The need for blockchain is paramount in almost every industry out there. Insurance is not different and can immensely benefit from the blockchain. In this article, we discussed the important use cases that are related to blockchain for insurance. The key use cases include fraud detection prevention, claims management and prevention, and so on. Also, it will take time to implement blockchain in insurance, and the insurers first need to implement it internally before others can adopt it. The precedence needs to be set by a few insurers and reinsurance before the real change can start.
If you are interested in more blockchain use cases and applications, you should check out our free blockchain course now.