Back in the old days, Cryptocurrencies were a myth to us. It was somewhat impossible for us to even imagine a system where digital money could take over fiat currencies.
But it all started to change with the revolutionary introduction to blockchain technology in 2009. Satoshi Nakamoto released this impressive tech along with a new digital cash "Bitcoin." After that, many protégé walked the same path and came up with new and upgraded methods to deal with flaws of the centralized system.
Now everyone sees cryptocurrencies not only as mere digital cash but a protocol where we can use all the advantages of the blockchain itself.
Developers are programming new cryptocurrencies differently to fulfill all our needs.
Blockchains have the ability to work across a wide range of industry, so it's only logical to integrate the payment system with it as well. It makes things so much more comfortable than before.


Image Credits: ICON
One of the many names that can get rid of the traditional banking imperfections is "ICON."
What is ICON (ICX)?
ICON is rather a popular cryptocurrency now and is moving up the ladder pretty fast compared to others.
Why?
Well, mainly because it's capable of linking micro-communities across a massive industry.
Curious about ICON? Let's dive in deep and see "what is ICON" and how it can change the whole world!
What is ICON (ICX): Introducing A New Tech
ICON was introduced only recently in 2016 by Dayli Financial Group. The group is worth $4 billion and consists of a more experienced group of individuals. This group is also known for Coinone, which is a famous Korean exchange.
The primary target isn't to connect the world but instead getting rid of all the challenges every system faces due to heavy load of data. It's not surprising that with the digitalization of our world many leading industries or even small ones are having a hard time to deal with this much load of data.
If somehow we can minimize the effect, every community such as banks, charities, insurance providers, commerce, hospitals, and educational institutions will be able to work together seamlessly.
What? Do you think it's impossible?
Of course not! ICON sees the world as a group of the community rather than different nationalities. This means, every community in this world has their individual tasks and also rely on each other to perform that task successfully.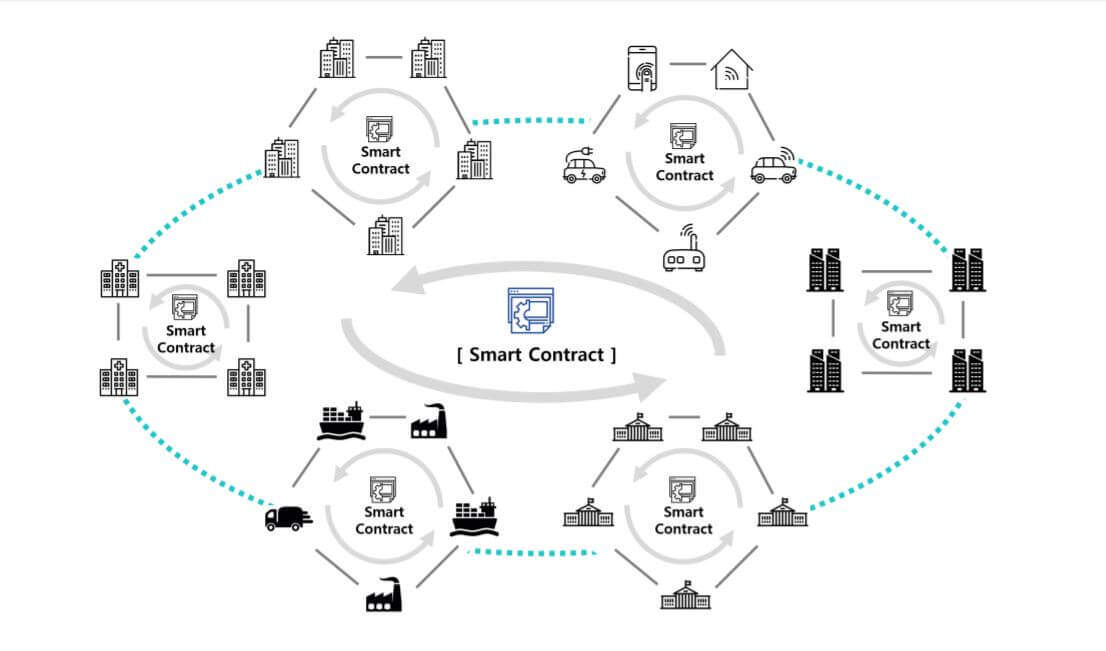 Image Credits: ICON Whitepaper
Let's see an example to clear up your mind.
Imagine you are going to a hospital for medical purposes and you want to cover all your expense with your insurance. What ICON can do here is send all your insurance information associated with your blockchain account to the insurance company.
This way the insurance company can process the request faster and help you get rid of much of the paperwork.
The system requires you to store the insurance information on the ICON network previously, and you can complete the transactions using ICON tokens, ICX.
Pretty cool, right? But this isn't enough; there are more answers to the question "what is ICON." Let's see what they are.
How ICON Works
ICON uses a unique loopchain platform, which allows it to connect all the communities and create an ecosystem through the ICON Republic. The ICON republic is rather a different method to control the overall system.
It functions as a governing entity for the independent blockchain communities. You could think of the Republic as the whole country, where each community is a state within it.
Every community on the Republic is interconnected using C-Reps (community representatives), which gets further connected to the Nexus (ICON's loopchain-based blockchain). Utilizing these community representatives, every community can interact with the Nexus and moreover to other communities as well.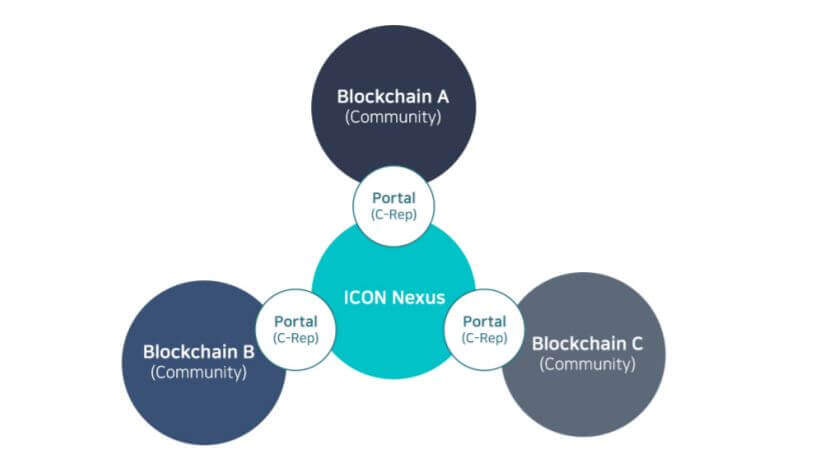 Imgae Credit: ICON Whitepaper[/caption]
The blockchain also has its very own decentralized exchange where you will be able to exchange currencies by using ICON tokens.
The overall process of the system is somewhat unique and efficient, to get started. That's why everyone wants to 'what is ICON' and how they can get their hands on it.
Unique Aspects of ICON
I tend to cover every detail of ICON in this 'what is ICON' guide, to make sure you get all the information just from one place. If you want to invest in ICON, you have to be thoroughly knowledgeable at first.
Take a look at all these exciting aspects about ICON and the whole system. It'll surely make you like it more!
Yes, you heard right, ICON has its very own AI technology to accelerate the whole decentralized system. ICON makes sure that every node has the same distribution policy and gets rewarded accordingly.
The algorithm behind this AI is the creation of Dayli Intelligence. The initial plan of the company is to make sure the AI uses machine learning tactics to get ahold of the whole blockchain and redirect is accordingly.
Why? Well, the whole network is somewhat a decentralized system, so if you want to make sure everything happens precisely wouldn't you take advantage of the computer systems that are free from human errors.
Blockchains and AI are two systems that complete each other and works great together. So, using this pair would mean more perfection.
Decentralized Exchange (DEX)
Whatever the exchange type is decentralized or centralized, both have their very own flaws and positive sides. Centralized ones are more convenient but don't have that much security.
On the other hand, decentralized exchanges do have security, but they are less convenient compared to centralized ones.
Here, ICON offers its very own decentralized exchange, which will get linked to the separately governed blockheads. You can use the ICX token to complete the transactions. The rate of the trade is pre-determined by Bancor Protocol.
You can take a look at the protocol in ICON's whitepaper.
This is one of the best attractions of ICON. Loopchain is able to connect different blockchains. This application makes ICON different from other coins and preferably makes it one of the best ones.
The loopchain based blockchain is somewhat similar to enterprise blockchains and allows smart contracts. You can customize these smart contracts according to your project and use it to link to another ledger network.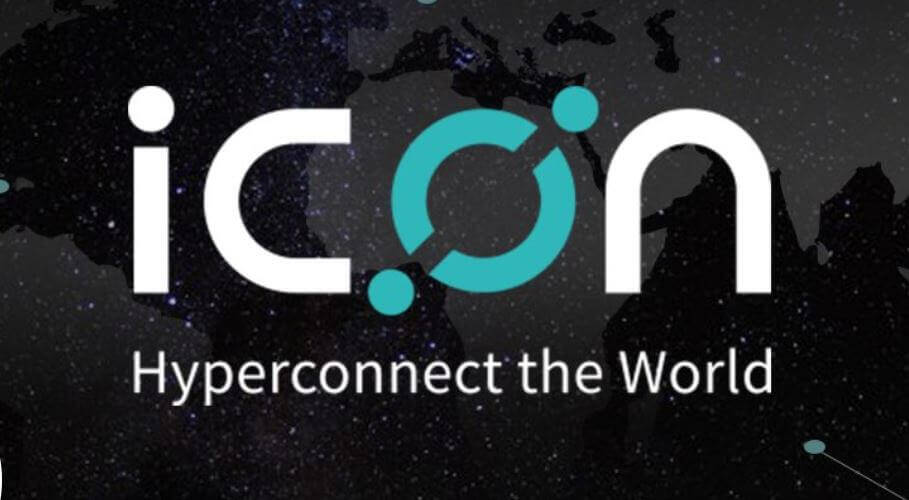 Image Credits: ICON
I think I mentioned it earlier that ICON is able to connect all independent blockchain based community to each other. All you have to do is use their platform for that. But how is it done?
ICON republic and Nexus is behind this wonderful system.
The Nexus is the group of communities that are connected with each other through community representatives. After forming all Nexus groups, they can all be connected to each other, increasing the overall scalability and majority.
The portal is kind of similar to the structure of the Internet. The transmission protocol within the network made sure every transaction in on point and done without any errors.
Every blockchain has its own identity in the Nexus portal. You can use tokens to transfer values within the blockchains. For example, an educational community blockchain can use Nexus portal to connect with bank communities and make the transaction.
Using Nexus makes this process much more manageable than usual.
Loop Fault Tolerance (LFT)
Another wonderful creation of ICON is the Loop Fault Tolerance algorithm, which provides Byzantine Fault Tolerance. Loop Fault Tolerance also makes sure to improve the performance of the network through messages.
The method is called spinning, and it ensures the selection of the primary node. This spinning method reduces the overall node number and increases the efficiency and scalability.
Independent Governance System
As I mentioned earlier, every blockchain able to govern independently even though, they are connected with the Nexus. It's kind of like an indirect democracy, where every individual blockchain has equal rights.
The representatives of every party on the network can vote to change policies or suggest special ones.
But the question is how do they choose the representatives?
Well, they are mainly selected from the community representative nodes. Additionally, participants can add or even remove nodes of their blockchain, adjust the transaction fees, change voting rights and many more.
The public channel of Nexus is open for everyone. With this, you will be able to participate in the transactions and also use other decentralized application in the process.
However, you'll have to download these decentralized apps to install and use them.
Unlike bitcoin, you can't mine ICON. New tokens get issued every year, and you can invest in them from their official site.
What's The Trading History of ICON?
Let's take a look inside the trading rate of ICON in this 'What is ICON' guide. The ICO ended in October, and different exchanges started to include it with other cryptocurrencies from that month.
It's been almost two years, and it's sitting on 23rd rank on Coin Market Cap. The rate fluctuates within $12-$1.61, as of now.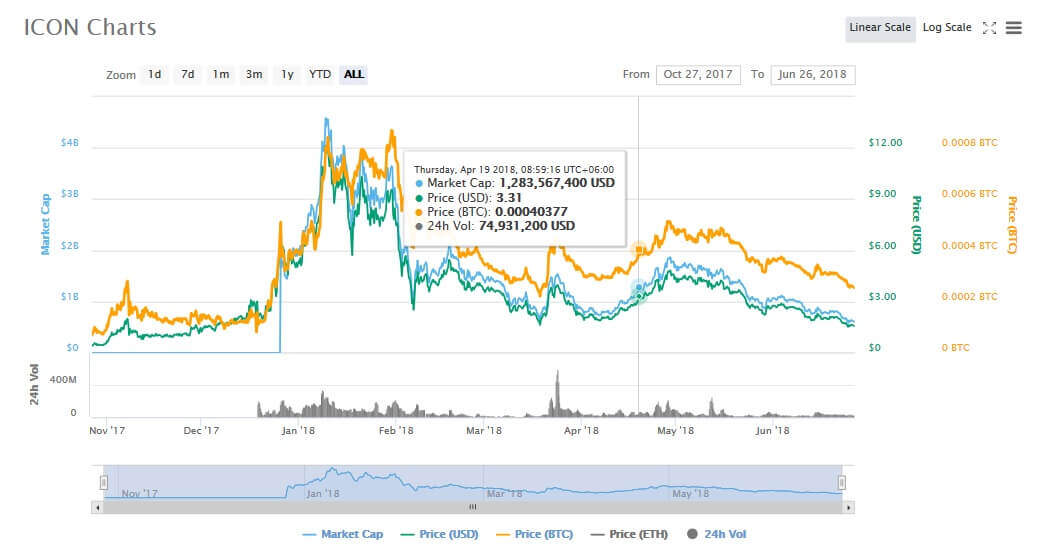 Image Credits: Coin Market cap
It first took off on Binance and later made its way to other major exchanges. This news made the rates jump to $7.30, right after the launch, which is ten times more than initial pricing.
After that jump, it went up to $12 and is cooling down to stable the market.
ICON Competition and Potential
ICON uses smart contracts to seal the deal, so the primary competition is with Ethereum and NEO. Although they use smart contracts too, still they have a significant difference.
Ethereum, as well as, NEO have already established their grounds in real life scenarios and constructed a strong partnership. NEO is currently working with the Chinese government as a new digitizing project.
On the other hand, Ethereum is used on a global scale by many other companies. However, they don't necessarily offer even a fraction of interoperability ICON has.  ICON might dominate in the future as it focuses more on blockchain rather than taking out the competition.
It doesn't mean that ICON doesn't have any strong partnership. It's currently working with 28 farms in Korea and supports a large number of Banks there.
Buying ICON
Binance is the leading exchange that dominates the overall market of ICON. It consists of 90% of it. Unfortunately, as you can't mine it and get only one chance a year to buy the tokens, you can exchange your ETH or BTC to buy it from the exchange.
73.44% of the 90% can be purchased with BTC and another 15.89% by ETH.
Other exchanges also offer ICX, such as OKEx. However, they have their very own BTC and ETH trading pair.
The Token Sale of ICON
The token sales closed last year in September and the deal for this year didn't happen yet. The total token supply is now 400,230,000 ICX, and you can exchange 2500 ICX for one ETH.
Only 50% of the allocated supply was up for sale, and extra 16% is kept as a reserve. An additional 14% goes to the foundation itself and 10% by the community group members and influential partners.
The recent token sales are pre-defined and divided to 20% for every Tech Company and reserves. 12% of the tokens are for to keep everything operational and 8% for marketing experience and another 10% for influential partners.
How Can You Store ICON
The ICX token is an ERC20 token, so it means you can store it in any Ethereum Wallet. Wallets such as Ledger Nano S, Meta Mask or My Ether Wallet can save ICON without any problems.
ICON also declared they would be launching their very own wallet at the end of this year. Let's see what happens.
What Is ICON's Future: Should You Invest or Not?
Right after its launch, ICON did prove its worth and went into the top 30 without any problems. I find it extremely impressive for a newly launched crypto, and it undoubtedly grabs my attention.
The pricing seems to be stable unlike bitcoin, and it offers a lot of extra features.
If you ask me, I'll say the future of this cryptocurrency is exceptionally bright, and it has the potential even to outrun bitcoin! The blockchain technology behind this coin is also a unique one,  you should do your own research, investment in crypto is a highly risky business.
Final Verdict
This system can be the start of a new era of blockchain technology that can unlock all hidden potentials. By far you should know by now what is ICON and how it literally works.
ICON can fit into every industry perfectly according to the whitepaper. So, if it's able to provide the same result in real life, this could be the end of Ethereum or NEO.
Moreover, ICON provides an excellent platform with security and an alternative to typical traditional means. We've come to an end of this 'what is ICON' guide, and I can say ICON seems to offer a great deal when it comes to blockchain or cryptocurrencies.
Learn more about ICON (ICX):
*Disclaimer:  The article should not be taken as, and is not intended to provide any investment advice. Claims made in this article do not constitute investment advice and should not be taken as such. Do your own research!