Unique blockchain technologies are rare these days. Most of the projects only use blockchain as a mere excuse for creating new tokens and benefiting from the vast funds.
Only a few developers think about the people and create a stable platform that can make things much more manageable. Among all of the names, DigixDao really amazed me right from the start. The blockchain seemed to be way underrated compared to the enormous benefit it possesses.
So, what is DigixDAO?
It's a beautiful system of enforcing ownership, in this particular case it's the ownership of Gold!
Before we move further with my 'what is DigixDAO' guide, let's see why it enforces on Gold rather than anything else.
Excited to develop fluent knowledge of the DAO ecosystem? Become a member and Enroll Now in DAO Fundamentals Course!
Why Gold?
To learn more about DigixDAO, we need to take a step back and take a closer look at the Gold market itself.
For now, the current estimation of the overall gold supply is worth 8 trillion USD! Gold has been around for generations and will still prevail in the future as a stable resource.
Gold and cryptocurrencies go hand to hand. You can quickly think of them as similar assets as both of them have a limited supply, and you can store them up for value.  However, Gold has been around for a long time, and we know just how much it exists.
After this much time the prices are also really stable, makes for a reliable investment. However, it can be a very risky investment too because of all the scammers and excessive fee rates. Some of the banks even have a specific policy to store gold and storing it in the house is not actually that safe.
Even if you are able to store it in a bank safely, you'll have to pay a hefty fee.
Now that you about the market for gold, let's move on with this guide.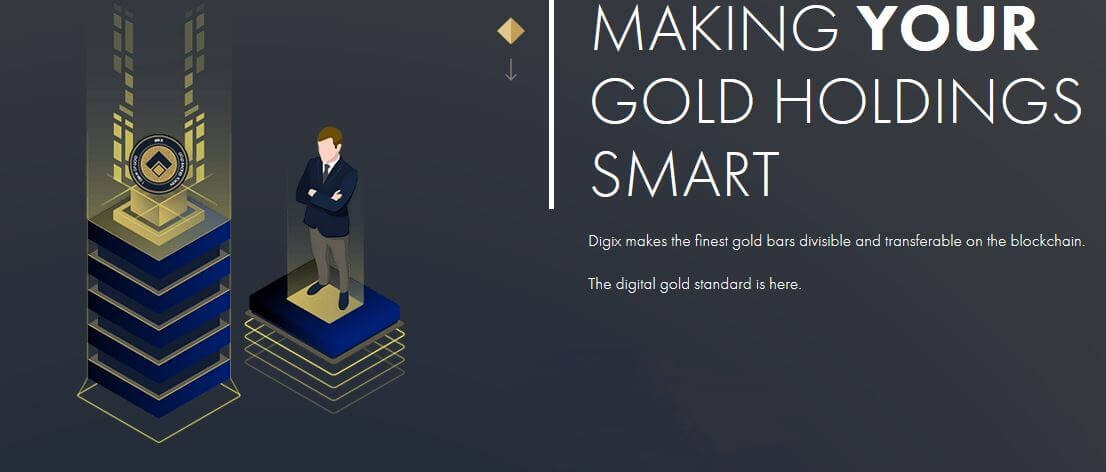 Image Credits: Digix
What is DigixDAO: A Safe Heaven for Gold?
DigixDAO's primary aim is to create a new cryptocurrency solely backed up by Gold itself. DigixDAO is actually a Digix Decentralized Autonomous Organization (DAO)  where a group of people patriciates to grow the Digix Global Ecosystem.
These participants also purchased DGD tokens on its first crowdsale.
These token holders will be responsible for making the decision related to this community. For participating, they will get rewards based on their choices and voting. The rewards are mostly DGX tokens.
These tokens also represent 1 gram of gold. Using gold as tokens help to stabilize the market and puts a lot of value in the cryptocurrency space.
That being said, bitcoin was always considered as the digital gold, but now other competitions are rising on the market.
What Is DigixDAO's Specialty?
The primary specialty of DigixDAO is that it's different than traditional investment options. The system of Digix aims to provide the option of thinking about digitalizing the process. This allows you to get the priority rather than the company as a whole.
What's more, DigixDAO makes sure to use the stability of the gold market and add extra liquidity to it. When you get your hands on bullion, it can become quite challenging to trade it for money.
With the help of DigixDAO, you can easily liquidate it and let other investors use it on a daily basis without worrying about its physical security.
Distributing DGX Tokens: Proof of Asset
To distribute all these tokens representing the golds, DigixDAO uses a particular kind of protocol called Proof of Asset (PoA). The recording of the asset happens on the Ethereum blockchain. PoA assets cards are next on the line from here.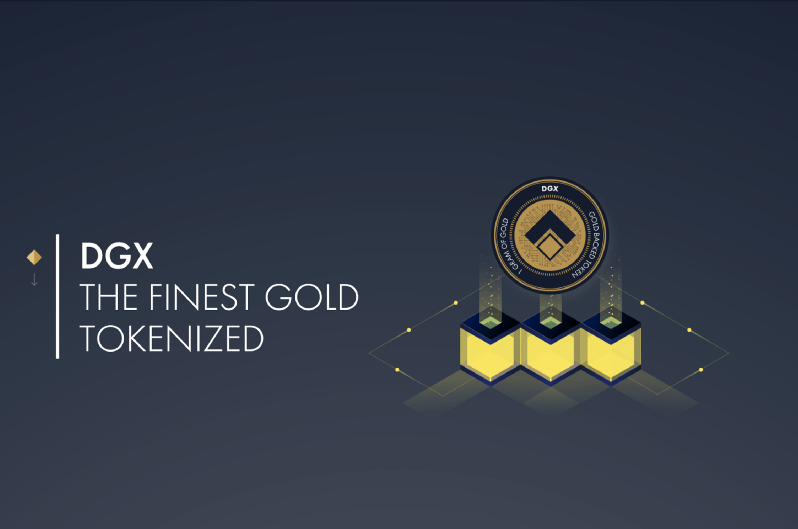 Image Credits: Digix Website
But how do they certify the asset cards?
Well, they use a unique digital signature from the entities of the card. The card contains the chain of custody, name, Custodian, the Vendor, Auditor. They are further certified using proof of purchase, which includes receipts of deposits that get uploaded in the system.
The process is quite complicated, but they pull it off perfectly. Their Vendor, for now, is ValueMax, is located in Singapore right now. The company is certified and owns London Bullion Market with their certified gold bars.
The Auditor is Bureau Veritas Inspectorate checks up on the quantity and the quality of every single gold bars stored for DigixDAO.
Their safe house in Singapore can store more than 30 tons of gold. However, DigixDAO plans to expand this in the future for their users.
The Proof of Asset Cards Contain:
SKU of the gold bar
Purchase receipt
Depository receipt
Audit papers
Timestamp of card creation
Digital signatures (Chain of custody)
Storage Fees owed
Bar serial number
What is DigixDAO's DGX Token All About?
Now you know how the gold bars are kept in a secured facility. Let's see how the DGX tokens come to be. Smart contracts create every DGX tokens. The smart contract receives the data stored in PoA cards and the based on that it generates DGX tokens for 1 gram of gold bar.
If smart contracts get a 200g PoA card, then it would generate 200 DGX for the user and then sent it to their Ethereum wallet.
It means DGX tokens can never have a fractional value, it will always represent 1g of gold and can get reduced to 0.001g.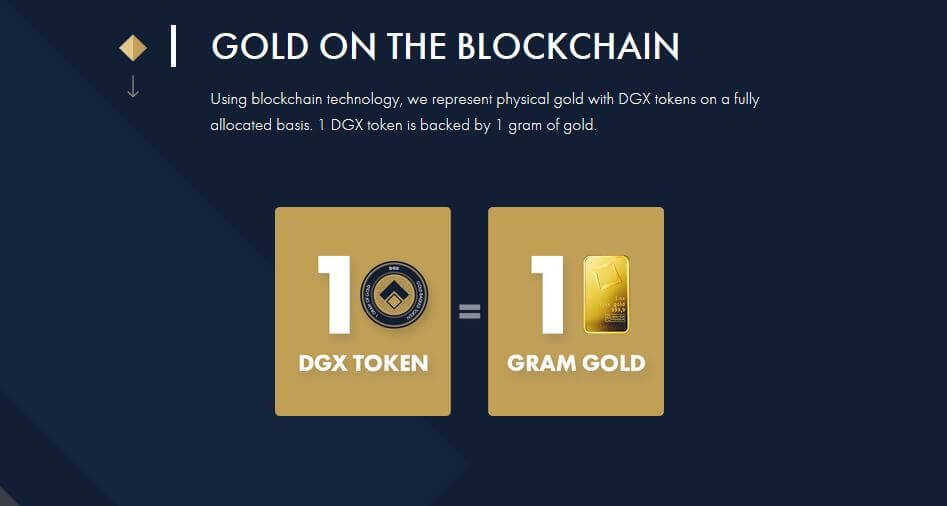 Image Credits: Digix Website
Apparently, the tokens will require some fees. You'll have to pay up for storing and securing the gold. Also, additional annual 0.60% demurrage fee and 0.13% transaction fees are on DGX tokens.
However, DigixDAO will not take any storage fee from you for the first year. After that, you'll have to pay up the service fees.
You can also reverse this process. So, now you can get 1g of a gold bar from your DGX tokens. For that, you'll have to generate a PoA card from your DGX tokens and then use that card to get the gold bars.
The DGX tokens serve only two things; one is the company wants to make gold more accessible and the second is to liquidate the process.
Now let's see, what is DigixDAO's DGD token all about, shall we?
The DGD Tokens
The DGD token will give you the extra layer of authority over the system. You'll be able to decide how the DigixDAO funds can get allocated. Also, you can actively manage or participate in any proposal submitted to DigixDAO.
Well, there are a few confusions regarding the reward points. At first, Digix initially states that they would be giving DGX tokens as rewards for DGD members' participation. But after quite a ruckus, they declared it's not a passive source of income.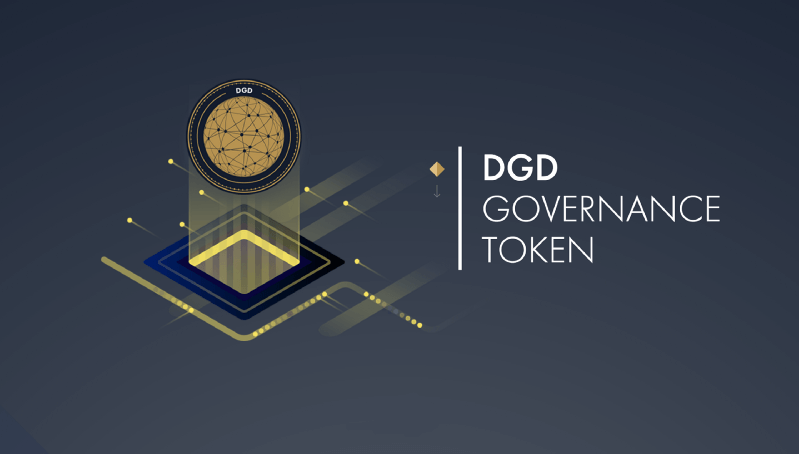 Image Credits: Digix
Instead, they'll get reduced DGX rates or reduces storage fee for their already existing DGX tokens.
This part is still not cleared though. No one can say how much rebates they will take to get DGX tokens as rewards.
Key Features of DigixDAO
One of the essential features or advantages of DigixDAO is that investing in it; people can actually invest in gold. Most of the people invest in gold for its stability in the market. But the process of storing it can make it difficult.
With the help of DigixDAO, they can efficiently utilize this situation by investing in gold without any worries. In other words, DigixDAO is responsible for diversifying cryptocurrencies and giving them actual physical value to help people.
What is DigixDAO's History?
Digix started out in Singapore back in 2014 and after only two years released the DGD tokens. The DGD tokens were distributed through a significant crowdsale that lasted for one month. Digix gathered 5.5 million USD in just 12 hours!
Within this time it sold over 1.7 million DGD tokens and preserved 300,000 for their team. Some buyers who sent over $15,000 worth of Ether received a special reward. This investing allowed them to submit their proposals directly to the company itself.
After some time, in 2017, DigixDAO faced an utterly lousy situation. Their security got breached, and more than 4000 DGD tokens got stolen. However, they found out the bug soon enough and reestablished their ground once again.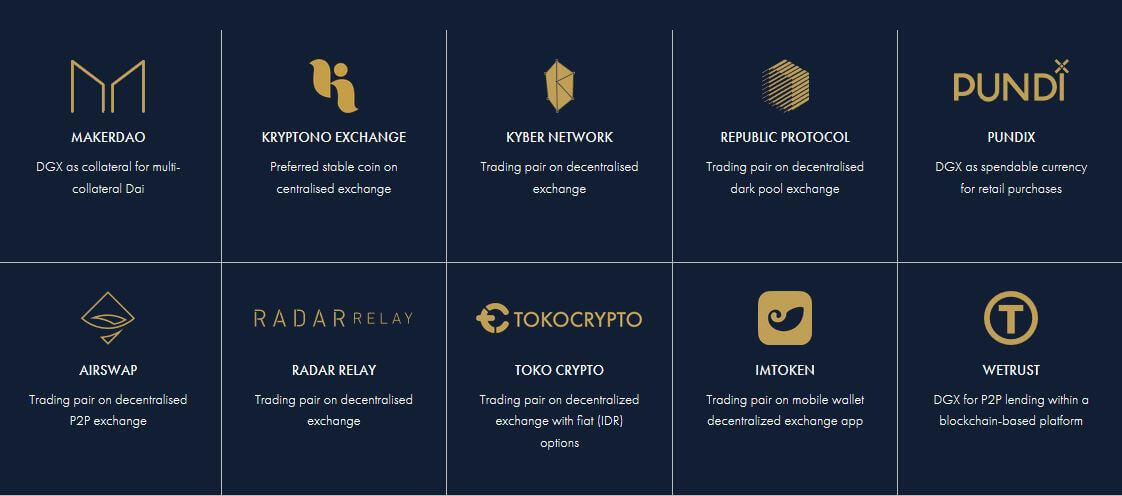 Image Credits: Digix
During a crisis in 2018, when all other cryptocurrency prices dropped tremendously, only DigixDAO was the one that actually managed to increase more than 60%.
Again in 2018, they released their tokenized gold investment opportunities for the users and took a considerable risk.
DigixDAO Global Team
The team behind DigixDAO consists of there founders. They are Shaun Djie, Anthony Eufemio, and Kai C. Chng. Shaun Djie is the lead coordinator of one of the largest Ethereum meetup. This meetup group resides in Asia. He's also contributing in "Smart Nation Research" project under Singapore government.
Kai C. Chng is one of the best former NYU School of Business graduate. He left a solid carrier in trading securities for his interest in the trust in blockchain technology.
Lastly, Anthony Eufemio is a graduate of USC Viterbi. He has 18 years' worth of software development experience, which makes him the qualified man to create a blockchain technology.
DGD Price Prediction: Coin Supply
The circulating supply for DGD tokens is as of now 2,000,000, of which, 15% is reserved for the developers of the group. That being said, if the company needs more funding and everyone agrees with it, then another crowdsale could happen.
The price of DGD token is now $102.24, and the market capitalization of this token would be $204,480,000!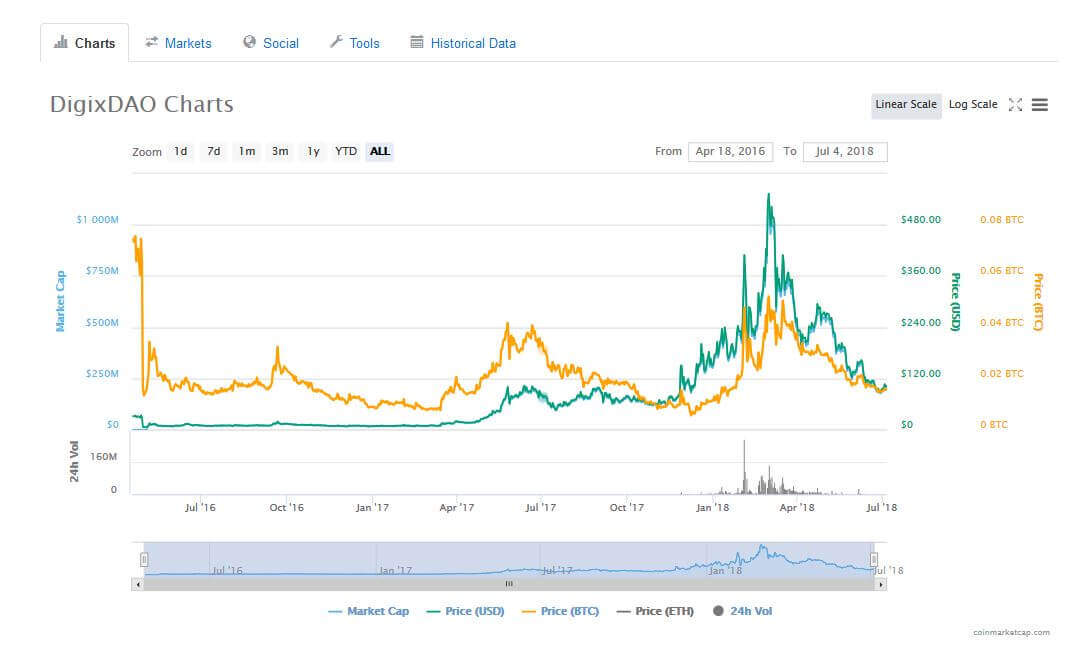 Image Credits: CoinMarketCap
DGX tokens will be generated based on the demand and their vault size. So, it's still unclear whether or not the numbers might increase in the future. According to CoinMarketCap, the price of a single DGX token is now $40.77.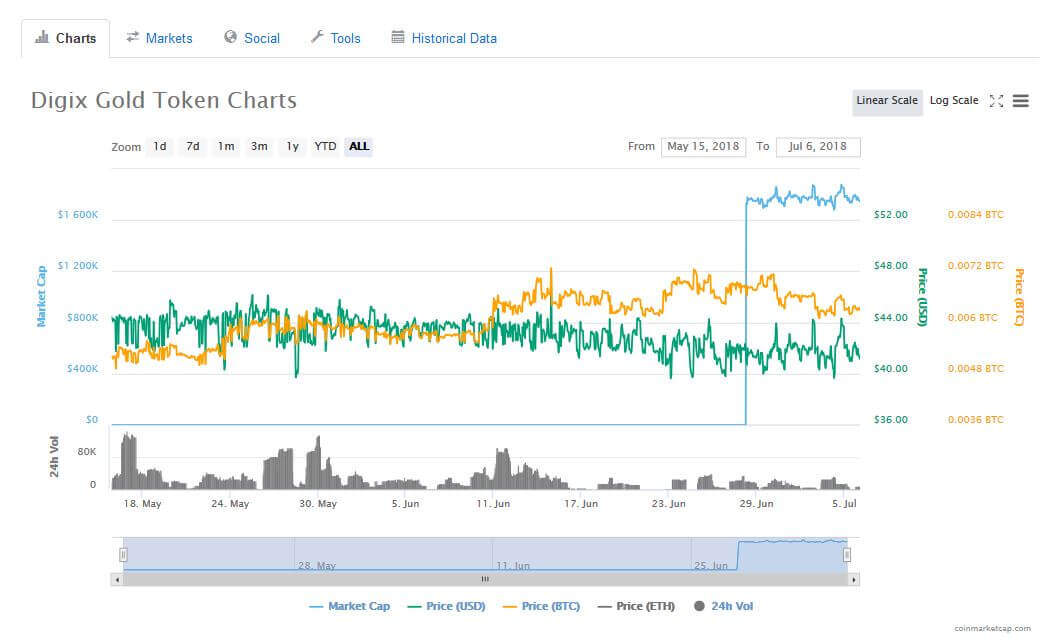 Image Credits: CoinMarketCap
The circulating supply is 42,372 DGX only, and the market capital for that is $1,727,395!
If the gold project is successful, then they plan to expand it to more precious metals and expand their vault.
Want to know more about DigixDAO?
Future Projects of DigixDAO and Roadmap
If DGX tokens can maintain stability just like gold markets, then it could start a new revolution in the cryptocurrency market. The possibilities are definitely tremendous!
DigixDAO wants to add a unique feature to their system. They will most likely add an inheritance system from where you can pass on your wealth stored in their vaults to your heir.
It's one kind of dead man's switch. The heir needs to have an Ethereum address. So, if you don't access your Digix account for a specified period, everything in it will automatically be transferred to the given address.
This strategy might be far-fetched, but DigixDAO wants developers to use real gold in games instead of other in-game currency.
Want Escrow services? DGX tokens got you covered. DigixDAO plans to launch this system soon.
Partnering Up With StableCoins
DGX will back up StableCoins from now on. Dai wants to make a stable cryptocurrency valued at only $1 and change the course of blockchain technology forever. DigixDAO will be a part of it from now on.
As the cryptocurrencies are unstable, it makes them difficult to use for lending purposes. DigixDAO wants to establish a stable ground where they can build this system without any worries.
Also, they are planning to test out DigixDAO governance contract on Q2 of 2018 and then launch their new website in Q3 of 2018.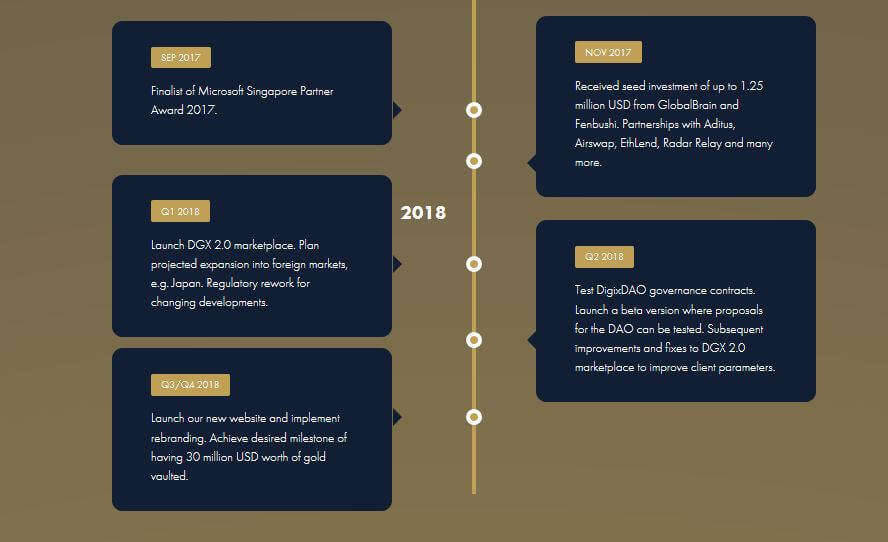 Image Credits: Digix Website
Their Competition
DigixDAO has mainly two competitors on the market. One is GoldMoney. It's another company that deals with selling gold and storing it safely for their customers. They already have a vast industry worth 2 billion USD!
The Toronto Stock Exchange backs them up here. GoldMoney also gives its users' a debit card to spend their gold! The only difference is that they don't use any blockchain technology and later in the future might become obsolete.
The other one is Tether, as it still possesses the title for most stable coin among all. Although I personally think, DigixDAO can outrun both of its competitors without breaking any sweat at all.
Buying DigixDAO
You can buy it from major exchanges such as Huobi and Binance. You'll have to trade it with ETH or BTC, and both of these exchanges have some great trading pairs for their customers.
DGX is available for purchase on the Digix marketplace. You can buy it with Ether.
How to Store It
Any wallet that supports Ethereum tokens will be able to hold it. Unfortunately, they don't have their very own wallet for now. So, you'll have to use any Ethereum wallet. However, you could try put MyEtherWallet and imToken to store it.
Final Thoughts
By so far, you should know 'what is DigixDAO' and how it can be the next stable cryptocurrency. DigixDAO wants to bring back the old days but in a different way. A gold dollar based crypto would undoubtedly provide a great deal of stability and security of the market.
Let's see if it can truly live up to our expectations!
For further information visit their website, and follow in twitter.
*Disclaimer:  The article should not be taken as, and is not intended to provide any investment advice. Claims made in this article do not constitute investment advice and should not be taken as such. Do your own research!