If you have some knowledge regarding the blockchain technology, or you have heard of it, you'd surely have come across the name Da Hongfei more than once. This must have intrigued you to discover who is Da Hongfei.
Hongfei is a celebrated achiever in the blockchain industry of China. He is known to be a creator of the first few blockchain firms in China. He's also an inventor of many renowned cryptocurrency apps that are used all over Asia.
This piece of writing is dedicated to Hongfei, his role in the Chinese and global cryptocurrency, and how has he increased the awareness of blockchain technology in Asia. Simply put, in this article, I will answer in detail who is Da Honfegi.
I'll also shed some light on how he began his career and what are his notable services in this field.
Who is Da Hongfei?
Da Hongfei is the mastermind behind a renowned blockchain podium for distributed applications called NEO. In addition, he also created a blockchain progress firm named Onchain.
The firm is aimed to help institutions and enterprises. The headquarters of both of these ventures are located in China. What's great about these ventures is that they hold the honor of being the first ever blockchain expansion projects that are based in China.
For the same reason, Hongfei is a well-known figure in the world of blockchain and cryptocurrency in the Asian region. Hongfei is now probably the most esteemed experts in cryptocurrency, particularly in China. He is considered as an authority over enterprise apps, Chinese user adoption, and even state ruling.
Due to his high repute in the Chinese blockchain industry, state officials took the initiative to get in touch with him for his expert's advice before giving out the Sep crypto and ICO exchange prohibitions.
Da Hongfei's Education
He went to the SCUT that is located in the state of Guangdong. SCUT is one of the most esteemed alma maters in China. He attended that institution from 1997 to 2001 where he studied arts. He holds a BA degree with English and Technology as his major subjects.
Career Before Stepping Into Blockchain
Before he stepped into the universe of blockchain technology, Da Hongfei used to work at IntPass Consulting that was located in Shanghai. He worked there for almost a decade, from 2005 to 2013 to be precise. Before leaving the firm, he was working there as a panel member and the Chief Executive Officer.
Early Interest in Blockchain
Da Hongfei came to know about Bitcoin in 2011. However, he was smart enough to comprehend and identify all the repercussions, both societal and methodical, behind this technology. Since his experience of studying in a university had already provided him a broader view of the world, it also helped in sparking his curiosity for Bitcoin. He shifted his focus towards this technology to learn about it in complete detail.
Who is Da Hongfei in the World of Blockchain?
As we mentioned above, Bitcoin caught the interest of Hongfei in 2011. At that point, he was still working in IntPass consulting.
So naturally, nobody then knew who is Da Hongfei and how is he going to bring on a revolution in PRC in the next few years.
In 2011, China was not much aware of this technology either. Therefore, there were no dedicated  Bitcoin communities anywhere in the country or the whole of Asia. The tiniest bit awareness that a few people had regarding this technology was still in its embryonic stage.
This lack of knowledge drove him to start a campaign for letting people know about Bitcoin in his country. His efforts resulted in the creation of an active Bitcoin community in PRC.
Seeing that, he doubled his efforts to encourage more and more people to adopt this technology. His enthusiastic attempts ended up in significantly increasing the popularity of Bitcoin all over China.
In fact, the true answer of the question, who is Da Honfegi is that he is the guy who introduced Bitcoin and the concept of cryptocurrency to China.
It only took him a few years to upturn the growth of this community countrywide to a notable extent. Hongfei doon earned the reputation of being one of the most prominent luminaries in this whole progress.
During that time, he came to realize the need for starting a new blockchain platform in China that could outdo Bitcoin in terms of performance. This led him to begin working on his own blockchain platform.
Who is Da Hongfei? The Founder of NEO

After the realization of how desperately his country needed a new blockchain podium, Hongfei declared the inauguration of AntShares in the January of 2014. The venture was for the creation of distributed applications. The platform officially unveiled in the following month and instantly became the preferred choice for the majority of blockchain ventures in the country.
Hongfei changed the name of the project from Anshares to NEO in 2017. I am sure people who have heard about NEO have already a pretty good idea of who is Da Hongfei.
NEO currently ranks 13th among the top cryptocurrencies in the world based on market cap.
NEO is pretty much like the Ethereum blockchain in many ways. First off, both of them allow the decentralized apps to expand and develop. Secondly, both of them make use of smart contract practices. That's the reason – NEO is often called Chinese Ethereum.
However, it is not entirely similar to the Ethereum. It has some unique features as well that make it better than Ethereum. Hongfei and his crew specially designed NEO to a delegated Byzantine Fault Tolerance or dBFT consensus procedure. This first-ever protocol by China was issued as a whitepaper by the team in 2016.
The use of this new mechanism enables NEO to provide much swifter and stronger deal optimization performance. NEO can deal with 1000 transactions in a single second. This functionality gives it a remarkable edge over Ethereum that can only take on 15 transactions in a second.
Motive Behind NEO
Da Hongfei dreamed of making NEO a high-frequency blockchain platform that could be used for extensive and significant tasks. He also wanted to turn it into the technology of the new marketplace economy in several ways.
That's the reason, he and his squad deliberately designed the platform to provide sustenance to smart contracts that operate on simulated machinery. NEO allows them to be encrypted using all the mainstream computer languages that include Java, Python, and more.
This means you do not have to learn an altogether new language for coding the smart contracts.
Conversely, while using Ethereum, the designers are required to use solidity for operating such agreements on the EVM. That's one of the prime reasons behind NEO's fame among a vast majority of blockchain task creators.
Onchain


Image Credits: OnChain
In the same year when AntShares was introduced, Hongfei teamed up with the CTO of NEO/Antshares Erik Zhang to create another company Onchain. In fact, both of them started their careers pretty much at the same time. Onchain is primarily a commercial blockchain firm that provides its services to private firms.
Instead of mixing up with NEO, Onchain made its separate identity for keeping the essential blockchain expansion efforts distinct from the digital money.
By the year 2016, Onchain gained enough popularity to get a significant place in the individual market. This resulted in the augmentation of the lineage of the NEO blockchain.
Creation of Distributed Networks Architecture (DNA)
Following this wide acceptance, Onchain joined forces with Hyperledger, which again made it the pioneer blockchain related venture in China to have done that. While working with Hyperledger, Onchain got the opportunity to create its principal product named Distributed Networks Architecture, or DNA for short.
The DNA modus operandi makes Onchain capable of integrating various business procedures and methods. The protocol also allows it to provide sustenance for distinctive cross chain and cross-platform compatibility.
This efficient product DNA also enables both of the firms, i.e., Onchain and NEO to easily accomplish their fundamental directives. DNA protocol is particularly designed in such a way that it can be used by more or less any business procedure for effectively implementing blockchain in their tasks.
The great thing about DNA is that it connects various blockchain implementations. As a result, a possibility for cross-platform assimilation is created, which is vital for implementation in the setting where systems are connected to each other.
DNA also enables using blockchain for numerous purposes while taking care of the state regulations, adopting a consensus protocol, or being incapable of bonding with other such apps. It even allows you to use it while searching for developers for creating your personal blockchain or apps.
Onchain's Collaborations With Other Companies
Onchain joined forces with Microsoft China in 2016. In addition, the company also teamed up with FaDaDa for finding the legal sequence for addressing the many deficiencies of the authorized digital apps. That's not it, Onchain was also added to the list of KPMG's best 50 Fintech firms in China. This resulted in another collaboration of the firm with Alibaba for an email proof repository for businesses driven by blockchain.
In essence, DNA is one podium that enables other prevailing podiums to use blockchain technology without needing to create a whole new platform.
Who is Da Hongfei and How Did He Communicate with the Chinese Administration?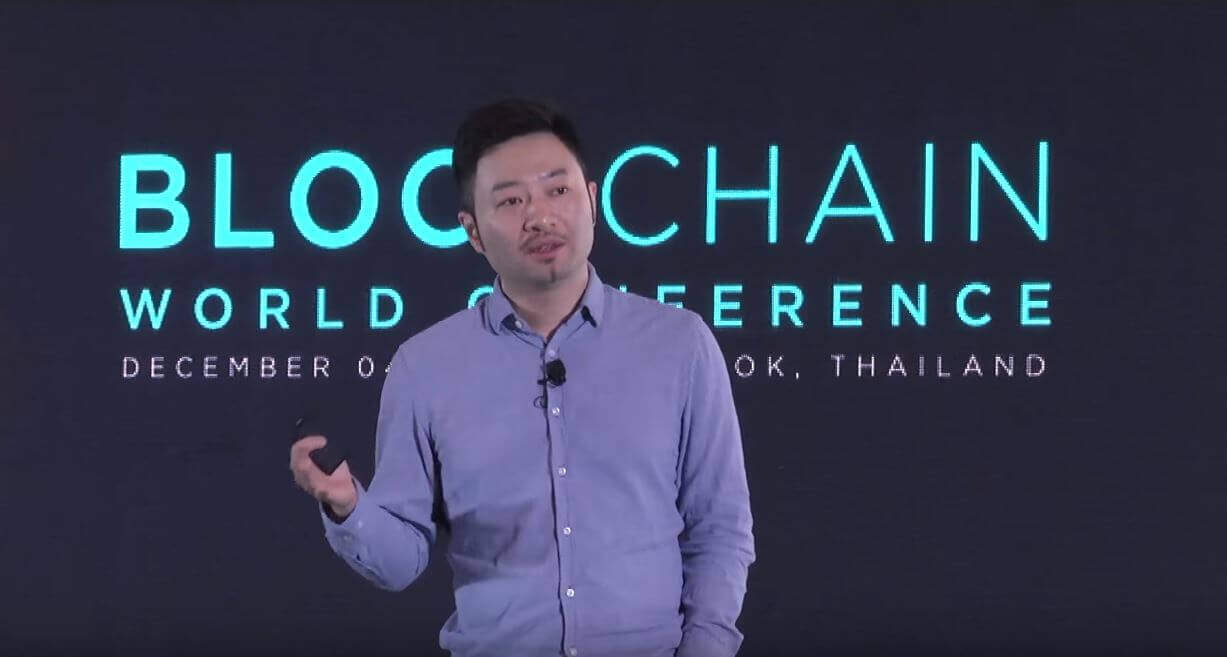 Image Credits: Youtube
If you ask the PRC's blockchain community who is Da Hongfei, you'll be surprised to see his high reputation. A major reason behind this reputation is his noteworthy effort behind the creation of a fruitful way of communication with the State officials.
After the ICO-Mania, China began to clear-out the cryptocurrencies because some of them were highly suspicious and they were feeding off of the innocence of inexperienced investors. China, being one of the most prominent nations in technological advancement, would have been unlucky if the door of crypto would have been shut for it.
It would have caused a great loss of opportunities for numerous entrepreneurs in China and all over Asia. Da Hongfei simply proposed a solution that was acceptable to Chinese administrators and the market.
Da Hongfei was hopeful. He once said that regulation is not going to be an issue for him because the government likes his technology and how he works. His confidence drove him to not only talk to the Chinese government, but he also convinced them to lift off the ban. This resulted in creating a healthy environment that helped this technology thrive without any phony ventures.
China's ICO Bubble and Hongfei's Response
According to Hongfei, the ICO state in China was similar to the dot-com bubble that occurred at the beginning of the 2000s. As per him:
"When a firm/business you begin ends in the dot-com, drawing finance get easier and same is the case with ICO buzz."
He further mentioned that because financiers get rapidly enthralled in comparison to the speed of technological advancement, new technologies keep on, and will continue, creating bubbles. But, the thing is, it doesn't stay this way. Once the bubbles are gone, the market gets back to normal and technology draws near.
Future Plans
De Hongfei is aiming big for his both projects. The past two years have been great for particularly NEO so far. It's continually gaining more success with each passing day. But, that doesn't leave Onchain behind as Hongfei is quite positive about its future too.
He aims to make Onchain a global blockchain structure. He believes that by making use of various plug-in units, his structure could be used for any chain, be it public, private, or syndicate. Da Hongfei further mentioned that his cross chain unit that is currently in the process would be able to generate interoperability between all of these chains.
Ultimately, his master plan includes combining both NEO and Onchain. He will not turn them into a single platform, but he will connect both of the services to each other in the near future. How will he do that? We will have to wait and see.
For NEO, Hongfei plans to start NeoX, a podium for cross blockchain dealings. If it turns out to be successful, NeoX would be able to connect private blockchains to the grander community market.
Once NEO and Onchain are linked, both of them will be able to provide a midway for the entire blockchain centered economy. Not only is this major plan excellent, it is also completely workable.
Who is Da Hongfei – The Final Words
So, Who is Da Hongfei?
He is one of the leading names in crypto and blockchain at present.
He is the founder of NEO and Onchain.
Da Hongfei is the one who actually made cryptocurrency familiar to Chinese audience.
He actually made cryptocurrency happen in China through his efforts and talks with government officials, who were reluctant of the concept.
His endless endeavors and initiatives combined with his brilliant plans indicate that he will continue being a leading light in the expansion of cryptocurrency in China.
Even though the crypto market in China is pretty convoluted, Da Hongfei still managed to clean up space. As long as people like Da Hongfei are present, China's scuffle for technology can surely witness further development.
You can follow Da Hongfei in his twitter account.
References
https://hackernoon.com/neo-onchain-and-its-ultimate-plan-dna-4c33e9b6bfaa
https://www.bloomberg.com/technology
https://www.cnbc.com/video/2017/12/04/its-okay-for-a-bubble-to-form-in-blockchain-and-bitcoin.html