Every blockchain introduces a new token for us. According to CoinMarketCap, there are more than 1600 cryptocurrencies as of today. With the new blockchain revolution on the rise, these tokens surely make online life much more manageable.
People can now use tokens for online transactions. Some can even use tokens for buying decentralized apps!
So, it's practically normal for people to be more interested in using tokens as a paying service for their businesses.
Are you one of them? Then why don't you check out Waves Platform?
Wondering 'what is Waves blockchain?' Well, it's a blockchain platform that will help you to make your very own customized tokens!
Pretty cool, right? Read more about it in this 'what is Waves blockchain' guide.
What is Waves Blockchain: A Platform Full of Potential?
Waves are not like any other platform. With this, you can quickly create your very own customized token without any hassles. Maybe you want to launch a new project and need crowdfunding for it, or you want to build a loyalty reward type of program.
In both this cases, you could need an entirely new type of token to get people interested. Waves platform will surely help you out here. Creating an in-app organization will never be more comfortable without this wonderful technology.
Based on their website and team statements, it will only take you one minute to design your very token! That's a high-speed output for a blockchain platform.
But the thing would be to take as much as time you need and then design it based on that. Let's not get too much carried away here!
The platform also includes their very own decentralized exchange. You can use this exchange to trade your newly designed token in a trading pair with another existing token.
In this 'what is Waves Blockchain' guide, I'll talk more about the platform now and how it really works.
How does the Waves Platform Work?
The process is entirely different than typical blockchain platform. Waves platform primarily do this as an attachment to the whole network. The main problem with this weird process is quite similar to a typical blockchain network.
If they use this typical method to create new tokens, they'll have to update the central network platform with every new token introduced on the system.
This method is called hard fork and is one of the inherent problems of the blockchain technology. However, Waves prevented this problem by making the new transaction types as plug-ins for the network.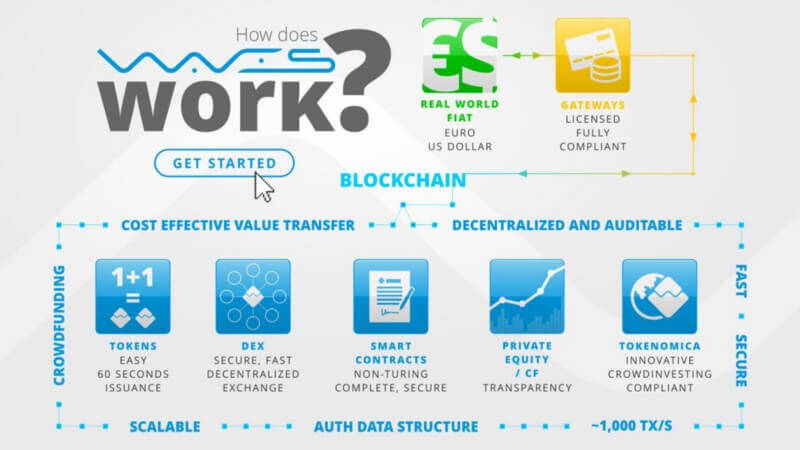 Image Credit: Waves WhitePaper
So, users will be able to use new transactions as an extension to the primary network. This way they won't be needing any hard fork for the whole strategy to work. Not all the clients would use a different transaction type.
Typical clients will still be able to use the custom transaction process through the main network.
There are three different types of Waves transaction types permitted to run on the system. They include:
Decentralized exchange (DEX)
Custom Application Tokens (CATs)
Complete Anonymity
1) Decentralized Exchange
The decentralized exchange will reduce the risk of a centralized system. There are usually a lot of problems associated with a centralized exchange such as security issues, user freedom, etc.
Exchanges have a direct connection to your wallet, and if it's decentralized, then there's no chance of it getting hacked. Along with this, you'll also enjoy no limitations to your withdrawals, and transactions and there's no chance of getting your account frozen.
You'll get the full control over your account just like you deserve.
To pair up, buying and selling token, the DEX has an automated system that can process the order if a specific agreement is met.
You'll get many options on the decentralized exchange such as Bitcoin/USD, Bitcoin/Litecoin, Ethereum/Bitcoin and many more. However, these are only 3% of the overall token volume.
The highest volume rate naturally belongs to Waves/Bitcoin pair, and it's the most popular one as well.
2) Custom Application Tokens (CATs)
This one is the primary target of Waves platform. With this, you'll be able to create custom tokens and also transfer those across the system. The token needs get designed with the lite client.
You'll find the client on their website and can use it directly from there or download it for iOS and Android.
Every token you create can do anything. You can buy it, sell it, trade it for something else and even transact it without any central authority. As you'll be customizing the coin, you can make it whatever you want.
But to make the new token you'll need Waves. The typical rate is one wave per every token.
For now, more than 7000 custom tokens are introduced as extensions on the network. Along with every new token the market value of Waves increases to a great extent.
3) Complete Anonymity
Although you'll have to provide additional information to process every fiat transactions on the network, still the main crypto to crypto exchange is completed anonymously.
It means that no one can trace you back just by your trades on the exchange.
What is Waves Blockchain's Architecture?
The structure of Waves architecture differs significantly than typical blockchain based network. The scaling issue can cause a lot of damage to waves, that's why they prevented it with a two-tier architecture.
This architecture consists of both full nodes and lightweight nodes to maintain the overall system. This contradicts the typical full-node network supervision system.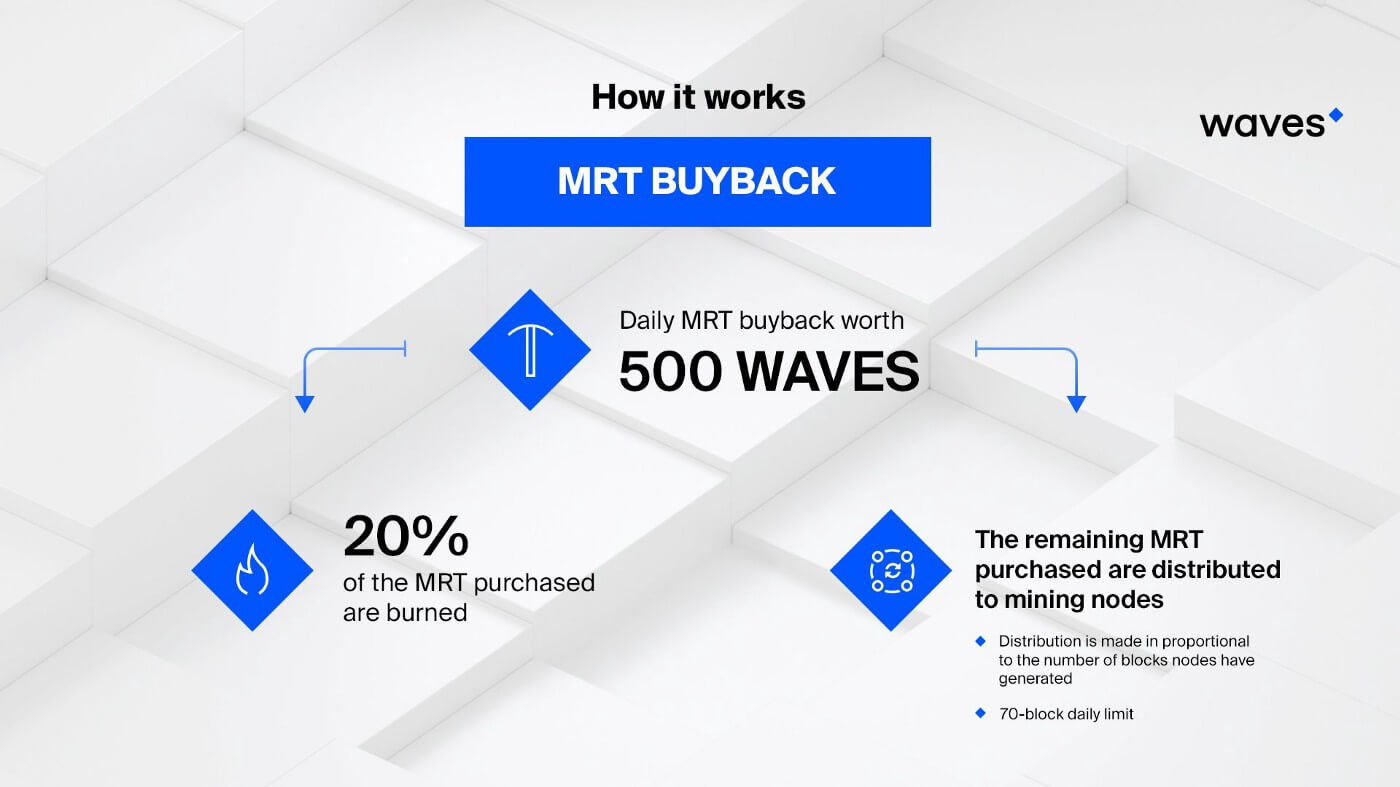 Image Credit: Waves Blog
The Two-tier Architecture
The lightweight nodes on the network never fully download the blockchain. They solely depend on the full nodes instead. The full-nodes confirm transactions, and other interactions on the network and light ones get the information from them.
This strategy is somewhat similar to SuperNET lite client. SuperNET is a unique client that was successfully implemented in the NXT project.
But how do they maintain the trust between these two type of nodes?
It's simple. They use another platform called Scorex. This platform enables the lightweight nodes to get only the current network information from the full nodes. So, as a result, they never have to download the whole history of transactions.
After getting the current network state, these lightweight nodes then process to establish other payment verifications.
Waves Price Prediction and Tokens: Leased Proof-of-Stake (LPoS)
The circulating supply of Waves tokens is 100,000,000 Waves. But how does the network validate the process?
It uses a special Proof-of-Stake consensus algorithm to maintain system fully. The Leased Proof-of-Stake algorithm will allow you to lease the tokens to full nodes to run the whole platform.
You'll have to lease at least 10,000 waves in order to run a full node. However, it's normal not to have your hands on that many tokens. So, instead, you can join a public mining pool and then lease your tokens.
According to CoinMarketCap, currently Waves price is $3.02, and it can go up to $15!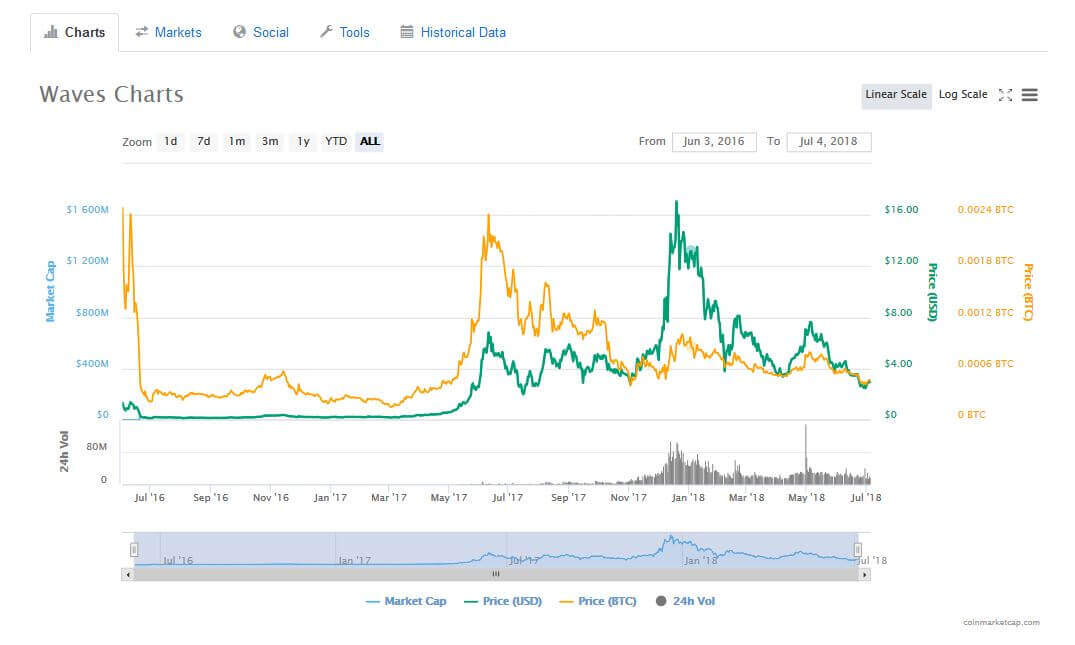 Image Credits: CoinMarketCap
Now let's see some of Waves historical background in this 'what is Waves Blockchain' guide.
What is Waves Blockchain's History and Future Plans?
A good load of team members previously worked on another project for NXT. But according to them, NXT wasn't satisfactory enough. It lacked development issues, coin distributions and many more.
That's why they left the project and started their very own now known as Waves.
However, they didn't fork it from NXT; they decided to build the system from scratch. The most significant difference between these two blockchain technologies is the fiat integration in Waves blockchain system.
In 2016, Waves finally began its journey.
At present, the company is partnered with Deloitte. Why? Well, they wanted their users to get ICO services. They are also working with the Russian National Settlement Depository to establish ground in distributing digital assets as well.
Waves would always be in class with smart contract competitors mainly with Ethereum. Ethereum is one of the biggest names of the blockchain industry now, and other projects such as NXT, NEO, and Lisk are also on the same path.
On the other hand, Waves is curving a different approach being too simple to use. Every token you create on the system has some limitations of course, but they are extremely easy to make!
For 2018, they will be bringing smart contracts, blockchain messenger, blockchain v2.0 and many more.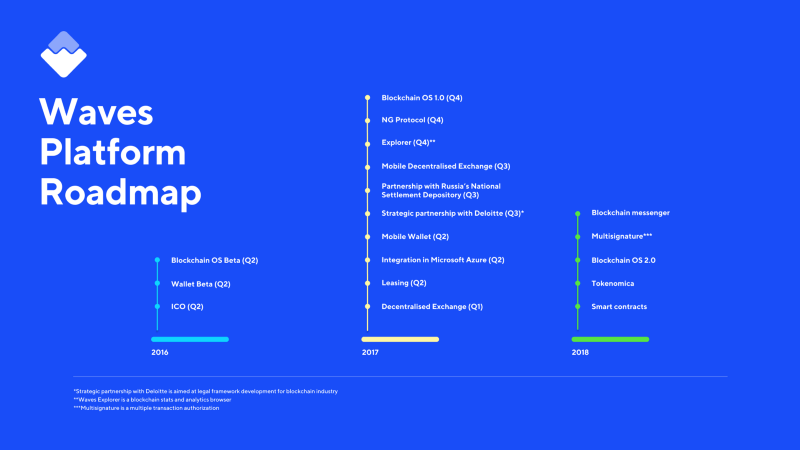 Image Credit: Waves Blog
Trading Rate
During their ICO distribution in 2016, they collected a large sum of $16 million. After the release of the ICO, the rates quickly rose 80% more than initial coin value. The token seems to be relatively stabilized being around $0.20.
The price got remarkably stabilized till July 2017. It started to increase up to $15.15. This was most likely the cause of sharing their roadmap and partnering up with ICO hub.
After that, it started to fall and is coming to a stable ground again.
From Where Can You Buy Waves?
Many of you might be wondering how you can get your hands on Waves. Let me clarify it in my 'What is Waves Blockchain' guide. So, read on to know more.
You'll get many options to get your hands on them.
Few of them are:
Exchanges
Several popular exchanges trade Waves such as Bittrex and Binance. But you can't buy it directly with fiat money. You'll have to exchange it with Ethereum or Bitcoin. After purchasing Bitcoin or Ethereum, you can transfer them to one of these and exchange it for waves.
You can also utilize specific services like Shapeshift or Changelly to buy Waves.
Faucets
If you are running low on budget but want to get your hands on a few Waves cryptocurrency, then you could try out faucets for that. They'll give a tiny portion every hour, but hey! It's absolutely free!
You just have to provide the public address of your Waves network and prove that you are not a bot.
You can check out Wavesdrop in this matter.
DEX
The DEX of the Waves platform is available for trading with Waves. It provides different trade pairs for that. So, you can purchase bitcoins, USD and Ethereum for Waves. However, bitcoin has the uppercut here in this matter.
How to Store Waves Cryptocurrency
The best wallet for your Waves would be the lite wallet provided by the company. I mean what's best than the wallet from the company itself, right?
If you leave your tokens on the exchange account, it might get hacked or get controlled by other authorities.
On the other hand, the lite wallet is only available online, and you'll be able to use it as a Google Chrome extension. You can also use the wallet from your mobile devices. The wallet is exceptionally safe and guaranteed by the company itself.
Don't forget to lease your tokens when storing them. It will ensure you to support the system and also get rewards.
Spending Waves
You can use Waves cryptocurrency like any other blockchain based currency on the market.
It can also transform any fiat money to cryptocurrencies, and the process is licensed. The fiat money is then changed into Waves token and then later deducted to convert to other cryptocurrencies.
All you have to do is provide your wallet address, and it would be done. You can also use it to initiate smart contracts within the network.
What is Waves Blockchain's Main Advantage?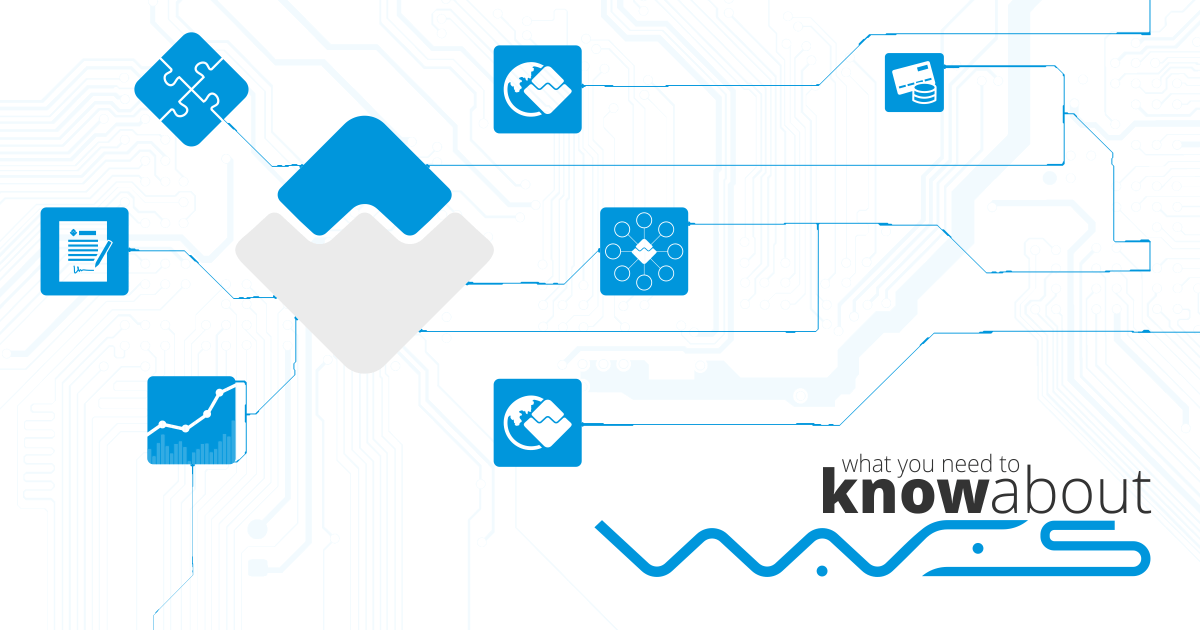 Image Credit: Waves Blog
There are tons of advantages when it comes to Waves platform. Let's see what they are, shall we?
Very Own Coin or Tokens: Any user can easily customize a token. They won't even have to code it and be able to distribute it freely. You can utilize this process for ICOs.
It Has All: Unlike other blockchain network, Waves seem to have it all! It has its very own wallet system, has a decentralized exchange and also a unique token crafting platform.
No Limits: Most of the exchanges have some form of limits while trading. But not on this one! The decentralized exchange will allow you to trade freely and without any boundaries.
Fiat Money Gateways: You'll be able to use fiat money to buy the tokens on their exchange.
Good DEX Pairing: The trading pairs are incredibly advanced on the platform. It provides some solid trading options.
Waves Mining
Any user can use LPoS and be a full node. This process will allow you to use the mining power of others and process the transactions faster. On the other hand, you can also lease your mining power and receive transaction fees for that.
You can do this with your computer or your phone. It's a different kind of mining, not like typical mining style.
Summary
We've reached the end point of my 'What is Waves Blockchain' guide. By far, Waves seems to provide a simple way to customize your very own tokens and use the simple blockchain functionality.
The platform is well suited for you if you want to raise a crowdfund or use a unique token for running your business.
It doesn't even take that much time to create one, and the fee is also cheap for that matter. If appropriately nurtured this could grow into a vast industry someday.
The vision behind the platform is creative, and this could be a part of a new revolution.
*Disclaimer:  The article should not be taken as, and is not intended to provide any investment advice. Claims made in this article do not constitute investment advice and should not be taken as such. Do your own research!