The crypto market is barely a decade old, and historically there's no other asset that has been the creator of long-term wealth than cryptocurrency!
From being a fringe investment to a global sensation, the cryptocurrency has successful grabbed huge attention. And is now emerging as the future of trade.  While many virtual currencies are already in the limelight and have successfully made their way to trade market. Some are still under the hood.  Further, the explosion in the price and the prominent nature of these currencies has also led to the growth of dozens of other currencies with Tron being the one. But do you know what is Tron?
Want to become a Cryptocurrency expert? Enroll Now in Cryptocurrency Fundamentals Course
Tron: The Biggest Blockchain Based Operating Network!
Founded by Justin Sun, Tron is a blockchain-based decentralized protocol which aims to create free digital entertainment ecosystem by leveraging p2p and blockchain network technology.
Offering support to various blockchain networks like Bitcoin, Ethereum, Qtum, EOS and much more, Tron will let users publish, store and own data on blockchain freely and securely.
Moreover, in the decentralized, self-directed form, the Tron will decide the subscription and distribution of the content. It will also allow the content generators to release and circulate all content without offering any money to middlemen's.
Besides, this digital asset aims to reshape how the emerging global society interacts and trade via Internet and blockchain in a decentralized ecosystem.
So, how will you use Tron?
In the form of a coin called Tronix (TRX)!
Build your identity as a certified blockchain expert with 101 Blockchains' Blockchain Certifications designed to provide enhanced career prospects.
What is Tronix?
Now that you know what is Trox, let's know about its coin, Tronix. Tronix or TRX is the native token or coin of Tron that can be easily purchased by exchanging currencies like Bitcoin or Ethereum.
TRX In The Market:
TRX come in the existence in late September of 2017, and since then the price value of the coin has skyrocketed. As per stats the TRX market's cap is $2.4B.
How Do TRX Transactions Work?
Just like other digital currencies, the TRX coin transactions work through public ledger. The public ledger will store the history of each transaction and will trace every transaction precisely.
Also, the transaction model of TRX is similar to the one that the Bitcoin uses except that Tron has improved security through UTXO.
Technology Backing The Tron:
TheTron's blockchain network will work on the UTXO (Unspent Transaction Output) model which is commonly used by Bitcoin and other popular Blockchains. The UTXO will use unspent transaction outputs to check whether or not the transaction is legal.
Basically, Tron resides on two technologies:
Tron's Platform:
Tron will feature an Application Blockchain Interface, the interface between the blockchain and the application, and will support smart contracts which are written in the Javascript.
Moreover, the platform will use a graph database, which will allow the Tron to store data and structure of the network. Doing this will ensure fast path-finding, fast processing and increased search capabilities.
Content exchanging ecosystem:
The sharing ecosystem of Tron is based on the Tron blockchain. It will let users upload the sharable content directly; and eliminates the need for intermediaries (Google, YouTube, Spotify, Apple, etc.).
Each response (click, clap, like share, etc.) on the shared piece will be given to the owner of the content in the form of Tron's currency token.
The platform will also eliminate the censorship control and other privacy concerns which impede the path of content providers.
Excited to learn the basic and advanced concepts of ethereum technology? Enroll Now in The Complete Ethereum Technology Course
Key Features of Tron:


Image Credits: Tron
What is Tron designed for? Tron is to provide all power of the online content in the hands of users. Some of the benefits of using this crypto-coin are:
Data Liberation:
One of the major benefits of Tron is that it will offer free and uncontrolled data to its users to have the original owner of their created content.
Fast Transaction rate:
Since the currency is potentially advanced than ETH, and all its other competitors, it will provide high transaction rate of approximately 10,000 TPS. Also, TRX can handle over 2,000 transactions per second around the clock.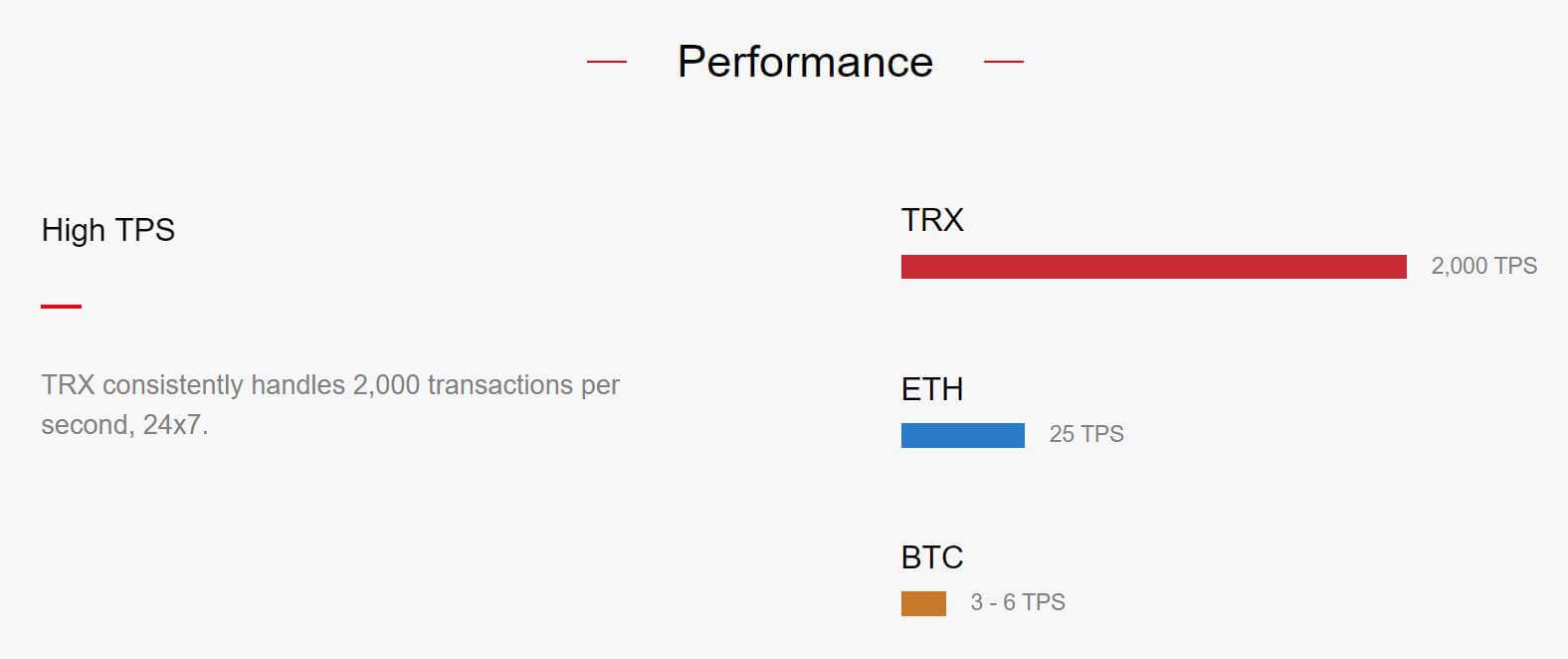 Image Credits: Tron
Zero Transaction fee:
Tron will charge zero to ultra-low transaction fees to transfer currency from one source to another.
Consistent Coinburn:
The coinburn will occur if a new dApp will register on the blockchain platform, thereby reducing the overall supply chain.
This means, higher the popularity of the platform, higher will be the number of dApps, and higher will be the coinburn.
Strong Extensibility:
Due to the rising popularity of the Tron's founder, Justin sun, the coin before its launch, already has 100 million users. Therefore, it will surely have solid support from many dApps thereby increasing its usage.
Personal ICO:
With Tron, the users will be able to start their own ICO's by giving their digital currencies.
Supports Java:
Unlike other digital currencies that use complex programming languages, Tron's open platform is built on JavaScript. It means it will be much easier to write Smart Contracts and develop dApps.
How To Store Tron Coin:
Since TRX is started as an ERC-20 token, you can store it in any wallet that supports ERC-20 tokens. You could use any hardware device like TREZOR wallet or Ledger Nano S to store Tronix. Some software wallets like Jaxx or Exodus and MEW (MyEtherWallet) are also for storing Tronix. Once the Mainnet went live there was a coin migration process, keep following after this migration here. Since the migration, you should store your TRX in your Tron wallet.
Expectations From Tron!
In the era, when all the content creation on the Internet is in the hands of conglomerates like Apple, YouTube, Google, etc., Tron will put the power of owning content, back into the hands of users.
For instance, you pay some money to the 'middle men' to generate YOUR content on YOUR blog, website or anything on the internet. These companies not only make money from those contents but will also take profit from the streams, likes and the clicks that come on your content.
However, the Tron will become the worldwide free entertainment ecosystem giving all profits in the creator's hands.  This also means if a Tron user will create the content, let's say a blog, they can upload it directly on the Tron blockchain, thereby taking all profit.
Some speculations also state that this crypto will become the third web that let people use decentralized, open network of the Internet.
Further, since Trion is being built using a high-level language, it will allow future developers to use any programming language to design anything on the open-software design.
Curious to learn about blockchain implementation and strategy for managing your blockchain projects? Enroll Now in Blockchain Technology – Implementation And Strategy Course!
What's More, To Come?
Now you know what is Tron, there's many more that you have to know. Tron is a long-term project that includes a different set of phases, with a scope of implementing many different blockchain technologies that are still under the hood.
Exodus:
The Exodus provides users with a reliable and free platform for p2p storage and distribution of content.
Odyssey:
In this phase, the economic incentives will be introduced to power content and its creators. The users get profit from the content they will create, distribute or share.
Apollo and Great Voyage:
The 3rd and the 4th stage will attempt to address the issues that are related to the dividends and will focus on providing the free movement of value to the users.
Star Trek:
This will create a decentralized, online gaming platform to let developers build freely. It will monitor the market functions, will monetize traffic and will facilitate autonomous gaming structure.
Eternity:
The last stage might be in 2027, will allow developers the complete control to set up and crowdfund their game development. The users will invest in games which they want to build and will also influence the future of the gaming market.
Start learning Blockchain with World's first Blockchain Skill Paths with quality resources tailored by industry experts Now!
Conclusion:
Of all digital currencies, Tron is one of the fastest growing and most ambition!
While the Tron's magic is still undercover, for sure there will be many eyes waiting to see how well it develops.
If the Tron comes in action, it will help people who are looking for a decentralized protocol to trade content.
Update: TRON mainnet will officially become independent on June 25, 2018. As well there are already 15 dApps on top of the Tron platform. Learn more about TRON dApps here.
*Disclaimer: The article should not be taken as, and is not intended to provide any investment advice. Claims made in this article do not constitute investment advice and should not be taken as such. 101 Blockchains shall not be responsible for any loss sustained by any person who relies on this article. Do your own research!