While Bitcoin is the most famous application of the blockchain technology, wider adoption of the technology has been more due to Ethereum. This is because Ethereum Virtual Machine (EVM), smart contracts, and Ethereum's proprietary language Solidity have enabled developers to launch may new cryptocurrency projects, and over 1,500 distributed apps (DApps) so far. A review of 10 most popular DApps shows that the trend of Ethereum DApps is catching up.
DApps are open source, with their backend code always comprising of smart contracts. The backend code must run on the decentralized blockchain, it's fully decentralized with no entity controlling majority of tokens, and no entity can have a veto over the changes to the application. Tokens must follow modern cryptographic algorithms and data is stored securely using cryptography on a blockchain. With the future of technology likely to be dominated by decentralization, open-source, and advanced data security, DApps are likely to dominate the future of technology.
Build your identity as a certified blockchain expert with 101 Blockchains' Blockchain certifications designed to provide enhanced career prospects.
Decentralized exchanges, games, and casino apps are among the 10 most popular DApps: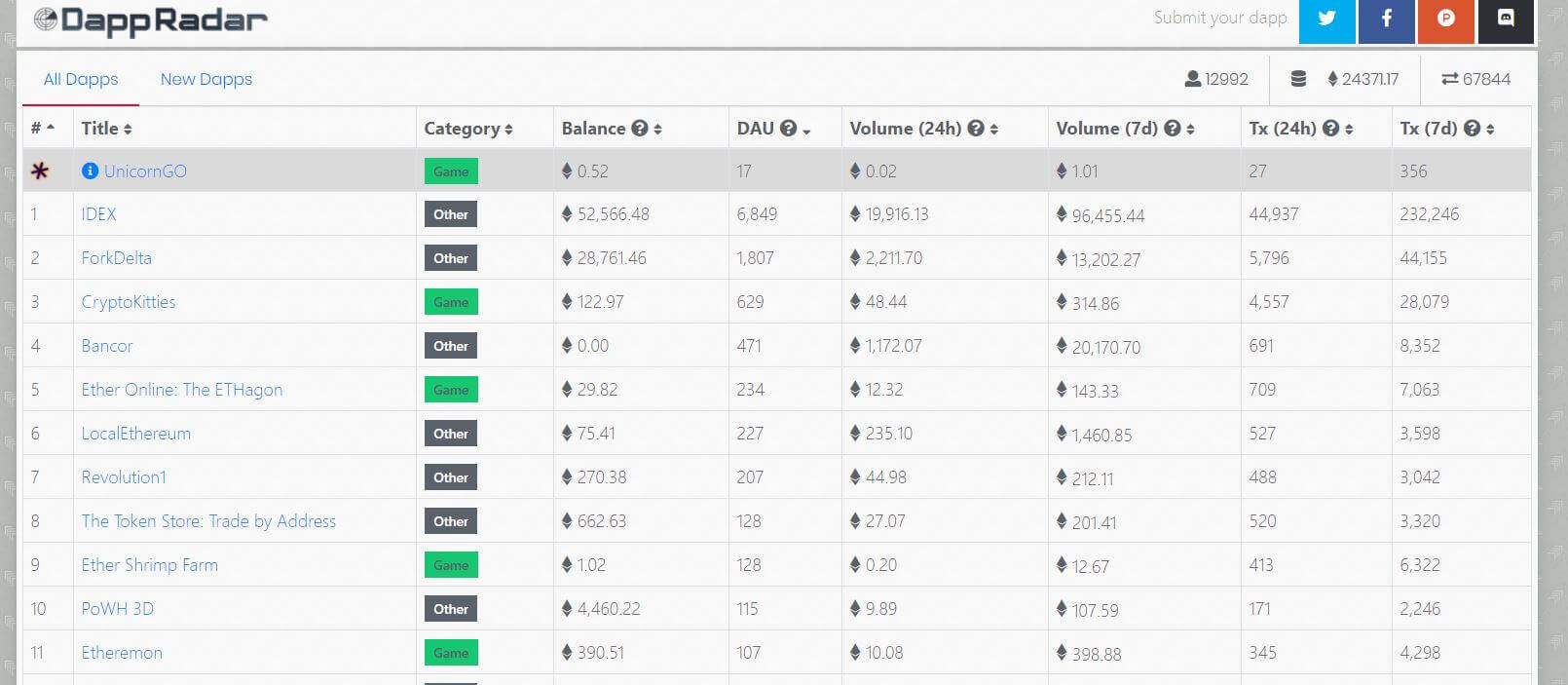 Our anlysis includes the using of  DAppRadar which analyze metrics like Daily Active Users (DAU), transactions volume, and transactions count.
The 10 most popular DApps are following:
1. IDEX:
The DApp with the biggest DAU, transaction volume and count is a decentralized exchange, where the user can exchange or sell crypto tokens on Ethereum they hold. The biggest advantage of decentralized exchange such as IDEX is that the operating logic is fully transparent, and coded using open source smart contracts.
IDEX website
2. ForkDelta:
The second most popular DApp is also a decentralized exchange (DEX). Note that industry and technology observers like DAppRadar currently categorize DEXs as "Other", a category too broad comprising of many other types of DApps, and DEX should be considered a separate category. 
ForkDelta website
3. CryptoKitties:
The third most popular DApp is an online game. CryptoKitties was launched in November 28th, 2017, and within the first week of December had become viral, while also causing significant congestion to the Ethereum network. The players can create, own, and sell adorable digital kittens, while Ether (ETH) is used for the transactions. The game also provided a good opportunity to the new crypto enthusiasts to interact with the Ethereum blockchain.
CryptoKitties website
4. Bancor:
Bancor network, the fourth most popular DApp, is a DEX, where the users can convert between two tokens, and there is no counterparty. Prices are automatically calculated, and the system has built-in liquidity.
Bancor website
5. Ether Shrimp Farm:
This is an online game built on the Ethereum blockchain, and it's quite like CryptoKitties. The players can claim free shrimp, which will lay eggs, and subsequently, the players can hatch the eggs or sell them. Ether (ETH) is the cryptocurrency used in this game.
Ether Shrimp Farm website
Want to become a Cryptocurrency expert? Enroll Now in Cryptocurrency Fundamentals Course
6. Ether Online:
Jackpot edition: This is a decentralized casino, and free from any third-party intervention. The platform is based on smart contracts, which are open-source, and the code is transparent. The player can view the code and familiarize himself with the rules, hence Ethereum-based online casinos are transparent.
Ether Online website
7. PoWH 3D:
This is a pyramid scheme, and the users are advised to exercise caution. Pyramid schemes are illegal in many countries because many have lost their hard-earned money investing in these schemes. The terms and conditions are presented to investors in disguised form, and many don't understand the risks their portfolios have. Ethereum blockchain-based pyramid schemes require the same level of caution as in the centralized world.
PoWH 3D website
8. Moon, Inc. – Idle Game + Pyramids:
This is an online game; however, it also has a pyramid-like component.
Moon website
9. Revolution1:
This is an online virtual investment game, using the Ether. The website claims that although it's identical to PoWH 3D, it helps the smaller budget players. The players are advised to exercise caution with any DApp resembling a pyramid scheme.
Revolution1 website
10. Etheremon:
An online game that allows the player to capture and trade in virtual monsters, it's like CryptoKitties in concept. The smart contracts are open-source and transparent to everyone, and like CryptoKitties, no one can cheat another player and take away her monsters.  
Etheremon website
Excited to learn the basic and advanced concepts of ethereum technology? Enroll Now in The Complete Ethereum Technology Course
DApps landscape is attracting many developers, and is expected to evolve with time:
An analysis of DApp landscape reveals that while the ease with which DApps can be built over the Ethereum platform is attracting many developers, currently most of the activities are concentrated on a few use cases like DEX and online games. Also, while blockchain and Ethereum DApps are very promising, the adoption is currently low, especially when compared with centralized world apps like Facebook with billion-plus users and several hundred million footprints daily. Experts recommend building an ecosystem with better tools and infrastructure.
So, what is your favorite dApp? Let us know your thoughts in the comment section below.
Join our annual/monthly membership program and get unlimited access to 30+ professional courses and 55+ on-demand webinars.
---
*Disclaimer: The article should not be taken as, and is not intended to provide any investment advice. Claims made in this article do not constitute investment advice and should not be taken as such. 101 Blockchains shall not be responsible for any loss sustained by any person who relies on this article. Do your own research!