In an industry that has not spanned up to ten years, a lot of individuals have made their mark and brought ideas and innovation that has helped improve the cryptocurrency and blockchain community. One such personality is Alex Tapscott.
Alex Tapscott, a Canadian by nationality was born in the year 1986 to the family of Mr Don Tapscott and Mrs Ana Paula Lopes, an author of the bestselling book Wikinomics, The Digital Economy. Alex Tapscott is an author, advisor and venture capitalist. Most of his works revolve around business strategies, ideas, and technological innovations.
He was given birth to in Toronto, Ontario, Canada. Cryptocurrency came into limelight in the year 2009, and Alex started reading about it, began studying what the blockchain is, how cryptocurrencies are used, etc. Thus, most of his literary work revolves around blockchain technology, cryptocurrencies and its application with a particular interest in Bitcoin being the first mainstream cryptocurrency.
Alex is a venture capitalist by choice of Career, with a particular interest in cryptocurrencies and the blockchain, he founded a company called NextBlock Global. Just like his father, Alex has a passion for business. His father, Don Tapscott has written several books, published several articles in areas such as technology, business, and society. And funnily, he has co-authored on a book with his son before titled "Blockchain Revolution: How the technology behind Bitcoin is changing Money, Business, and the World."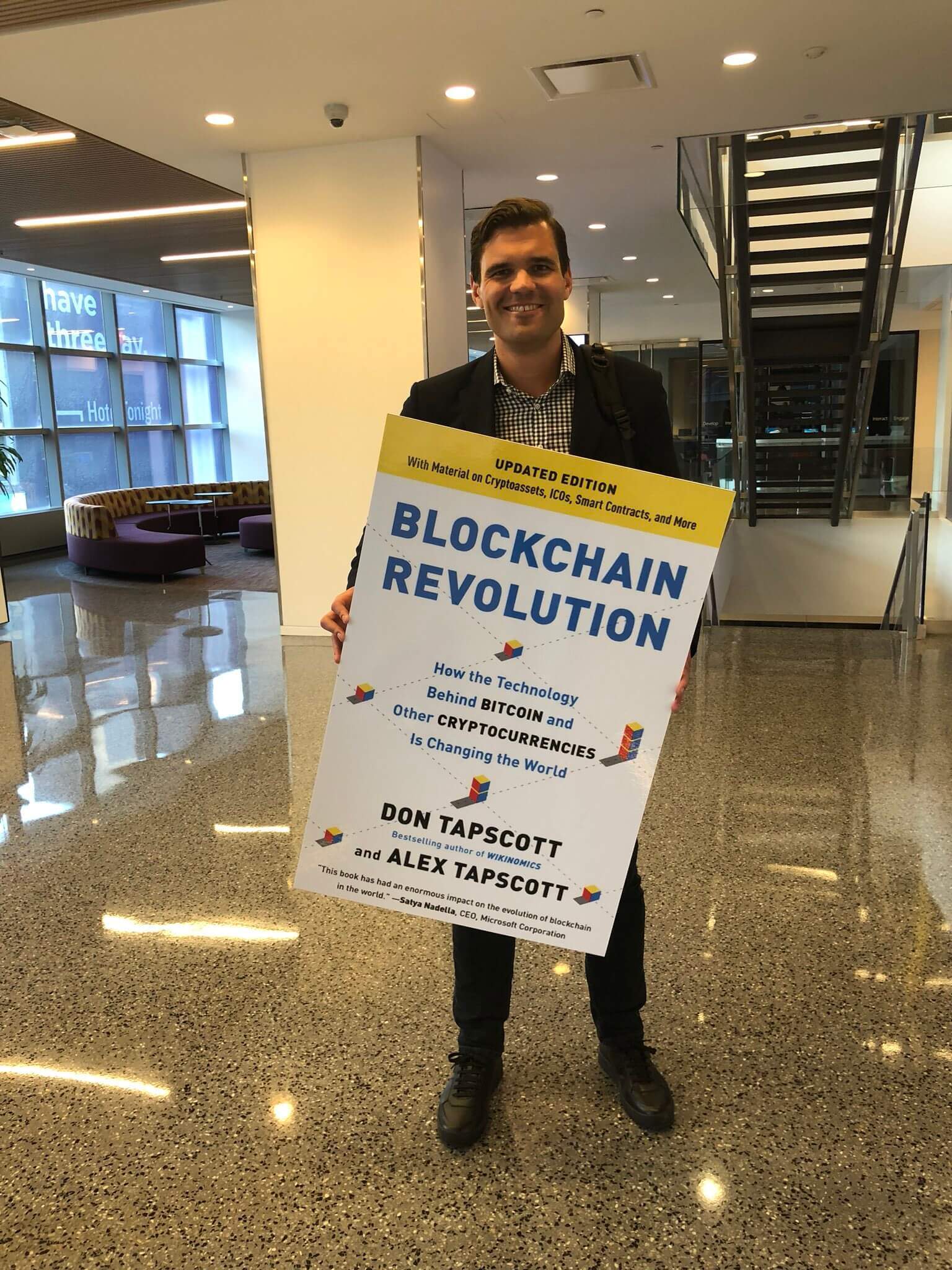 Image Credits: @alextapscott
Dan Tapscott is also the chancellor of Trent University and a professor at Rotman School of Management. With this level of experience and environmental help at Alex disposal, he has grown to become a prominent figure in the blockchain community such that he gets invited to seminars and conferences to speak on Blockchain and cryptocurrencies just like he did recently on 21st June 2018 attending @ideacity's organized blockchain conference.
He has a personal website where he posts stuff related to him such as videos, interviews, publications, etc. His website is www.alextapscott.com. He can also be contacted on Twitter, with his handle "@alextapscott." His company NextBlock Global is an investment company with a focus on financial "assets" such as Bitcoin, Ethereum, and other cryptocurrencies. Also, it is involved with helping Blockchain startups do well. Alongside the fact that Alex is the CEO and Founder of NextBlock Global, he is also the co-founder of Blockchain Research Institute alongside Don Tapscott.
WHO IS ALEX TAPSCOTT? FAMILY, CAREER, AND EDUCATION
Born into a family of four, the family of Don Tapscott and Ana Paula Lopes, Alex grew up with a family that had a significant influence on his life and career. He has a sibling by the name Nicole Tapscott. Mr. Dan Tapscott twelve years older than his spouse was given birth to in the year 1947, June 1st to be precise. He is the CEO of Tapscott Group. He has authored and coauthored about fifteen books.
He is involved in cross-industry groups looking to put forward solutions to political issues in the blockchain and cryptocurrency space. He also attends a summit with his son Alex where they both speak on blockchain related issues. Don holds a Bachelor of Science (B.Sc.) degree in Psychology and statistics from the University of Alberta. He also holds a Master of Education (M.Sc.) degree in Research Methodology. Lastly, he is a member of the order of Canada.
Alex's mother, Ana Paula Lopes, a Portuguese by nationality was given birth to in the year 1959. She lives in Toronto, Canada with her husband and she is a social innovator & entrepreneur, public speaker. She holds a Bachelor of Arts (B.Arts) degree from the University of Toronto. She is recognized in her country after the president of Portugal in 2014 gave her an Order of Merit award. And just like her husband, she was made a member of the order of Canada in 2011 four years before her husband.
Alex is happily married to Amy Welsman.
Alex has via his book which he co-authored with his father gotten a lot of recognition. The book is a Toronto Star bestseller, and it also became a Globe and Mail. Financial Times amongst other notable organizations read and reviewed the book. Harvard Business review also reported in the book. In Financial Times review they said
"The Tapscott's in their book provided a thorough, well written and balanced guide to the next big thing in technology".
Alex's first exposure to provide a TEDx talk was in October 2016 in San Francisco. He functions presently as an advisor on the advisory board of Canada's independent agency for maintaining federal elections, ELECTIONS CANADA. He is also an advisory board member for startups like Paycase and Nuco. On March 16, 2017, he announced the launch of the International Blockchain Research Institute at the DC Blockchain Summit which was hosted by the Chamber of Digital Commerce.
INTERNATIONAL BLOCKCHAIN RESEARCH INSTITUTE
The International Blockchain Research Institute is an initiative that brings together the government of Canada, other governmental bodies, and private sector corporations to work together in bringing brilliant minds in both public and private sector research, help them to build blockchain based economies all around the globe. Funding for this institute would be drawn from a purse funded by governments, public and private corporations as well as blockchain startups.
With this initiative in place, a new era would be ushered in that would encourage blockchain and cryptocurrency community to develop just like the internet tech startups developed. The Founding members of this initiative are IBM, Accenture, SAP, Digital Asset, NASDAQ, Centrica, PepsiCo, Liberty Global, Ontario Government, University Health Network and blockchain companies such as WISeKey, YouBase, Cosmos, Votem, Artlery, Paycase, Nuco, etc. This list is expected to grow to include members of governments, private companies as time goes on.
When Alex made this announcement, he noted the advantages of such institute stating the relationship Canada has with some of the world's leading blockchain researchers and startups. This institute is saddled with the responsibility to work on different strategies with startups to make happen a blockchain economy. This massive role is the work of experts in blockchain in which they also give the startups a free hand in proposing new ideas such that it seems more like a collaborative effort.
The first phase of the program began on 3rd April 2017 to be completed 20th December 2017. The "Program Deliverables" consist of reports and tools that project the program's conclusions amongst the members of the institute, i.e. member organizations, webinars and executive briefings.
ALEX TAPSCOTT & NEXTBLOCK GLOBAL
This company founded by Alex Tapscott and Charlie Morris in the year 2017 in Toronto, Ontario, Canada is a digital asset investment company. NextBlock is one of the world's leading tech startups support the blockchain technology movement. There are only two members of this company, and they are the aforementioned of which the Latter also function as the Chief Investment Officer. In the same year, the company went through a funding process in which they realized about twenty million dollars ($20,000,000). The funding process ended on July 31st, 2017. The official website of the company is www.nextblock.co, there is little or no information available there. But, presently, the website is temporarily available.
After it was founded in the year 2017, Alex announced that NextBlock would focus on making investments in the space via ICOs. Little did we know that these investments would be pulled off by false ICOs.
The firm has been trailed off with several controversies. On Nov 1st, 2017, Forbes reported that the firm falsely named four prominent blockchain personalities as members of its advisory board. After this allegation was pulled off and investigations were carried out, it was discovered that the allegation was true. As an aftermath, the company aborts its public listing plan and would return the money to the investors.
BLOCKCHAIN REVOLUTION: HOW THE TECHNOLOGY BEHIND BITCOIN IS CHANGING MONEY, BUSINESS, AND THE WORLD.
This book is the first publication Alex wrote with his dad. Because they share similar sentiments on the future of blockchain and cryptocurrency. The book was launched on 5th May 2016 at the Rotman School of Management. After that, the duo started with a ten-hour city tour at the University of Toronto where they talked about the topics in their book. Along the line in their journey, they had an indoor meeting with a couple of business and technology leaders and argued clearly how blockchain technology would change how businesses are run, how the internet is used to make financial systems better. The blockchain is known as a public ledger in which transactions are stored, recorded, confirmed and processed. This technology gained prominence via the cryptocurrency Bitcoin and has gone ahead to be a template for other cryptocurrency projects.
However, the Tapscott in their book argues that the blockchain which is revolutionizing the world would have much more impact than being used for digitized currency. Since the blockchain is an uneditable program and every information on it is in erasable, it brings about a sense of security to financial assets. Every participant on the blockchain is assigned unique identities in the form of mixtures of numbers and letters such that when there is a transaction is enacted on the chain, the source and destination is traceable.
With this kind of identification, the Tapscott's argue that the blockchain can be used for things like voting processes. As known in different climes, voting is done by individuals, and there are a lot of challenges attached to it which involves rigging, double voting, etc. The use of blockchain could help reduce and eradicate such problems since there's a particular key to an individual and if the individual votes, the vote is recorded and made available on the chain, uneditable nor in erasable.
Also, the blockchain takes away the fallibility of third parties in making transparent, accessible, cheap transactions available. Although the internet has been around for thirty years now to change how we related with ourselves and our social consciousness, he said, the way we did commerce was the same old, inefficient process of third parties. Being a decentralized network also, the blockchain can exist as an independent structure for running the affairs of corporations.
The book covers a lot of topics from what is bitcoin, blockchain, crypto assets, and use of blockchain and so on. It demystifies the understanding many have about blockchain. The rise and fall in the price of Bitcoin have over time made many lose their investments and label the industry as a scam.
However, this is not so, and this book explicitly explains so. In the book, we learned about the types of crypto assets which are seven in number i.e. cryptocurrencies like Bitcoin, platforms like Ethereum where the participants can carry out smart contracts, the third are applications that run on these networks. These applications are called Dapps i.e. Decentralized applications, and many of them run on Ethereum, NEO or IOTA. Also, there are security tokens, and these tokens are used for representing equity in a company. The fifth type is called the natural asset tokens, i.e., These tokens are digital assets that have a corresponding physical asset. The sixth is called Crypto collectibles, e.g., CryptoKitties. And the last is crypto fiat currencies such as the USD Tether.
In the review by Harvard business review published on March 1st, 2017, the book was explained in the light of how Blockchain is changing global finance with cryptocurrencies like Bitcoin being frontiers.
The book also discusses the volatility of the cryptocurrency market and how to grow its economy. This book is a must-have for every crypto enthusiast and anyone wishing to found a tech-startup.
You can read more about the Book 
here.
References:
http://www.goldmansachs.com/our-thinking/talks-at-gs/alex-tapscott.html
https://www.thestar.com/news/gta/2016/05/05/don-and-alex-tapscott-predict-upcoming-digital-revolution.html
https://m.nasdaq.com/article/don-tapscott-announces-international-blockchain-research-institute-cm762234
https://en.m.wikipedia.org/wiki/Alex_Tapscott
https://www.forbes.com/sites/laurashin/2017/11/01/alex-tapscotts-crypto-vc-firm-going-public-with-100m-cad-falsely-touted-4-blockchain-stars-as-advisors/
https://blogs-images.forbes.com/laurashin/files/2017/11/AlexTapscott_c-Max-Power.jpg?width=960
https://www.forbes.com/sites/laurashin/2017/11/05/alex-tapscotts-crypto-vc-firm-aborts-public-listing-will-return-money-after-falsehoods-revealed/
https://www.trendingtopics.at/alex-tapscott-blockchain-revolution-ethereum-bitcoin-crypto-token-coins/
https://www.crunchbase.com/organization/nextblock-global
https://www.prnewswire.com/news-releases/new-digital-asset-investment-company-nextblock
global-announces-closing-of-oversubscribed-20-million-financing-637605983.html
https://www.futuretechpodcast.com/podcasts/nextblock-global-investing-in-the-next-era-of-the-internet/
https://hbr.org/2017/03/how-blockchain-is-changing-finance