The number of blockchain-based enterprise projects has skyrocketed over the past few years. Trends suggest that this number will only go up in the coming decades. However, you need to have a set of priorities for your upcoming blockchain-based business endeavors. The lack of forecastable data means that the current industry practices and insights are somewhat the best options available.
To help you out, we have conducted an industry survey regarding the priorities for business practitioners in the enterprise blockchain scenario. We want to give our utmost thanks to Telefónica for being the research partner in this survey.
The survey results are based on the poll answers from the respondents living in North America, Europe, and Asia pacific. As you know, these regions have the highest engagement level in the enterprise blockchain projects.
Security and Stability Are Still the Invaluable Features
In any modern or traditional business, security and stability are seen as the epitome of success. At the same time, businesses try to aim for a high ceiling growing at a sustainable rate. And blockchain-based enterprise projects are no exception to that.
Now that there are some great blockchain networks and ecosystems, businesses can finally seek out different paths within that boundary of security and stability.
Enterprise projects want to have a certain level of control and confidence among the participants. These two traits give them a sense of security and stability.
So, what do our survey participants think about the key priorities for an enterprise blockchains project?
Permissioned Over Permissionless
Blockchain networks either take a permissioned or permissionless approach. While permissionless blockchain networks work wonders in "public" use cases like voting or fundraising, it certainly isn't suitable for enterprise environments.
For example, supply chain management or banking/payments thrive in a permissioned and controlled ecosystem, specifically governed by regulatory regimes. With better scalability and faster output rate, permissioned blockchain is a far better option for an enterprise project.
Now, let's move on to the poll –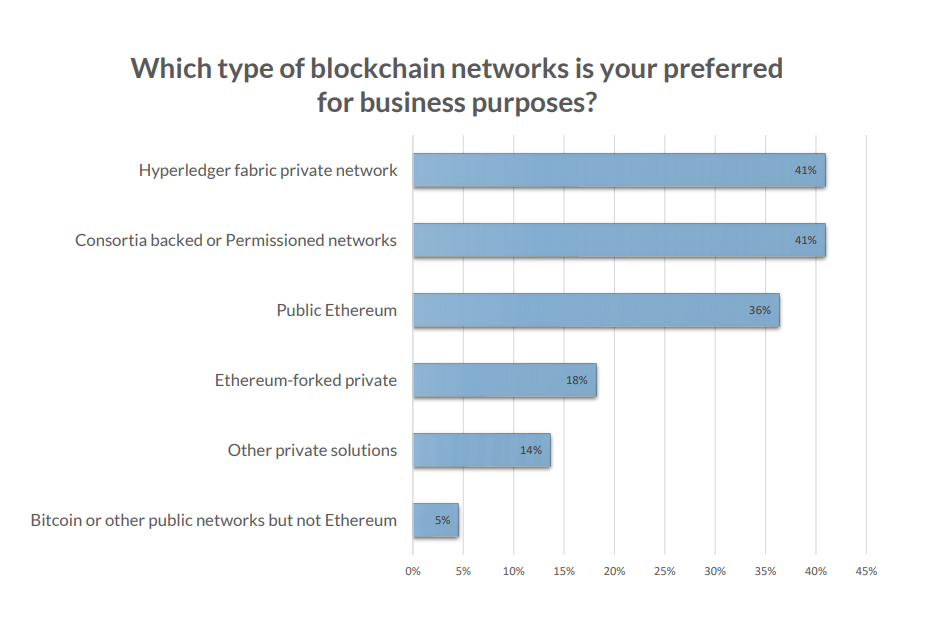 The poll results also reflect that idea.
The vast majority of respondents favor Hyperledger Fabric Private Network or any consortia-backed permissioned network.
Interestingly, Public Ethereum is quite popular too. The reason for this choice is the relevant role played by Ethereum in the creation and management of smart contracts that represent the most significant pillar of blockchain applications for enterprise adoption. Still, permissioned blockchains are preferred for conducting business.
Why so?
As our research confirms, better control and confidence among the entities are very crucial in the enterprise scenario. A permissioned network can help them achieve that.
For instance, think of a typical supply chain. The elements of a supply chain naturally function in a closed and controlled environment, as business partners. These elements can perform more efficiently and quickly as they have a higher confidence level, shared governing rules and commonly accepted operational guidelines.
Scalability, Traceability, and Transparency Are the Most Concerned Issues   
Business is all about scaling. A business that's earning $1-million in revenue plans on boosting that revenue amount to $10-million. Growth is the nature of any business.
However, a company might sacrifice performance while scaling. So, But it's imperative to boost scalability and performance at the same time.
Similarly So, for any blockchain network, irrespective of being permissioned or permissionless, scalability and performance become pivotal aspects.
Enterprise operational environments require features of traceability and transparency. You might think that permissioned blockchains are "the" go-to option for businesses. But such blockchain networks lack full public transparency. That's why some industry domains (especially in the public sector) opt for permissionless networks like Public Ethereum.
Finally, the last significant concern for businesses relates the technology itself. Despite the disrupting impact in the business world, blockchain still is a new-born concept, far from being matured. Thus, technological maturity becomes a deciding factor.
So, what do our poll respondents feel?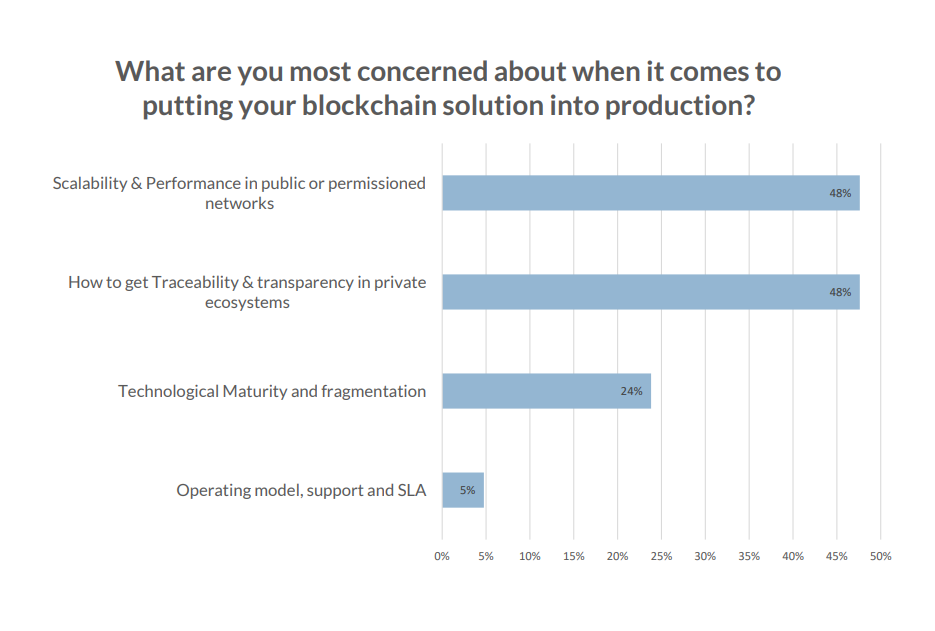 We have a tie here. Almost half of the participants feel that scalability and performance of the blockchain networks are concerning issues. A similarly populated group is trying to figure out ways to have better traceability and transparency in private ecosystems.
Lastly, about one-fourth of the respondents are worried about the maturity level of the technology.
It seems that enterprise projects are looking for a mix of two worlds. They are looking for scalability but don't want to sacrifice traceability and transparency either.
Still, with more enterprise-oriented features, permissioned blockchain networks have a slight lead over the opposite option.
Download the Full Business Value of Blockchain Poll Analysis
[optin-monster slug="eaoeb7wj8fjcdelsazrr"]