Of course, you are – with the demand for Blockchain Technology on the rise, it's practically evident to search for Blockchain courses.
If you don't know enough about blockchain, how will you be able to develop your own blockchain infrastructure or let along enjoy all the benefits it provides?
Technical courses nowadays are too much complicated. Instead of explaining in simple contexts, these tend to make things more complex.
And you, who just happened to know about blockchain only recently is getting little to no understanding of the topic.
Don't worry; we know exactly what you need. Here at 101 Blockchains, we are offering the best of the best solutions just to help you get started with Blockchain.
What We Offer
Master Classes
At 101 Blockchains you will get all the necessary information about how the blockchain ecosystem works.
Whether you are just a beginner or an expert, our master classes will surely help you to understand the overall spectrum of this industry and help you grow your business around it.
In every master class, you'll be able to learn about the technology itself, enterprise blockchains, adoption challenges, blockchain transformation, distributed ledger technology and many more.
The founder of 101 Blockchains – Aviv Lichtigstein has extensive experience in building enterprise products utilizing Big Data & Artificial Intelligence. He'll be personally taking all the Master Classes to help you get a better understanding of the subject matter.
These Master Classes are here to help you –
Learn about the fundamentals of Blockchain and see the big picture.
Know the differences between Private, Public and Federated Blockchain systems.
Get insight into different business models and blockchain use cases.
Explore different industries and understand their blockchain view.
Participant in the relevant subject's workshop.
All of our Master Classes would cover a course book for you, to help you catch up! Whether you are a CEO, CTO, CIO, government institution or beginner, our courses are here to back you up.
So, why wait?
Let's connect and find out how we can help you drive new value to your organization
Blockchain Consultancy
Looking for professional advice for your blockchain project?
Try out our Blockchain Consultancy solution and jump start your blockchain project at ease.
101 Blockchains is a fast growing one-stop blockchain consulting platform. We designed our platform to cover everything about the blockchain revolution by providing all the valuable information on Blockchain Technology.
Our primary target is to help individuals as well as enterprises to understand this technology better. You'll also have a clear idea about how the businesses behind this new marketplace works, let along discover your path through blockchain digital transformation.
With our expert level consultancy, you'll know how to harness the capabilities of blockchain for your business.
Want insider info to boost your business? Don't worry our consultancy solution covers market reports as well as notable vendors too.
Looking for some expert advice? Contact us now!
Keynote Speeches
Our top-notch Keynote Speaker Aviv Lichtigstein is a thought leader and entrepreneur with extensive experience in building enterprise products utilizing Big Data & Artificial Intelligence.
Moreover, he is also the founder and CEO of 101Blockchains.com – one of the world's leading blockchain resource portals.
Aviv is a senior level executive with more than 12 years of experience in various fields playing technical, operational and business oriented roles. He has an immense level of expertise in launching, running and growing projects and programs for numerous business models.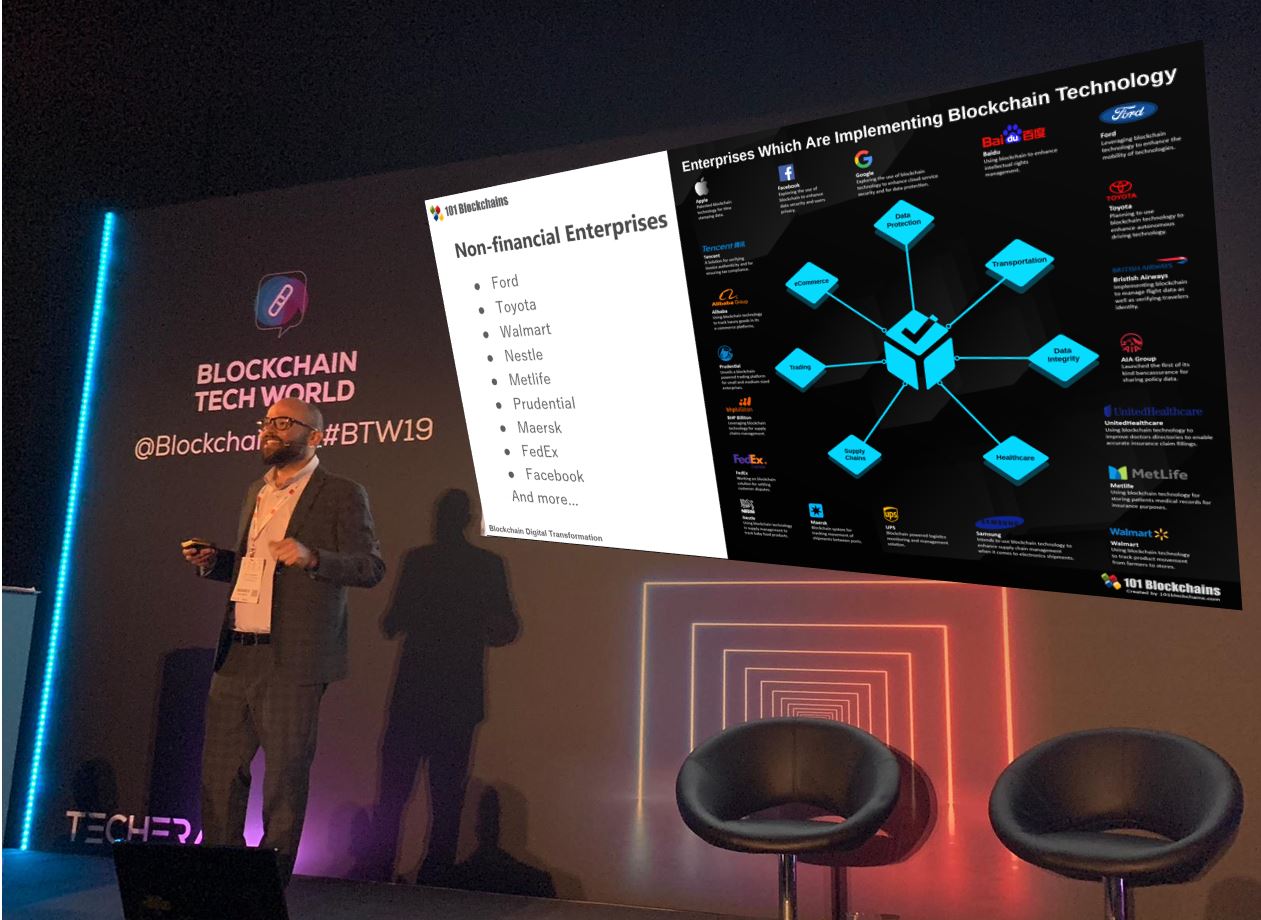 As a Blockchain keynote speaker, Aviv's expertise revolves around the core conceptions of blockchain curating insightful sessions.
In our keynote speaking sessions Aviv will shed light on –
Specific features of Blockchain Technology and how the transformation would occur.
Some major issues of blockchain and how industries can cope up with the new change.
Different Blockchain adoption challenges a business might face.
Steps for successful organizational blockchain transformation.
Enterprise Blockchain and solutions such as Blockchain as a Service along with other Enterprise blockchain platforms.
Possible use cases and challenges of the Enterprise Blockchain.
Different Distributed Ledger Technologies, features, and their influences.
The layers of the Web 3.0 architecture – the new web.
Probable future of the internet and how to build a sustainable ecosystem.
Want Aviv as a Keynote Speaker? Contact us now!