MoneyConf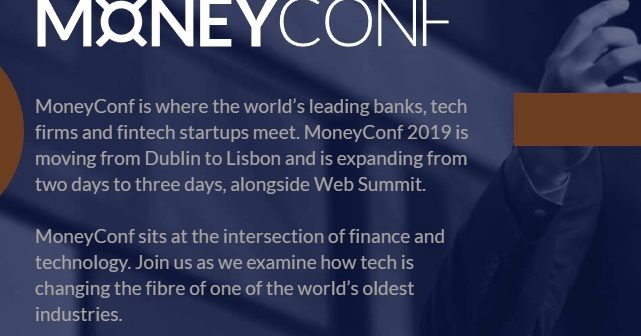 MoneyConf is a key player when it comes to connecting the world's leading banks, FinTech, and tech startups meet. It is now moving from Dublin to Lisbon and instead of two-days, it will take place for three days. It will also take place alongside Web Summit. So, what it has to offer? It offers an intersection of technology and finance and let you explore how tech is changing every sector out there. The main focus would be around the finance sector and learn how it is being changed by the current revolution in technology including the introduction of blockchain. It will have roundtables, workshops, MoneyConf sessions, and 20 other tracks at the Web Summit.
Topics that will be covered at MoneyConf
Banking - Here, the banking technology will be discussed along with the upended business models consumer attitudes and regulations.
Payments and eCommerce - Learn how we are going to buy and sell in the near future.
Credit and lending - How credit and lending are transformed in the last years.
Insurance - Learning how the multi-trillion dollar industry will change from the new tech.
2018 Speakers
They had many great past speakers. Let's see who spoke at their events.
Garry Tan- Co-Founder, Initialized Capital
Anne Boden - CEO Starling Bank
Alan Warren - CTO, Oscar Health
Rob Frohwein - Co-Founder and CEO, Kabbage Inc.
Tom Stafford - Managing Partner DST Global
and others!
Tickets
At the time of writing, they are giving two tickets at the price of one, i.e, €850 for two tickets. Once the offer is over, you will only get 1 ticket for €850.
Should you attend the MoneyConf?
Well, if you are interested in money and payments, then you are good to go! It has a lot to offer in terms of content and networking. Do check it out and yea you can also get two tickets at the price of one.