Mining Disrupt Conference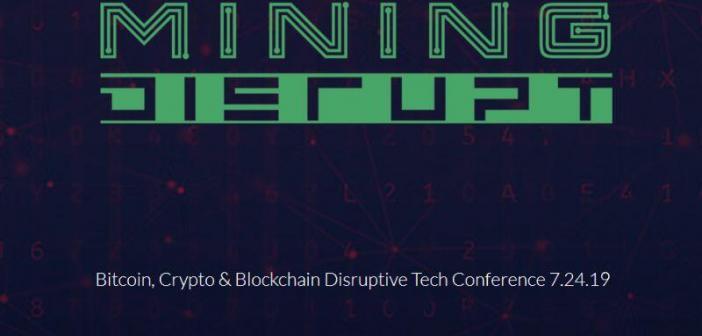 The official bitcoin blockchain mining summit - Mining Disrupt Conference is scheduled as a two-day event from 23rd to 24th of July, 2019. Taking place at the DoubleTree by Hilton Hotel Miami Airport & Convention Center, it is the perfect place to meet up with the pioneers, the early believers, and established opinion leaders in the field of crypto mining and blockchain.
The conference will serve as a platform where builders, developers, entrepreneurs, investors, industry enthusiasts, and even the global media can come together and engage in a positive discourse regarding the current state of crypto mining and prospect on its future potential.
Speakers
Here is a quick look at some of the distinguished speakers and thought leaders who will be taking the stage at the mining disrupt conference.
David Vorick, CEO, Co-founder of Obelisk ASIC Manufacturer, Nebulous Labs and Lead Developer of Sia

Philip Salter, Head of Mining Operations @ Genesis Mining.

Kristy-leigh Minehan, CTO, Core Scientific, The Original Proponent and Developer of PrgPOW

Robin Lam, Partner at BlokTech Capital, Co-Founder, and Partner of Mining Disrupt Conference.

Michael Cruz, Founder of Blockchain Association of Miners Group, Co-founder and Partner on Mining Disrupt Conference.

Fernando Rivero, President of BlokTech Miami Division, Partner of Mining Disrupt Conference.

Haijiao Li, Director of Overseas Operations at Bitmain & COO @ Bitmain Antpool.

Joshua CEO and Founder of LightSpeed.
And many more.
Agenda
The event kicks off with the Miami Blockchain Hackathon which starts around 6 pm on 23rd July and finishes around 9.30 pm. The day ends with a cocktail and crypto-ceremony in the art district.
Next day, on 24th July, the main conference starts with registration and networking at 8 am. Over the course of the day, a multitude of trending topics concerning blockchain and mining will be tackled so that attendees can distinguish themselves from the hype and educate themselves on what is actually happening in the industry.
Ticket Prices
Regular admission prices are set at $399/person. However, people who are early to book a ticket can avail a discounted price of $199.
The media press pass is kept low at $199. Individuals, however, must be able to demonstrate that they are affiliated with a media outlet.
And lastly, if you want that luxury treatment, then you can get yourself a VIP Experience ticket at $799. Here you will get access to a VIP lounge and backstage clearance alongside a complimentary table for the rooftop after party. The most important bit is access to the VIP only investor club at the private afterparty.