International Conference On Cyberlaw, Cybercrime, and Cybersecurity 2019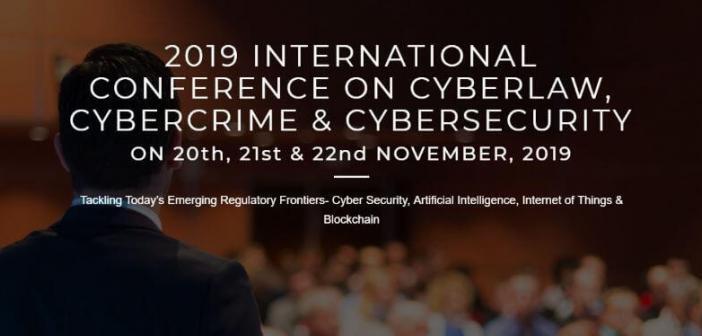 The ICCC 2019, short for the International Conference on Cyberlaw, Cybercrime, & Cybersecurity 2019 is scheduled as a three-day event from 20th Nov - 22nd Nov 2019. Set to take place in New Delhi, India, ICCC 2019 is being organized by Cyberlaws.net and Pavan Duggal Associates, Advocate, Supreme Court of India.
The conference will bring in industry experts and thought leaders to examine and analyze the emerging trends and risks relating to Cyberlaw, Cybercrime, and Cybersecurity. You can expect a congregation of international delegates, distinguished speakers, and stakeholder in the digital ecosystem and the online web.
Who Is Dr. Pavan Duggal?
Dr. Pavan Duggal is acknowledged as one of the top 4 cyberlawyers around the World. World Domain Day or WDD for short has crowned Dr. Pavan Duggal as the top 10 Cyber Lawyers working today.
He is currently the president of Cyberlaws.net and has had an immense impact holding an international reputation as an expert figure and authority in the field of Cyber Law, Cyber Security Law and E-commerce law.
Speakers
The ICCC 2019 hopes to see over 150 speakers coming together and sharing their insight and knowledge regarding Cyberlaw, Cybercrime, and Cybersecurity relevant to current times.
Here is a quick look at some of the featured speakers making an appearance at ICCC 2019.
Dr. Pavan Duggal, President of Cyberlaws.net, Advocate, Supreme Court of India.

Mr. Albert Antwi-Boasiako, National CyberSecuirty Advisor of the Republic of Ghana

Sen. Assist. Prof. Dr. Nedko Georgiev Tagarev, Department of National and Regional Security.

Mr. Yannick Chatelain, Head of development: IT/Digital Professeur Associé -  Enseignant-Chercheur Grenoble Ecole de Management.

Mr. Stein Schjolberg, International Expert on Cybercrime

Daniel Chuburu, Ambassador Embassy of the Argentine.
And many more.
Agenda
The three-day event is set to take place starting 20th November 2019 at New Delhi, India. The conference is scheduled to be broken up into 55 sessions spread across the three days covering topics like "today's emerging regulatory frontiers in Cybercrime, AI, IoT, and Blockchain."
Ample networking opportunities will also be included along with lunch breaks and coffee sessions which you can use to foster business relationships or raising brand awareness.
Why Should You Attend?
An all-in-one platform for Indian policymakers, government officials, corporate thought leaders, as well as all other stakeholders can come together and educate themselves regarding the emerging issues relevant to the cybersecurity ecosystem.

A three-day long conference allocating plenty of time for interactive sessions and networking opportunities.

An expected gathering of over 150 internationally distinguished speakers with over 1100 people in the audience.

An opportunity to gain knowledge and insight on internationally agreed upon best practices and techniques on fighting cybercrime and improving cybersecurity.
Ticket Prices
Ticket prices for the ICCC 2019 are set at Rs. 36,000 ~ $500.
However, if you manage to get the tickets before October 15th, then an early bird discount is accessible which reduces ticket prices to Rs. 28,800 ~ $400.