Finovate Spring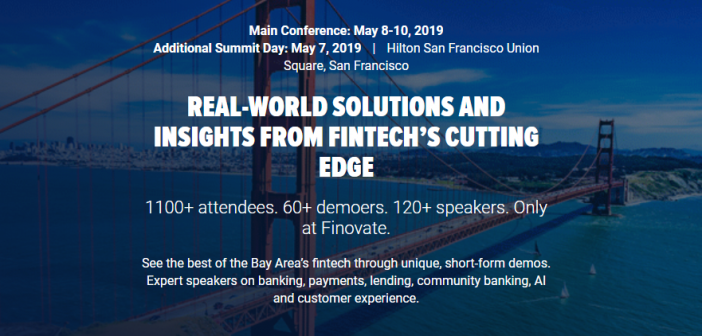 FinovateSpring is one of the largest conferences that is going to take place in San Francisco. The main conference will take place from May 8th to May 10th 2019 at the Hilton San Francisco Union Square. The conference will discuss real-world solutions related to Fintech. It will also discuss insights related to cutting-edge Fintech solution.
The core attraction of the conference is its theme. It is all about finance, and you will be able to witness a lot of content on the show floor. It will also be attended by 1100+ attendees, 120+ speakers, 60+ demoers and more! Through this conference, you will be able to see the best of the best Fintech content in the form of presentation, demos and much more!
What makes the conference unique?
There are many Fintech related blockchain events out there. However, what makes this one unique and worth your time? Let's find out.
Content for everyone - Blockchain Event San Francisco
The conference has something for everyone. You might be a capitalist, banker, entrepreneur, or a press guy, you will get something out of the Finovate conference. It will also help those who are looking for new ideas and want to stay ahead of their competition. Also, you will get proper networking opportunities as it is going to take place in San Francisco.
In short, there are the top six reasons you should attend the conference.
High-efficient format

Stay ahead of the curve

Only the best demos on stage

One-on-one connections

Something for everyone

Learn from visionaries.
One-on-one Connections
At Finovate, you will be able to create one-on-one connections. More than 1100 senior banking and financial venture capitalist, press, bloggers, regulators, -- all from the bay area and other regions of the world will participate in the conference and give you a chance to network. There will be ample opportunity to make a connection as it is not similar to other typical trade show floor. You can also take advantage of their new matchmaking tool Brella that lets you find and connect with the right people on the show floor.
Cutting-edge demos
The show floor will be hosting cutting edge demos from top-tier companies and innovate startups. There will be 60+ demoing companies out there, and each presenter will have only seven minutes to showcase their work. As an attendee, you will be able to witness innovation and learn from them.
Insight form fintech visionaries
If you are looking for unique content, then you can get it from Fintech visionaries as they will be sharing their insights through the three-day conference. They will speak about opportunities, challenges, and latest trends. Moreover, they will also speak about their product and the roadmap related to it.
Agenda
The agenda of the Finovate Spring is as below. To keep things short, we will be only listing the few important events on the floor.
May 7th - AI Summit
How AI can help you in your business - Dave Birch

How Natural Language Processing is reshaping financial services

Real AI application showcase

How AI can be used to streamline operational processes
May 7th - Customer Experience Summit
Evolution and Innovation

Fireside Chat

Case studies on B2B customer experience

Debates
May 8th -
Innovation and Consumer Protection

Demo Sessions
May 9th -
Analyst All-Stars - Global FinTech.

Keynote address

Importance of diversity for digital transformation and innovation

Show Awards
May 10th - Conference Day
Keynote on the rise of the machines

Power panel on how AI can change Financial services

Digital payments stream
Statistics
Attendees - 1100+

Speakers - 120+

Demoers - 60+

Expert fintech speakers - 120+

Financial institutions represented - 270+

C-level attendees - 200+

Influential press/media - 100+