Digital Banking 2019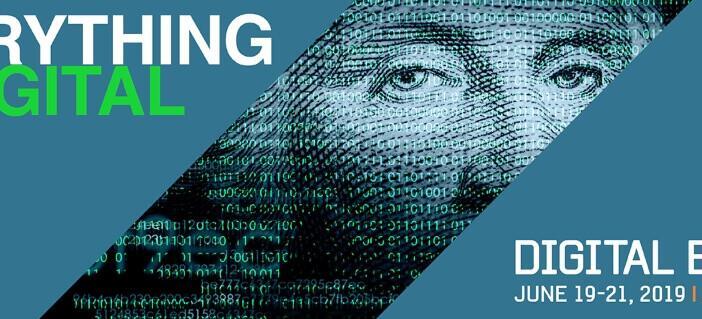 "Everything is Digital" - These are the words that are on the conference page of the Digital Banking 2019, and it truly reflects what they are trying to aim and showcase in their conference. It is the largest conference that covers digital banking in the industry. It also includes financial services innovation, commercial customers around digital, AI, blockchain, data, payments, privacy and much more.
The conference is going to take place at Austin, TX, the USA from June 19-21, 2019. It is a three-day event that aims to cover a range of topics related to digital baking. It will include financial institutions, FinTech providers, credit unions from all around the globe, including the US. This means that there will be more than 1500+ senior level executives joining the conference and making the conference a great place! The content that will be shared in the conference includes live demos that will help encourage conversations and let the attendees do networking. The event will also foster forward and innovative thinking. As an attendee, you will be able to learn from experts and get a glimpse of what the digital banking future looks like.
Who will attend the conference?
Financial institutions with the worth from $1 billion to $50 billion. The attendance type will include Banks and Credit Unions, Consultations and vendors, Press, Regulators, and FinTech Companies. By job title, the attendees will be MGR, Director, CEO or equivalent, SVP/VP/EVP and others.
Features speakers
There will get a lot of featured speakers. Let's list a few of them below.
Melissa Alvarado - VP Growth and Analytics, Chime
Pepper - Humanoid Robot, SoftBank Robotics
Rohit Arora - Co-Founder and CEO, Biz2Credit.
Mariel Beasley - Co-Founder, Common Cents Lab
Charles Beyrouthy - Senior Digital Strategy Partner, Citizens Bank
Jody Bhaga, President of Americas, Personetics
Zach Held, Head of Partnerships. U.S Commercial Banking, HSBC Bank
Schedule
The schedule at the conference will be as follows.
Wednesday, June 19
Registration opens at 8.30 a.m
Pre-Conference Workshops - 9.15 a.m.
General Sessions - 12.30 p.m.
Concurrent Tracks - 3.30 p.m.
Networking Reception - 5.30 p.m.
Thursday, June 20
Registration Opens - 7.30 a.m.
General Sessions - 8.00 a.m.
Lunch - 12.30 p.m
Concurrent Sessions - 2.20 p.m.
Networking Reception - 5.30 p.m.
Friday, June 21
Registration Opens -7.45 a.m.
General Sessions - 8.15 a.m.
Conference Concludes - 11:15 a.m.
Tickets
The ticket pricing will be divided according to the time you take and your profession.
Banks and Credit Unions - Starts from $1,295 to $2,195.
All Others - Starts from $1695 to $2,595
Fintech Startup - $895
Government -Starts from $995 to $1395
Track Session Video - $495
Should you attend the conference?
If you into the baking sector or want to follow what is going in terms of innovation and growth, the conference can be a great choice to attend.